PayPal has a wide range of products to offer, along with its capability to transact in 25 currencies. A top-market brand that can be looked up to, it accesses you with making online payments as well as starting an online business.
Customers and Merchants find PayPal a good fit, whereas High-risk vendors do not find this giant processing application not good.
All money transfer needs are taken care of by PayPal with a transaction limit of up to $10,000, depending on the currency you use.
Our Verdict on PayPal:
You might have heard of PayPal at some point in internet surfing, probably while working as a freelancer, doing online shopping, and needing to transfer cross-country payments. From a customer point of view, PayPal is a worldwide accepted, easy-to-make, and transfer payment method. However, evaluating PayPal from a Merchant's/ business owner's point of view has many more factors to look into, including its analysis of the payment processes offered by the competitors. Our comprehensive PayPal review will help you decide if it is the right option for you, enlightening all the features and advantages that may help users to you.
PayPal Review Pros and Cons:
| Pros | Cons |
| --- | --- |
| Multiple payment forms are accepted, including Cryptocurrency, Venmo, and PayPal. | Service is non-available in a few countries |
| Globally accepted user-friendly platform. | High per-transaction fees as compared to competitors. |
| Widely accepted and used | Issues related to account sustainability. |
| Easy to use on any device | Not suitable for high-risk industry transactions or high-volume businesses. |
| Excellent trust and security track record. | Lacking Point of sale features. |
| Various e-commerce features. | International credit cards have extra fees. |
| Good name among Customers. | Payment can't be split as in Venmo |
| | In-store payment options are few. |
PayPal at a Glance: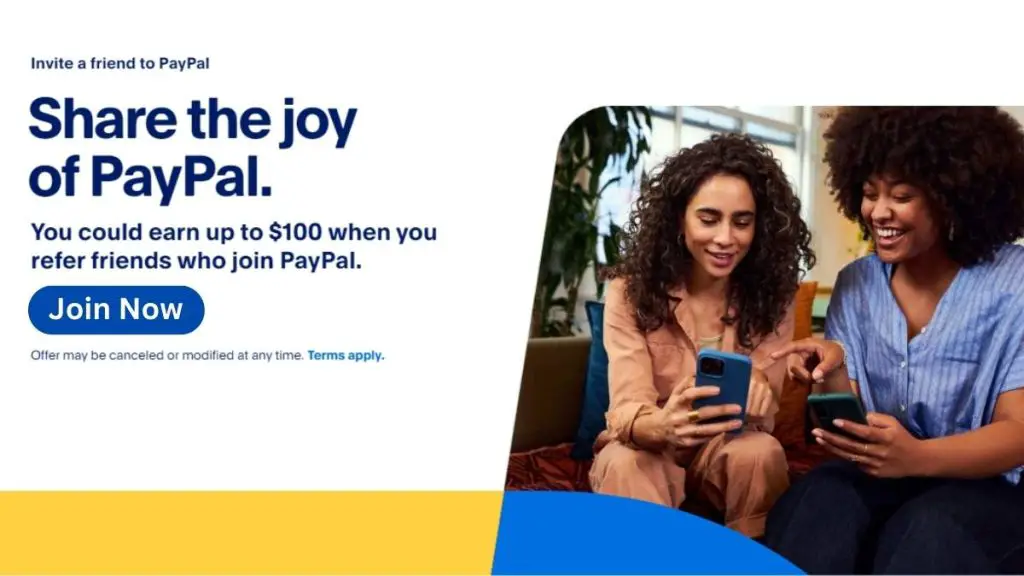 PayPal is a versatile, secure, wide-ranged, flexible, and user-friendly money transfer tool and is rated as one of the top 10 POS (Point-of-sale) systems for 2021. With PayPal, credit card processing (Payment Pro, PayFlow, or Payment Standard) for small business owners becomes handy. It allows payment processing through platform customer trust.
Its Multiple pricing plans and All-in-one payment system makes it the best choice. It offers free money transferring catering to bank accounts, Amex Send accounts, and PayPal balances. It also provides an Instant transfer option for transferring funds immediately.
PayPal Specifications:
Transaction Fee
Yes
Web Interface
Yes
iOS App
Yes
Android App
Yes
Payment Gateway Cost
$0 for standard service.
$5 per month for advanced payment service.
$30 per month for payment pro features.
Accepted Payment Methods
Paypal and Venmo.
Credit and debit card.
Cryptocurrency (comes under alternative payment method)
Pay later option, featuring PayPal credit and short-term payments.
Product Category
iPhone App, Android App, Software, Personal Finance, Mobile App.
International Payments
Yes
In-store Payments
Yes
Loyalty Programs
Yes
Online Trading Payments
Yes
Free Credit Score
No
Person-to-person Payment Option
Yes
Deciding Factors:
Recommended for
Small to medium businesses conducting international transactions.
eCommerce businesses can commence lowering online transaction fees.
Businesses that require transparent pricing and casual setup.

Not Recommended for
Merchants who need 24/7 support options.
High-risk businesses and Merchants.
Businesses wanting free hardware included.
Compatibility
Including PayPal's POS and extensive integration of shopping carts, major websites, and POS systems.
Contract length
No contract, along with no termination fee.
User Friendly
The simple sign-up process and payment method are easy to understand and translate.
Payout Timing
Transfer money instantly within three or five business days for additional fees of 1.5%.
PayPal For Bussiness Owners: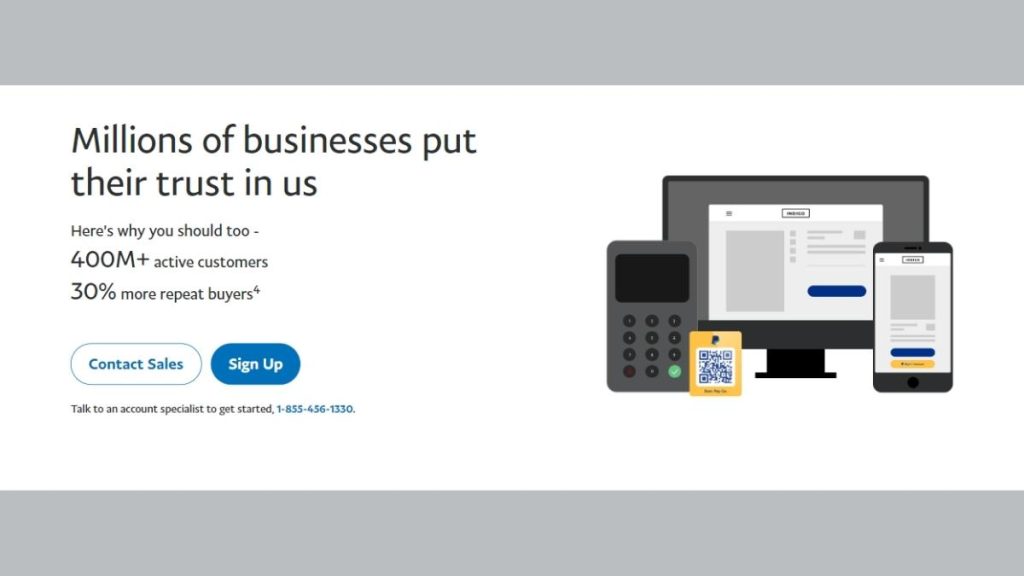 PayPal has a diverse variety of services to offer for business owners/ Merchants and the extent of these services can be found a little confusing if you are new to payment processing. In a Nutshell, PayPal lets you make and accept payments on a website or an e-commerce store. PayPal can also be used to make in-person payments using its various features for retail stores or holiday festivities.
Merchants can have access to all major credit cards. Venmo, cryptocurrencies, and pay later options. In a Nutshell, PayPal allows small businesses to accept and process payments via online or in-person schema.
Merchants are accessed to accept all major payments with or without PayPal accounts, with a variety to send or receive payments and transactions in 25 currencies.
Merchants can access all major payments without a monthly subscription at reasonable fees.
PayPal has the option of a Payment gateway to facilitate online business, it provides checkout with various e-commerce platforms.
The fees of transactions may vary on the type of transaction. The fee breakdown is given below:
PayPal Business Account Fees:
PayPal payment processing fees for business accounts generally range from 2.29% to 3.49% plus 9 to 49 cents for each transaction, including monthly charges ranging from $0 to $300 for payment gateways.
Payment Processing Rates:
These payment specs will help you analyze if PayPal is the right Payment processor for your business or not.
Standard credit and debit card payment charges are 2.99% plus 49 cents per transaction.
Digital Payments charge 3.49% plus 49 cents where digital payments include PayPal Checkout, Pay with Venmo, Pay in 4, Cryptocurrency checkout, and PayPal Credit)
QR payments charge 2.29% plus 9 cents through PayPal Zettle.
Payments Advanced, or Payments Pro, has 2.89% plus 49 cents per transaction charges for online card payments.
Send/ receive money for goods and services charges 2.89% and 49 cents per transaction.
Charity transaction charges are 1.99% plus 49 cents per transaction.
In-store Transactions are 2.29% plus 9 cents per transaction which is 2.7% per transaction for legacy PayPal users.
Alternatives charge up to 2.59% plus 49 cents in their payment methods.
Types of Payment Gateways on PayPal:
Payment Standard
Free
Redirects to PayPal's Website or app to complete the payment process.
Plug-in connects with the shopping cart.
Payment Advanced
$5 monthly
Checkout page is hosted.
Payment buttons can be customized.
Transaction rate is lower.
Payment Pro
$30 monthly
Transaction rate is lower.
Checkout page is hosted.
Customized payment buttons.
Access to virtual terminal.
Phone payments are accepted.
See Also: Best International Money transfer App
PayPal Features
Device Portable:
PayPal offers different versions of its outlook design by its best developers to make it devise portable. The app has versions for iOS, Android, Mac, and Windows. Which helps you transfer money anytime and anywhere.
Invoice Creation Feature:
One of the great features of PayPal is to track the invoice, and you can also customize those tracks by going to Invoice Creation. You can also use PayPal.Me link to view quick payment options. The app allows transferring to multiple people at once.
Huge Cash Limits:
You can keep money in your account with the PayPal cash card. The credit card limit is $3,000 with a cash withdrawal limit of $4,00 daily and a limit of 30 transactions per day. You can check your balance and transaction by tapping into the account.
PayPal Charges and Fees:
With its outstanding features and quick service, PayPal only charges users to pay for a few extensions;
fixed fee of 2.90% to send money via credit card.
Use of PayPal Balance, bank account, or Amex Send Account to send international personal transactions has charges of 5.0%.
Their PayPal fees vary to charge on various transactions; you can find charges here.
The domestic charge may apply for Business account holders:
| Payment Type | Rate |
| --- | --- |
| Invoicing | 3.49% + fixed fee |
| PayPal Checkout | 3.49% + fixed fee |
| QR code Transactions – 10.01 USD and above | 1.90% + fixed fee |
| QR code Transactions through third-party integrator | 2.29% + 0.09 USD |
| Pay with Venmo | 3.49% + fixed fee |
International charges apply for Business accounts:
| Payment Type | Rate |
| --- | --- |
| All Commercial Transactions | 1.50% |
PayPal Customer Support
Thankfully, PayPal offers several ways to get in touch and resolve issues. All general issues and even transaction disputes can be solved via the site's Help Center, PayPal Community Forums and Resolution Center. And you can do this in a couple of different ways, depending on your preferences. Also, you can call to PayPal customer representative and get help faster, probably via their number 1-888-221-1161.
Best PayPal Alternatives
These financial apps provide many overlapping but unique features which encounter their strengths and make them a better fit, depending on your need at the time.
WorldRemit: Expertise in international transfer
WorldRemit Charge has no cost and sends money to almost 130 countries. Money transfer is completed within 24 hours, no matter how far the receipt is. You can collect vouchers by introducing friends to WorldRemit through its referral program.
CashApp: Charges low Fees
CashApp offers more than payment options only. Includes the ability to buy and sell bitcoins straight from your balance. It has a unique feature of investment, savings, and buying and selling.
Venmo: best for Shared Bills
Venmo provides a way to split the money and make a move instantly. It does not require you to add money to it to make payments, such that instant cash transfers are applicable and allowable.
Facebook Pay: Good For Small Transfers
Facebook Pay provides easy transfer of money through the request option. It has chat and communication features too.
Zelle: Excellent for Bank to Bank Transfers
Zelle has quick access and worldwide availability, as many banks use it. Provides users with the option to request money over phone number or email.
What's new with Paypal?
1. Social media selling:
The separates feature "Checkout on Facebook and Instagram" allows you to make sells using your Instagram or facebook page. This benefit is that you will not need a website to sell stuff online through its embedded payment link.
2. Paypal in 4:
PayPal has recently brought forward its pay later installment option for users who want to pay in divisions. This feature allows users to make payments in four features in an interest-free environment. Although the purchases qualifying pay in 4 has to be between $30 and $600.
3. Shipping discount:
By using an online shipping label, you get UPS discounts and access to USPS Commercial Base prices, up to 45% on UPS ground shipment and up to 55% on eligible packages.
4. CryptoCurrency Support:
The feature is available in the US. They can now buy bitcoins, Litecoins, Bitcoin Cash, and Ethereum, hold and sell them. The merchant can also use crypto to pay for purchases and deals. The system works on the instant move principle, where the crypto is converted to fiat currency as soon as the user makes a purchase.
5. QR Code Payments
PayPal Merchants can use QR codes to take payments from in-store customers. You just have to generate your QR code in the PayPal business app or online, display it on your register to have customers access it, and make their payment via scanning. Optimized contactless technique, best for post-COVID days.
6. Card Reader
New mPOS app created by PayPal Zettle in the US. The Zettle Reader allows chip PIN payments, Google pay, Apple Pay, and Samsung Pay. Its battery has a coverage of up to 8 hours/ 100 transactions. However, its better to get a Zettle Dock for $49 to ensure undisturbed sales throughout the day by keeping the reader remain charged.
Conclusions
PayPal has monthly revenue of more than 10M and provides the option to have customized accounts according to your necessity. It is overall a solid payment option for startups, businesses, bills, and whatever you add.
The platform is user-friendly and widely accepted. Unless a few countries do not have PayPal, which is big trouble. However, the overall performance of the app is quick and painless. However, if the platform doesn't meet on your goals, you can close your PayPal account anytime.
FAQ (Frequently Asked Questions)
Why should we choose PayPal?
PayPal is among one of the best money transferring apps that have access to almost all countries and make it easy to connect and deal with people worldwide.
Can I cancel a Payment that is already sent?
1. You are allowed to cancel only unclaimed payments. Once the payment is complete, you will have to contact the receiver to request refund.
2. By canceling an eCheck payment or instant transfer, the payment is withdrawn from your money account however it goes back to your PayPal account.
How to know if payment can be canceled or not?
Note that if the "Cancel" option does not show on the Order status/ Action column, the payment has been claimed; hence, you can't cancel it. In the other case, you can simply click the Cancel button.
What is an automatic payment, and how to update it?
Automatic payment authorizes a merchant or dealer to charge you on each purchase on their website without signing into Paypal.