PayPal is a payment solution platform that provides online payment systems to people and businesses worldwide. It is one of the most popular of all online payment systems. PayPal has many benefits, but they charge high transaction fees for receiving funds intentionally on a business account. 
You may try another online payment service like Payoneer, which has low transaction fees, the fastest payment processing, and no hidden charges.
If, for whatever reason, you can close your PayPal account anytime in just a few minutes, but there are some important things to consider before doing so. This article will explain how to close a PayPal account and what happens when you do so.
Why You May Want to Close Your PayPal Account
There are several reasons to see, but there are a few main reasons you can't avoid. However, there are several reasons why you might want to close your PayPal account:
No customer support:- A common complaint among users is that they have trouble communicating with customer service representatives at Paypal. The representatives can be difficult to reach by phone or email due to high call volume or lack of response time, leaving some users feeling stuck when they need help resolving an issue quickly (such as having insufficient funds on your Account).
Geo-specific restrictions:- may prevent PayPal funds from reaching users in your country. Especially for businesses, having a PayPal account isn't much good if you can't use it.
Complicated fees:- Many people who use Paypal are surprised at the high fees it charges for every transaction. The company charges a fee when you send money from your bank account to another person's bank account or when you receive money into your bank account (if you aren't sending or receiving). If you want to withdraw money from your Paypal balance, there will also be an additional charge.
How to Close your PayPal Account
Closing a Paypal account is a simple process. But before closing your Paypal account, it's important to download your transaction history, unlink any automatic transaction, and transfer your Paypal balance to your bank account. There are no penalties and no hidden charges for this process. Let's start the process of closing your PayPal account.
How to close your PayPal Personal Account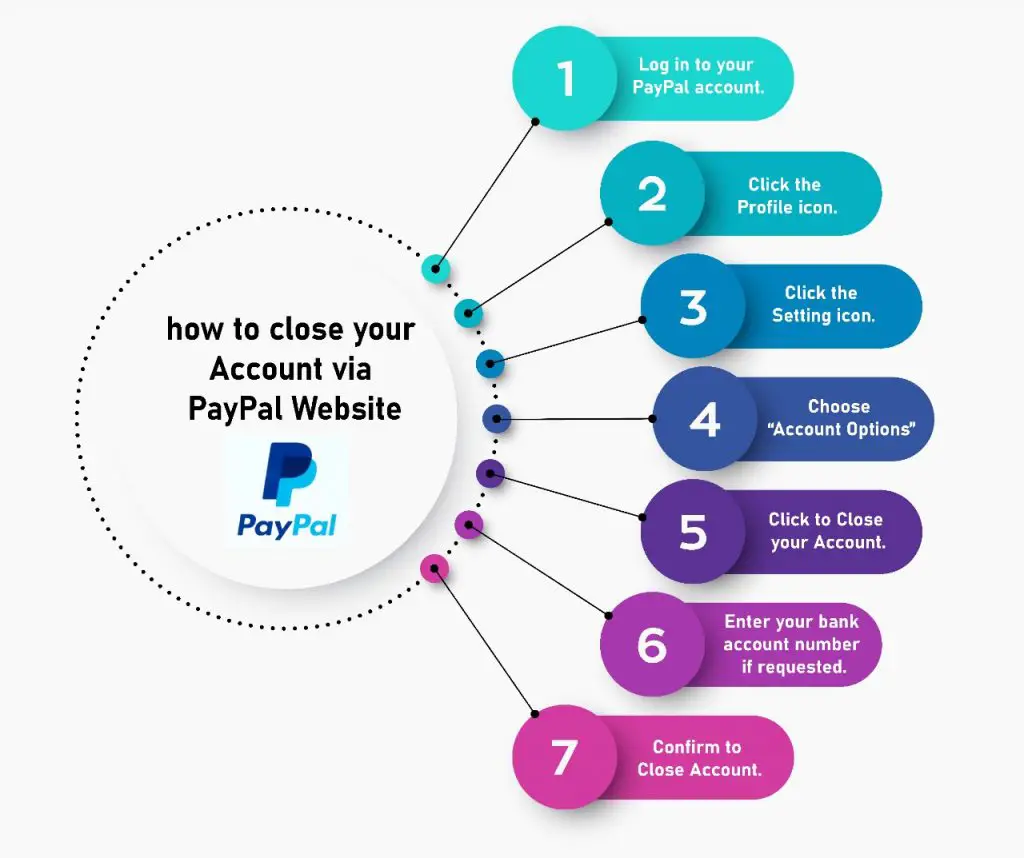 Here's how to close your Account via PayPal Website:
Log in to your PayPal account.
Click the Profile icon.
Click the Setting icon.
Choose "Account Options"
Click to Close your Account.
Enter your bank account number if requested.
Confirm to Close Account.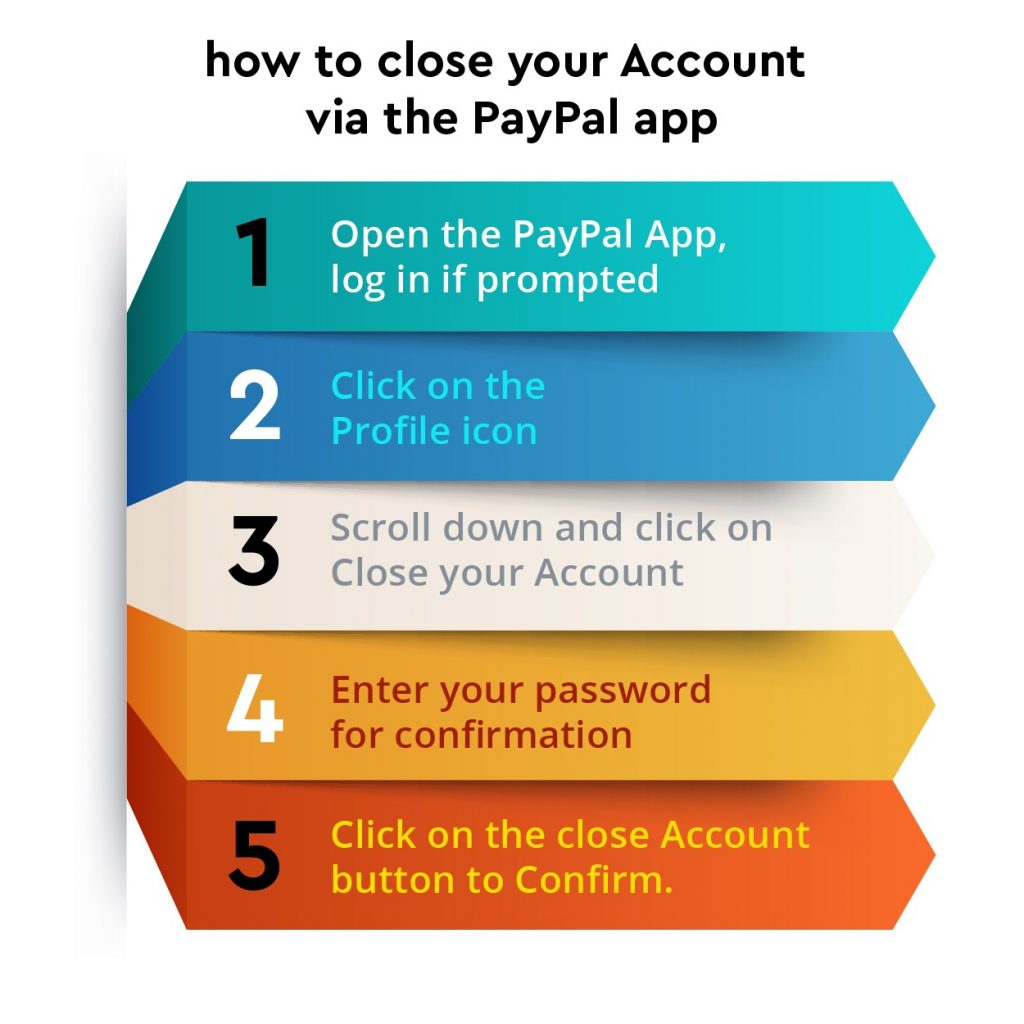 Here is how to close your Account via the PayPal app:
Open the PayPal App, log in if prompted
Click on the Profile icon
Scroll down and click on Close your Account
Enter your password for confirmation
Click on the close Account button to Confirm.
Note: Any unpaid money requests are automatically canceled. You'll lose all coupons and redemption.
How to Close Your PayPal Business Account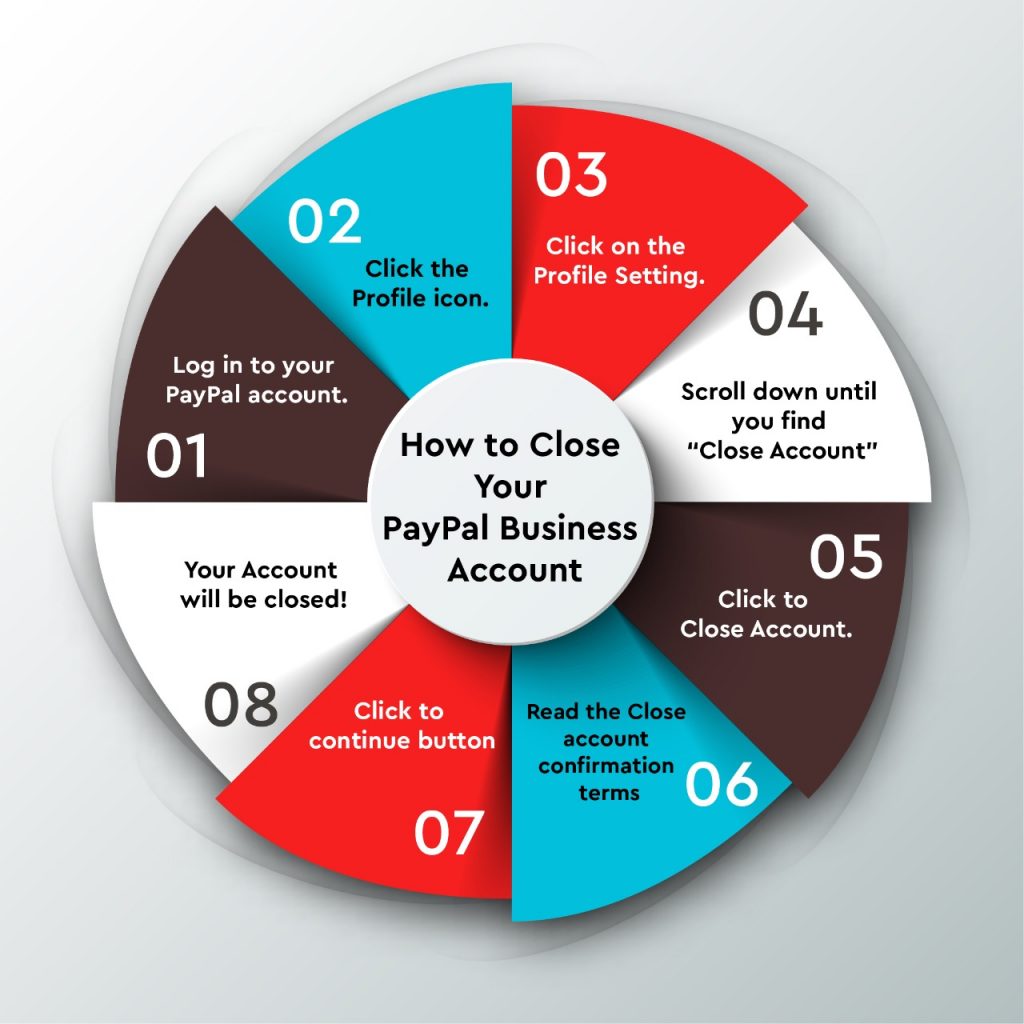 Here's how to close your Business account via PayPal Website:
Log in to your PayPal account.
Click the Profile icon.
Click on the Profile Setting.
Scroll down until you find "Close Account"
Click to Close Account.
Read the Close account confirmation terms
Click to continue button
Your Account will be closed!
PayPal Alternative
Payoneer
Are you looking for the best PayPal alternative? Payoneer is one of the best options! Payoneer is undoubtedly the best online transaction platform to get paid directly to your bank. You can send and receive the money overseas without charges. With Payoneer, everything is transparent. You pay only bank transfer fees, a small amount that doesn't cut off your pocket.
Conclusion
Once you close your PayPal account, you will not be able to reaccess it. However, PayPal has provided an option to reactivate your Account within 30 days. If you changed your mind for some reason, you could reactivate it.
If you're looking for more alternate ways to send money overseas without hidden charges, try Instarem and get $75 first overseas transfer bonus.