It is essential to have a required cryptocurrency wallet to buy and sell crypto. Keeping any crypto securely, as well as keeping transaction information secure, is a very important precaution.
Two main types of cryptocurrency wallets are hardware or software, also known as hot and cold storage. Custom crypto wallets provide a specific solution to all traders than any crypto exchange.
Read on to learn about the different types of cryptocurrency wallets, how they work, and which one you should choose.
Read our guide on How to Get Free Bitcoin Bonus
1. Coinbase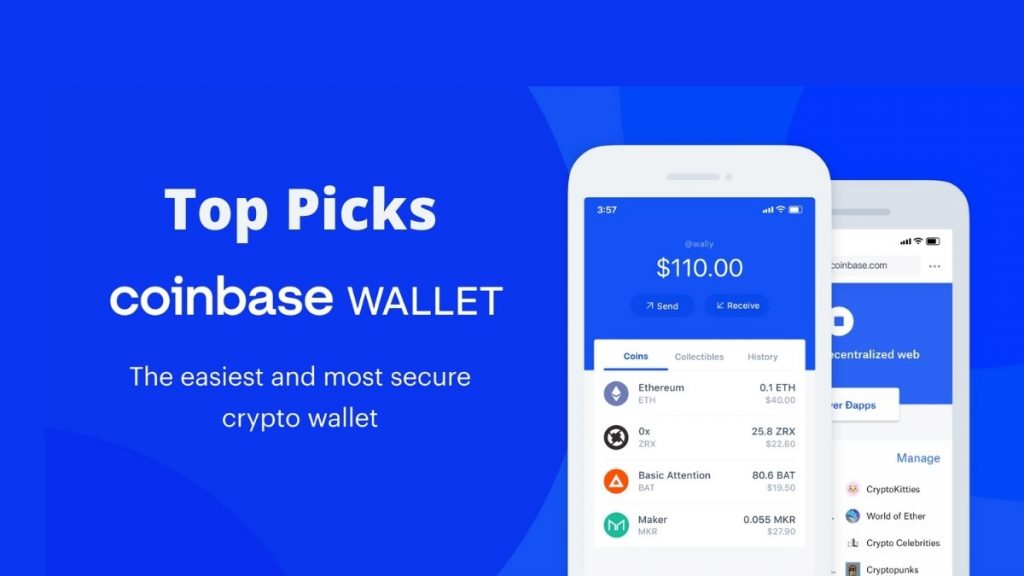 Coinbase Wallet tops our list as it is recognized as one of the most secure and best crypto wallets. It is an intuitive and highly secure wallet not only Coinbase has been recognized as the most trusted worldwide.
Coinbase Wallet is an excellent option for beginner-level traders. Easy to use with a great interface, the app can connect to all major bank accounts.
Coinbase support over 44,000 crypto coins, all major NFTs, and digital collectibles and tokens.
Coinbase Wallet is a self-custody wallet that gives you complete control over your crypto assets. Your private keys (representing ownership of the cryptocurrency) for your Wallet are stored directly on your mobile device and not on a centralized exchange like Coinbase.
Coinbase Highlights:
High liquidity and buying limits
Easy way for newcomers to get bitcoins
"Instant Buy" option available with debit card
2. MetaMask
MetaMask is one of the most widely used Ethereum wallets worldwide, with over 35 million monthly active users. MetaMask provides several things like storing and sending Ethereum-based cryptocurrencies and accessing popular NFT marketplace, such as OpenSea (Connect directly to the Wallet).
MetaMask is the perfect beginner wallet for someone who is only interested in Ethereum.
One of the reasons MetaMask is so popular is that it is very easy to use and accessible. Investors seem to have been designed with the Wallet's design in mind, as it is inviting and straightforward.
The MetaMask Wallet extension is available for Google Chrome, Microsoft Edge, Mozilla Firefox, and Brave browsers. The MetaMask app is also available for Android and Apple devices.
The following are a few examples of major crypto assets supported by MetaMask:
Ether
Augur
Basic Attention Token
Compound
Badger DAO
USDC
Tether
GUSD
Yearn Finance
MetaMask Highlights:
User interface is easy for beginners to grasp
Portal into a variety of Ethereum dapps
Hardware wallet integrations
Available on mobile and as a browser extension
3. Trust Wallet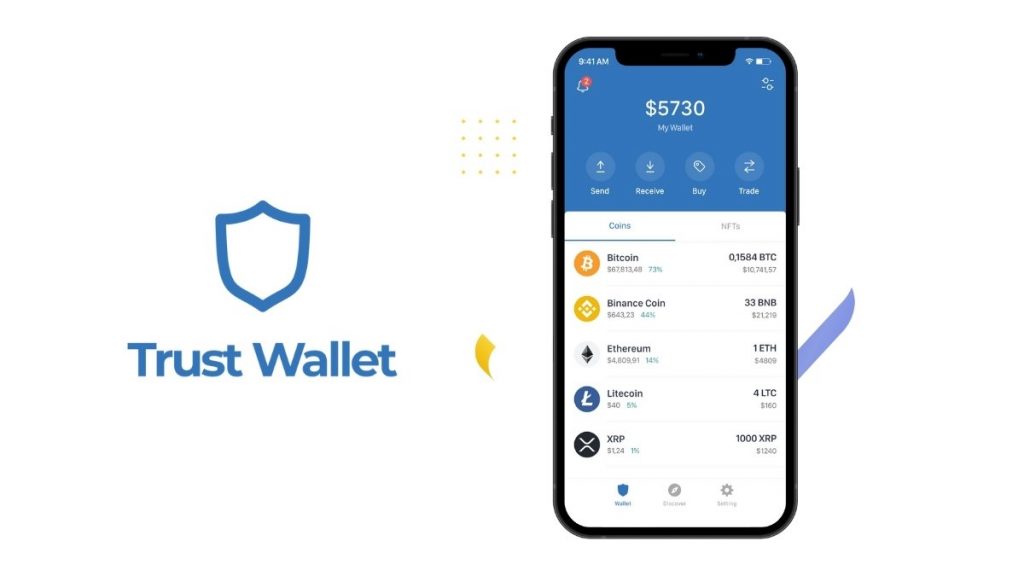 Trust Wallet is great for managing crypto on the go. The platform supports all major cryptocurrencies and most smaller tokens. Trust Wallet is a non-custodial crypto wallet that uses hot storage for all types of tokens. It is very secure, free to use, and has many blockchains. This is why the Trust Wallet is considered the best cryptocurrency wallet. 
Trust Wallet is a wallet for the Ethereum network. Trust Wallet allows you to control your private keys, which means that you can use it as a decentralized wallet. The app also supports Ethereum-based tokens, such as ERC20, ERC223 and ERC721.
The Trust application is available for Android and iOS devices and is easy to use. There are no transaction fees when sending funds between wallets or exchanges within the Trust network (except for those made via 0x).
Trust Wallet Highlights
Supports over 1 million cryptocurrencies
Convenient setup and use on smartphones and some Mac computers
Easy to buy and stake cryptocurrency directly in the Wallet
4. Ledger Nano X Wallet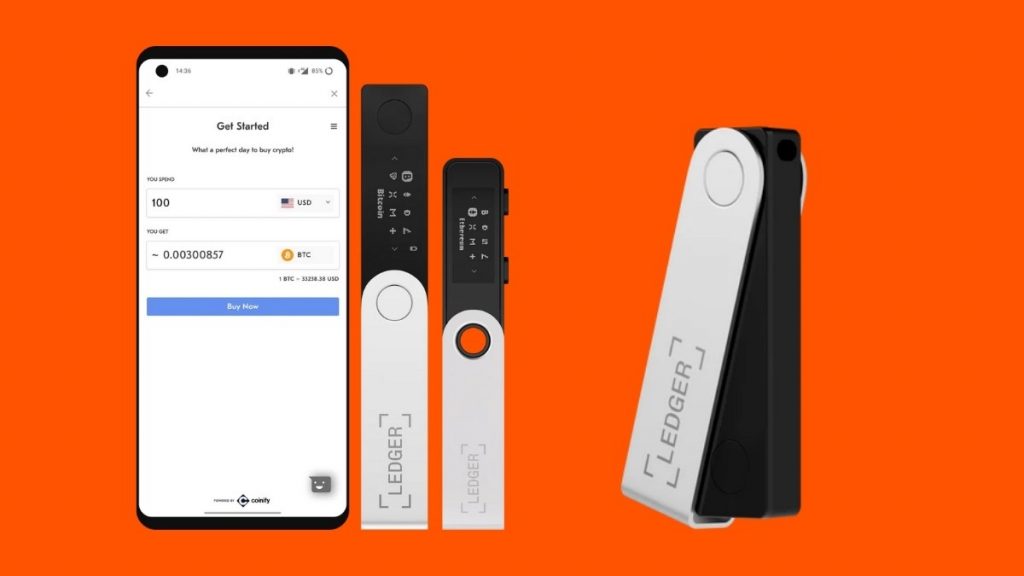 Ledger Nano X is the best offline crypto wallet, one of the high-security standards followed, and supports all major cryptocurrencies.
Ledger Nano X is a cryptocurrency hardware wallet that stores the private key for your cryptocurrency. It's a popular choice for storing cryptocurrency, and it's considered one of the most secure ways to store your coins. The best thing about Ledger Nano X is that it never exposes your private key outside the device, which means it is always kept offline (Also known as cold storage). This makes it a safe option for storing your coins if you want to keep them safe from hackers.
Ledger offers a wide range of products, including their Nano X, which can store up to 101 cryptos at once, or the Ledger Nano S, which only allows you to store 31 cryptos at once (but costs less). Each device comes with its own unique set of features and benefits that make it worth buying over other types of wallets—which means they're both great choices!
Ledger Nano X Supported Crypto
The Ledger Nano X supports over 1000 cryptocurrency tokens. Here is a list of the top supported crypto tokens:
Bitcoin (BTC)
Bitcoin Cash (BCH
Bitcoin Gold (BTG) 
Ethereum (ETH)
Ethereum Classic (ETC)
Stellar (XLM)
Ripple (XRP)
Litecoin (LTC)
Dogecoin (DOGE)
Zcash (ZEX)
Dash (DASH)
Ledger Nano X Highlights
Bluetooth Connectivity
Highly secure
DeFi functionality
Attractive design
5. Exodus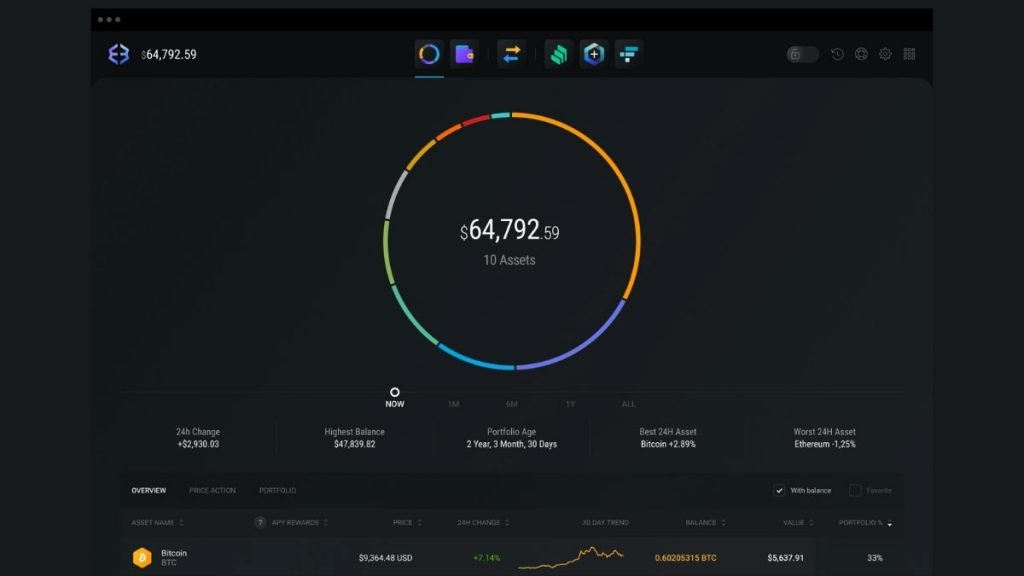 Exodus is an easy-to-use multi-currency software wallet that is available for desktop and mobile devices. The platform is easy and straightforward to use the Wallet. Users can buy, sell and swap crypto on Exodus internal exchange. Exodus supports more than 230 crypto assets.
Another best thing about Exodus is that users can buy, sell, send and receive NFT tokens with the Exodus NFT Marketplace.
Exodus is particularly suited for beginning crypto traders.
Exodus is a non-custodial wallet. That means you have control over your crypto assets.
Top Supported Crypto Tokens:
Bitcoin
Ethereum
Tether
Binance Coin
Terra
Ethereum Classic
Stellar
Ontology
Tezos
Tron
Exodus Highlights
Great design
Intuitive interface
Multiple support channels
Supports over 230 cryptocurrencies
Read our guide on Best Crypto Lending Platforms
6. Mycelium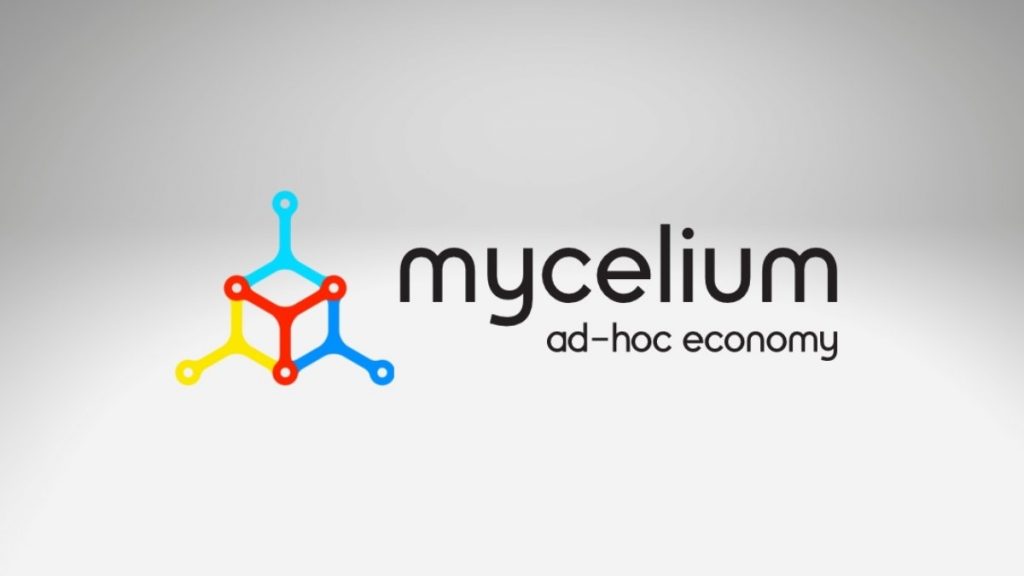 A strong focus on privacy, security, and transaction information make Mycelium a top crypto wallet for mobile devices.
The Mycelium wallet is one of the oldest and most popular Bitcoin wallets available for mobile devices. The app is available for both Android and iOS users.
Mycelium is a mobile wallet that supports Bitcoin, Ethereum, and Litecoin. It has been around since 2008, so it's a well-established player in the cryptocurrency world. 
Security and transaction options are two of the biggest highlights of Mycelium. The wallet app offers four recommended levels of transaction fees – low priority, normal, economic, and priority – as well as a variety of account types. It has several layers of pin protection and can be reproduced and compared with the original to detect any potential security issues.
Mycelium's interface is clean and easy to use, but its biggest downside is that it doesn't support any other cryptocurrencies besides those listed above (Ethereum Classic was added in 2019). However, Mycelium does have some features that make it stand out from other wallets:
Mycelium Wallet Supported Coins
Bitcoins (BTC)
Ethereum (ETH)
Tether USD (USDT)
USD Coin (USDC)
Huobi Token (HT)
Binance USD (BUSD)
Zero X (ZRX)
Mycelium Highlights
Enhanced security features
Compatibility with hardware storage options (i.e., Ledger, Trezor, KeeperKey)
Well-established/tenured record as a bitcoin wallet
Conclusion
We hope that this article has helped you make up your mind about which Wallet is the best for you. We've given a lot of information about each type of Wallet, but it's important to remember that there are other factors beyond these when choosing one. For example, suppose you plan on storing large amounts of cryptocurrency in any type of Wallet.
In that case, it makes sense to choose one with an efficient user interface so they can be able to easily access and send their funds quickly – such as Mycelium or Trezor Hardware wallets. If security is an issue, we recommend using hardware wallets like Ledger Nano S because they don't require any connection with an internet network making it more difficult for hackers to access your funds!
A great feature offered by all types mentioned above would be multi-currency support allowing users to store different coins within one storage application without having multiple apps installed on their phones or computers.