Want to watch the T20 World cup in Canada? You are at the right place.
T20 world cup is perhaps the most crucial watch for cricket fanatics. The series will start on 16th October, and people from all over the globe as well as from Canada, are in quest of getting live streaming of the fantastic series. 
So, if you are thinking about how to watch T20 World Cup in Canada, the wait is over! Thankfully, Willow TV will be streaming the live ICC T20 World Cup across continents such as Canada and the USA.
Since it's not possible for every cricket fan to grab a ticket and enjoy the live match at the stadium, so they are in search of better and more affordable service to stream the match live without any disturbance. This article explores the legal ways to brief you on the details of How to Watch T20 World Cup in Canada.
When Is T20 World Cup Happening?
First and for all, let's look at the details of ICC T20 World Cup 2022. The ICC Men's T20 World Cup being held in Australia is starting on 16 October and is destined to end on 13 November. 
Being at the reputation of the eighth T20 World Cup Tournament between 16 teams. With Australia winning the T20 World Cup last time, people are excited to see who is going to take the trophy home this time.
Where to Watch the T20 Cricket World Cup 2022 in Canada?
The T20 World Cup starts on 16th October, and people from across the continent, alongside Canada, are in search of ways to get live streaming of the fascinating match. 
Cricket fanatics can now watch the ICC T20 Cricket World Cup live streaming in Canada on Willow TV and Hotstar Canada. These two channels have the official rights to broadcast T20 Cricket World Cup in Canada. 
Willow TV: Watch T20 World Cup In Canada:
Willow TV is the only 24/7 live cricket channel, with official live broadcasting right in Canada and the USA. It is a broad platform allowing cricket fans to stream live matches. Alongside providing the option to watch recorded or other cricket shows. 
With willow TV channel, you can watch cricket across the world with the help of major satellites and cable networks the service uses. Since 2003, Willow TV has captured cricket fans and provides services to Canadian cricket fans for the streaming stations to watch their desirable match. Along with coverage of on-air matches, you get to watch replays, highlights, recorded matches, and hot news related to them on Willow TV. You can also mark reminders for different match schedules on-air and can share fascinating moments with your loved ones. 
Alongside this, Willow TV has PSL, CPL, WBBL, BBL, IPL, and all other types of cricket broadcasting official rights, which can be earned by you through a subscription.
How to Watch ICC T20 World Cup 2022 on Willow TV Live Cricket Streaming:
With Willow TV, you can watch live streaming of all cricket matches, including Test Matches, T20s, ODIs, and women's matches. Willow TV service is available for you by monthly or yearly subscription and is enriched with an extensive library of cricket match recordings and videos to view on a daily basis. 
Willow TV also offers a personalized streaming experience that can be customized by the user based on their watch preferences. The customizable languages available are English, Tamil, and Hindi.
Does Willow TV Offer a Free Trial?
Willow TV is a premium network that requires a subscription to access its diverse library content. Sadly, Willow TV does not offer a free trial for its services. 
However, if you are looking for a free trial, sling TV includes a subscription to Willow TV and provides a trial for 3-day for free. 
Also, streaming from the library is very easy if you have already subscribed. 
Willow TV Canada Subscription Cost: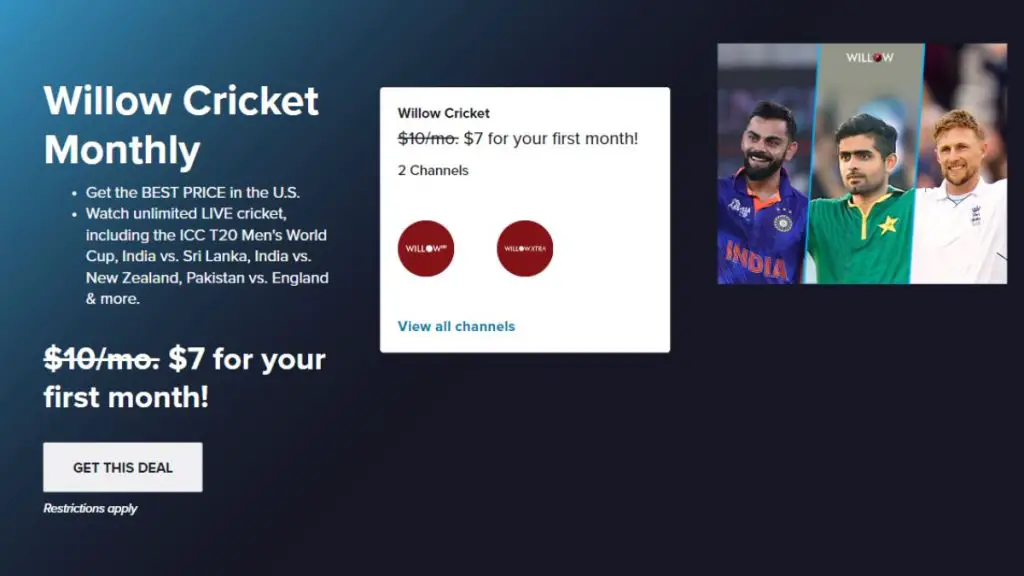 The two main subscription packages that you can purchase from Willow TV are.
Monthly Subscription Plan:
Willow TV offers a monthly subscription for $9.99/ month. This package allows you to view all the library content without any hassle. 
Annual Subscription Plan:
Willow TV offers a yearly subscription for $60.00/ annually. It is a plus deal, as when we break the annual fee into months, it costs $5 per month. Which helps you save $4.99 with this offer.
| | |
| --- | --- |
| Monthly Subscription Plan | $9.99/ month |
| Annual Subscription Plan | $60.00/ annually |
Willow TV Canada Subscription Cost
Willow TV Canada Channel Providers:
How To Sign Up for Willow TV Canada:
Willow TV is supportable for devices like Tablet, iOS devices, Roku, Apple TV, Samsung Smart TV, Android phone, Xbox, Google Chromecast, Amazon Fire TV, Windows, Android TV, and Smart Phones. 
To get done with your feasible subscription, follow these steps:
First, download the Willow TV app from Apple Store or Google Play Store, or visit the website www.willow.tv online.
Set up your account by entering your email address and setting a password for your account.
Choose a streaming plan for yourself.
Enter the billing information.
Finally, you can access the Premium Subscription of Willow TV.
Final Verdict:
T20 World Cup is super near, and this article serves the search of cricket fanatics to get ways to watch T20 live streaming in Canada. The best suite for Canadians on How to Watch T20 World Cup in Canada is Willow TV getting its premium subscription using a very suitable package for you.
However, Willow does not offer free trials, although they can be accessed via different channel providers. Hope the article helped you with your Willow TV subscription and the details that add to it. 
Frequently Asked Questions:
How to get Willow TV for free?
However, there is no free trial to use Willow TV, but you can access Willow TV through DISH, Sling TV, Comcast, and other Cable Providers. 
Is Willow TV through Sling free?
No, you will have to pay for sling's Willow Cricket package to access the Willow platform and library contents. Although you can use 3 days of Sling's free trial without subscribing to it.
How much does Willow TV cost?
The willow TV annual premium subscription is $60 per year, whereas the monthly premium subscription is $9.99 per month.
Where to watch Willow TV?
Several cable providers, such as Sling TV, Dish, Comcast, and Spectrum, provide Willow TV free access if you have subscribed to them. 
How to watch ICC T20 World Cup 2022 Live Cricket Streaming in Canada?
Willow TV Canada will be streaming the ICC T20 World Cup 2022. Use their app or website to watch all matches live.