Sling TV is an American streaming app-based service letting you stream live television and on-demand online streaming of cable channels via specialized streaming devices without a cable tag. Sling is similar to ESPN Plus, Hulu, and Netflix. So, if you already have a Sling TV subscription but later wish to cancel or pause your membership, here's what you need to do.
About Sling TV
Sling TV was founded on February 9, 2015, and is the first app-based OTT platform that provides various services like shows, movies, news, series, and many more.
Sling TV is a part of the dish network and the first app-based TV service that enables you to stream live TV and on-demand content over the internet.
How to Cancel a Sling TV Subscription
Wondering how to cancel a Sling TV subscription? Canceling your subscription will automatically stop recurring charges and stop any channels from being auto-renewed. If your auto-renewal has already been activated and you want to discontinue services, follow these steps to cancel your sling tv subscription. 
Sign in to your Sling TV account
Go to the My Account dashboard
Click Cancel Subscription
Confirm your cancellation
Choose a reason for canceling and press Continue
You'll receive a confirmation email
Note: Some users may be eligible for an extended free trial or refund if they are within their first month of service.
How to change Sling TV Subscription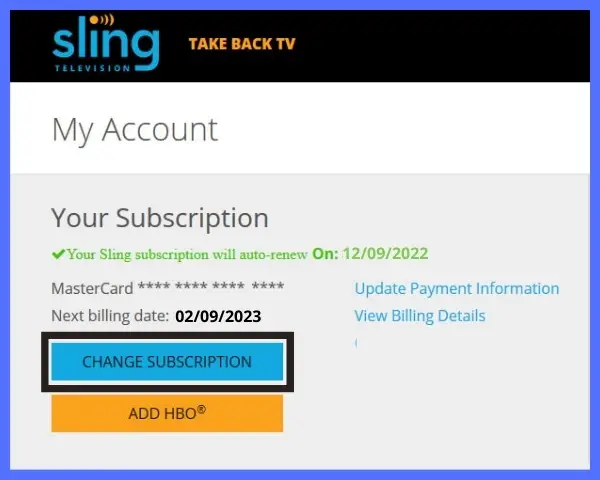 You can change your subscription type, add or remove channels, or change packages at any time by visiting your Account page. Follow the below steps to change your subscription:
Log in to your Sling TV account.
Visit your subscription header and click on change subscription.
You'll be redirected to the new page where all list of the options Sling offer.
Now you can find the basic packages in Blue or Orange. Also, Sling lists its standalone and Latino subscription.
Now select the plan you wish to add next to the package. It will be added to the yellow checkmark on your account.
Removing a package from your account is exactly the opposite. Press the checkmark to the package, and it will revert to plan add or select.
Now review and configure your subscription.
Sling will take you to a breakdown of your new bill with an itemized list of everything on your account and the associated charges. You'll be notified of any additional charges if you add a service during a billing cycle. Those charges are billed immediately.
All your new channels will be added to the Sling player, and start watching your new channels.
How to pause Sling TV Subscription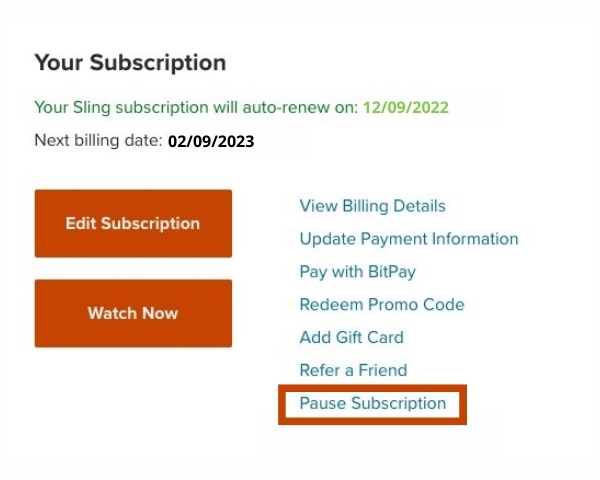 If you don't want to cancel your Sling TV subscription but just want a short break from it, you can also pause it. While your subscription is paused, any content that is being recorded on your Cloud DVR will be available for viewing when you resume. There is no limit on how long you can keep a pause going. When you decide to return your service, everything resumes just as if there was never a pause.
Follow the below options to pause your Sling TV Subscription:
Visit the Sling TV website and login into your account.
Click on Manage account.
Select pause account.
Choose pause length ex: 1,2 or 3 months and select next.
Configure pause subscription.
Conclusions
For users who want to get popular live TV channels and want access to most local channels and sports programming for a low price, Sling TV is the best one.
Compared to Sling TV, Disney Plus has a much better DVR option. Free DVR storage from Sling TV is only 50 hours, which is not enough if you like to record a lot of TV and watch it later. If you want more DVR storage, you have to pay $5/month.
Read More