Get ZYNLO banking services! Zynlo Bank is an online banking platform that offers checking, savings, and money market accounts with magnificent rates, no monthly fee, and no minimums. 
Now it's instant to reform your banking with Zynlo, as it has embraced multifarious features. One of its sufficient aspects is providing a round-up saving tool in which every debit card purchase will round up to the nearest dollar, and the additional funds go to your savings accounts.
At the end of your statement period, you will receive a 100% match of your round up amount with the $5000 minimum daily balance, and below that, you will get a 25% match. 
"Enticing! New customers can get a 100% match in the first 100 days."
Learn more in the Zynlo Bank Review, which fully focuses on Zynlo accounts, services, and more of its distinguishing features.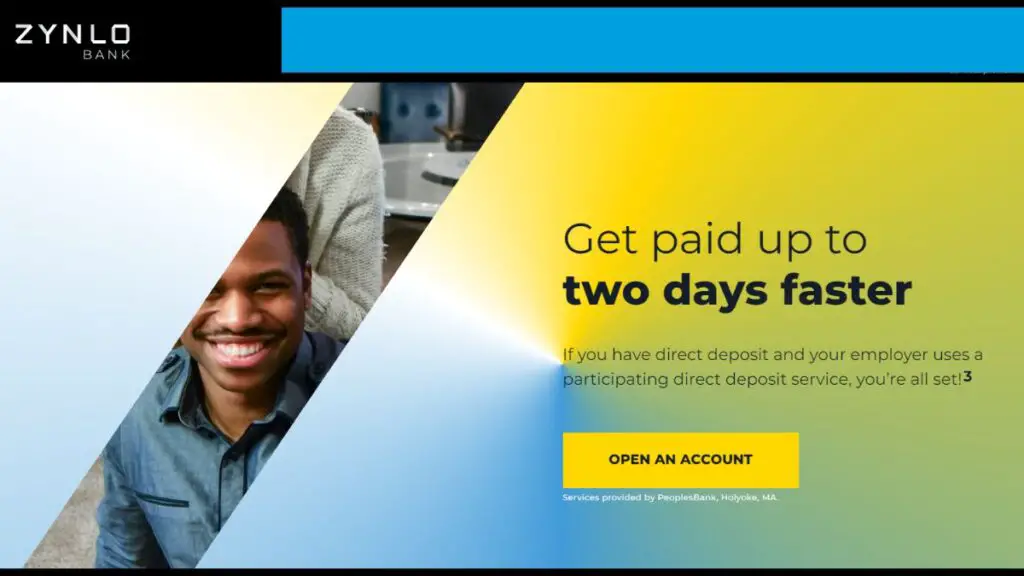 Want more options? Check Truist Bank and Wells Fargo for checking & savings accounts.
Zynlo Bank Pros and Cons
Pros:
There are no fees and minimum balance requirements.
55,000+ ATM networks worldwide
Zyng Round Up Savings and Matching Tool
Your deposits are FDIC & DIF insured.
Cons:
There is no physical access.
No paper checks are offered.
There are no deposit certificates
About Zynlo:
Zynlo is a financial services company backed by PeoplesBank, headquartered in Holyoke, Massachusetts. It offers astoundingly high-yield savings & checking accounts and a competitive money market account that gives you the opportunity to earn interest that yields up to 8x the national average³.
ZYNLO gives you the freedom to bank differently with its faster savings, early paychecks, and debit card perks. And more importantly, your money is completely FDIC and DIF insured up to $250,000 per depositor.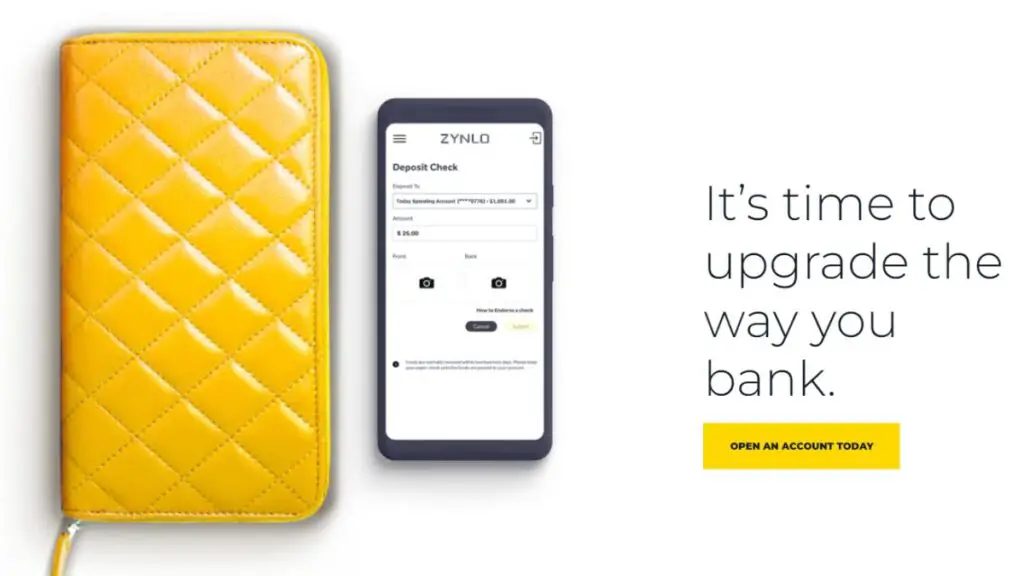 Check! Which digital bank is better for you?
ZYNLO Accounts:
Zynlo gives you a few, but catchy, bank account options in comparison with other banks. Here's the full review of what Zynlo personal banking accounts offer:
Checking Account:
Zynlo More Spending checking account offers you 2.00% APY and high interest rates to earn. The Zynlo More Spending Account does not require any fee or be restricted to the minimum balance; you just have to deposit $10 while opening an account.
To boot, you will also get a good deal of relishing perks. On top of that, you will be paid two days faster, with access to 55,000+ ATM networks, no fees, no minimums, and debit card rewards. Moreover, you can also take advantage of the ZYNG round up and match feature and get a 4.11% return on your money. 
Savings Account:
Zynlo Tomorrow Savings Account offers you a substantial high-yield interest rate of 5.00% APY, which is 11 times more than the national average. This account charges you with no fees or minimums and has a custom savings folder option within a single account. Along with that, you will get a 4.11% return on your money with a ZYNG round-up and match. 
To step up your high-yield savings, you can check out the ZYNG round up and match and maximize your saving ratio up to 5.00% APY.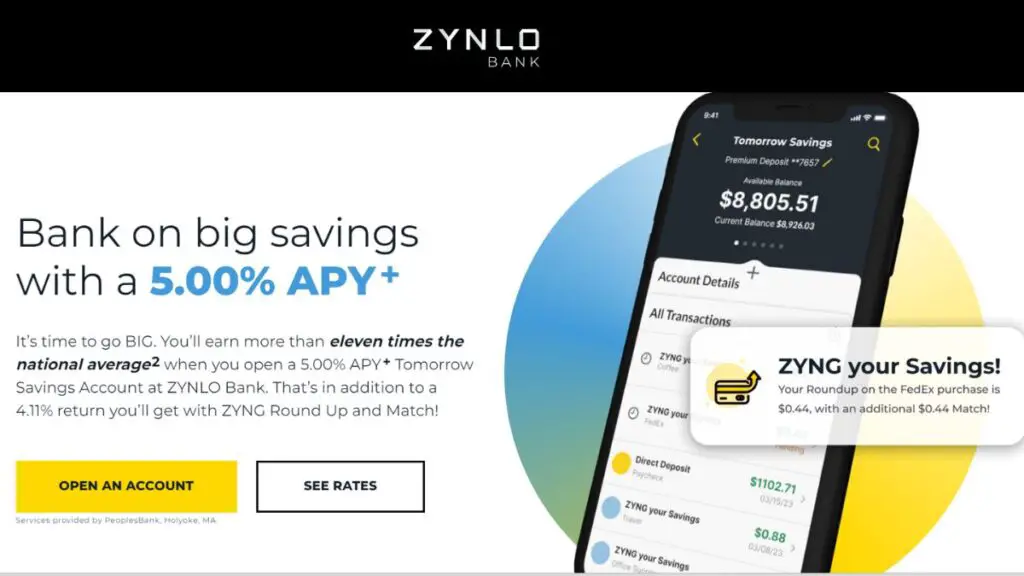 How does ZYNG Round Up & Match work?
It works when you open a Tomorrow Savings Account with a More Spending account. And use your Zynlo debit card for purchases anywhere. Zynlo Bank will round up each transaction to the nearest dollar and transfer the spare into your Tomorrow Savings Account. 
At the end of the statement period, Zynlo matches your roundups, and you will get 100% match as a new customer for the first 100 days, yup! But the customers who successfully maintain an average daily balance of $5,000 earn a 100% match as well. If you can't manage, that's perfectly fine; you can get a 25% match instead. Maximize your earnings now with ZYNG!
Money Market Account:
Open a Zynlo Money Market account today and earn a competitive high-yield interest rate of 5.00% APY. You will get 8x more than the national average with Zynlo. 
You can get 0.10% APY on balances greater than $250,000; you need a $10 minimum deposit to open Zynlo MMA. After it, you don't have to pay a fee or be restricted to maintaining a balance.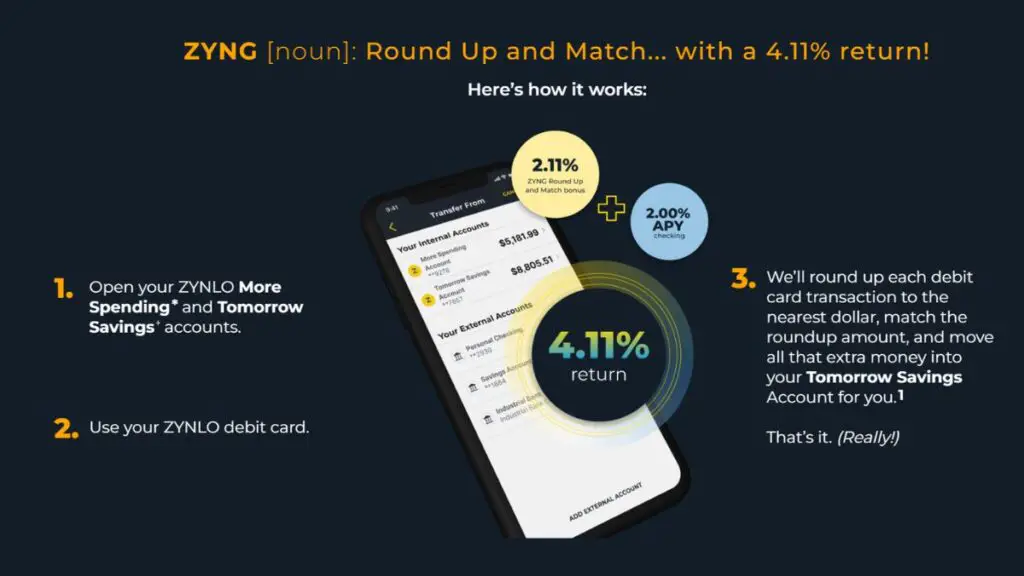 ZYNLO Bank Distinguishing Features:
Here are some Zynlo Bank's distinguishing features that make it a unique digital-only banking platform:
Access on the Go: Being a Digital Bank Zynlo app allows customers to manage their accounts, transfer money, pay bills, deposit checks online anywhere.
Zyng Round Up Savings: Zyng gives you 100% match on your all round ups when you have an average daily balance of $5000 and below it receive 25% match.
Get Paychecks Faster: You can receive your paychecks fashionably 2 days faster than the scheduled date.
Track your goals: Zynlo Banking gives you advanced financial tools, accounts, and services that update you on every action and let you track your goals successfully. 
Secured by FDIC & DIF: All deposits up to $250,000 are FDIC-insured per depositor, and the deposits above the FDIC limits are insured by depositors insurance funds (DIF), which means you have unlimited coverage for your deposits.
Final Take:
Overall, Zynlo Bank is established to provide personalized banking accounts with high-yield interest rates to every adult US citizen. 
Zynlo Bank is the best online bank for those customers who want to maximize their savings and earn a higher interest rate than a traditional bank. Although it doesn't provide CDs, it's not a good choice to shift to Zynlo Bank for full-service banking.
FAQs on Zynlo Bank Review:
What is Zynlo Bank?
Zynlo Bank, a digital bank and division of Axos Bank, offers checking and savings accounts, credit cards, and loans while being a member of the FDIC.
How do I open a Zynlo Bank account?
To open a Zynlo Bank account, you can visit the Zynlo Bank website or download the Zynlo Bank mobile app. The account opening process is quick and easy, and you can complete it in minutes.
Is Zynlo Bank safe?
Yes, Zynlo Bank is safe. It is a division of Axos Bank, which is a member of the FDIC. This means that your deposits are insured up to $250,000 per depositor, per account ownership type, in the event that Zynlo Bank fails.
What are the requirements for opening a Zynlo Bank account?
To open a Zynlo Bank account, you must be at least 18 years old, a US resident, and provide your Social Security number and a valid US address.
What are the drawbacks of banking with Zynlo Bank?
Zynlo Bank has fewer physical branches than some banks, but customers can use any ATM worldwide without fees.
How do I contact Zynlo Bank customer support?
You can reach Zynlo Bank customer support via phone, chat or email. Phone support is available 24/7 while chat and email are available during business hours.