Chime is a FinTech company that serves as a form of alternative traditional banks. Chime is an online financial app that offers a simple checking account with no minimum balance fees, no overdraft fees or foreign transaction fees required, and a single saving account. Chime is known for its fast direct deposit service, you'll get two days earlier than other financial options.
Chime is a leader in the mobile banking sector. It offers both spending and saving accounts according to your need. Manage your chime account on their highly rated app, available on iOS and Android devices.
If you want to earn extra, you can recommend Chime to your family or friends and earn up to $1,000 bank bonus in free cash.
A chime referral bonus offer is a great way to make an extra side income. Also, you can get an extra $200 if you join Chime via a rewarded site. Continue to read to get all details.
About Chime
Chime is a fintech company that was founded in 2013. Unlike traditional banks, Chime aims to provide a modern alternative that better serves everyday people's needs.
Chime is not a bank. It is an online FinTech company that offers online banking services like spending accounts, credit builders, or saving accounts. Also, chime offer credit or debit card to make spending and withdrawing easy if you have a regular chime bank account.
All Chime accounts are FDIC insured and don't require any minimum balance. Insurance coverage of up to $250,000 per depositor through the Federal Deposit Insurance Corporation (FDIC). That means all your money is just safe with Chime.
Chime Promotion
Chime referral bonus $100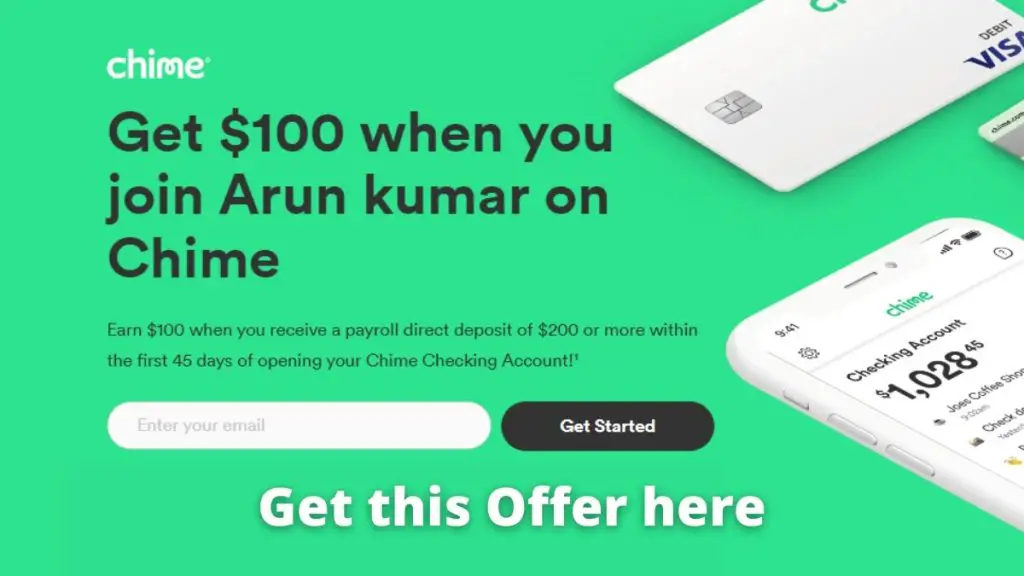 Chime is currently offering $100 cash bonus to you and your friends if you refer someone who opens a new account with your referral link.
You can earn up to $1,000 referral cash bonus per year. This is a great way to make extra money.
How to claim Chime referral bonus
Once you set up your Chime checking account, you will take advantage of the chime offer. Follow the below steps to get $100 referral bonus:
Log into your Chime account to get your unique referral link.
Share your referral link with friends you know.
Earn a $100 cash bonus when one of your referrals:
Registers for a new Chime Spending Account,
Verifies their I.D., and
Receives a direct deposit of $200 or more within 45 days from opening their account.
Extra tip: You can earn extra by sharing your referral link through social media. If someone opens an account and deposits $200 or more within 45 days of opening the account, you get $100 on each successful referral.
See more bank promotion
Chime Perks and Benefits
Receive your payment up to two days early with direct deposit
You can protect your overdrafts with SpotMe for free if you deposit $200 or more each month in direct deposits.
Save automatically with automated features
Free money transfers to friends and family (up to $2,000 per month)
Fee-free ATM access at more than 60,000 locations nationwide
You can disable transactions if you lose or steal your card
Replace your Chime debit card for free
Pay with Google Pay or Apple Pay
Automatic savings account
The most notable feature is its automatic savings account. You can set up the app to automatically transfer a specific monthly amount from your checking account into a savings one. Then, choose where it goes: an internal Chime account or an external one, such as an existing bank account. You can also choose how you want to save — in a specific goal (like travel or school), by category (like groceries or clothing), or all at once.
Chime Fees
One of the best benefits of using Chime is you don't need to pay any fees for using Chime service. For example, there are no:
No Minimum balance fees
No Monthly fees
No Maintenance fees
No Direct deposit fees
No Overdraft fees (with SpotMe)
The only fee you will pay is a $2.50 overdraft fee when you make purchases or complete an ATM withdrawal that exceeds your account balance or when you withdraw cash from out of network machine.
Chime mobile app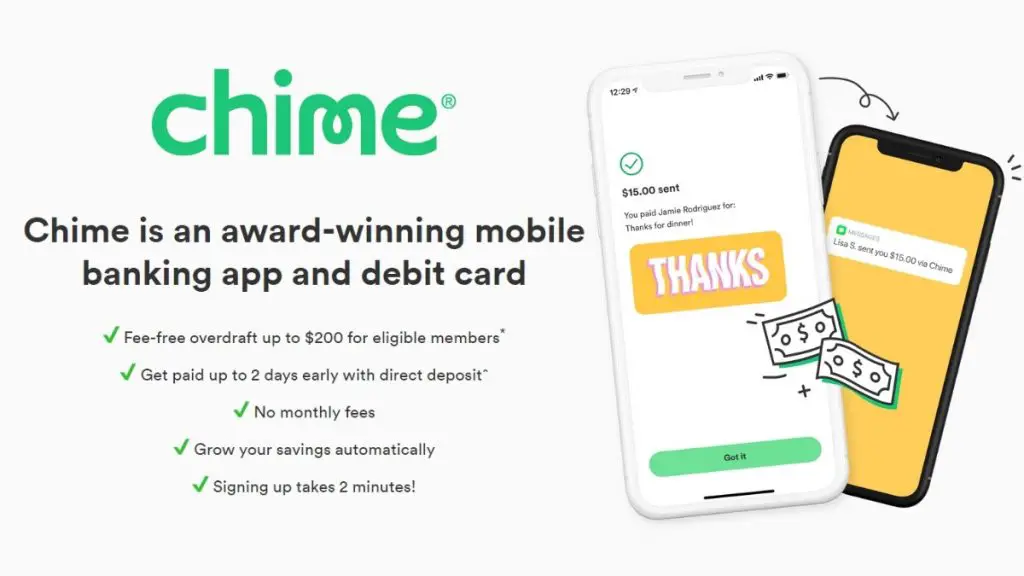 Chime is a mobile banking platform that offers an app that lets users deposit checks and track savings goals. Users can also get access to their paychecks early, monitor their bank balances, and set up recurring withdrawals from their checking accounts.
The chime app interface is easy to use, many features beyond the ones listed below:
Deposit checks via the mobile app
Get access to paychecks early
Track spending set savings goals (weekly or monthly)
Monitor bank balances
Chime app gets a good rating of 4.7/5 on Google Play Store and Apple store.
Chime customer support
Chime offers a digital banking service which means they don't have any physical branches, so you didn't get any advice from them via walking into the branch. Chime also offers 24/7 online customer support in the Chime app, or you can email the support team, and they will respond within 24 hours. Also, they offer phone support which is available from 6 AM to 10 PM (CST) Monday to Friday.
Chime customer service phone number (855)-499-6323 is a toll-free number for all US customers facing any issue with their Chime account.
How do I link my bank account to Chime?
Chime lets you offer to link your other bank account to your Chime account as long as Plaid supports the external bank and the name associated with the other account matches the name on your Chime account.
Here is how to link your bank account to Chime:
Log in to your Chime account.
Select Move Money.
Select Link External account
Select Transfer
When prompted, enter the login credentials for your other bank (your external account).
All set.
Conclusion
Chime is a great option for anyone who wants an easy-to-use financial app. It has all the features you'd expect from a traditional bank—saving, spending, and bill payments—but it also has some unique features that set it apart from other online banks. If you don't have an account, sign up and get $100 bonus instantly.
FAQs For Chime Bank
Can I use Chime at Bank of America?
You can use your Chime debit card to withdraw money at any Bank of America ATM, but Chime does not accept deposits of any kind at ATMs.
How long does it take to transfer money from chime to Regions Bank?
Transferring money from Chime to Regions Bank can take 3-5 business days for the money to appear in your account, depending on your Regions bank's policies.
Which bank supports chime?
Chime is a financial technology company that offers banking services by The Bancorp Bank, N.A., or Stride Bank.