Go2bank is an online bank that offers impressive opportunities to earn cashback on eGift Card purchases with select merchants, savings yields 10 times higher than the traditional biggest banks in America, and new customers can take advantage of GO2bank promotion where they can earn $50 welcome bonus.
GO2bank is available nationwide with the ability to open online, as per the current promotion GO2bank is offering a $50 welcome bonus to new customers who sign up through a referral link and deposit at least $200 within 45 days.
Continue reading to learn more about the GO2bank promotion offer.
About GO2bank
GO2bank launched in January 2021, initiated by Green Dot Bank's that focus on digital banking service. Green Dot Bank was founded in 1999 and its headquarters is located in Pasadena, CA. The bank aims to serve banking services in the underbanked area so people can improve their financial well-being.
GO2bank Promotion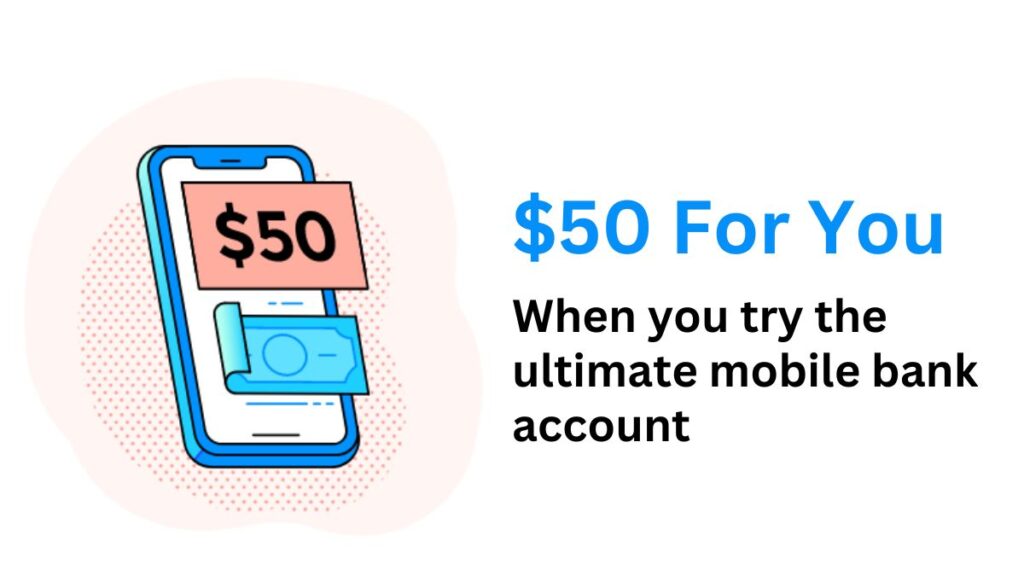 GO2bank is one of the most rewarding banks itself from competitors by offering higher than average saving yield, regular cashback rewards for eligible purchases, and new user promotions.
If you're not currently a customer yet, Current Best GO2Bank Promotions. Here are the active GO2Bank bonuses that you can benefit from today: 1. Deposit Account – $50 bonus.
join GO2bank and earn a guaranteed welcome bonus by completing specific requirements. Also, existing users can earn unlimited bonuses by referring to GO2bank with their family or friends.
You can also check, Chime bank and get $100 welcome bonus and $100 referral bonus.
GO2bank Sign Up Bonus
Currently, new users can take advantage of the GO2bank promotion and earn $50 as a sign up bonus by making a first initial deposit of $200 or more.
Open a GO2bank account using this referral link.
Submit your basic details and verify your email address to create an account.
Make a direct deposit of $200 or more within 45 days.
You'll receive $50 in your account.
GO2bank Referral Bonus: Give $50 and Get $50 Bonus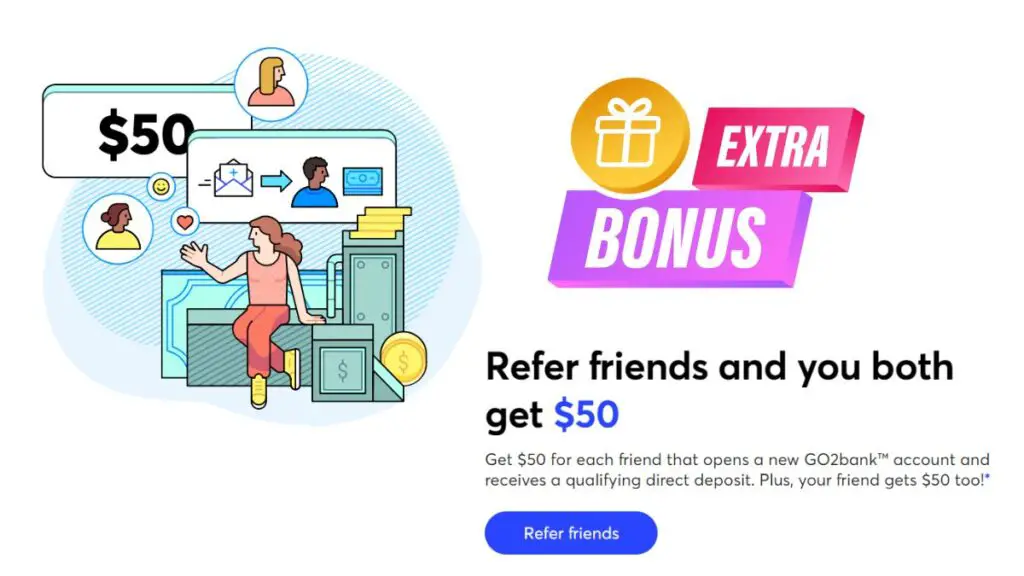 New and existing users can participate in the GO2bank referral program and earn $50 bonus by sharing your referral link with their family or friends who will open a GO2bank account and make a direct deposit of $200 to earn the $50 bonus. Refer more friends and earn up to $1,500 per calendar year.
Full requirements to receive this bonus are:
Log in to access your "Refer a friend" page and get your unique share link.
Share your referral link with your family or friends.
Your friends must sign up using your referral.
Make a qualifying direct deposit of $200.
You both will get $50 deposited into your account.
How to set up Direct Deposit in GO2bank?
Setting up direct deposit in GO2bank is very simple, you just carry a few things like, your name and Social Security number on file with your employer must match your GO2bank account exactly.
Ask your employer's payroll department for instructions on setting up direct deposit.
Then follow these steps to get your account and bank routing numbers:

a. Log in to your GO2bank account in the app or website.
b. Find "Direct deposit" under Move money. Copy your GO2bank direct deposit account number and bank routing number.

If your employer requests the account type, enter "checking."
Follow the instructions provided by your employer to provide your GO2bank account and bank routing numbers and make your direct deposit selection.
How to earn Cashback using GO2bank?
GO2bank offer cashback on eGift Card purchase. you can earn up to 7% cashback on an eGift card using the GO2bank app. Here is how you can earn cashback using GO2bank app:
Log in to the app.
Select an eGift Card to purchase (All eGift Card purchases include up to 7% cash back)
Buy the eGift Card with your GO2bank balance in the app.
Cash back Is instantly added to your available balance. You earn cash back when you:

Buy eGift Cards to send to other GO2bank accountholders
Buy eGift Cards for yourself. They're kept in your in-app eGift Card wallet for use any time.
Note: There is no additional cost or verification required to purchase eGift Card.
Excited for more cashback offers on shopping TopCashback app and get $30 sign up bonus
Conclusions
GO2bank is an ideal option who wants to earn a side income by Referring more friends and earn up to $1,500 per calendar year.
There is more bank bonus you can try and get guaranteed sign up bonuses.