If you're not satisfied with the product you received from Temu and want to return it, there's no need to worry. Welcome to our complete guide on how to return items on Temu. We will provide you with all the necessary information to make the return process as smooth as possible.
Contacting them is a breeze, and Temu's customer care service is always available to assist customers with any issues they may encounter. If you encounter any issues with any of Temu's products or the product does not meet your criteria upon receipt, be assured that Temu's team is always prepared to assist you in resolving the problem.
In response to the concerns and issues faced by its customers, Temu has taken the initiative to develop a comprehensive return and refund policy. This policy aims to give customers a hassle-free process for returning or refunding their purchased products.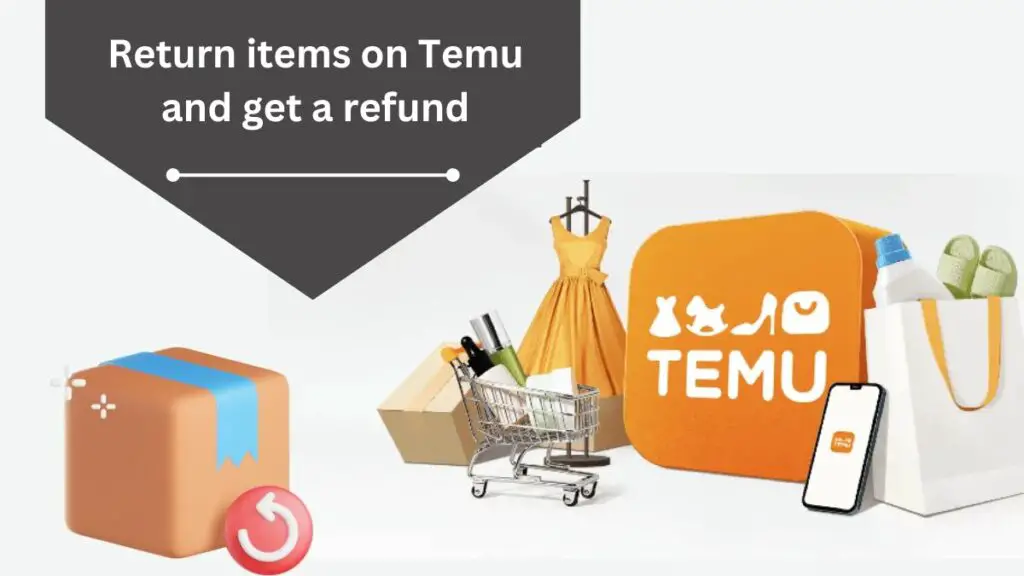 If you need to return items on Temu and get a refund, you've come to the right place. We'll guide you through the process step-by-step.
How do you easily return items on Temu?
First of all, you must understand what kind of return or refund cases are seen on Temu.
The customers who received the wrong items.
The customers whose item is fit but there are issues with size or color. These types of returns on Temu can mostly be seen in clothing items.
The customers who received a damaged Item from Temu.
However, in most cases, Temu strives to resolve its customers' issues to provide them with the most enjoyable shopping experience possible. However, it is important to remember that there may be better courses of action than returning the product to Temu.
If the customer found the item damaged after being used by the customer itself, then in that case, as per Temu's return and refund policy, the product can neither be returned nor refunded.
Furthermore, if the customer has worn or used the clothing items and the product has been damaged as a result, returning the product will not be permitted.
If an item has a non-return tag, it means that the customer can't return that product.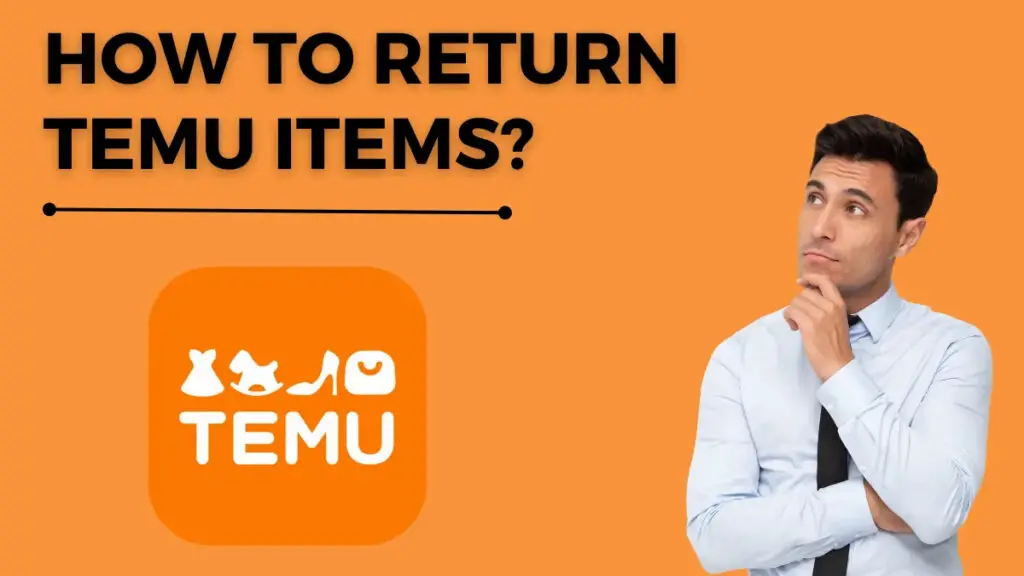 How Long Can You Return Items on Temu?
You can easily take advantage of Temu's return and refund policy if any item is eligible for return and refund.
You will have a 90-day period starting from the date of purchase. Once you have submitted your request, make sure to return your package within a period of 14 days. Just keep in mind that once 90 days have elapsed, you won't be able to return your item.
Once your return is successfully processed, the refund for the returned product will be credited to your account within a period of 7 days.
Are there any Shipping Charges on Return Items on Temu?
If you buy an item for the first time, you'll be pleased to know that returning it won't cost you anything. Yes, that's right! The shipping fees for returning the item are completely waived, but there's a catch. You must ensure you return the item within 90 days of your purchase. So, remember and take advantage of this free return shipping offer! In addition, if you need to return a few items from your large order, you can do so. Just make sure to submit your request within 90 days from the date of purchase.
Temu's business model prioritizes the environment, encouraging customers to consolidate their returns into one shipment. This means that instead of having to pack and ship multiple items separately, customers are advised to pack them all together in one go, which saves the environment from pollution.
Considering the issue of environmental pollution, Temu has implemented a policy where a shipping fee of US$7.99 will be charged for any subsequent returns from the same order. This fee will be automatically deducted from the refund you receive when returning your product.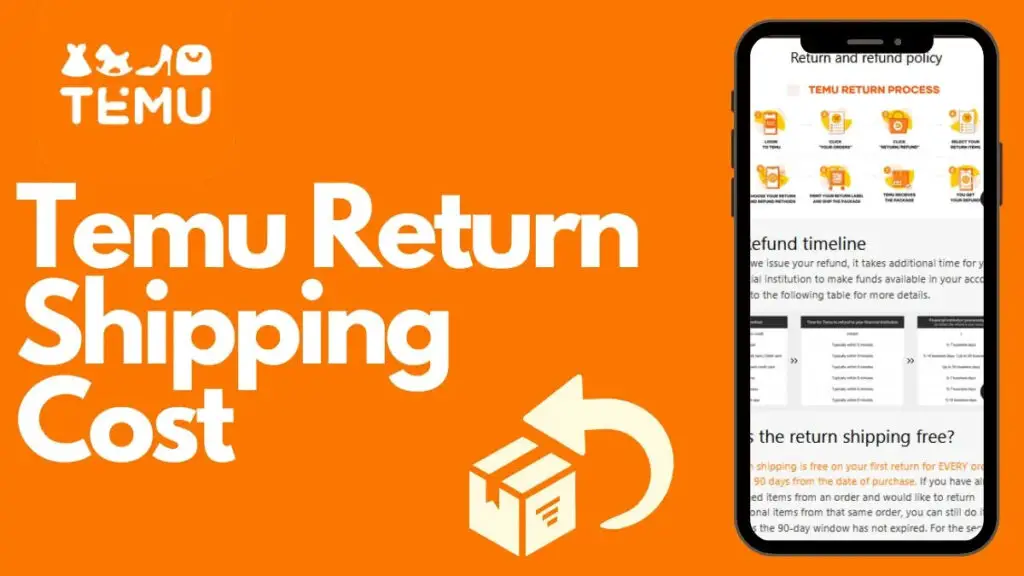 Step By Step Process To Return Items on Temu
Returning items to Temu from your account is a simple process. Just follow the steps provided below.
Step 1: To begin, visit Temu's official website at Temu.com. Once there, log in to your Temu account. After logging in, you can proceed to generate a refund request. If you haven't created your account on Temu or forgotten your login details, open your Temu order email and click on the "save your Order" option.
Step 2: The order you want to return will be found in "Your Order." Go there and click the "Return" button.
Step 3: Select the products you wish to return. Here is where you'll specify why you're sending a product back. You must describe the product information. Click the "Next step" button after specifying the reason for the return and the details of the item being returned. 
Step 4: If there is no need to return your item, the final step is to choose your preferred method of receiving a refund. You have the option to receive your refund in two ways: as a Temu Credit balance or credited back to your original payment method. Please choose an option and then click on the "Submit" button.
Step 5: In the event that you need to return your item, you will be given the opportunity to select your preferred return and refund methods. Once you've submitted your request, Temu will promptly provide you with a return label. This label will enable you to return the item without any hassle conveniently. You can enjoy free return shipping on your first return for any order made within 90 days of your purchase.
Step 6: It's time to pack your item securely. Make sure it is well protected and won't get damaged during transit. Once you've done that, take the return label you received and affix it to the outside of the package. This label is important as it will ensure that your return is properly processed. Afterward, you can ship your item to the nearest USPS or UPS location.
Step 7: To check the status of your refund, simply visit the order details page. In addition to that, you can also take a look at your Temu email.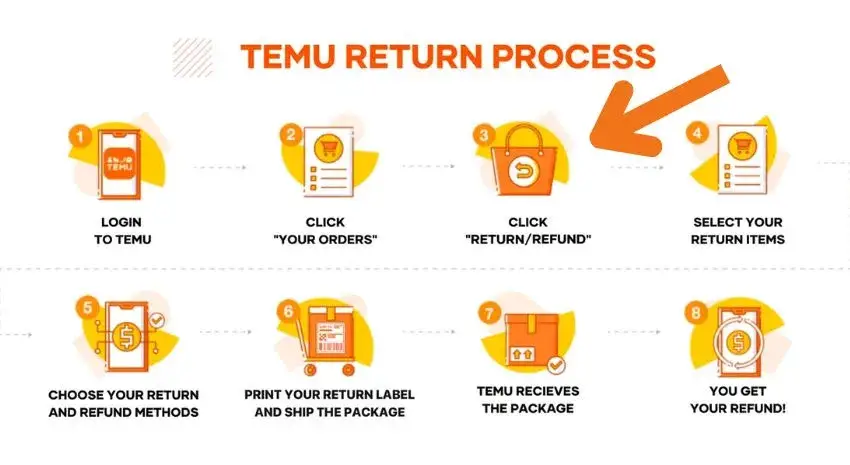 Refund Policy for Temu Items
Once Temu receives your return package, they will promptly process your refund within three working days.
If any item is missing from your order and you want to get a refund, you will need to provide a reason to receive a refund. To access this, you'll need to click on the "Return/other help" option on Temu's website.
The refund process may take some time, typically ranging from 5 to 14 days. The exact duration depends on your financial institution. If there are no errors on Temu's part, such as missing or damaged items, then the shipping fees will not be refunded. In addition, it's worth noting that expenses such as insurance costs are typically non-refundable.
You have the option to accept Temu credits during the refund process. We recommend this because refunds in Temu credits are processed much faster compared to other refund methods. Once the credit has been refunded, it cannot be reversed. In addition, it's important to note that Temu credits cannot be exchanged for cash. They can only be used to purchase items available on Temu's website.
You have the option to receive an advanced refund, which means that Temu will issue the refund once you have dropped off your refund package. If Temu does not receive the returned items, there is a possibility that they will need to charge your original payment method. Temu will provide advance refunds based on your purchase history.
Conclusion
We hope we have effectively addressed all your essential inquiries regarding How to return items on Temu.
We are sure you've discovered that returning items on Temu is a simple and convenient way to get your refund. Even though we have provided you with all the necessary information in the blog, we kindly ask you to carefully read Temu's return and refund policy for your item. This will ensure a smooth experience when returning your item and avoid any potential issues.
FAQs:
What is Temu's return policy?
Temu offers a free return policy on most items within 90 days of purchase. However, there are a few exceptions, such as items that are marked as non-returnable or items that have been damaged or worn.
How do I ship my return items on Temu?
Temu provides a return shipping label. Pack your item(s) in their original packaging and drop them at any UPS location.
How long will it take to process my refund?
Temu will process your refund within 5-14 business days of receiving your returned item(s). However, it may take up to 30 days for the refund to reflect in your original payment method, depending on your bank.
What can I do if I have a problem with my return?
If you have any problems with your return, you can contact Temu customer service for assistance.