We know it can be hard to choose a cell phone plan, especially when so many options exist. They're made to seem that way because your decision is more complicated. 
If you're on a budget and looking for a no-nonsense and great-value cell phone plan, then Mint Mobile can get you a cheaper unlimited plan. Even though you have to pay upfront for your plan, Mint Mobile deals offer unbeatable value regarding monthly data allowances. Being prepaid too, makes it fairly easy to try out since you won't be tied into a lengthy contract.
Currently, Mint Mobile promotion offers 3 months free plan for new customers who sign up through this referral link and buy any 3-month plan.
Also, there is a Mint Mobile referral bonus when you invite someone to Mint Mobile, you'll get another 3-month plan. So, it's a Win-Win deal. Continue to learn more about Mint Mobile Promotion.
Note: Mint Mobile Promotion is a Limited-time offer for new customers. You need to activate it within 45 days of purchase. So definitely don't hesitate to make the switch if you're interested.
Mint Mobile Sign Up Bonus: Get 3 Month Free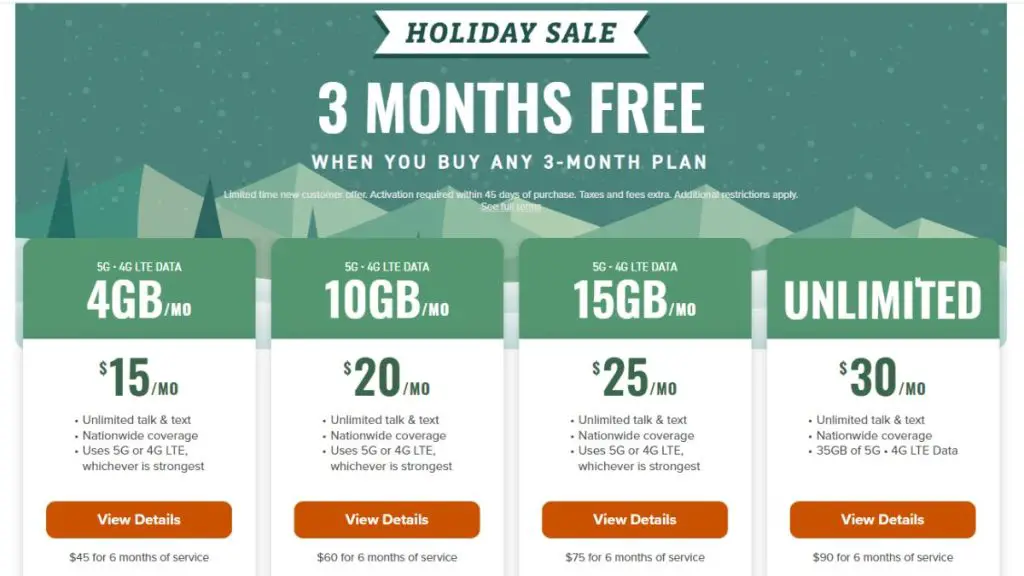 Mint Mobile offers 3 months free for new customers when you buy any 3 month plan. That includes everything from the humble 4GB monthly plan to the unlimited one- all eligible with three months of free service here.
How to claim Mint Mobile sign up bonus
Join Mint Mobile via this referral link.
Enter your login details and address information to activate your mint mobile service.
Purchase any 3-month plan.
Make Payment and receive 6 month plan in total.
BUY 3 MONTHS, GET 3 MONTHS FREE TERMS & CONDITIONS
Limited time offer, avail. from 11/14/22 – 1/15/23 for only new customers; purchase a 3-month plan from Mintmobile.com and receive additional 3 months free (discount applied at checkout and customer receives 6-month plan in total). Activations must occur within 45 days of purchase. Not available for customers with a Mint plan within the last 90 days of activation or trial customers. It may not be available/combinable with certain other offers/promotions. Pricing, promotions, and terms & conditions are subject to change without notice. Not redeemable or exchangeable for cash or credit towards any purchase. Taxes and fees extra. Other restrictions apply.
More Sign up bonus offer
Mint Mobile Referral Program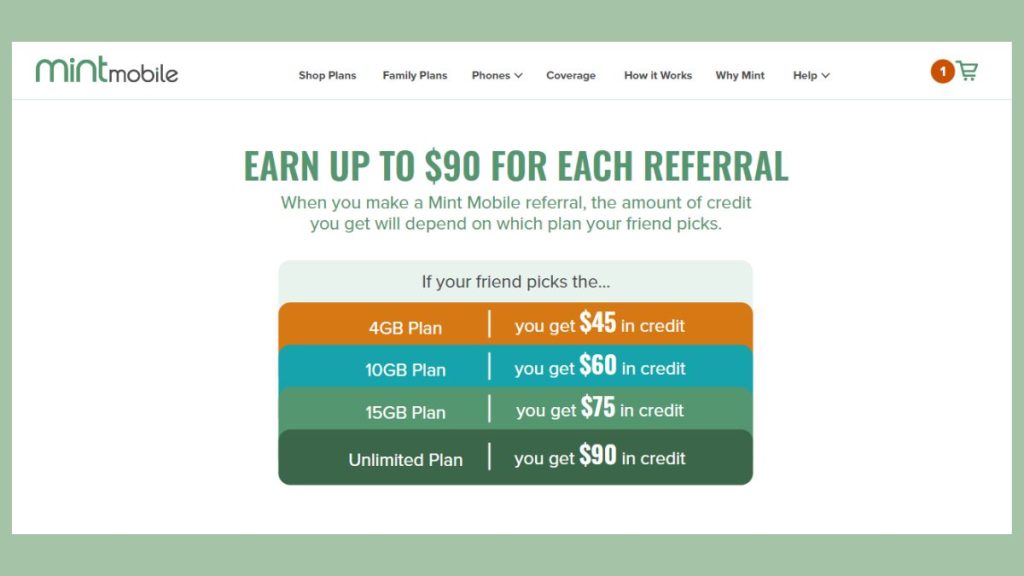 If you're an existing Mint Mobile customer, you probably came to Mint Mobile for affordable phone plans. Mint Mobile is a budget prepaid phone carrier that offers a referral program that increases the reward for every successful referral you make.
You'll get Mint credit equivalent to their first Payment based on whichever plan your referral picks. So, if they pick:
4 GB plan, you get $45 in credit
10GB plan, you get $60 in credit
15GB plan, you'll get $75 in credit
An Unlimited plan, you'll get $90 in credit
Note: You'll receive referral credits 15 days after they activate their SIM.
How to claim Mint Mobile referral bonus
Follow the below steps to claim the Mint Mobile Referral bonus:
Sign up through this referral ink.
Choose any 3-month plan.
Pick your SIM card, Physical or eSIM
Add your item to the cart
Enter the Zip code to deliver your Mint Mobile SIM card.
Now click on "Have a coupon" and enter code "s0Q0S" or Enter your friend's number below for referral credit.
Proceed to checkout.
You'll receive $15 in Mint credit on your account.
How Mint Mobile referral work
Here are the very simple steps you follow:
Share your referral link or your Mint phone number.
Your friend must sign up for Mint through your link or input your phone number when they checkout.
You'll get $15 in Mint credit once they activate their SIM within 45 days.
Your free credit will increase with every referral.
Here is some extra stuff for you. Sign up for RebatesMe and get $10.10 cashback on any mint mobile plan and a $40 RebatesMe Signup bonus with our special RebeatesMe referral link.
How to Sign up for Mint Mobile
Signing up for Mint Mobile is super easy as a part of the SIM activation process. When you log in via the Mint Mobile app or mintmobile.com/login, you can manage your plan, check your balance, purchase data add-ons, and more.
Below is the sign up process:
Sign up and download the Mint Mobile app from this link.
Enter your contact information ex:- Name, and Phone.
Enter your account information ex:- Email, and password
Enter the submit button.
What is Mint mobile?
Mint Mobile is a wireless provider that offers users an affordable way to stay connected on the go. If you're looking for a prepaid wireless service that gives you more bang for your buck, Mint Mobile may be the right choice for you.
What are the best Mint Mobile plans?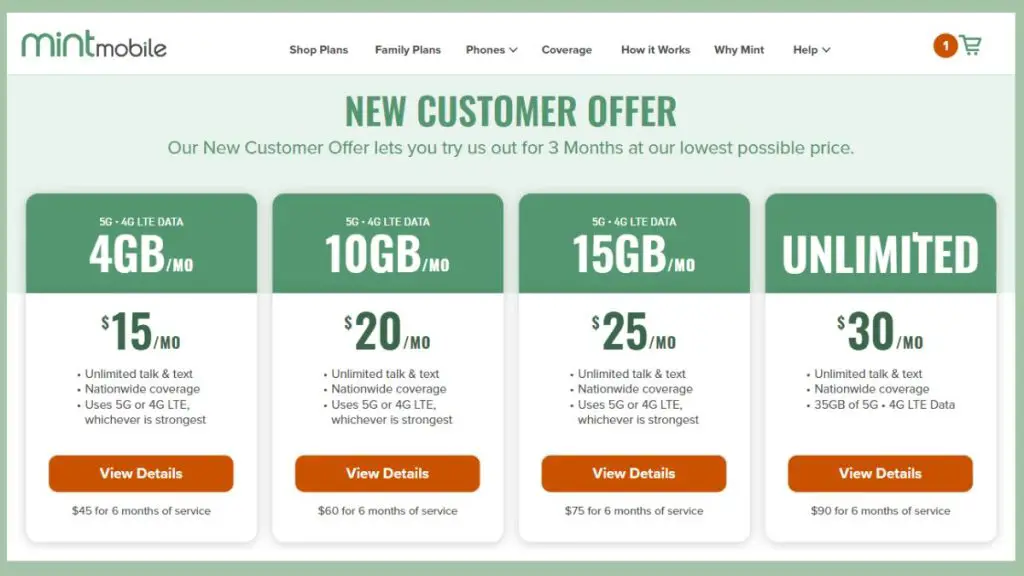 Mint Mobile offers 4GB, 10GB, 15GB, and an Unlimited bucket of data plans. All three-tiered data plans were upgraded recently while the prices remained unchanged. No matter what data plan you choose or how long you subscribe, you'll always have unlimited talk and text. Savings are generally greater when you buy in bulk.
Mint Mobile 4GB plan
Mint Mobile's cheapest plan costs just $15/month and offers 4GB of data. You will be charged $15 for the first three months of service. After that, you'll need to sign up for a year of service to keep your monthly rate at $15.
Conclusions
Mint Mobile is a great way to save money on wireless service, and it has rock-bottom pricing at $15/month for a 4GB plan if you pay for a full year at once. The company offers plans on GSM and CDMA networks, so it's compatible with many devices, including Apple iPhones and Samsung Galaxy phones. Mint operates on T-Mobile's network, while Ultra operates on a combination of AT&T, Sprint, and T-Mobile. You can buy a new phone from Mint or bring your device into the prepaid plan.
FAQs For Mint Mobile
How to get a new phone number with mint mobile?
If you wish to have a new number, You can request a new number during the SIM card activation process. A new number will auto-generate based on your area code, ZIP code and availability. You must enter your ZIP code and choose "Get a new number."