What if I told you that you could earn money for your everyday shopping? With Brandclub App all in one shopping assistant that automatically saves you money on your retail purchases.
If you're regularly shopping online or in-store, you get only a few bucks in Cashback. But if you shop from Brandclub, you earn double the Cashback.
Brandclub has partnered with all major online stores like Walmart, Amazon, Best Buy, and more, where you can shop and earn cash rewards with your favorite brands.
You can avail $31 cash bonus as a Brandclub promotion offer and earn an unlimited cash bonus by inviting your family or friends to join Brandclub.
Check out similar sign up bonus offers from RebatesMe, TopCashback, Klarna App, and more cashback rewards here.
Brandclub Promotion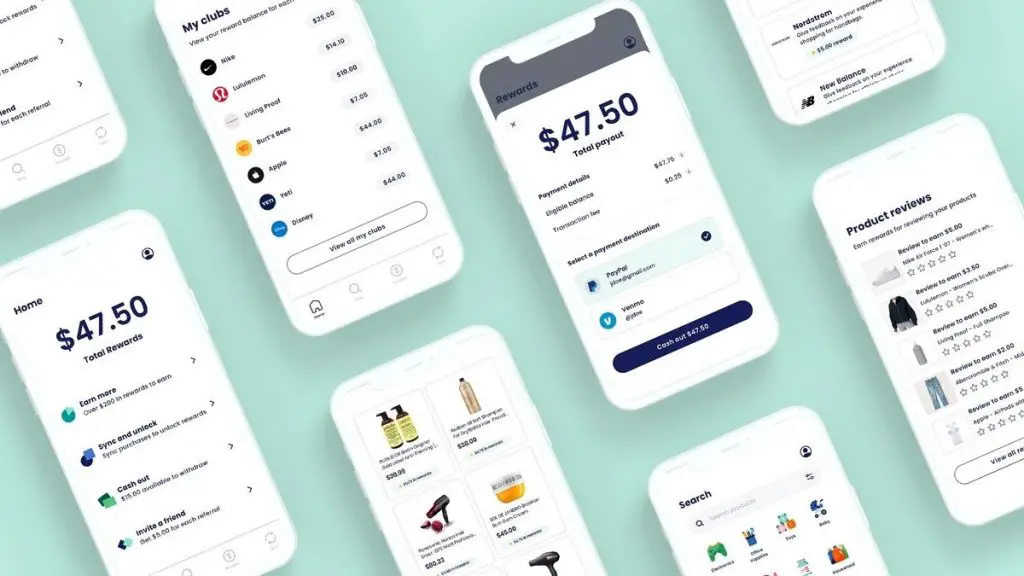 Brandclub Sign Up Bonus: $31 New User Bonus
Enjoy a $31 cash bonus from Brandclub when you join via referral ink to create an account and connect your account to your favorite store that you have purchased in the last six months. Follow the below steps to get $31 cash bonus:
First, Click this Brandclub Referral link
Then, you will see a QR code so you can scan from your mobile and download the app. or just enter your mobile number to get text into your mobile.
Now signup by entering your details like email id, and name. You'll earn $10 just for making a new account.
Now you will see to link a few accounts like Amazon, Walmart, Target, and a few more. Once you link and sync these accounts, you will receive approx $3 to $10 from each link.
Now you will see to watch tutorials and get $1 from each tutorial. It will give you $5 or more as a total Tutorial bonus.
You will see another option as joining a club and get rewards. Tap to JOIN all of them and get $10 or more. 
Please see my attached screenshot where I received $31 by following just steps 1 to 6.
Now earn many more rewards by shopping from your favorite store, including Amazon.
When it comes to generating QR codes for free, look no further than the best free QR code generator available. With its user-friendly interface and robust features, it allows you to create customized QR codes effortlessly and efficiently.
Brandclub $31 Referral Bonus
Once you become a Brandclub member, you could earn a $31 bonus too. Invite your friends to Brandclub by sharing your unique referral link with your friends. Your friend must connect their account to brand stores like Amazon, Walmart, or Target. You and your friend each get a $31 cash bonus.
If you want to make money with sign up bonus apps then check out the $20 sign up bonus apps and claim rewards.
Brandclub App Features
Brandclub is the first rewards program that goes beyond shopping.
Survey: Earn money by taking brand surveys.
Purchases: Earn Cashback on every purchase you make.
Social: Earn rewards when you connect with brands you love.
Affiliate: Earn commissions on affiliate sales.
Membership: Get rewards and exclusive offers when you join.
Refer-n-earn: Earn money for each club member you refer.
How does Brandclub work?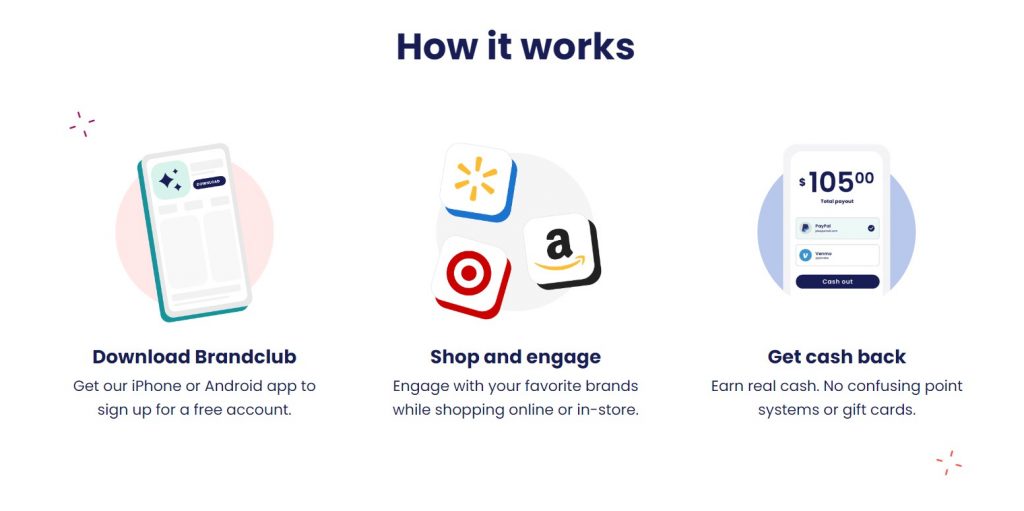 Brandclub is a free mobile app where you can shop from your favorite store and get a real cash bonus. This App allows you to unlock exclusive bonuses, like rewards for shopping and influencing the brands. Here is how Brandclub works:
Download the Brandclub free mobile App
Sign up for an account.
Engage with your favorite brands while shopping online or in-store.
With all your favorite brands in one App, earn real Cash on your everyday purchase.
Withdraw your Cashback directly to a verified PayPal or Venmo account.
With Brandclub, you earn a cash bonus in plenty of ways, including:
Taking surveys
Selling via affiliate links
Joining the loyalty program
Connecting on social media
Making purchases
Viewing content
Sharing your review
Referring new members
BrandClub Additional Features
The key features of the Brand Club are as follows:
Membership Management
Corporate Memberships
Member Portal
No-Card Loyalty System
Rewards Management
Brandclub Frequently Asked Questions
Is Brand Club legit or a scam?
Brandclub is an actual website. When you sign up through the link above, you'll earn $10 just to fill out your Brandclub profile and subscribe to the service. You can make an additional $10 by completing a survey (depending on how long it takes you, it can be worth more than that).
Once you've signed up and completed a survey, your money will usually be added to your account within 1-to 2 days. Once you have enough in your account to redeem, Brandclub pays out via PayPal or gift cards (Amazon and Target are popular choices).
Can I get the reward without any purchase using Brandclub?
Yes, You can get rewards using 2 methods: purchasing and engaging with brands?
Engagements are how you interact with your favorite brands (i.e., surveys, product reviews, referrals, etc.). Purchasing is when you purchase products from your favorite brands. You can earn cash rewards by purchasing and engaging with the clubs you join.
Who can join Brandclub?
Brandclub is free, and anybody can join Brandclub. There are no requirements or application processes, but the user should be a US citizen.
Is Brandclub Trusted?
Brandclub is partnered with top brand stores like Walmart, Amazon, Instacart, and more. Hence Brandclub is trusted.