RebatesMe is a retailer rebate portal that partners with over 4000 plus stores across the united states to offer deals, discounts, promotions, and cashback up to 40% to customers. The biggest brand stores are included, like Footlocker, Lattelierstore, iHerb, Macy's, Sephora, Sams Club, and much more in one place.
RebatesMe is the best one in the cashback network in the same vein as more popular options like Swagbucks and Rakuten, where you can earn cashback on some of your favorite retailers.
Not only will you be saving money by simply shopping at your favorite stores, but you can also invite your friends and family into this portal to earn a referral bonus! This offer is only for a limited time, so take advantage today!
RebatesMe have a mobile app and browser extension to make shopping easy.
RebatesMe is welcoming $35 sign up bonus for new members if you join via this promotional link. Also, you can $35 referral bonus for every relative and friend who joins via your unique referral link.
RebatesMe Bonus: $35 Sign Up Bonus
Signup with this official RebatesMe link
Use Promo code: hnk1v5 (It will apply automatically if you use the above link) to get $35 Bonus.
Create your account and Put your email id and Password.
Just search your favorite stores going forwards and do shopping via routing through rebatesme.
You will get your referral link and refer your friend and family to save them money and you will get an unlimited $35 referral bonus.
Get $30 Signup Bonus and $10 referral Bonus: 
Receive a $30 cash bonus just for joining RebatesMe. After you joined, then you will get your own referral link. Once you refer your friends and they will join, then you will make $10 as a referral bonus, and they'll earn a $10 bonus too. Just follow below two conditions to be eligible for cashout:
You start shopping and earn $10 or more in Cashback within one year of signing up. It is very easy. You can purchase discounted gift card from Raise to recieve a 2% cashback.
Your friends (referrals) must use your referral link and make a purchase that earns at least $10 in Cashback within one year of signing up.  
There's no limit to how many referral bonuses you can earn.
What is Rebatesme:
RebatesMe is a top cashback site offering deals, discounts, and Cashback by online shopping at tons of popular stores. Since you are doing shopping anyway so why lose this free Cashback.
Some of the cashback categories include:
Beauty
Clothing
Electronics
Fashion
Food
Jewelry
Office supplies
Pets
Sports equipment
Subscription services
Travel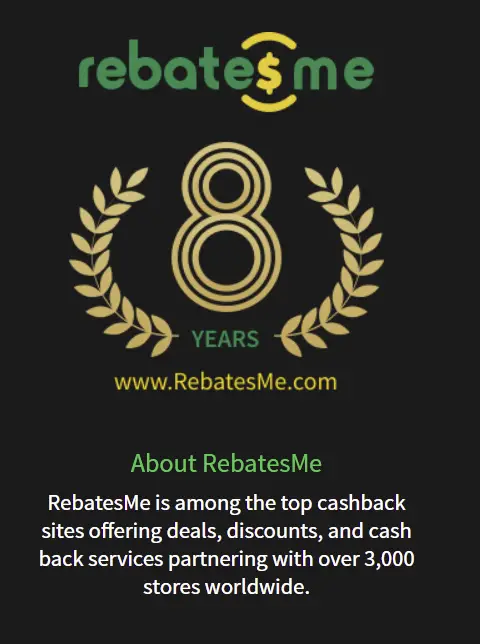 Rebatesme Promotion:
Rebatesme offers exciting promotions from time to time. Please find below promotions that are active as of today, 08/21/22
Check Out these DEALS:
How to Make Most Money from RebatesMe:
Below two best Methods:
Method#1 (Using RebatesMe properly)
Do Signup (Get $30) -> Add Button -> Do all shopping using RebateME -> Consider double cashback stores -> Mark Favorite stores -> Repeat
Method#2 (RebatesMe Referral Bonus)
Get 1 Referral -> Do a Great Job by helping him on Method#1 -> You and friend Refer more people -> Repeat
How to use RebatesMe Cashback:
If you are new to RebatesMe and do not have an account, then follow the below steps:
Go to www.rebatesme.com website or in the RebatesMe App.
First, you need to Create an Account. Don't forget to claim a $30 Signup Bonus.
 To earn Cashback, you can start shopping by visiting Rebatesme. Search your store where you want to shop in Rebatesme, then click the store. Now you click on the Activate Cash Back button and complete your order without closing the browser or leaving the store. 
 You will get Cash Back on every order you place with them. Store where Cash Back is available, the Cash Back Alert will appear. Few stores might not be eligible, but RebatesMe will tell upfront. 
 You can purchase Discounted Gift cards at a lower price. 
Add Browser extension Button, so every time you do shop, it automatically applies coupons and Cashback.
Cashout in Giftcard to get extra money.
Now Put your Earning towards a specific financial goal.
Because the money you earn through Rebatesme will be exciting as its free money anyway, But we are suggesting our readers use on improving your financial health:
If you have Debt, then close small Debt first using Cashback earnings. 
save your money by putting it into a high-interest savings account
Invest your Cashback in safe stock market investing.
Learn to the compound because little amounts can really add up over time. Learn the power of compounding and imagine how this can help you in early retirement. 
RebatesMe Features:
Below are some exciting features of RebatesMe:
There are 3,000+ retailers sites listed under RebatesMe. 
You can search the store on the RebatesMe website and then route to shop directly from there so your purchase can be tracked as shopping trips. You will automatically get CCashbackwhen you make a purchase.
Download the RebatesMe Cash Back browser extension. The extension will activate your Cashback when you do shopping. Plus, It will also apply promo codes. This is how I like to use RebatesMe since I don't have to change my shopping habits at all. 
Get the RebatesMe app ( iPhones or Android). If you do o shop from your phone, then the RebatesMe cashback app would be the way to go.
Cashout: Make sure to use them to ensure you're earning as much CCashbackas possible. You'll get Cash out when you're on a site that's eligible for CCashbackwith RebatesMe.
Here are some current deals with RebatesMe:
Up to 10% cash back at Foot Locker
Shop at Over 2500 Stores & Get Paid. Stack the Savings with Today's Best Coupons & Promos. The secret to Easy Savings, Online & In-Stores. Save with Verified Coupons & Promos. Shop Now!
Highest Cash Back Rates at 5000+ Stores
Double Cash Back Store 
0% cashback Godiva
Up to 15% cash back at iHerb
10% Cashback at Philosophy
12% Cashback at Macy's
8% Cashback at Sephora
How do I claim my RebatesMe Cash Back?

How much can you make on RebatesMe? Earning CashBack with RebatesMe is as easy as 1-2-3. Just follow the below steps:
Go to and click 'My Account' or 'Login' at the top-right of the page. 
Once logged in, you can check your earnings balance, purchase history, request a payment, or edit your account details, and more.
Choose How to Get Paid: Rebatesme will send your Cash Back via PayPal, check, or gift card.
Choose a Gift card if you want to get 5% extra money.
FAQS: 
Can I use different coupons other than those listed on RebatesMe?

Yes. RebatesMe automatically applies valid coupons and gets your Cash Back ready.

How long does it take to get Cash Back from RebatesMe?

Most Cash Back rewards are credited within 48 hours. Some stores, however, cannot confirm your purchase until the return period has elapsed and may take up to thirty days to confirm your Cash Back.

Is RebatesMe legit or a scam?

RebatesMe is 100% legit. I've personally now earned over $200, clicking through RebatesMe and shopping online. 

How does RebatesMe make money?

Rebatesme is just like any other affiliate partnership. They're making money on referring you to retailers, and the hope is by enticing you with deals (ie. With more Cashback, you'll be motivated to buy something from a store they're featuring. This is why you'll see the cashback amount fluctuate for your favorite stores. 

How to Refer your friends to Rebatesme?

Once you sign up for RebatesMe, start using it and loving it as much as I do, you might want to share it with the people closest to you. You'll earn $10 for every person you refer. This will be added to your cashback balance and paid out in your next Big Fat Payment. 

Is there a downside to RebatesMe?

This wouldn't be an honest RebatesMe review without a discussion about the downsides. Other than remembering to visit RebatesMe to click through to your favorite online store, there are virtually no drawbacks to RebatesMe. Only you need to remember Rebatesme before doing any shopping. But this will become a habit very soon. 
The other downside of RebatesMe is that sometimes there is a lag in getting your Cashback from certain retailers. Some stores I buy from credit me instantly, but others can take days or weeks before I finally get an email notifying me that I've earned Cashback. But money anyway comes either sooner or later, so I don't need to worry much.
Conclusion:
For every dollar you spend, RebatesMe will give you a portion of Cashback in your account. That means you are not doing extra activities or expenditures; you are just changing your buying habits.  
When shopping online, make sure to use a cashback shopping portal, such as RebatesMe, to earn some extra cashback. Also, don't use the $30 welcome bonus by signing up using this Special RebatesMe link.
Disclosure: This post may contain references to products from our advertisers. We may receive compensation from products we link to. We appreciate your support. You can read our advertising disclosure.