So, Facing problems in canceling stash accounts? Looking for the simplest way to close stash account? Welcome, you have landed on the right page. In this blog, I will cover how to cancel a stash account in the simplest and quickest manner possible that saves your time.
But before moving further, let's know about the stash. Those who are new to the finance world must know the simplest definition of stash.
What is a stash?
It is a budgeting app that is used in investing. This mobile app helps beginner investors to buy stocks easily besides providing ways to invest in different stocks. 
Stash offers services like banking, investment, and subscription models. In Stash, you can invest $0.01 for any share or stocks and ETFs of the company. Along with this, it charges fees for the subscription model, like $3,$9, or more for a month. The charges depend on the plan you choose. Each plan has different services. 
If you want to start an investment in Stash, you should know how stash works and how you can close and sell the stocks and ETFs.
How does Stash work?
Step 1: Firstly, create an account in Stash by giving all your details like bank account details and required documents. When you log in the first time, they will ask some questions to get to know you. This will help to understand your goals and provide you with what you need. 
Step 2: After the sign-up procedure, you should choose the subscription plan. The starting plan for the Stash is $3 per month. These plans will help you in investing. The stash acts like a personal brokerage. By choosing the subscription, you will get more benefits depending on your chosen plan. They will help you in budgeting, saving, and provide the advice you require for investment.
Step 3: Then, you can add money to your stash account. It will take you a maximum of 3 to 5 minutes. The adding money can be deposited automatically or manually how you need it. It's your choice.
Step 4: After all the procedures, create the budget for your whole month and how much you can save in one month. Also, track the spending for the entire month. And you make your financial goals. This will help you in your investment and provide a good return on your investment.
Step 5: Finishing everything like setting up an account, budget, spending, saving, and goal is time to invest. You will get the option of buying and selling stocks. You can invest thousands of stocks in the Stash. Stash is not a single-day trading platform; it's a long-term investing platform. So, if you are looking for long-term investing, then Stash is a good option.
Is Stash safe?
Yes, Stash is completely safe; the money you are investing in the Stash is secure; you do not worry about it. Stash files cutting-edge security feature. All the accounts are insured under FDIC with all legal limits with the partnership of Green dot Bank. So the money you are investing is in safe hands.
Stash is one of the best ways of getting to the investment. With the help of Stash, you can invest small amounts into the stock market. 
Meanwhile, if you are unhappy with stash or want to cancel a stash account and don't know how to do it. Then follow the below steps to cancel the stash account.
How to Cancel Stash account?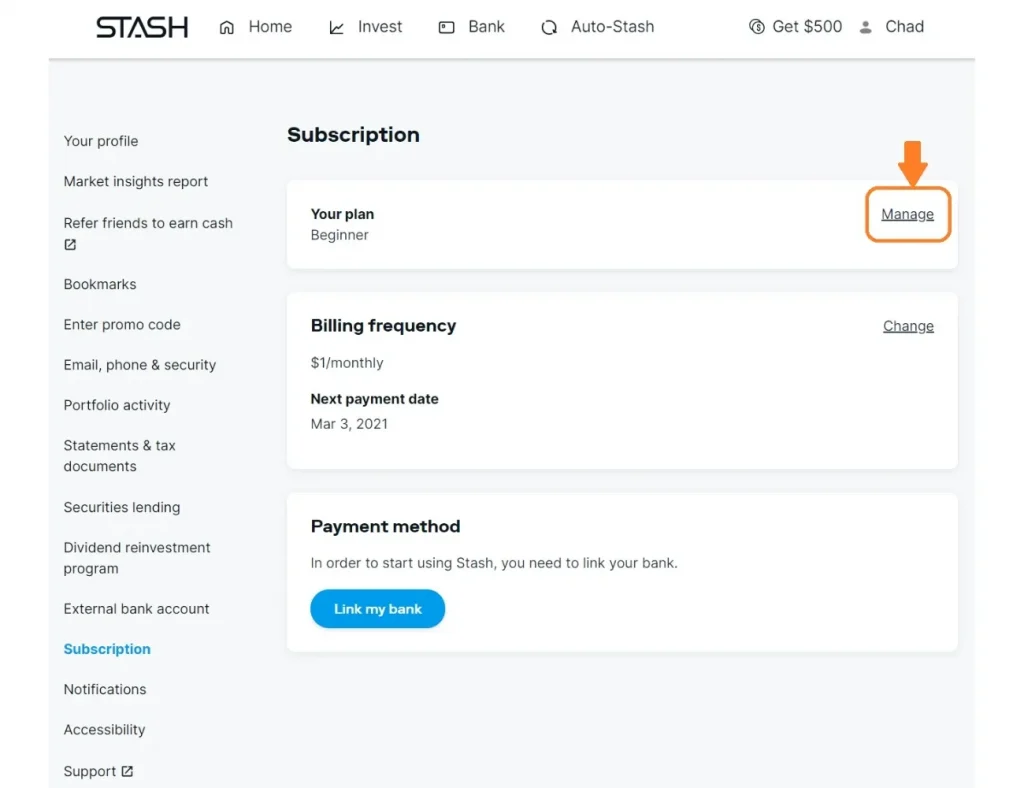 To Cancel Stash account, Follow the below steps:
Step 1: Log into your account: You cannot directly close your account in the app. First, you have to log into the account using the Stash website.
Step 2: Go to your name in the top right corner: Click on your name, and it will open a new page with a vertical menu on your left-hand side.
Step 3: Select the 'Subscription' on the ETF-hand side: Click on the subscription, and it will open a new page and get current subscription details.
Step 4: Click on 'Manage' next to your subscription plan: First click on the subscription and then scroll to the bottom of the page.
Step 5: Select 'close my stash for good' at the end of the page: Click on close my Stash for good, and it will cancel your subscription.
Some doubts regarding the closing of the stash account
1) Can we close our stash account when we need to?
Yes, you can close your stash account when you need to. You just need to visit the stash official website, and you can close your stash account when you want. There is no condition to close your stash account. Your decision is final. 
2) What happens if I close my stash account? Can I get my investment back?
Yes, you will get your investment back. When you close the stash account, the assets you have in the stash account that are sold and the amount will be credited to your bank account, which you gave at the time of sign up.
3) Can I delete my stash account?
No, you can not delete the stash account. There is no option of deleting the stash account. The only thing you can do is sell all your assets and refrain yourself from using that account.
4) How can I remove the bank details from the stash account?
Yes, you can remove the details regarding your bank details. When you are ready to close the account, you can send a message to the stash team. They will help you remove the details which you want to remove from the stash account.
5) Can I get all my money back when I close my stash account?
Yes, you will get all the money you invested in your stash account. When you close your stash account, the assets will be sold, and the money from your assets is deposited into your account as soon as possible.
6) How do I get my money from my stash account?
The money is deposited to your bank account. as soon you sell the stocks or ETFs. If you are not getting the amount to your bank account, you can contact their customer service team and they will solve your problem.
Looking More