We're here to discuss the TEMU affiliate program and how it becomes your passive income!
Are you a blogger or a social media influencer? If yes, you could earn up to $100,000 monthly from the Temu affiliate program. You have to provide recommendations and reviews of Temu products to inspire your audience via social media. You can earn up to 50% commissions on product sales and get $5 for every new user who downloads the Temu app via your qualifying code.
There is a lot more that comes with Temu affiliate program. Continue to read with us and learn how much you can earn with Temu and what qualifications are to apply for the Temu Affiliate program.
About TEMU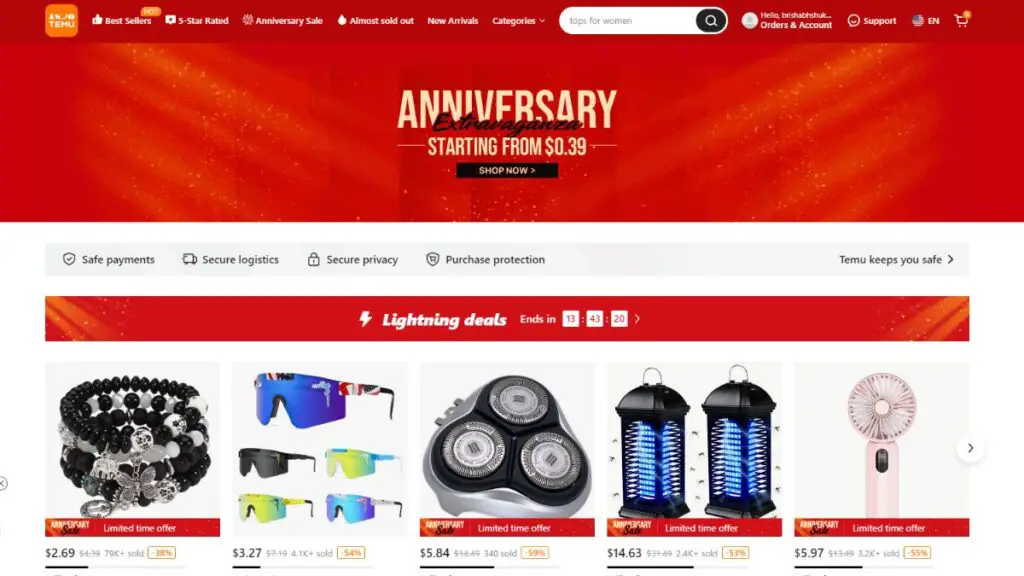 TEMU is an online marketplace operated by PDD Holding Inc., offering a massive discount on goods directly shipped from China or its warehouses. Temu is the most downloaded app in America and the number one free shopping app in both the Apple App Store and Google Play Store.
Temu offers a wide range of products, from fashion to baby clothes. With an extensive array of products available on TEMU, you can easily find what you're looking for at an unbeatable price.
What is Temu Affiliate Program?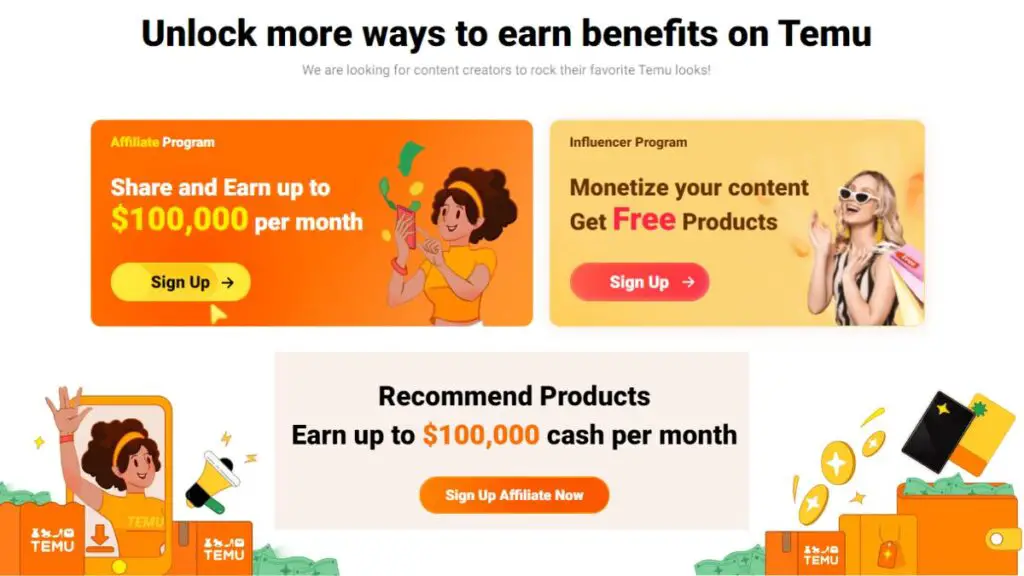 You might have seen a lot of people sharing their TEMU link and code already, but you might not know that TEMU has an affiliate program that everyone can join.
If you're an avid TEMU enthusiast looking to generate a stable source of passive income or an influencer wanting to monetize your traffic, look no further than the TEMU Affiliate Program. With a high earning potential of up to $100,000 per month and with more than 70M monthly traffic, TEMU affiliate program is the perfect fit for you to start.
The commission rate is based on the product category and the affiliate's performance, and it can go up to 20% on sales.
How to sign up for Temu affiliate program?
Signing up for the TEMU Affiliate Program is a straightforward process. Here's a step-by-step guide on how to do it:
Visit the Temu Affiliate Program page and click the "Join" button.
Register your account using your name, email address, and phone number.
Get your affiliate link and code from the dashboard.
Earn commissions when your audience joins Temu using your link or code.
How to Start with Temu Affiliate Program
If you are an influencer on social platforms like TikTok, YouTube, Ins, or Facebook, you can spread your referral link and code by posting content to earn commissions.
If you are a blogger, you can write review articles with SEO about TEMU product reviews or about TEMU Affiliate program, where you can expose your referral link and code.
If you own a website or are an editor of deals/coupon websites with huge traffic, you can have a banner or deals articles to let more people see your referral link & code.
Any other way or platform that you can use to spread your referral link & code as long as it meets TEMU affiliate policy.
How much can you earn through TEMU Affiliate program?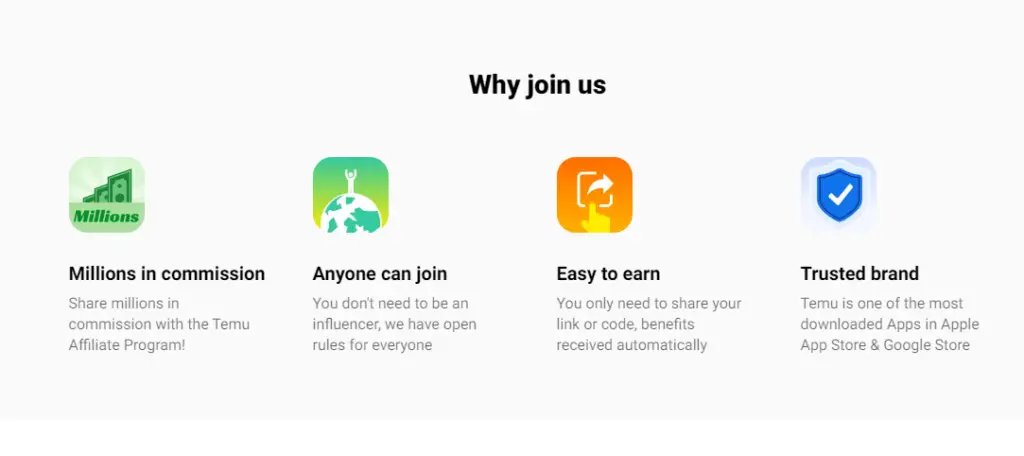 You can earn up to $100,000 per month! If you're interested in joining TEMU Affiliate program, you'll be happy to know that it offers a simple and transparent commission policy. There are several possible ways for you to earn money, which are listed below:
Earn a $5 reward for each new user who downloads the TEMU App using your referral link.
Get a commission on every sale made by new registered users who click through your unique referral link. The commission rate varies depending on the purchase amount: 

For purchases between $0.00 and $49.99, you'll receive a 5% commission.
For purchases between $50.00 and $99.99, you'll receive a 10% commission.
For purchases of $100.00 or more, you'll receive a 20% commission.
Earn $10 for each new affiliate you invite when they make their first commission. For example, you can invite other influencers to be TEMU Affiliates.
Take advantage of the earning leaderboard: The top 50 TEMU Affiliates with the most earnings in the last 3 days in TEMU Affiliate Program would win an extra cash bonus.
How to withdraw Temu affiliate commissions
Once you've successfully generated affiliate commissions on Temu, you'll want to withdraw your hard-earned money. To withdraw your Temu affiliate commissions, follow these steps:
Reach the minimum payout threshold: You can withdraw your earnings once you reach the $20 minimum payout threshold.
Verify your mobile phone number: You might have to verify your mobile phone number before receiving payments.
Request a withdrawal: Once you have reached the minimum payout threshold and verified your mobile phone number, you can request a withdrawal.
Receive payment: If you have requested a withdrawal, it will be sent via PayPal within two business days.
Compared with other affiliate programs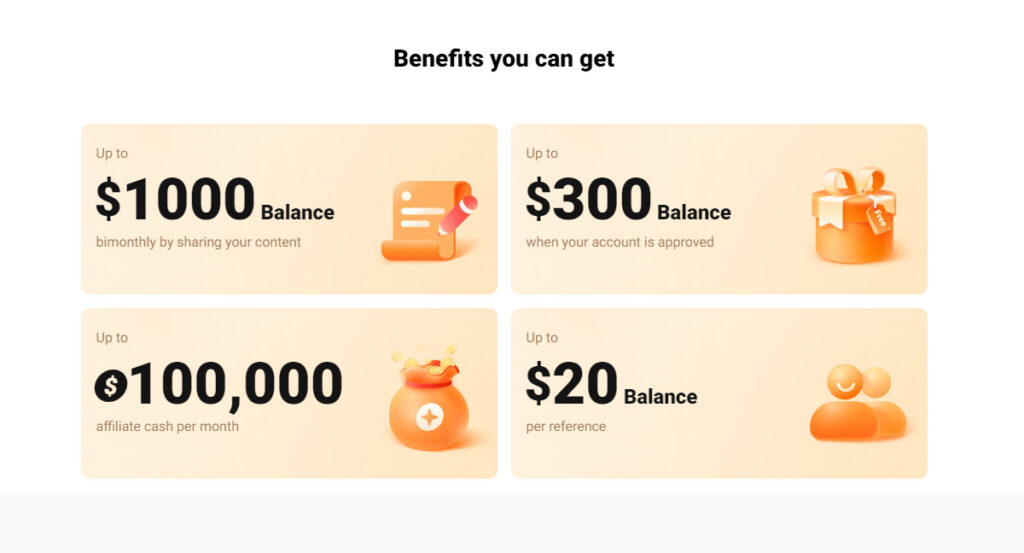 Compared with other affiliate programs, such as Amazon Associate or Shein Affiliate, TEMU offers a 5%-20% commission rate for all categories depending on each qualified purchase. While Amazon associate offers fixed commission rates. 
However, TEMU does not offer commissions for returning users. This might limit your earnings. But with huge traffic going into TEMU and with more countries becoming available, it's still worth signing up for TEMU affiliate program now as it's a very popular shopping site.
It might be a good idea to sign up now before they modify their commission rates and earn a limit per month. 
Conclusion
If you're looking for an affiliate program with high commission rates and good returns, TEMU affiliate program might be the one for you. One of the best affiliate programs you can find in affiliate marketing.
Join now and start earning commissions on every sale made by your referrals.
Frequently Asked Question
Does the link and code expire?
TEMU Affiliate code and link are long term effective. They will not expire, and you can always use your link and code to invite new friends to TEMU!
Is TEMU Affiliate program available in all countries?
TEMU Affiliate Program are ONLY open to users based in the USA. It will be available soon in other countries! TEMU has already been available in several countries, so the affiliate program in other countries will come soon or later.