Looking to save on your international money transfers? Learn how to earn a €50 sign up bonus with the CurrencyFair promotion. Our step-by-step guide shows you how to take advantage of this offer and start making international payments with competitive rates and low fees. 
CurrencyFair promotions allow you to earn €50 as a sign up bonus for creating an account. You can also claim their referral bonus by referring friends and family to the platform. You and your referee both earn €50.
Before jumping into the details of CurrencyFair promotion, let's shed some light on what the platform is about.
What is CurrenyFair?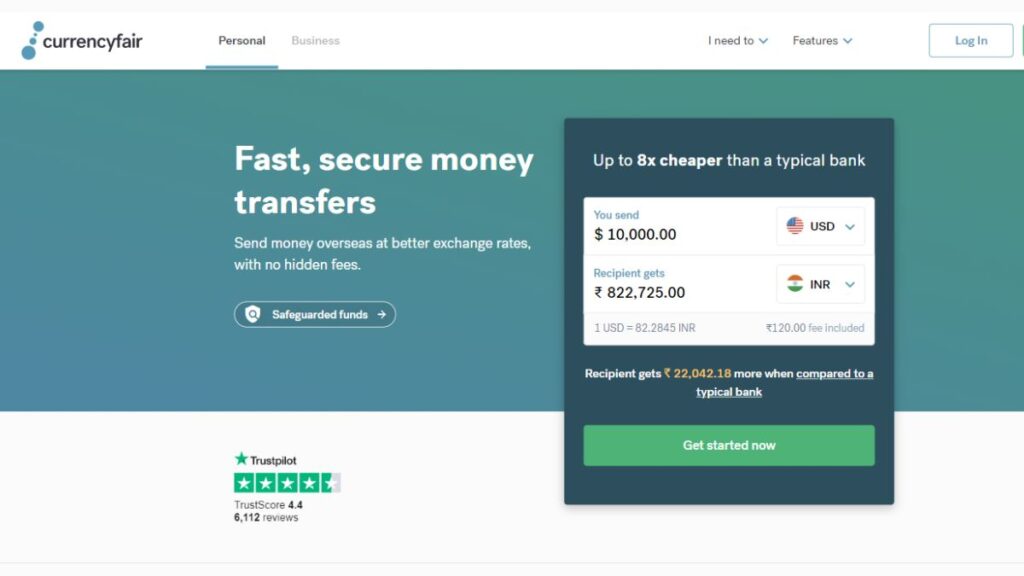 CurrencyFair is a well-respected international money transfer service that offers a peer-to-peer platform. However, it's important to note that CurrencyFair only supports 22 sending currencies. This means that when sending money to one of the 157 countries and territories that CurrencyFair supports, you may not be able to take advantage of the destination's local currency in the same way you would with other money transfer companies.
CurrencyFair works similarly to Remitly, and Instarem but offers better exchange rates, fast delivery time, and Live market updates.
CurrencyFair Promotion
CurrencyFair promotions allow new users to earn a €50 sign-up bonus when they open a new account. Additionally, you can earn a referral bonus of €50 for each friend or family member you refer to the platform who signs up and completes a qualifying transfer. With these promotions, you can save on your international money transfers and earn extra cash.
CurrencyFair Sign Up Bonus: Earn €50 in a Few Clicks!
New users can earn a €50 sign up bonus when they open a new account and use a CurrencyFair promo code. Don't miss out on your chance to earn some extra cash with CurrencyFair.
How to Earn a €50 CurrencyFair Sign-Up Bonus?
To earn your €50 sign up bonus with CurrencyFair, follow these steps:
Visit the CurrencyFair official site and click on "Create an Account"
Enter your name and email to create your account
Click on "Have a referral code?" and enter the provided code
Once your account is open, make a minimum transfer of €1000 to qualify for the bonus
The first ten transfers on CurrencyFair are free, so take advantage of this offer
Follow these simple steps to earn your bonus and start using CurrencyFair for your international money transfers.
CurrencyFair Referral Bonus: Get €50, Give €50!
With CurrencyFair promotion, you can take advantage of their referral program to earn a €50 referral bonus for each member you invite using your unique referral code. This is a great way to get rewarded for sharing CurrencyFair with your friends and family.
How To Earn €50 CurrencyFair Referral Bonus?
To participate in the CurrencyFair referral program and earn a €50 referral bonus, follow these steps:
Open the CurrencyFair app and log in to your account
Navigate to the "My Account" section and click on the "Refer a Friend" tab
Copy your unique referral code or link and share it with your friends
Once your friends use your referral code to sign up and make a qualifying transfer, you will both earn a €50 referral bonus.
It's easy to earn a bonus with CurrencyFair's referral program. Simply follow these steps and start sharing your referral code with friends to start earning.
What Currencies Does CurrencyFair Support?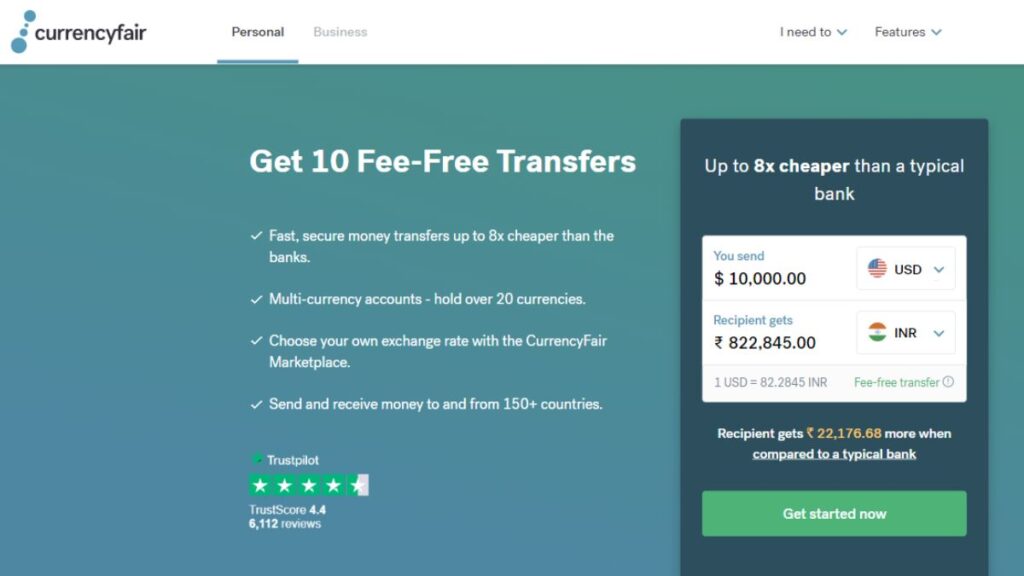 CurrencyFair offers competitive rates for personal and business money transfers in over 15 different currencies, including:
AED: United Arab Emirates dirham
USD: United States dollar
CAD: Canadian dollar
EUR: Euro
GBP: the British pound
HKD: Hong Kong dollar
NZD: New Zealand dollar
PLN: Polish zloty
SEK: Swedish krona
ZAR: South African rand
With CurrencyFair, you can easily send money to and from a variety of global currencies.
Currency Fair Exchange Rate
CurrencyFair has some of the best rates and transfer fees in the industry. You can always check your transfer details using the onsite calculator to work out how much you will be charged in total fees, as well as the exchange rate pricing for your currency pair.
Exchange Rates
100 USD to AUD: 144.93 (Live rate XE), 144.16 (CurrencyFair rate), 0.5313% markup
100 USD to GBP: 76.54 (Live rate XE), 76.15 (CurrencyFair rate), 0.5095% markup
100 USD to AED: 367.25 (Live rate XE), 365.00 (CurrencyFair rate), 0.6127% markup
Transfer Fees
On average, CurrencyFair charges a small fixed fee of €3 (or its currency equivalent) per transfer.
The provider states on its website that the average transfer fee for each transaction is 0.45%.
Transfer Fees
On average, CurrencyFair charges a small fixed fee of €3 (or its currency equivalent) per transfer.
The provider states on its website that the average transfer fee for each transaction is 0.45%.
Additional Costs
You may be charged cash advance fees by your card issuer if you use a credit card to pay for your transfer.
Compared to banks, which charge an average of 4-6% in exchange rate markup and up to $40 in transfer fees, CurrencyFair offers a much more competitive and cost-effective option, especially for large transfers.
If you're new to international money transfers, our simple guide can help you find the fastest ways to send money abroad.
Top 9 Features of CurrencyFair
Mobile app available for iOS and Android devices.
Allows for exchanging and transferring money anytime except weekends and bank holidays.
You can set up deposits into your CurrencyFair account and exchange funds in 15 different currencies.
You can transfer funds out to a bank account of your choice.
The recurring transactions feature allows for scheduling future transfers.
Rate alerts notify you when the exchange rate reaches your defined threshold.
Multi-currency wallet with bank-level security (free to use).
Auto-transaction feature allows for immediate matching of destination currency at a competitive rate.
The exchange marketplace allows for bidding on preferred exchange rates and access to spot rates if no match is found.
CurrencyFair vs Wise
CurrencyFair and Wise (TransferWise) both offer international payment services for individuals and businesses. Both also offer multi-currency accounts. While CurrencyFair has a marketplace feature that lets you make peer-to-peer currency exchange deals with other users, Wise provides a debit card for account holders.
In terms of services offered, there is quite a bit of overlap between the two providers. If you want the flexibility to set your own exchange rate, you may prefer CurrencyFair.
However, if you're looking for simple and fast international payments, Wise may be a better option based on cost comparisons. Overall, both providers are fully licensed and safe to use for your international payment needs.
Bottom Line
Signing up for a CurrencyFair account is quick and easy, and you'll benefit from low fees, competitive rates, and top-notch customer service. Plus, you'll have access to 15 currencies in over 150 countries. The only potential downside is that the only payment method currently available is bank drafts.
However, overall, CurrencyFair offers a convenient and cost-effective way to make international payments. And with CurrencyFair promotions, you can earn €50 multiple times for free. So, it's a win-win! More you can try Xe MoneyTransfer because it offers best market rates and live updates.
FAQs for CurrencyFair
How do I use my CurrencyFair promo code?
To use your CurrencyFair promo code, sign up for a free account by providing your name, date of birth, email address, and country of residence. Then, go to the "Exchange Funds" page and enter the details of your transfer, including the amount and currencies you want to exchange. Choose an exchange rate for your transfer and confirm your details. You may be asked to provide your bank account information and proof of ID to complete your transfer. At the confirmation screen, enter your promo code in the designated box to apply your discount. With these steps, you can easily use your promo code to save on your CurrencyFair transfer.