Are you looking for an easier, faster, and cheaper international money transfer platform? Are you fed up with paying high markups that come with bank transfers or PayPal?
If yes, give yourself a thumbs-up; you are on the place. Here I am going to introduce you to the cheaper, faster, and easier money transfer platform called wise. Besides, I will give a complete Wise review 2022 that affects you directly.
Wise (formerly TransferWise) is a well-known service for money transfers between countries with a mission to provide reasonable fees and transparent procedures with actual mid-market exchange rates to make money transfers easy.
Their service is so popular that approximately $1 billion is transferred across countries. You can send money to 70+ countries and receive it from 40+ different locations along with 1,000 country combinations that support 49 currencies.
How does it work?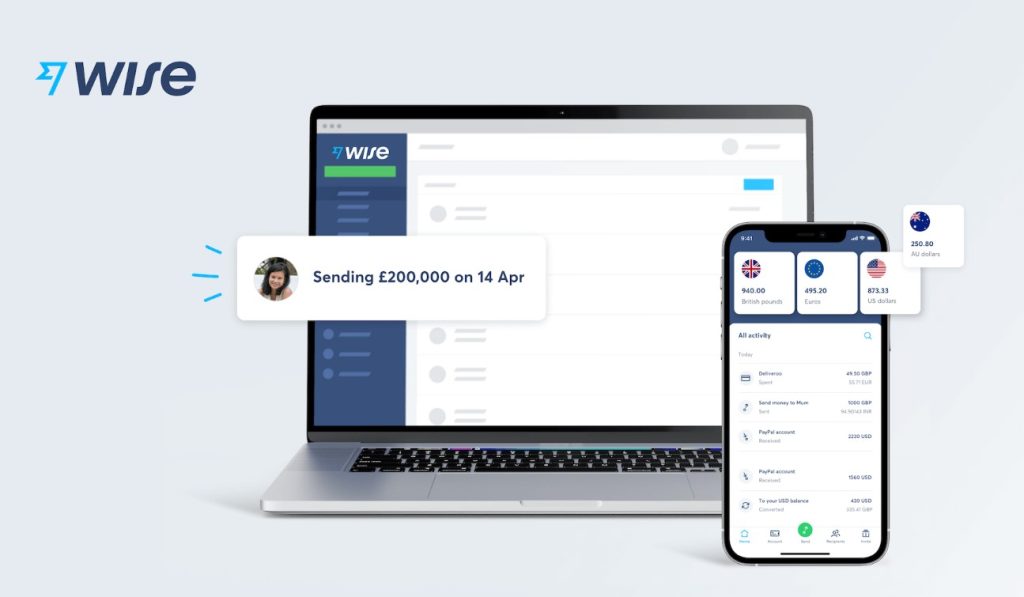 The best thing that Wise is known for is that it bypasses the middle man, which ultimately saves much cost on the transfer fees, giving you more value for your transferred amount.
Behind this cost-effective method, there is a secret to keeping a currency stockpile. Let's understand how it works; when you transfer 500 USD to a friend in France, Wise stores 500 USD in its dollar stock and gives Euros equal to what you sent to a friend.
What's the benefit of doing all this? Elimination of the middle man is what you would like because you can save on the huge transfer fees involved in your transaction, and because of this method, it is unbeatable among its peers.
Wise Best for:

People who want low fees and a solid web experience when sending money internationally wise is made for them.
Borderless Accounts
A borderless account is a unique feature of Wise, also known as a multi-currency account in which you can keep your money in 40 different currencies and exchange them when the mid-market exchange rate is good for you.
A borderless account is like a joint account that controls your other local accounts.
Once you sign up for a borderless account, you get complete account details and MasterCard details to enable you for electronic payments. So you can quickly transfer and receive money using wise without paying anything extra from 30+ countries.
Wise Fees
Users are well aware of the fee structure because it has been consistent and transparent. However, Wise's fee is not according to the industry standards; it has set its standard.
If you talk about exchange rates, the company guarantees exchange rates in most currencies far better than other banks. So they have a way to higher exchange rates.
Although Wise charges a proportion of what you send, it has a flat fee for certain currencies. Their transfer fee depends on the amount you transfer.
Exchange Rate
With Wise, you get the best value for what you send as they use actual mid-market exchange rates while processing your fund. This is the absolute exchange rate no matter who your service provider is,
The best thing about sending money using Wise is getting the best rates, and for this, they block your funds for 24 hours in most cases, while in some cases, it takes 48 hours and 72 hours for Brazil.
Wise Pros and Cons
Pros:
Transparent Service: When you transfer money using Wise, you are sure about the fees and other costs you have to pay, and there are no hidden charges to your transaction.
Reliable: Wise is the most respected and the best online money transfer service with a vast customer base backed by honest reviews.
Quick Delivery: When you use your debit or credit cards to make transactions, it ensures quick money delivery.
Low Transaction Fee: When we talk about the fixed cost, it combines a flat $1 fee and 1% on the transfer amount. If you use credit for transfer, you will need to pay a higher fee than regular. However, transferring via ACH using your bank will give you a cheaper transaction fee. 
You can also go with a wire transfer where you will be charged quite a low transaction fee; however, in this case, your bank might charge you a fee for it that might go higher.
No Rate Markups: If you go through banks for transfer, there is an exchange-rate markup on its transfers. Wise transfers mid-market exchange rates, which have minute-wise fluctuations.
Cons:
Slower Banks Transfers: Transferring money using Wise is a time-consuming process since it involves receiving, converting, and delivering that takes separate time, which results in transferring your amount in weeks. However, the same process takes less time when transferring money to India, Germany, Mexico, and the United Kingdom.
Limited U.S. Phone Support: Another thing that I didn't like about Wise is its limited customer care windows. You can call them for support from 10 am to 3 pm E.T.
No Cash Pick-Up: You cannot get your cash picked up for transfer; you can only transfer money from your bank to the recipient's bank, although some options are available for other currencies.
Wise Mid Market Rates
What's the difference between mid-market exchange rates and markup rates?
The Mid-Market Rate is also known as the interbank rate or interbank exchange rate, and it is an exchange that major banks use to interchange currencies in their groups. Most banks offer a mid-market exchange rate that is the maximum value of their transfer amount and an additional charge in percentage to make some profit. 

Let's understand it with an example. Suppose the mid-market rate for U.S. dollars to Indian Rupees is 74 rupees, then a 2% markup rate, which means the provider gives you 72.52 rupees per dollar for 100 dollar transfer. So that is the difference between 7400 rupees from the first method and 7252 rupees from the second.

So, the conclusion is that if the markup rate is higher, then your recipient will receive less amount.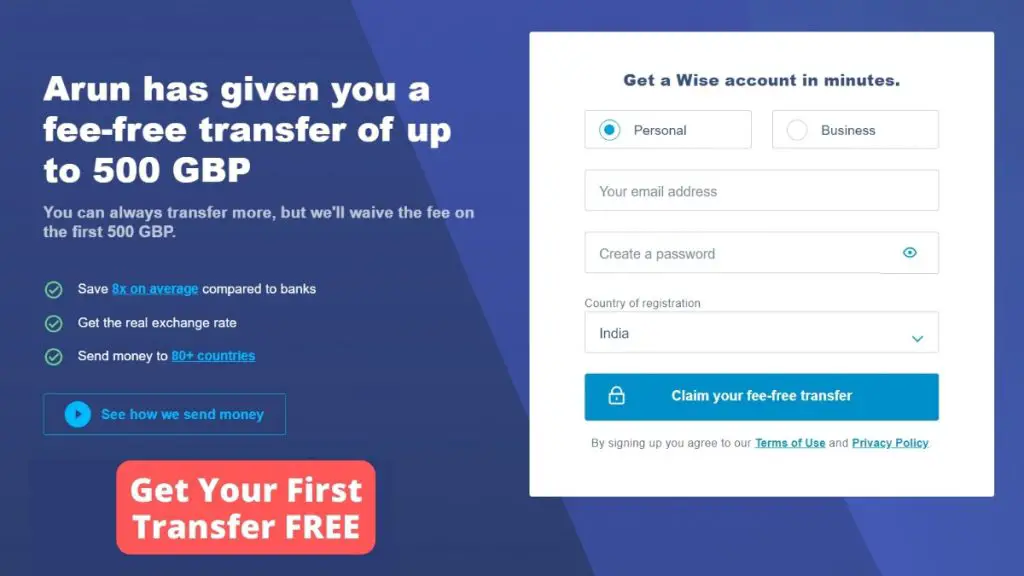 How to Send and Receive Money with Wise?
Opening an Account
Opening an account with Wise is very simple. It takes your email address, password, and country, or you can also take your Google, Facebook, or Apple account as your login I.D.
To verify your account, you need to submit your valid I.D. and proof of address and need to take a picture holding your I.D. with you.
Acceptable I.D.
Passport
National ID Card
Driver's License
Proof of Address
Utility Bills
Bank or Credit Card Statement
Council Tax Bill
Vehicle Registration 
Photo Driving License (address part and expiry date)
Any document issued by the government
How to Send Money Using Wise?
Enter the amount: I assume that you have already set up your account for the first time. When you go to the amount page, you see a section, "How much money do you want to transfer?" 
Enter the amount along with the currency you want to pay in, and also choose the currency you want your recipient to receive money in.
Enter the recipient information: On the next page, you will enter your recipient's details. If you have already transferred money to a recipient, you need not enter their details again, as you can pull it up from the "existing recipients."
You need to enter your recipient's name and the IBAN account number.
Review your transaction: Certain details will be displayed so that you can verify them. You will verify many details like conversion rate, fees, the recipient's amount, etc.
Select your payment method: There are three ways by which you can transfer the money:
Low-cost order
Fast and easy transfer
Advanced transfer
Track your status: Once you transfer money using wise, you can check the status of your transfer. You will receive a notification of the transaction.
How to Receive Money Using Wise?
Select the currency you want to receive money in.
Find your account details so that you can receive money without any issue. There is a section "Get account details" when you open the new balance section.
Share your account details from whom you are expected to receive money. Make sure you keep safety in hand.
Once you provide all the details correctly, you will safely receive the money in your account.
See also: Instarem Review: Fast and cheap money transfer service
Best Money Transfer Methods Using Wise
Wise offers three types of transfers, and the details vary from country to country. For example, if we talk about sending money from the U.K., the details are as follows:
Fast and Easy Transfer: This is the easiest and the fastest way to transfer money using debit or credit cards or e-wallets like Google Pay or Albeit Fast. However, this is the most expensive option.
Low-Cost Transfer: This option is soft on your pocket as it charges a low fee compared to other options. However, it takes longer than other options. So, this is for those who want lower costs but are ready to wait.
Transfer limits: For most Americans, the minimum limit for transferring is just $1. However, it depends on destination to destination, and the maximum that an American can send is $15,000 using ACH and $1.6 million that a user can internationally transfer using bank wire transfer.
Points to remember while making international money transfers 
Comparison of Transfer Fee
You are likely to face two charges when transferring money: an upfront transfer fee and an exchange rate markup. Some providers offer lesser upfront transaction fees but higher exchange rate markups and vice versa.
You need to find a provider that offers a combination of cheaper fees in both sections.
Awareness of Exchange RA
In this article, we have already understood what exchange rates are. In simple words, it is how much money will be transferred against what you sent.
We generally see foreign exchange rates in the news, but it is not what your recipient will receive. This is the game of exchange providers where they do not transfer the exact amount against what you sent.
Even if they charge just a 2% exchange markup rate, then your recipient will receive 98% money of exactly what you paid to the provider.
No-No to Credit Card
I recommend you not to use credit cards for transferring money online because there are many changes that you need to bear, including higher upfront fees, internet charges, and cash advance fees (because you are sending cash to somebody).
DIT Wrap Up!
I hope that I have successfully brought out the major wise reviews 2022 so that whenever you are planning to transfer money to your loved ones, you have the best option ready on your list. 
You need to take care of many things while transferring money online, like mid-market exchange rates, markup rates, upfront fees, etc. Therefore, although its fee is meager among its peers, it is pretty slow but still caters to your needs much smoother.
If you still have any questions, comment below, I will help you out with the best possible solution.