For people looking for a cheaper or fee-free option for sending money worldwide and an easy mobile app experience, Remitly is an excellent option. Find out the best Remitly promotions here.
Remitly is an online money transfer service that lets people from the USA, Canada, UK, and Australia send money overseas to over 90 countries. Remitly money transfer balance speed with decent prices compared to overseas money transfer services like Instarem and Ria money transfer.
If you're new and looking to send money to your loved ones back home, try Remitly free transfer and get $25 bonus when you sign up for Remitly with this referral link.
Remitly Promotions: Exclusive $25 Bonus
Several different Remitly promotions are available for new and existing users to take advantage of extra rewards when you send money through Remitly.
Remitly $25 Sign Up Bonus
Remitly offers a $25 exclusive bonus for new users who join Remitly with special referral links. When you sign up for Remitly and send money to someone, offers you're eligible for will automatically apply to your first transfer. You don't need to enter a promo code.
Remitly $25 Referral link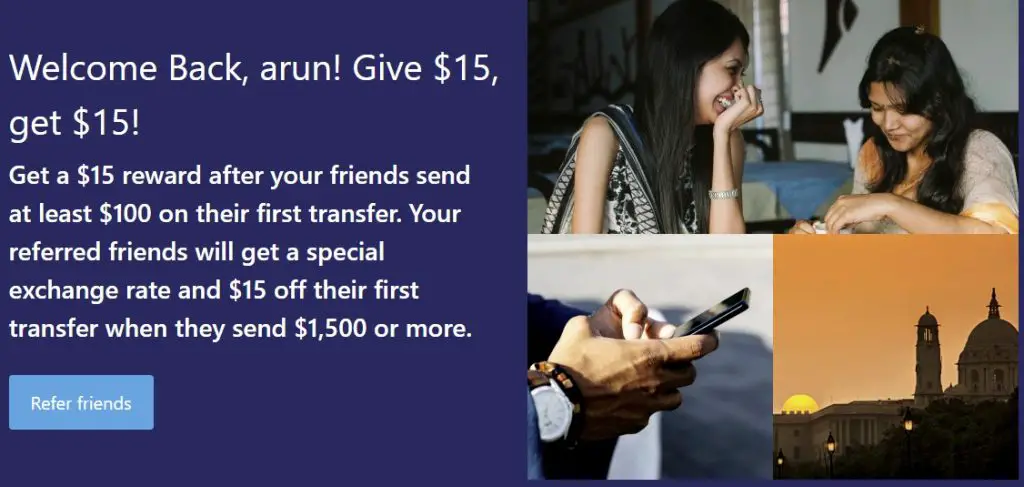 The Remitly referral offer allows users to earn rewards for referring Remitly someone. You'll get $15 bonus when your friend sign up through your Remitly referral link and successfully sends a minimum of $100 or more money home the first time; you both will get $15 rewards.
Here are the steps to follow:
Share your Remitly referral link with a friend.
Your friend uses your referral link to sign up.
Add payment details.
Send money minimum $100 or more with Remitly.
You and your friend will receive a $15 bonus.
Note: There are no limits on how many friends you can refer. You'll receive one reward for every successful referral you make, as long as they are a new Remitly customer.
Don't Miss:
Instarem Promotion: Join Instarem and get $22 discount on your first international money transfer when you transfer over $500 or more.
How to get the Remitly Referral link
You can easily find your Remitly referral link on both apps or the website.
Here is how to get your referral link through the Remitly App:
Open the Remitly app and sign in to your profile.
Select My Remitly.
Select Refer Friends.
Choose how you want to share your referral link.
Get your referral link on Remitly.com
Go to Remitly.com.
Sign in to your profile.
Select Refer Friends in the top navigation.
Choose how you want to share your referral link.
How does it work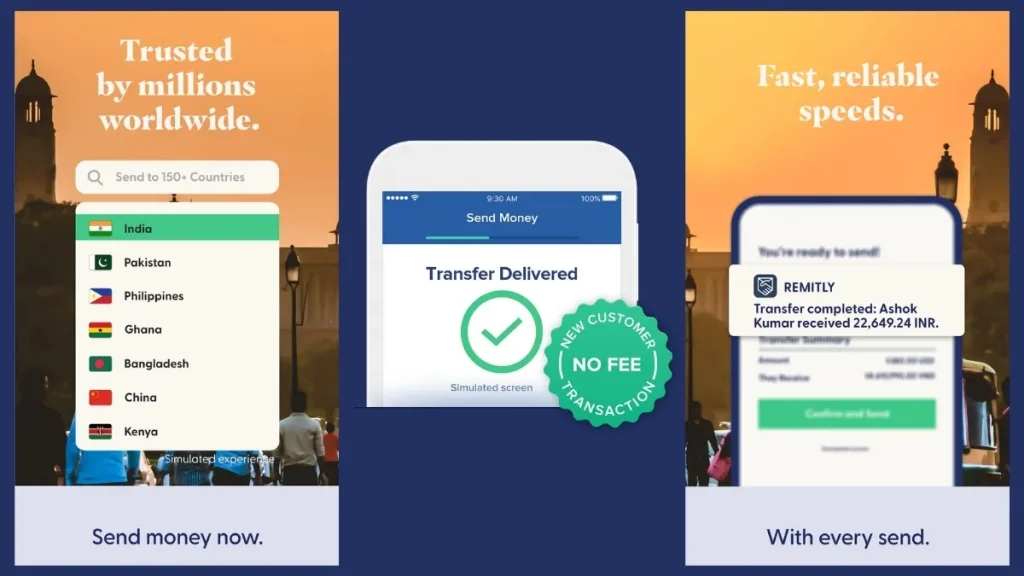 Remitly is a digital remittance service that helps you to make international payments direct to bank accounts in 80 countries around the world. You will be able to send your money online or in the Remitly app. Once Remitly receives your money, it's deposited in your recipient account in their local currency.
Remitly offers several ways to transfer money. Here is the breakdown of the options:
Sending Channels: Remitly mobile app and website.
Payment Options: Bank account, debit card, and credit card options are available. Prepaid cards can also be used as a payment method.
Transfer Limits: Generally, you can transfer $2,999 daily within 24 hours of registering with Remitly. The amount can be increased to $6,000 or $10,000 a day, depending on how much additional information you provide, such as details about how you use Remitly, your full Social Security number, government-issued identification, and the source of your funds.
Fees & Rates

As with any international money transfer service, you'll need to watch out for transfer fees and exchange rates.
Is Remitly safe?
Yes, Remitly is a safe option for sending money transfers! The Financial Conduct Authority has authorized and regulated Remitly to provide payment services under the Payment Services Regulations 2017 (reference no. 728639). The HMRC also registers Remitly as a money service business (registration number XCLM00000164259).
Frequently Asked Questions
What is a Remitly referral link?
Remitly referral link is a unique link to invite your friends to join the platform, where you both earn some rewards.
How does Remitly referral work?
Refer someone to Remitly by sending an email or sharing your referral link on social media. Once your referral send a minimum $100 or more, you will both get $20 bonus.
How do I refer a friend to Remitly?
1. Sign up and send your first money transfer.
2. Visit the "refer a friend" page, and share your referral link with your friends.
3. After they have signed up and successfully sent $100 or more, you'll both get a reward of 20 USD!