Zelle is a Fast, simple, and free mobile payment application to send money from your bank
Forgot to bring your wallet to the cash-only mart and need to pay back your friend for the help? Failed to estimate the right cash amount before coming to the fantasy park with children, and now you are short of money? It happens.
Thankfully, we have Zelle. It allows you to send money to anyone who has a US bank account. Zelle services are not only free and fast but it's considered one of the easy money transfer apps and mobile apps.
Zella At a Glance:
| | |
| --- | --- |
| Cost | Free |
| Android App Ratings | 4.5/5 |
| iOS App Ratings | 4.8/5 |
Zelle Full Review:
PROS:
Free and fast with no fees at all.
Simple to set up.
Money goes into the recipient's bank account directly.
Integrates many banking apps.
No need for the recipient's banking information.
No receiving limits.
Secure transactions.
CONS:
No fraud protection as you don't know the recipient's banking information.
Only supportable for US bank accounts.
High payment limits.
Can't cancel certain payments.
No international, store or web payments are allowable.
Credit card transfer of funds is not applicable.
What is Zelle?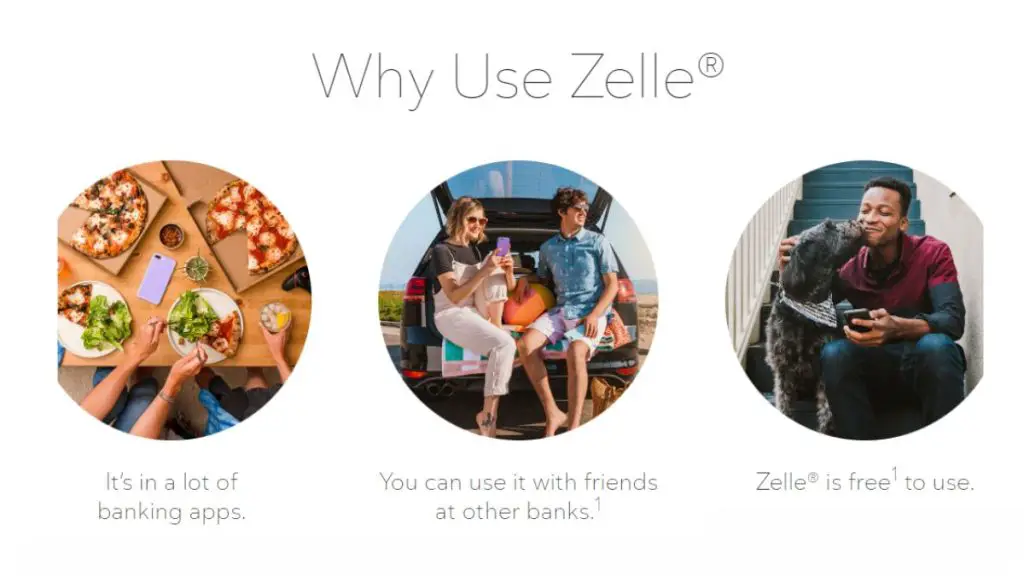 Zelle is a free, peer-to-peer mobile payment service that has facilitated payments between users since 2016, when it was founded. Direct payments between US bank accounts with just the email or mobile phone number of the recipients are the main feature and functionality of Zelle.
Zelle's money transfer service can be used through your banking app as it partners with hundreds of US banks. Other than that, you can access Zelle as a single app too. 
The Zelle app is easy to set up. Add your personal and bank information, and you are good to go. Zelle services include sending money, requesting money, or splitting an amount with others. The app is designed in a user-friendly manner and is easy to use. Plus, Zelle has no fees, and it's free to use.
See also: Best bank bonuses for new or existing customers!
Zelle Specs:
| | |
| --- | --- |
| Web Interface | Yes |
| In-store Payments | No |
| iOS App | Yes |
| Android App | Yes |
| Pay on Online Stores | No |
| Loyalty Programs | No |
| Person-to-Person Payments | Yes  |
| International Payments | No |
How Zelle Works:
Zelle works a little differently from other transfer money services, and in various ways, it's better. You can move money directly between bank accounts using Zelle and it works faster than traditional account transfer.
Zelle can be used to send, receive and request money. Users can link their Zelle account with their checking accounts. No recipient details are required other than email or phone number at maximum to transfer the transaction. 
Hundreds of banks are associated with Zelle, so money can be sent using a mobile banking app. You can also make transactions using Zelle standalone app if your bank account doesn't use Zelle.
How to send money with Zelle:
The few steps to sign in and make transactions through Zelle are as follows,
Sign in to your mobile Bank account by plugging in your username and password. You can also set up Zelle through your bank's website portal.
If your bank account doesn't associate with Zelle, then enter your debit card information on the Zelle app. 
Enrolling through the mobile banking app just requires an email address and phone number to be verified.
Once enrolled at Zelle, you can transfer money with the 'Send money with Zelle' option in your Zelle app or Mobile banking app and then provide the recipient's email or mobile number.
Enter the specified amount to send.
Click the 'Send' button.
Within seconds, the transaction will be done, and the recipients will get a message telling them the details to access their money.
Deciding Factors:
Recommended For
Street payments not requiring any particular specifications.
Paying an unknown with random depth.
Running short on money, need to transfer money immediately.
Easy to split, send and receive money.
Payments within the US are allowable.
Not Recommended For
High-profile deals involving huge money risks and security.
Fast
Money is transacted and available to your recipient in seconds.
Free 
Immediate money transfer with no fees at all.
Accessibility
It can be accessed through mobile banking apps.
User Friendly
Simple to set up and easy to use.
Safe and Secure Transactions
The money stays insured.
Requirement
Only the recipient's email address or phone number is required to make a transaction.
Perks of Zelle:
No Fees
Unlike other payment apps, Zelle is free to download and use. Zelle won't charge you to send or receive money. So, always check with your bank to ensure that it doesn't charge any money or service fees.
Secure Transactions:
Zelle has no security threat as it does not store any of your personal information. This is one of the reasons why Zelle sells itself as a secure money transfer app. 
One of the downsides to this is that you can not cancel transactions that is why it is necessary to know and have trust in the person to whom you are sending money. 
In a nutshell, no a good use for very large amounts of transactions.
Fast Money Transfer:
The service offers fast money transfer options. Payments are made within minutes which makes it even easier to handle your transfer needs and personal finance.
Integrated with hundreds of Banking Apps:
Hundreds of Banking Apps are associated with Zelle so you don't need to download them separately. Zelle is accessible to 100 million people through its banking partners. 
Another plus point is that, unlike other banking apps, no middleman in between. The money directly goes into the recipient's account.
Features like split, send, and request money:
Zelle allows you to send money, split purchases, and request money with the action of a finger. To simply use the split option, enter the amount and the people you want to split into, Zelle will do the maths.
No money-receiving limits:
There is no limit on receiving money, therefore, you can receive as much money from someone as you want. However, there are sending limits, which vary from bank to bank. 
Other apps have both sending and receiving limits.
What can be Improved In Zelle:
No fraud Protection:
One of the biggest drawbacks of Zelle is its lack of protection from fraud. The easier it is to send and receive payments from unknowns on the course of an email or phone number, Zelle doesn't protect its buyers and sellers.
Therefore, Zelle is recommended to be used for transactions where the opposite party is trustable. It's suggested to not transfer money to strangers using Zelle and to be aware of Zelle scams, as they do exist.
Can't Transfer through credit cards:

Zelle has bank transfers only. Zelle does not support credit card payment so you often have to pay a fee to make a credit card transfer to other payment apps. 
Supports US Based bank accounts only:
Zelle is a US-based service available for US bank accounts only. So, if you want to transact internationally, Zelle is not a good option for you.
No payment cancel options plus Payment Limits:
You cannot cancel payments on Zelle, once the payment has been done. The weekly limit to send money through Zelle is $500. 
Zelle Alternatives:
PayPal: Excellent for Bank to Bank Transfers
PayPal Takes one business day to transfer money to a standard bank account. Allows transactions via credit card, app, cryptocurrencies, or debit card. A separate account for business merchants.
WorldRemit: Expertise in international transfer
Charges at no cost and sends money to almost 130 countries. Money transfer is completed within 24 hours no matter how far the receipt is. You can collect vouchers by introducing friends to WorldRemit through its referral program.
CashApp: Charges low Fees
CashApp Offers more than payment options only. Includes the ability to buy and sell bitcoins straight from your balance. It has a unique feature of investment, savings, and buying and selling.
Venmo: best for Shared Bills
Venmo provides a way to split the money and make move instantly. It does not require you to add money to it to make payments, such that instant cash transfers are applicable and allowable.
Facebook Pay: Good For Small Transfers
Facebook Pay provides easy transfer of money through the request option. It has chat and communication features too.
FAQ on Zelle
Is Zelle free to use?
Yes, Zelle is free to use.
Can Zelle be used without a debit card?
If your bank account is linked with Zelle, you can send or receive money through it. However, you do need a debit card to enroll on Zelle App. 
How to contact Zelle customer service?
The contact for Zelle customer support is 1-844-428-8542. And they operate from 10:00 a.m to 10:00 pm Eastern time, seven days except for some holidays.