Instarem is an excellent option for personal and business funds transfer if you are looking for an affordable money transfer service. This detailed Instarem review covers everything that will help you decide about the platform.
Instarem Review at a Glance
Before jumping into the details, let's have a quick look at everything you need to know about Instarem.
It's an online platform for payments and fund transfers. 
It has good features at an affordable price.
Your recipient will get money in the local currency.
It comes with coverage in more than 55 countries.
No service for the residents of Africa or Mid East.
Instarem Money Transfer: Pros & Cons 
After a thorough Instarem review, we weighed all the strengths and weaknesses of the platform. Here's a summary that will help you decide whether it is an ideal choice.
Pros
The service comes with a low price tag.
It provides quick payment methods.
It covers markets of 55-plus countries.
The account is user-friendly.
Cons
No service in Africa and Mid East.
Complaints about the registration process.
Doesn't have ideal customer service.
What is Instarem?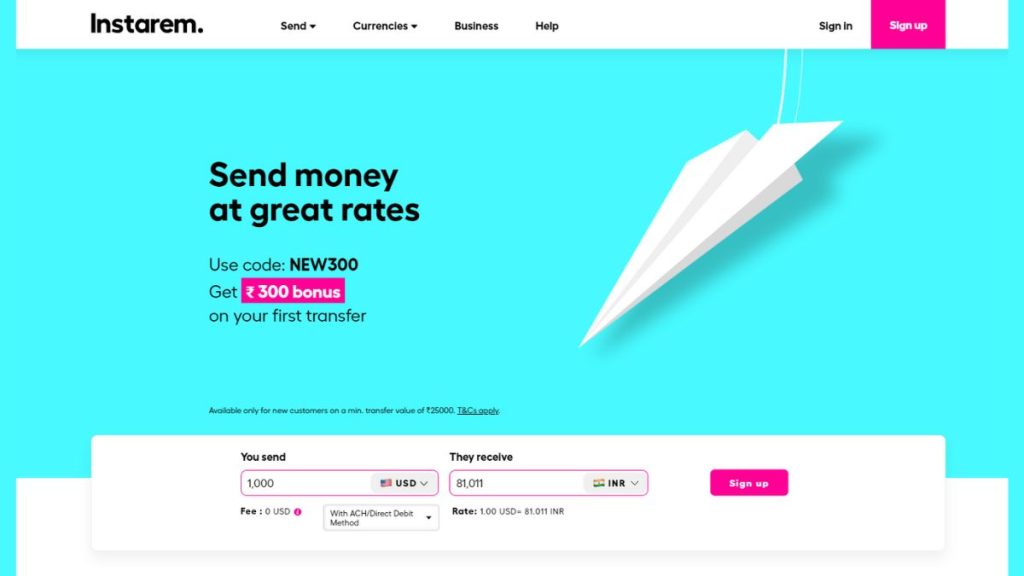 Instarem is a platform that provides digital solutions for funds transfer and payments. Founded in 2014, it is headquartered in Singapore. It targets multiple markets all around the globe, including America, Asia Pacific, as well as South-East Asia. It is a relatively new yet popular service provider with a user-friendly and beneficial platform. While it provides services to 55+ countries, it has no presence in African or Middle-East markets.
How Does Instarem Works?
Now that we have introduced Instarem, next this Instarem review covers the working of the platform.
Users make international funds transfer directly to bank accounts.
The money is deposited in the recipient's local currency.
You can avail of services for personal as well as business payments.
How to Send Money Using Instarem?
To send money using Instarem, you need to signup as a business client or individual. Follow this step-by-step guide to successfully transfer money through Instarem.
First off, sign up on the official app. Business clients will need to provide details about their business, while individual accounts can sign up with their personal information, including name, address, and email.
Next, Instarem requires two verification steps. The first step is to verify through mobile. You will receive a verification code on your phone number. The other verification step is to verify your ID. Business clients can use bank statements or driver's licenses. It can take up to 24 hours.
 Now you just have to set up your transfer. Enter the details of the recipient and the number of funds that you want to transfer.
Select a payment method. You can choose from a bank or debit card.
Lastly, track your transfer and wait for it. Instarem will keep notifying you throughout the process.
Don't miss: Instarem money transfer get $75 Bonus on First Overseas Transfer.
Instarem Fee & Exchange Rates
Next, on the Instarem review, you learn about the Instarem fee and exchange rates that it offers. The users need to know the fee structure and pricing. Instarem offers relatively affordable prices. 
Transfer fees depend on your location as well as the amount that you are transferring. To give you an idea, let's consider if you are sending money from Australia, you'll have to pay 0.5% of the transferring money. And if you are sending from the UK, you'll have to pay 0.25% of the amount. In either case, it is considered a relatively affordable option.
Instarem uses the original interbank rates. You won't be charged for any margin on their rates. 
Other than the transfer fee, you won't be charged any extra fee by Instarem. But banks might charge you a fee between $25-30 for the transfer.
| Service Type | Instarem. |
| --- | --- |
| TRANSACTION CHARGES | Transaction fees between 0.25% and 1% and no hidden charges. |
| SWIFT / NOSTRO CHARGES | Not applicable for local currency payouts – eg: no charges for USD sending USD to the USA. |
| BENEFICIARY AMOUNT | Guaranteed destination amount for local currency payouts – eg: no charges for sending USD to the USA. |
| FX RATES | Actual market rates without any margins. Instarem provides the conversion rate without adding any margins. For example: If the USD/INR rate is 80, you pay precisely INR 80,000 for USD 1000. |
| TRANSACTION STATUS | Real-time tracking is available. |
| PROCESS | Real-time 100% digital – easy sign-up process that takes less than 10 minutes. |
| TURNAROUND TIME | Most competitive settlement time frames. |
| SAVINGS | Parents/Students save approximately 3% more with Instarem than other platforms. Students can save up to USD 380 on every payment of USD 20,000/- on university fees. |
Fees Structure Provided by Instarem Official
Which is better Instarem vs Wise
Instarem is often compared with Wise when it comes to international money transfers. Let's see the platforms' strengths and weaknesses one by one.
Instarem offers services to individual as well as business accounts separately. It transfers money to 55-plus countries. The price tag is relatively low, making it an affordable option. The recipient receives the money in local currency. There's only bank-to-bank and card-to-bank but no direct cash transfer. You won't be able to send money from Mid East and Africa.
Like Instarem, Wise Money transfer service is also available for business as well as individual accounts. It supports service to 70+ countries with greater coverage than Instarem. It is known for excellent transparency. It also allows recipients to receive money in local currency. Bank-to-bank and card-to-bank transfers are available, but no direct cash transfers.
Final Verdict
Now that you have read the complete Instarem review, you have learned everything you need to know about this platform. All in all, it is a decent option if you are looking for a simple, easy-to-use service for international money transfers. But if you are located in Africa or Mid East, it might not be your ideal choice. You can explore other international money transfer options. For other locations, it is overall a pretty good service for the money.
FAQs for Instarem Money Transfer
Can Instarem be trusted?
Yes, Instarem is a safe money transfer service. You can trust it as it provides all the standard security and protection. The number of users has been growing recently. It has a team of more than 200 employees handling transactions of around USD 5 billion annually. Client money is handled separately from the company's operating money. How long does it take to send money through Instarem? Making it a trustworthy platform.
How long does it take to send money through Instarem?
Instarem is known for quick money transfers. Most of the payments are done instantly. There's no exact time. It depends on the location of the recipient and the bank's processing time. It may take up to 2 business days.
What payment methods can I use?
For anyone residing in the USA, there are 3 payment methods with Instarem. You can pay by ACH, set up Instarem as the payee, or use a Wire transfer.