Are you trying to cut your cord and looking for decent alternatives? This Swoop TV review brings one such option for you. Swoop TV is known to be among the best and most affordable streaming services. 
Let's explore this detailed Swoop TV review to find out if the platform is worth using.
Swoop TV Review Highlights
Here's everything that we learned in our SwoopTV review.
A decent alternative to cable TV
Beginner-friendly platform.
A separate package for sports fans.
Supports several devices.
Includes 500+ channels at an affordable price.
What is Swoop TV?
Swoop TV is an IPTV (Internet Protocol Television Video) streaming service that is a great alternative to cable. It offers content, including music, movies, and television shows. You can access your favorite shows without any limitations. It supports almost all devices, including smartphones, tablets, and Macbooks. 
It has many amazing features that are discussed in this detailed Swoop TV review. You can call them for technical help anytime you want. And even if you are a beginner, you don't have to worry about anything. It has a completely beginner-friendly interface. If you are a sports fan, you'll not be disappointed with their service. Swoop TV comes with a separate package for sports fanatics.
Swoop TV Guide: How Does It Work?
Are you fed up with cable TV like everyone else? This Swoop TV review brings you a complete guide to shifting to a better streaming service. It is one of the most affordable streaming platforms, yet it comes with 500+ channels. Thus, for all movie fans and sports fanatics, Swoop TV has got you covered. 
It allows installation on several devices, including Amazon Firestick, Android TV Boxes, Fire TV, NVIDIA Shield, Android phones, Chromecast, and all other devices with Android OS. Confused about how you can install it? The process is simple. But make sure before you install the app you have registered for a subscription on the official website.
How To Watch Swoop TV?
Here's a complete roadmap to register with Swoop TV for a subscription.
Visit the official Swoop TV website on your device.
Tap on the 'Store' option.
Choose one of the subscription plans and order.
Now, enter the Swoop promo code and checkout.
Enter all the details in the registration form.
Now, enter the payment details to complete the order successfully.
Finally, you can install Swoop on different devices. You can find all the compatible devices later in this review. All you have to do is install Swoop on your device. You can enjoy service from anywhere you want.
There is an another great option to watch you favourite shows. Try FuboTV Free 7 days for free
Pros and Cons of Swoop TV
Here are some of the pros and cons that we observed in our Swoop TV review.
| Pros | Cons |
| --- | --- |
| It supports more than 500 channels | The trial period is short |
| The service is affordable | |
| It has a beginner-friendly platform. | |
| Customer service is good. | |
| It is compatible with many devices. | |
Swoop TV Cost
Swoop TV has some of the best subscription plans. It is affordable for everyone who can afford to pay at least $19.99. It offers 3 packages, including a free trial, premier plus, and a premier Espanol. Here's what each of them has:
Swoop TV free trial is offered to anyone without any extra charges. It is available for 3 days. 
Swoop TV premier plan is a package for an average user. You can have it for $19.99. It comes with 500 plus channels, including sports stations. But it does not contain any Espanol channels.
As the name suggests, Premier Espanol has everything and more. You'll have the complete Premier plan along with Espanol channels. It costs $24.99.
Top 5 Swoop TV Features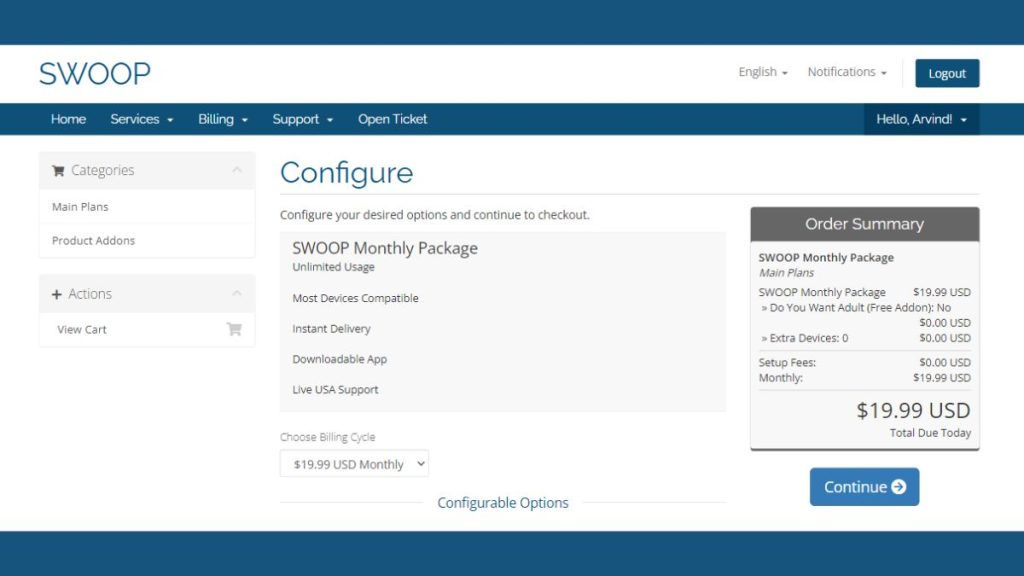 Next, in the Swoop TV review, we bring the top 5 features of the platform.
It is VPN-friendly.
It allows access to 500+ channels with HD quality. 
It accepts Paypal as well as a credit card.
It is compatible with popular IPTV players.
It offers customer service through a contact form and email.
Swoop TV Channel Listing
Swoop TV has a ton of different channel segments, including news, entertainment, health, sports, etc. We can not assume what kind of channels are available on each plan. You can access some of the most popular networks, including Fox, MTV, NBC, HBO, BET, and more.
Swoop TV Supporting Devices
You don't have to worry about finding a remote every time because Swoop TV lets their customers watch their favorite shows. It is compatible with almost all the hand-held devices used by average people. The supporting devices include smartphones, tablets, smart TVs, and any other device with Android OS. You don't even have to buy any additional equipment to use Swoop TV if you already own a device.
After signing up with Swoop TV on their website, you can install the app on your preferred device to connect your account and enjoy HD streaming.
Final Verdict
Now that you read this complete in-depth Swoop TV review, you know everything about the platform and all the roses and thorns associated with it. If you are someone who is looking to cut cable, Swoop TV is one of the best alternatives for you. You can see it has more pros than cons. So, you might not find any other good yet affordable service. You can give it a shot with their free trial packages and decide for yourself.