Why pay more for cable when you have the best cable alternatives?
There was a period when cable was in huge demand, but as time passed and the digital revolution hit the market, the number of individuals using cable declined.
Consumer dissatisfaction with cable has also increased as they have to pay for the channels they don't watch. Although the majority of those viewing is still linked to a cable connection, the modern generation called generation Z wants everything on demand. Along with this, they prefer the simplicity and convenience of utilizing laptops, smartphones, and smartwatches, which are not offered by cable connections.
Besides, today's audience has a shorter attention span, they just don't want to watch ads for their favorite shows in waiting for the main content, instead, they focus on the content on-demand, and some services offer these things.
This blog is the perfect package for you if you are shifting from a cable connection. In this blog, I will let you know the best cable alternatives that not only offer the best services but also assist you in watching your favorite shows on-demand.
Let's dive right in..!!
Best Cable Alternatives in 2022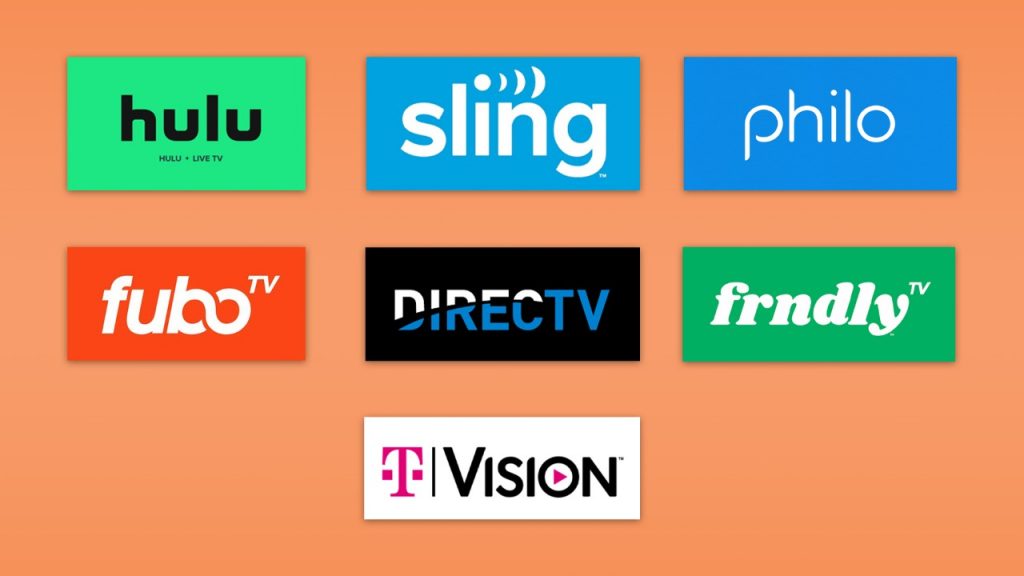 Hulu with Live TV
Hulu is one of the best cable alternatives in 2022. However, Hulu came into existence in 2007 as a video-on-demand service. After getting a good response, it launched its Hulu + Live TV service in 2017. If you are a Hulu viewer for a long time, then you must have gone through Hulu's original, Emmy-winning TV series The Handmaid's Tale, based on Margaret Atwood's excellent novel.
Hulu + Live TV (an online streaming service) is majorly focused on original TV series. It mainly offers two packages with access to over 65 channels. You can not only enjoy the entertainment series on Hulu but also its sports network including ESPN, CBS, FS1, and FOX. You can subscribe to Hulu to Stream full seasons of exclusive series, hit movies, Hulu Originals, kids shows, and more.
Major Highlights
Offers Original and mixed (entertainment and sports) content
65+ channels in the library
Support PC, iOS, Xbox, PS4, Android TV, Apple TV, Fire TV, Roku, and more devices.
50-200 hours of DVR storage
3-16 Mbps is the recommended internet speed.
30-day trial.
Hulu Subscription Plans
Hulu — $6.99 per month
Hulu (No Ads) — $12.99 per month
Hulu + Live TV — $69.99 per month
Hulu (No Ads) + Live TV with Disney+ and ESPN+ — $75.99 per month
Thumbs Up
Sports and entertainment content
You can select an ad-free membership plan.
Thumbs Down
There are only two concurrent streams (unless you pay extra)
-> Click here to read more about Hulu reviews and how to cancel Hulu.
Sling TV
Sling TV is another best cable alternative and is generally less expensive. Debuted in 2015 to serve as a complement to online subscription-based services. With Sling Tv you can watch dozens of live television channels that too on a very low monthly subscription. Sling Hindi gain more popularity among Indian livings in USA. With Sling, you will get a wide range of content alternatives.
Sling Tv also allows you to rent movies and you can even enjoy a free tier of on-demand programs. But on the other side of the coin, Sling Tv does not provide nearly as many local channels as other providers. Together with this, it lacks several high-end streaming capabilities that other top competitors provide. You can avail Sling TV Free trial to see worth to have Sling Subscription.
Major Highlights
Sling TV allows you to create personalized subscription plans.
You will get 32-47 channels in the library.
50-200 hours DVR storage capacity.
Supported Xbox, Roku, Fire TV, Apple TV, iPhones, iPads, Android TV, and more devices.
7 days free trial.
Sling Subscription plans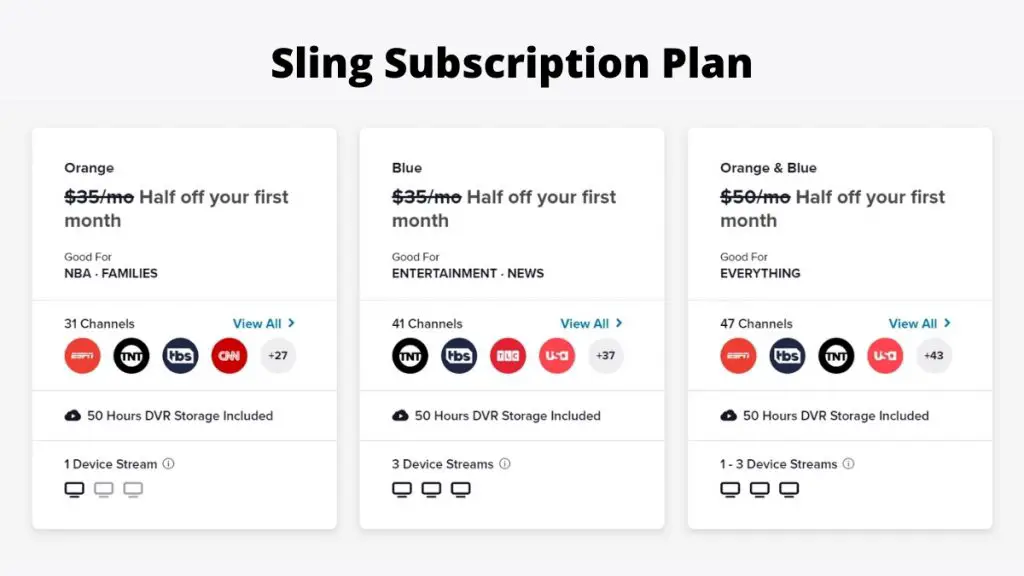 Sling Orange – $35 per month
Sling Blue – $35 per month
Sling Orange + Blue – $50 per month
Thumbs Up
a diverse selection of channels
flexible alternatives for subscription
No-cost tier
constant stream performance
You may rent movies
Thumbs Down
Prices are still rising.
A meager selection of regional sports networks and local stations.
Confusing channel distribution.
Philo TV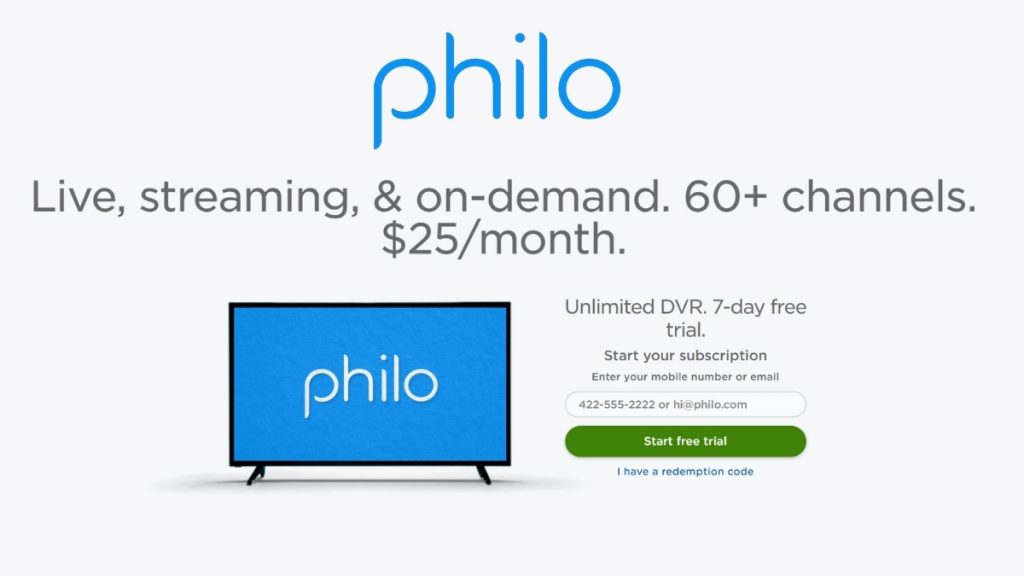 The internet is flooded with a lot of live video streaming services where you can watch your favorite tv shows but many of them are very expensive when it comes to a reasonable video streaming service, Philo tv has been placed in many homes for the cable-related needs and clinches the reward of another best cable alternative.
Philo TV with a lot of entertainment options is very cost-effective and gives value for money. It comes with 63 channels to fulfill your entertainment and many options for video-on-demand needs.
Although Philo TV is not a great alternative to live TV like YouTube TV and Hulu+ and it has very few options available and no sports option but it justifies its price by offering you great entertainment and you can replace your cable with this. You can read the Philo TV step-by-step subscription guide.
Major Highlights
60+ channels for just $25
No long-term contract unlike others
Unlimited DVR recording available
Philo Subscription plans
$25.00 per month and 60+ channels.
Thumbs Up
Inexpensive
Lineup of 63 channels
Streaming performance that is consistent
Excellent mobile applications
Simple-to-use DVR
Thumbs Down
There is no local or sports coverage, and there are just a few news stations.
There are no parental controls available.
Ads appear in certain recorded and on-demand programs.
FuboTV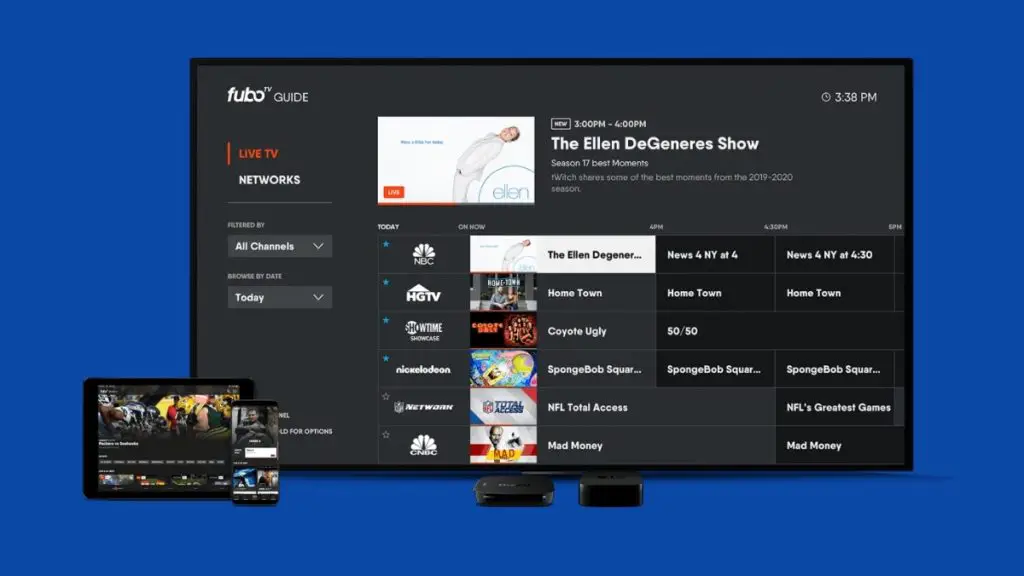 Being out of the cable network separates you from being entertained at all. You have been gifted with Fubo TV, the biggest ever live streaming service that won't let you feel the absence of the cable tv network.
There is an endless list of entertainment of sports, serials, movies, and easy-to-DVR capacity that makes it worth watching for your entertainment. You can read step by step guide about FuboTV Subscription.
FuboTV is known for its major sports leagues at local, national, and international levels so that you don't miss your favorite sports but there is something that I don't like about it and that is its 720p cap on most of its content due to which you will not be able to enjoy videos of high quality. Let's check out what this best cable alternative delivers.
Major Highlights
Best suited for Sports fans.
100+ channels in the library.
Android, iOS, Amazon Fire TV, Android TV, Apple TV, Chromecast, and Roku devices are all supported.
DVR capacity of 30 to 1,000 hours.
10 Mbps internet speed (suggested).
7-day trial (for some plans).
FuboTV Subscription plans
Latino – $32.99 per month
Pro – $92.96 per month
Elite – $103.94 per month
Thumbs Up
Much on sports
Three easy-to-choose subscription plans
Endless content
Amazon web interface
Excellent DVR functionality
Thumbs Down
Expensive subscriptions plans
No Bally sports and Turner channels
Most content is limited to 720p
DirecTV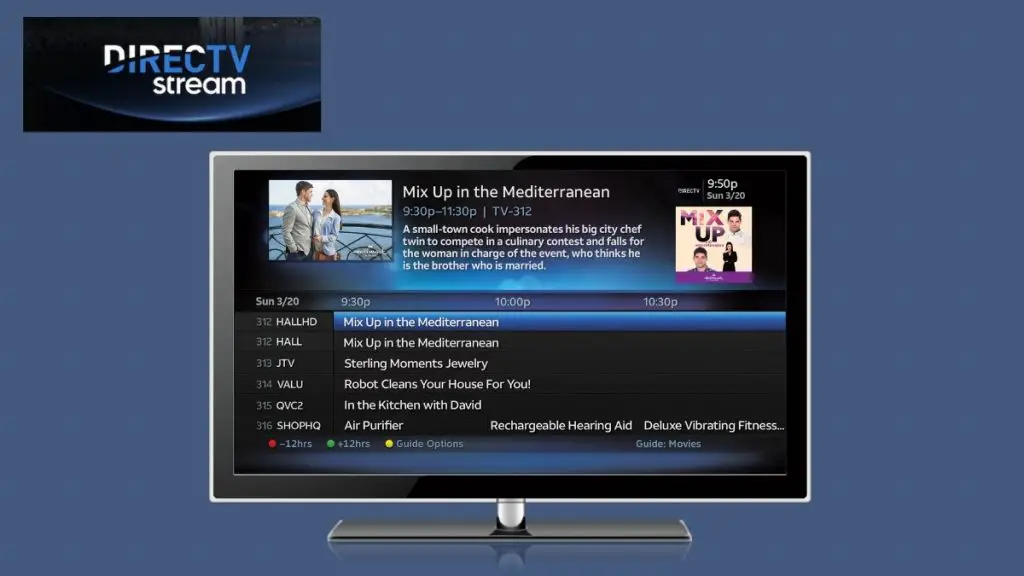 Now it is easier to get rid of your cable services and not pay for those channels that you don't like. 20 years back it was a wish of many but now it has become a reality. Thanks to the growing technology, it has become an important part of everyone's life.
DirecTV is one such option that you can go for. You can easily switch your entertainment hub to DirecTV and because of its easy-to-use services, it makes your transition smooth and becomes one of the best cable alternatives. You can read more about DirecTV Subscription.
Earlier there was a restriction on a two-year contract that the users had to fill but now that restriction has been removed and made the life of a user easy.
They charge on a monthly basis and you can opt out of it whenever you feel like it. You can even cancel your services within the first 14 days and get your refund.
Major Highlights
It is most suitable for viewing regional and popular networks.
You will get a Library of 65 to 140 channels.
Supported devices include the Roku, Apple TV, Android TV, Chromecast, and Amazon Fire TV.
DVR capacity of 500 hours (unlimited option for an additional fee).
12 Mbps download speed (suggested).
7-day trial period for various products.
DirecTV Subscription plans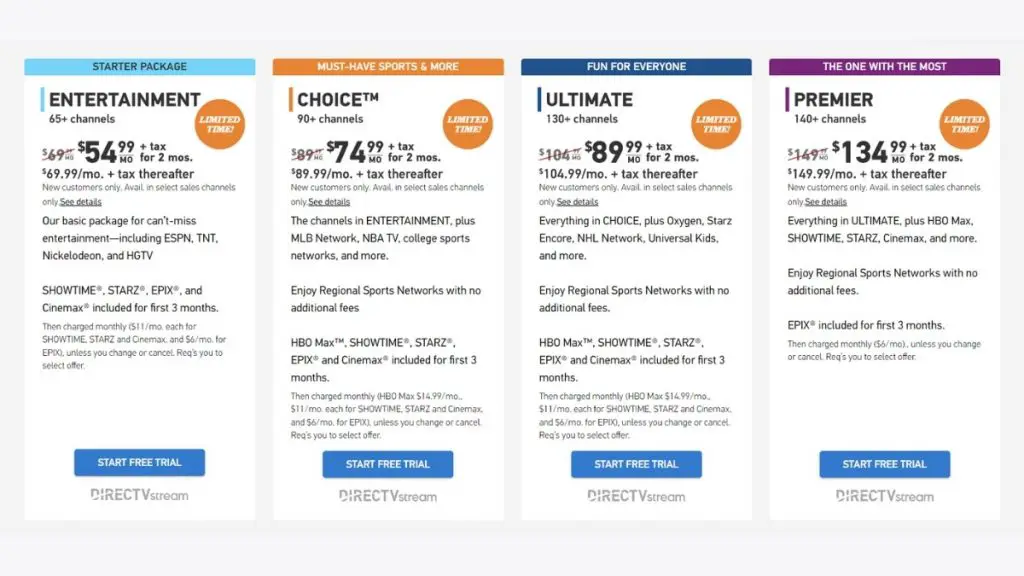 Entertainment – $69.99 per month, 65+ channels
Choice – $89.99 per month, 90+ channels
Ultimate – $104.99 per month, 130+ channels
Thumbs Up
Various subscription plans
Huge 500 hours of DVR recording
Complimentary HBO Max and Cinemax
Optional Parental Control
Comes with RSNs from AT&T and Comcast and Sinclair
Thumbs Down
Subscription plans are very expensive
Not a good user interface
Frndly TV
Are you also tired of the boring cable tv network programs and looking for a chance? You must consider Frndly TV as a great alternative because of the qualities it possesses.
Although it doesn't have much for you with its 15 channels, it can be an affordable cable alternative for you. There are many devices that Friendly TV supports like Roku TV, Amazon Fire TV, Chromecast, and Apple TV.
Many channels come with this service like BabyFirst TV, INSP, Game Show Network, etc.
Major Highlights
35+ channels in the library.
Roku, Fire TV, Apple TV, and Chromecast are supported devices.
Unlimited DVR capacity.
5 Mbps internet speed (suggested).
7-day trial.
Frndly TV Subscription plans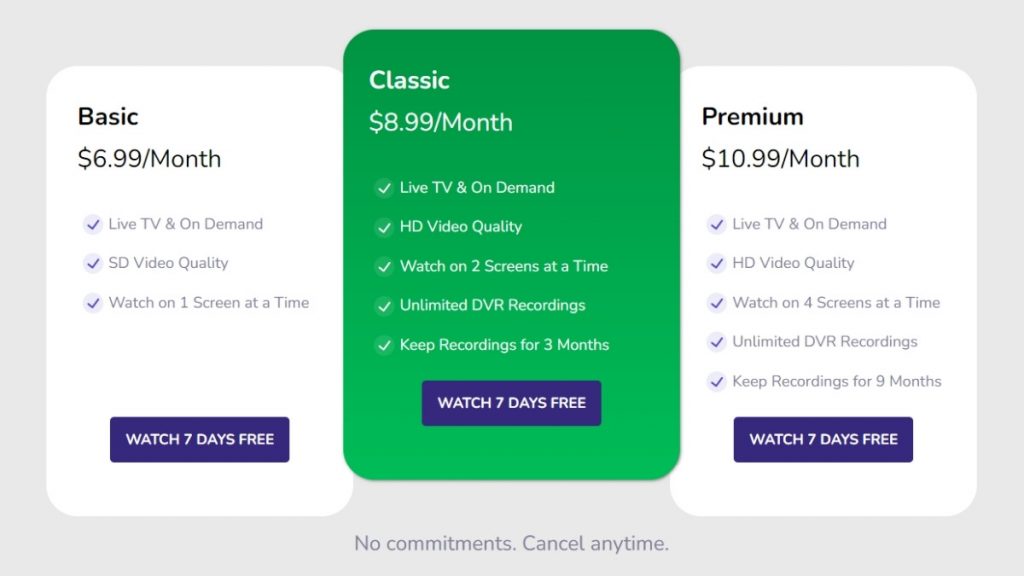 Basic – $6.99 per month
Classic – $8.99 per month
Thumbs Up
Good for Family Use
Very Affordable
Endless DVR recordings
Simultaneous streams
Thumbs Down
Very few channels compared to clothes at the same subscription plans
Very ordinary user interface
TVision TV
TVision is brought to you by T-mobile and is good for T-mobile users. It's a great alternative to cable tv and it was launched in November 2020. So, if you want to get rid of your boring cable tv network, TVision TV is for you.
There are currently 30-50 channels that you can entertain yourself with. The famous channels that TVision TV bets with are ABC, ESPN, AMC, TLC, Discovery, Hallmark, etc. and along with that you can enjoy watching recorded videos through your DVR where you can record for up to 100 hours.
Major Highlights
30–50 channels in the library.
Supported devices include Apple TV, Android TV, iPhones, iPads, Android phones and tablets, smart TVs, Amazon Fire TV, and Chromecast.
100 hours of DVR storage.
50 Mbps is the suggested internet speed.
No Trial.
Subscription plans
Vibe — $10 per month, 30+ channels
Live TV — $40 per month, 30+ channels
Live TV+ — $50 per month, 40+ channels
Live Zone — $60 per month, 50+ channels
Thumbs Up
Amazing entertainment for family
Quite affordable
Unlimited DVR recordings
2-4 simultaneous playback
Thumbs Down
Not Competitive
Very Few channels as per the standard set by others
My Thoughts
Today everyone wants to be free to choose what they want to watch for their entertainment. Earlier, people were bound to watch what the cable operator had to offer, but the scenario has changed now, thanks to the internet technology that has made our entertainment limitless.
There are many cable alternatives available so that you can entertain yourself, and I have tried to provide the best cable alternatives for 2022. The options that I have so far talked about are the best according to various attributes which according to me are essential to the customers.
Hope you enjoy the best cable alternative session. If you have any questions, you can ask me in the comments. Good Luck..!!