If you're tired of paying such an amount on a big cable bill every month, you may find that the FuboTV cutting cord can be a great money-saving planner in 2023.
FuboTV Canada Subscription Link!
FuboTV offers several subscription plans and pricing options, including a 7- Days FuboTV free trial, though not all plans include the free trial option.
If you want to try FuboTV before taking a subscription, you can get seven days free trial to experience the FuboTV service. To sign up for a free trial, you must provide a credit/debit card. After the trial period, your subscription will automatically convert to the paid version.
If you wish to continue your subscription, you don't need to change anything, or if you don't want the FuboTV service, you can cancel your subscription before the trial period is over. Here is how to get a FuboTV Free trial!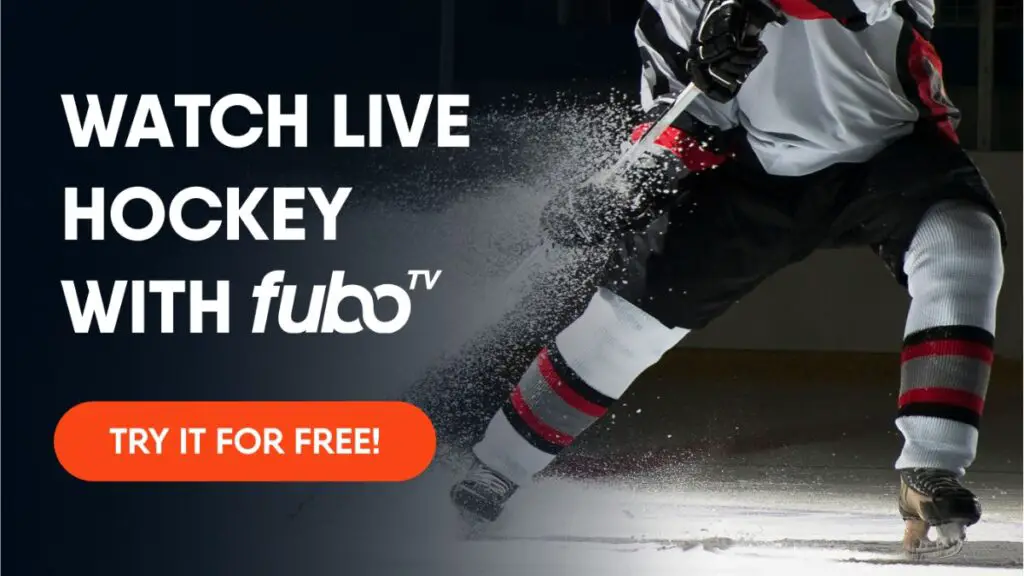 What is FuboTV?
FuboTV is the first sports-focused live streaming service that provides more than 100+ popular broadcast and cable channels and DVR capabilities at an affordable price.
Like ESPN Plus, Sling TV and FolSports offer live sports as compared to FuboTV. All you have to do is Subscribe to FuboTV to connect their service and experience all features at your fingertips. With FuboTV free trial, you can access a wide range of FuboTV libraries, including professional sports leagues (MLB, NBA, NFL, NHL) and college sports leagues (SEC, ACC, Big Ten, Pac-12).
So, whether it's your smart TV or your iPad or iPhone, you can access the same great content.
FuboTV Free Trial offer
Start a free trial of Fubo to watch college football without cable. On your TV, phone, computer, and more, you can start watching right away.
With the fuboTV free trial, you will have seven days to test the service and see if it meets your needs. FuboTV Pro will automatically be added to your cart when you add an eligible product.
If you decide streaming isn't for you, you can easily cancel before the end of your free trial (you will be charged if you forget).
FuboTV Plans
Fubo TV has three plans to choose from when you sign up for a subscription. FuboTV's plans also come with a free one-week trial, allowing you to try before you buy.
Fubo Pro: For $69.99 a month, you get 112 channels, 1,000 hours of cloud-based DVR, and up to 10 screens simultaneously.
Fubo Elite: $79 a month for 165 channels, Fubo Extra, News Plus, 1,000 hours of cloud-based DVR, and up to 10 screens simultaneously.
Fubo Latino: For $32.99 a month, you get 43 Spanish-language channels, 250 hours of cloud DVR, and two screens simultaneously.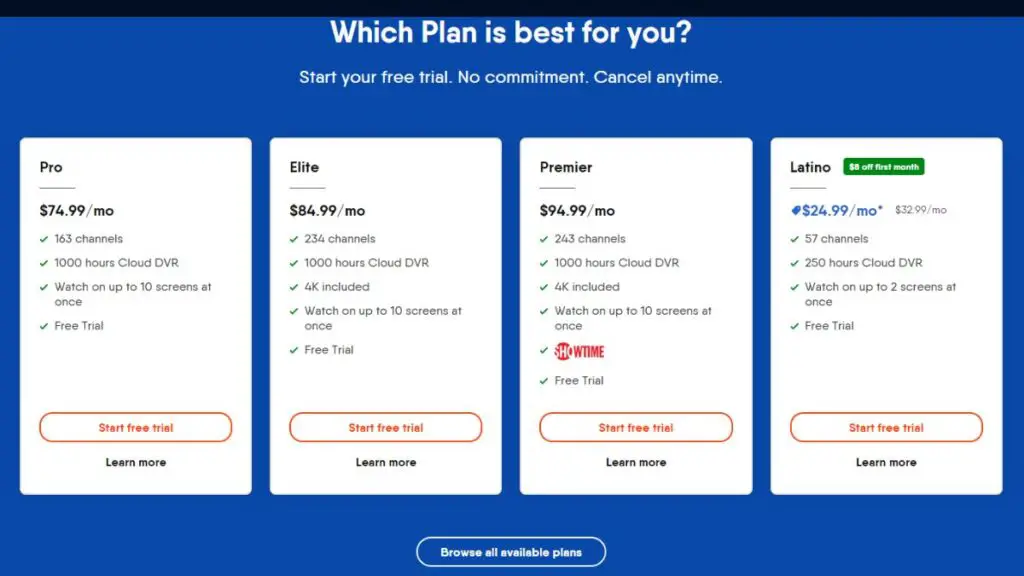 How much does it cost?
With FuboTV lowest-priced plan cost ($64.99/month), you get 120+ channels and 250 hours of Cloud DVR for free during your 7-day trial period—and then $64.99/month after that, with no contract and no hidden fees! With some fuboTV plans, you'll have a free trial. But after that period ends, your subscription will automatically convert to a paid subscription. 
Football fans know that Sunday is all about one thing: football. 
There's a way to watch every NFL game live or on-demand – plus select top games from dozens of other leagues. Here's what you get Sports (NFL, NBA, MLB, NHL, college football, and basketball) News Entertainment Kids Docuseries Fubo Latino Fubo Português Outside TV Features The Locker Room Lookout What is fuboTV?
What channels are included?
fuboTV is a sports-oriented streaming service that includes live sports from all over the world. But what are its best features? And which subscription plans should you choose? Read on to find out more about fuboTV, and don't forget to check our review to see if it's right for you.
Here's everything you need to know about fuboTV: What channels does fuboTV have? Fubo has two different channel packages: Fubo Premier ($69.99/month) and Fubo Latino ($32.99/month). The former gives subscribers access to CBS, NBC, FOX, and beIN Sports (Spanish), while the latter gives access to Univision Deportes Network (UDN), TyC Sports (Argentina), and Benfica TV (Portugal).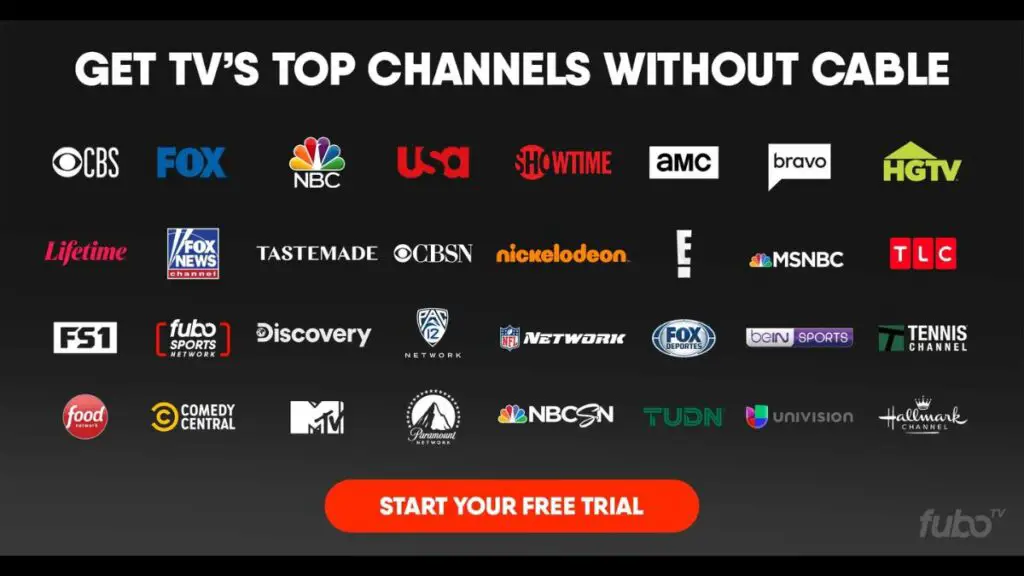 Both packages include a free 7-day trial period after signup. You can cancel at any time before your trial ends without incurring any charges or fees.
FuboTV Supported Devices
FuboTV is available on most major devices. If you want to watch on a TV, fuboTV has apps for Apple and Android smart TVs. You can also watch online through web browsers and connected devices like Amazon Fire TV, Roku, Chromecast, etc.
DIT Wrap Up!
FuboTV is a decent option, especially for cord-cutters looking to eliminate cable lines. It has tons of sports, news, entertainment channels, and DVR capabilities.
While it used to be one of the most expensive streaming services in the market, you may try Disney Bundle if you are looking for a medium-budget service.
Don't miss trying FuboTV free trial!