Ria is an international money transfer service, part of Euronet Worldwide (Parent), spread over a wide range of countries covering 2 million plus customers. With its diverse network of 350,000 physical locations to pick up cash lets, you choose between various payment methods to transfer your money.
Ria can be found among the best transfer methods providers; However, the exchange rates do not stand out when compared with competitors. There is also a Ria promotion for new or existing users, where you earn a bonus when you invite someone to Ria, and you both get a first free international money transfer.

Looking to compare: see the best ways to send money abroad
Ria at a Glance:
Ria is a global industry-leading payment and financial technology solution, among the three primary business segments of Euronet worldwide, allows you to make transactions to over 150 countries via in-person or mobile app. 
Alongside international money transfers, Ria offers bill payments, prepaid debit cards, money orders, checks to chase, and mobile tops maintaining excellent security measures. The transactions are made within a few minutes, and users mainly like Ria due to its speed of transfers, along with easy access to transfers.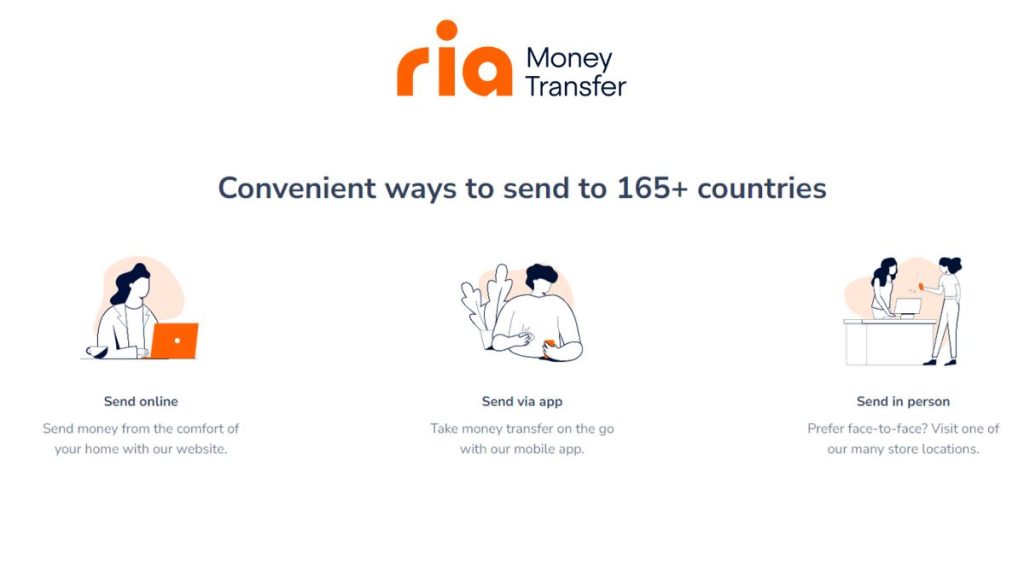 How does Ria Money Transfer App Work?
Ria money transfer service offers to send money both online and in person with the company's physical location. To send money online, you will have to set up a free account at ria. 
Let's go through the steps one by one;
To set up your free account with Ria, you will need to update your official information containing name, banking details, address, contact, and identification proof.
Specify your rates after selecting the location you want the money to send. Booking of rates can be made both online or via an agent.
Provide details of the person you want to send your money.
Select the payment method and form in which the recipient will get the money. Delivery is available in various options;

Home delivery of cash
Bank deposit
Pickup at the agent's location
Ria Specs:
| | |
| --- | --- |
| Web Interface | Yes |
| Payment at Agent's Location | Yes |
| On Cash Delivery | Yes |
| iOS App | Yes |
| Android App | Yes |
| Pay on Online Stores | No |
| Loyalty Programs | No |
| Person-to-Person Payments | Yes |
| International Payments | Yes |
| Affordable for Internation Pays | No |
6 Best Features of Ria
Here's a list of the best features that we observed in our Ria review: 
You can have the delivery on the same day.
It incorporates an extensive network of cash pickup locations.
Ria supports home deliveries similar to Western Union and MoneyGram. 
Sophisticated and secure modeling to identify suspicious login attempts.
On-cash or home delivery options are available.
Fours methods of payment, including Bank account, credit card, debit card, and cash (transferring from an agent location)
Ria Credit Card: Pros & Cons: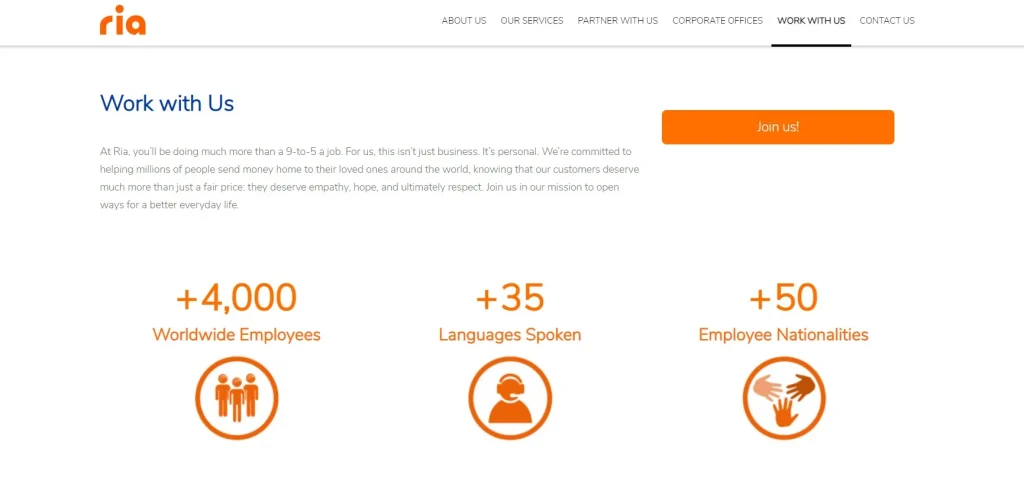 Let's explore all the roses and thorns that we observed in the Ria review.
| Pros | Cons |
| --- | --- |
| Offers services in a wide range of countries, along with 350,000 locations in 140 countries. | Maximum limit of $3000 USD transfer per day or $7999 USD per month. |
| Instant money transfers within 15 minutes. | Non- affordable international transfers. |
| Instant money transfers within 15 minutes. | Card payments are often expensive. |
| No minimum limits on the amount sent. | Online vs Local agents have different rates. |
| Home delivery service available. | Non-consistent costs in various countries. |
| Low fees on using cash or sending with a bank account. | Online sending is offered in the United Kingdom, United States, Spain, and Australia only. |
| Collect competitive currency exchanges to beat other banks. | |
| Secure and safe. | |
| Allow pay with a debit card, bank transfer, or credit card. | |
How much does Ria cost you? 
Ria charges a fixed fee for every transfer depending on the amount you want to transfer. Interbank and Ria's exchange rates differ by 1.5% – 2.5%., which provides a little edge in choosing what to use. This difference makes them relatively costly.
Ria Fees and Exchange Rate:
Typically, exchange rates and fees of Ria vary on the factors below:
The currency you are trading in.
The amount you are transferring.
Choice of Funding method.
Whether the transfer is set to online or has to be extracted at an agent's location.
Ria's Hidden Costs:
Receiving payments from a bank may charge you a fee if you are transferring through the bank account.
The fee can range from $10 – $50.
These charges are often looked at as default to any transfer query. But they can be looked at by Ria's services in order to minimize and eliminate these fees by having local accounts in concerned countries.
How to Use Ria Money Transfer to Send Money?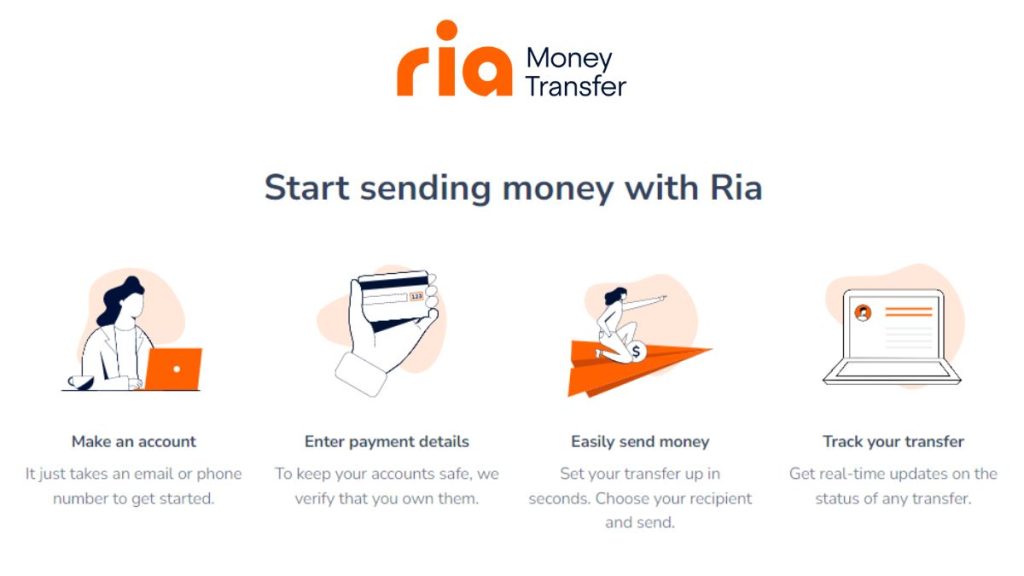 Ria has extensive limits on the amount of transfer. If you want to send more than $3000 USD, you will be required to visit the agent along with additional required documents. 
Step-By-Step Guide:
Follow the steps below to set up your first transfer in Ria.
First, check Ria's fees for your transfer on their Pricing calculator.
Add your funding method. Methods available on Ria are credit cards, Debit cards, and bank transfers. Agent's location is required for transfer by cash fund. 
Ria may take 24 banking hours to verify your account with two micro-deposits.
After setting up the payment method, provide the recipient's details such as their name, address, phone number, and bank account details in case of card-to-bank or bank-to-bank transfer.
Tracking Your Transfers:
You get updates on your transfer status via email notification by Ria. You can also track your transfer by going to track a transfer tool.
Who should use Ria? 
| | |
| --- | --- |
| Recommended For | Near-instant for cash transfers within 15 minutes from the US, UK, Australia, Spain, and Canada. |
| Not Recommended For | Doesn't handle extra large and large transfers of more than $7000 USD and above.Does not allows business transfers. International transfer fees and exchange rates are higher than others. Significant charging of bank's hidden fees. |
| Fast Transfers | Money is transacted and available to your recipient in less than 15 minutes. |
| Cash Payouts | On cash payments at different agent locations. |
| Multiple Payment Options | Transfer using a debit card, credit card, or bank account is allowed. You can pay with cash, too at the Ria money agent location. |
| User Friendly | Simple to set up and easy to use. |
| Diverse Delivery Options | Send money for work or home delivery, bank account, at an agent location, or in the market. |
| Requirement | The recipient's name, phone number, address, and bank account numbers are needed. |
Ria Alternatives:
PayPal: Excellent for Bank to Bank Transfers
Takes one business day to transfer money to a standard bank account. Allows transactions via credit card, app, cryptocurrencies, or debit card. A separate account for business merchants.
WorldRemit: Expertise in international transfer
Charges at no cost and sends money to almost 130 countries. Money transfer is completed within 24 hours no matter how far the receipt is. You can collect vouchers by introducing friends to WorldRemit through its referral program.
CashApp: Charges low Fees
Offer more than payment options only. Includes the ability to buy and sell bitcoins straight from your balance. It has a unique feature of investment, savings, and buying and selling.
Venmo: best for Shared Bills
Venmo provides a way to split the money and make move instantly. It does not require you to add money to it to make payments, such that instant cash transfers are applicable and allowable.
Facebook Pay: Good For Small Transfers
Facebook Pay provides easy transfer of money through the request option. It has chat and communication features too.
FAQs about Ria
Ria vs PayPal: Which one is better?
In short, there's no one clear winner. Both come with their roses and thorns. But overall, PayPal might have a little edge over Ria. Ria is more geared towards on-cash transactions while PayPal is a more remotely accessed platform. Ria comes under PayPal's umbrella. While PayPal is a leading choice for purchase-oriented transactions.