How to buy Safemoon Crypto is the newcomer to the crypto market, most tremendous volatility and most trending social hype. Safemoon is designed to some volatility out of the crypto market, and long-term crypto holders, especially since some claim the new lunar-inspired token could be the next Dogecoin.
Currently, safemoon is not available in the exchange, but you can swap via major exchanges and store it in the wallet.
If you are interested to know how and where to buy safemoon, this article will explain everything.
What is Safemoon Crypto?
SafeMoon is a cryptocurrency token that was launched under BEP-20 on the Binance Smart Chain (BSC) blockchain. Safemoon describes itself as decentralized finance (DeFi) token. It means the central bank does not regulate Safemoon, but the assets shown publicly on the blockchain platforms were in the CeFi ecosystem. Safemoon is based on BSC Blockchain, so it incorporates to run in the CeFi ecosystem.
How to Buy Safemoon
Safemoon is highly volatile crypto, and if you are looking to invest in it, there are several ways to buy it, like Binance Smart chain, PancakeSwap, and Safemoon swap.
First, you'll need a crypto wallet that supports Safemoon, and then, you'll buy any stable cryptocurrency like Binance Coin and use it to purchase safemoon.
If you don't have a wallet, you can create an account on the Trust wallet, or Metamask is the most popular exchange for securing SafeMoon tokens.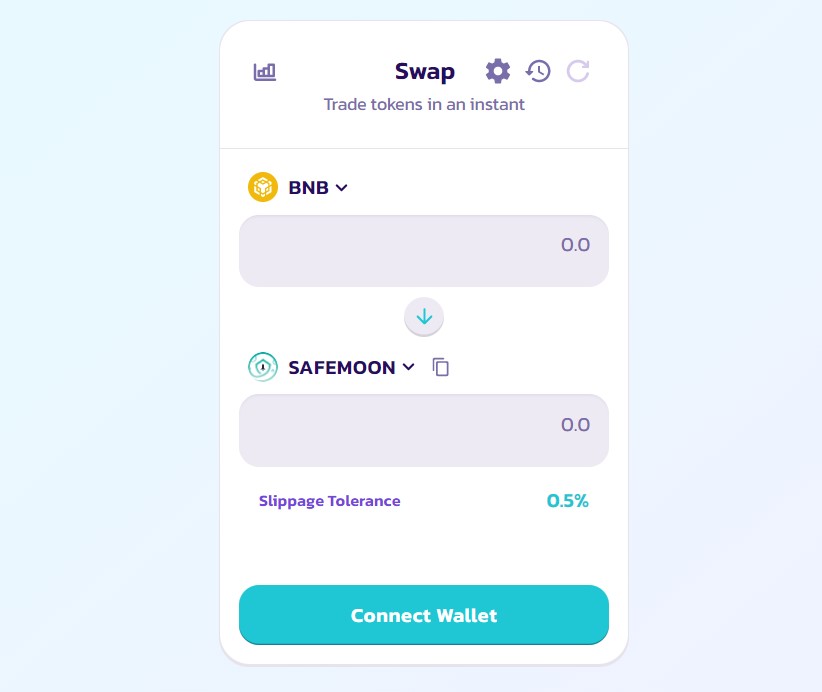 Follow the steps below to buy safemoon easily:
Create a Wallet: Download any of these wallets such as Trust wallet, MetaMask, and SafeMoon Wallet and follow the steps to make your wallet. Always remember to keep the 12-word seed phrase a secret! Do not share it with anyone ever! We will never ask you for your seed phrase, ever!
Purchase BNB: To buy a Safemoon token, you need to purchase a BNB coin from your preferred wallet in simple steps.
Continue through with the purchase process. This process may take a few minutes to complete your transaction.
Swap BNB for SafeMoon Token: Swap your BNB Coin to any of your preferred wallets listed above, and ensure that the slippage is at 0.5%. Just click on the swap your coin and select Smart chain (BNB) in the top slot and Safemoon in the bottom slot. That's all! You're successfully buying Safemoon crypto.
Where to Buy Safemoon Crypto?
SafeMoon is among the 1st cryptocurrencies on Binance Smart Chain to gain mainstream attention. Purchasing Safemoon coin is very easy, you can swap other cryptos for Safemoon on a decentralized exchange (DEX) such as PancakeSwap or MetaMask on Binance Smart Chain.
Safemoon charges 10% fees on every transaction made, with 5% redistributed to token holders and 5% directed to wallets in a different currency.
Safemoon FAQ
Should I invest in safemoon?
Safemoon is a Highly Volatile Crypto, and it has gained mainstream attention on social networks like Twitter or TikTok. Most penny cryptos like DOGE, Telcoin, and Safemoon don't stop pumping, so investing in better-established, large cryptocurrencies like Bitcoin, Etherium, and Solana is good.
Can I buy Safemoon crypto in the USA?
Yes, you can buy Safemoon coins in the USA, the same as everywhere globally.
Is safemoon safe?
Safemoon is considered to be among the riskier investment in the crypto market. For the past few months, investors have seen gains and losses in safemoon are truly excessive. So it is better to invest your hard money in safe crypto.
DIT Wrap Up!
So, above citation, you can see how Safemoon crypto is good or bad for you, as personal advice I don't prefer you to invest your hard money in it, you should try other stable cryptos like Bitcoin, and Etherium, Solana, and many more.
If you're new in the crypto world, you should need the right way to start your investing journey. Read our Free Bitcoin Bonus and begin your crypto journey with a good platform.