EarlyBird is an investment platform that wants to help families invest in their children's financial futures that can be used in the future for his child. 
To create a custodial account, you need to download the EarlyBird Mobile app. These accounts typically allow parents to invest in stocks, bonds, mutual funds, and other securities on behalf of a minor child.
When your child comes to legal adult age, the investments become theirs.
EarlyBird offers a $50 cash bonus to new users when you make an initial investment of at least $15 into your new EarlyBird account.
Apart from that, you can earn from $25 to $130 in Free Crypto when you sign up for EarlyBird Crypto features.
On top of that, you can earn from $25 to $130 in free crypto when you sign up for the new EarlyBird Crypto feature that is coming soon.
The promotional period will run from January 25, 2022, to March 31, 2022.
With EarlyBird, you can:
Create a custodial account in just a few minutes
Get started with just the EarlyBird mobile app
Invest in stocks, bonds, mutual funds, and other securities
Help your child build a financial future they can be proud of.
So what are you waiting for? Get started with EarlyBird today!
Get $50 with EarlyBird offer using Swagbucks:
Want to earn $50 cash direct to your account? Yes, you heard right! You can earn a $50 cash bonus when you open an EarlyBird account using the Swagbucks rewards platforms and deposit a minimum of $15 or more.
EarlyBird is a new investment platform that helps parents, families, and friends to make their children a better future by investing with EarlyBird. 
Join Swagbucks or log in to your account to find this EarlyBird promotion under the available offers.
To qualify for the $50 bonus, you must join EarlyBird through the Swagbucks platform, make an initial investment of $15 or more, and keep the account active at least for 30 days.
Your Swagbucks reward will be created once your account is registered, and you will get 5,000 SB credit which can be redeemed as a $50 Gift card from your choice of a merchant, for ex:- Amazon, Walmart, Target, etc.
EarlyBird Crypto $25-$130 Promotion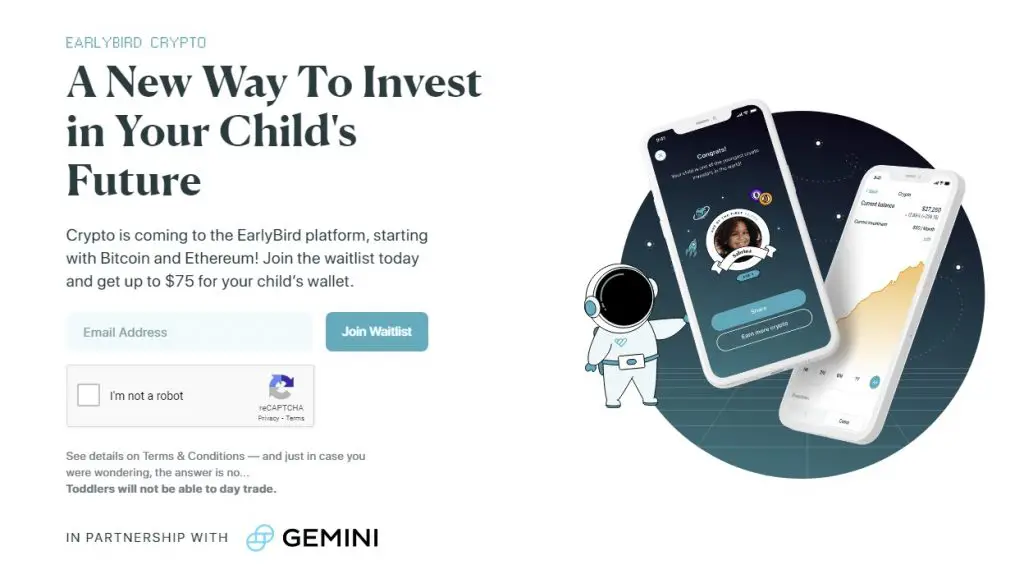 Not only a securities investment, but EarlyBird also offers crypto trading, which is best for any user who wants to manage both assets in the same place.
EarlyBird announces that crypto features are launching soon, and during this special EarlyBird crypto promotion, existing members can be eligible to earn up to $130 in free crypto, and if you are a new member, you can get up to $75 in free crypto.
Sign up process for EarlyBird
EarlyBird Sign up process is very simple to follow the below steps to get started:
To create an EarlyBird account, visit this link for the app or find it in the Apple store.
Enter your mobile phone number, name, and email address, and create a passcode.
Enter your address, date of birth, and Social Security number, as well as the child's legal name and Social Security number.
Answer a few questions to get an investment portfolio recommendation or select one of the model portfolio options.
Connect a bank account and start to invest your funds.
Invite family and friends.
How does EarlyBird work?
Once you successfully register on the EarlyBird app, you create a custodial account for your child. As a custodian, you're responsible for managing or monitoring the account. You and anyone else can contribute any amount towards the account.
EarlyBird provides you with five model portfolios based on factors like your risk tolerance and your child's age.
If anyone wants to donate, just send an invite link to your friends and family to contribute toward the account.
Other users can send contributions by downloading the app, creating a basic account, sending a dollar amount, and selecting a contact from their contact list. Recipients receive an SMS notification.
You can also send a direct gift to any child registered on EarlyBird using the app with just a phone number. Then, to accept a gift, a parent needs to create an account for the child.
About EarlyBird Custodial Investment Account
When you join EarlyBird, you are opening a custodial investment account. Since EarlyBird is a UGMA account (The Uniform Gift to Minors Act), the money can be used however you and your child would like.
As a Registered Investment Advisor (RIA), EarlyBird partners with wealth management and financial planning experts to offer parents an ETF-based portfolio made up of securities and bonds based on the child's age, investment goals, time horizon, risk tolerance, and other factors.
The fees for EarlyBird as simple, as parents pay a $1 per month subscription fee for each child, and family members or friends who send a gift to pay a $2 processing fee per gift.