Outlet finance is not a bank account. It is an alternative way to save and earn interest. The current outlet promotion includes a $10 signup bonus, $10 referral bonus, and a 9% interest rate on deposits for new customers. 
The mission of Outlet is to redefine banking concepts. The Outlet is a more open, transparent, and fair banking system. We want to create banking that is truly for the people.
Don't miss: Venmo promotion, WeBull Free Stocks, and Free Crypto Bonus
Outlet Promotion (Claim $10 Sign-Up Bonus)
Follow the below steps to claim the outlet promotion of a $10 signup bonus. Also, read articles until the end to claim another $10 unlimited referral bonus promotion. Here are the steps:
Visit this Official Outlet $10 Signup Bonus Link and click the green button "Get your first $10". A button will be on in the bottom-right lower section. 
 Once you click the "Get your first $10" button, a new page will open, and it will ask Full Name, email, and mobile phone number. Fill up the details.
 You will see a message "Check Your Phone. To finish opening your account, download the Outlet Mobile app using the link received via text message or click one of the app store badges below".
Download the Outlet App (iOS/Android); you must submit an image of your driver's license or another identity.
Register for the Outlet App using the same email address you used to register on the $10 bonus page.
Submit an image of your driver's license or identity card to verify your identity.
Connect your bank account with Outlet through their partner (Plaid), which is 100% secure. 
Complete your first successful deposit to your new Outlet account (no minimum deposit requirement is indicated). And Receive a $10 bonus credit deposited directly into your Outlet account.
How Outlet Finance Works
How Outlet works and how you can receive high reward rates via the Outlet app. Let's walk through each step:
Create Account: First, you need to open an account. You need to provide your Legal Name, Birthday, Social Security Number, Address, Government Issued ID, and connect to a Bank Account in order to use Outlet.
Funding an Outlet Account: First, you need to deposit money into the Outlet account from your connected bank account via the Outlet mobile app. You can earn a 9% interest rate with Outlet on deposit funds.
After 1 to 2 business days, USD money arrives! Once this happens, Outlet converts the USD into a USD Coin (USDC), a digital dollar. Example. $1000 USD exchanges to $1000 USDC via our regulated partner. The $1000 USDC can be exchanged for $1000 USD at any time. Whenever you withdraw money Outlet account, USDC will be exchanged for USD.
Lending Partner pools funds: Outlet are typically pooled with other users' funds by their regulated lending partner, and then they lends money to various institutions. 
Lending Partners: Outlet's lending partner lends user funds to various institutions and partners. Specifically, they lend to:
Crypto Exchanges
Hedge Funds
Small Business
Individual
Outlet Fees & Charges: There are no fees for using Outlet, and you can transfer funds to and from Outlet for free at any time. Depending on the lending partner, your deposited funds are automatically compounded and paid out either weekly or monthly.
Understand how Outlet finance works with an example: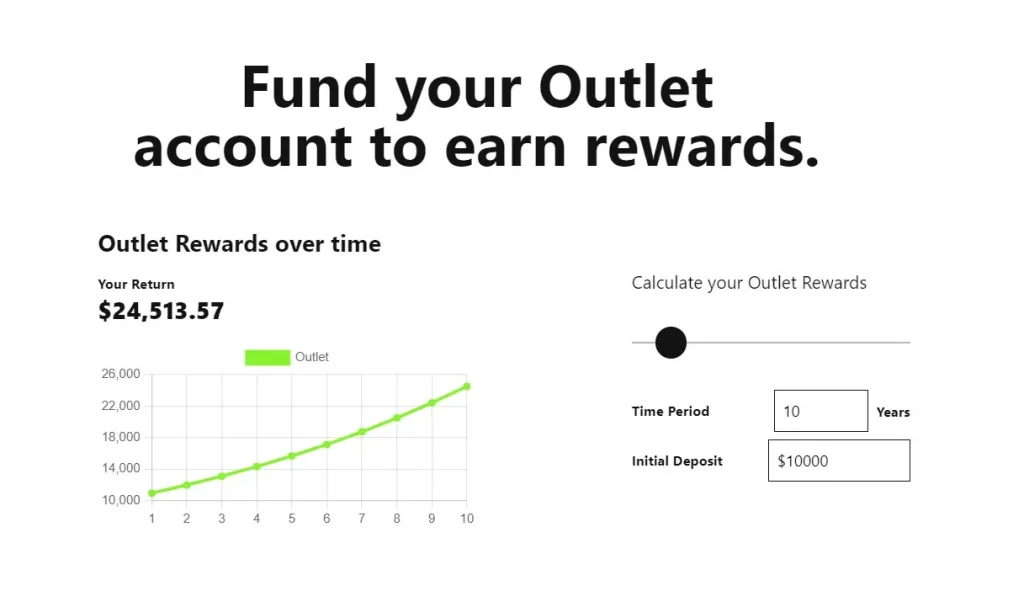 Let's consider the total amount in the pool is $10,000 USDC which is lend to one Crypto exchange. So now, 4 to 5 users pool their funds together (normally, there are many more users in a pool of digital asset lenders, but we say there are only 4-5 here). Now that $10,000 is the amount of money in the sample pool given to the Crypto exchange. As long as the entire pool is not lent, users can withdraw funds. 
Note: Please keep in mind that if some of the money in the pool is being lent out, not every user will be able to withdraw until the money is returned to the pool.
Outlet App $10 Referral Bonus:
The Outlet Referral Program allows you to refer friends to Outlet, and you will both receive a $10 bonus credit.
To qualify for the $10 Outlet referral bonus, your referrals need to make their first successful deposit (there is no minimum deposit requirement). After your referral completes their first deposit, you and your friend will receive a $10 bonus credit in your Outlet accounts.
Note: There is no limit to how much you can earn by referring friends to the Outlet App. So keep referring many friends and family and keep earning money. You can join our Official Group to promote your referral code. If you want to earn more referral offers then visit special Refer a friend and make $1000 fast blog. 
Outlet Customer care:
If you need any assistance, then Chat with Outlet Support in the Outlet App and all your queries will be resolved.
FAQ:
Is Outlet a bank?
The outlet is not a bank, but they work with a federally regulated MSB (Money Services Business) in order to provide this service to you.
How do reward payouts work?
Outlet pays out your reward rate in digital assets on the 1st of every calendar month based on how long your funds were in your Outlet Account during the previous month.
Are there any fees with Outlet?
There are no fees involved with earning digital asset rewards on Outlet. No fees for transferring funds into and out of the Outlet or withdrawing and closing your Outlet Account.
Where is Outlet App Available?
These U.S.A. locations include but are not limited to:
Connecticut, Hawaii, Kentucky, New Hampshire, New York, Texas, Vermont, Virginia
Conclusion: 
Many banks only give .01 to .05% interest on your deposits but with Outlet, you can earn 9%. So it is the perfect time to replace your bank account with an Outlet account and start generating wealth. If this blog saves you money then comment and let us know which blog you want us to write next.
You may also be interested in this Coinchange $40 Bonus to generate income from cryptocurrencies.