FlexClip is a free and powerful online video editor tool that has a lot of features. You can publish videos within minutes, but you will also have access to a library that contains 2.5 million videos and stock images, grouped into sectors like business, background, holiday, food, sports, etc.
Of course, you want to upload your images, video clips, and music, and that's perfectly possible: Use drag and drop; it is straightforward. Hundreds of professional templates are also available to choose from, combining footage for maximum impact.
The FlexClip tool allows you to overlap text in your sequences while using rich fonts and impressive effects and allowing you to create smooth transitions between clips. You can also use FlexClip's aspect ratio feature to change the size and formats of your videos to fit virtually any social platform, including Facebook, YouTube, Instagram Stories, and more.
FlexClip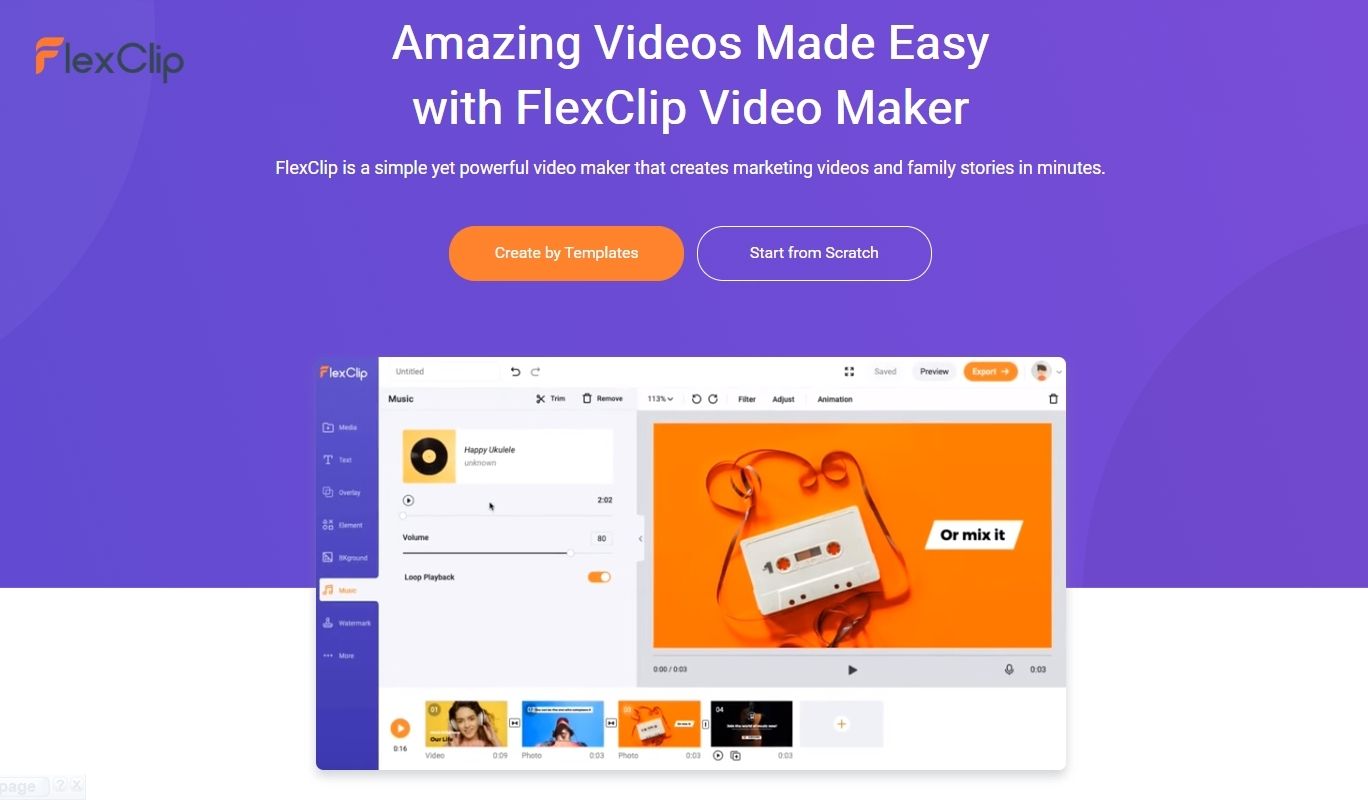 Flexclip is the perfect tool for simple video editing. With this online video maker, you can quickly turn photos and video clips into professional-looking videos. With the ready-made templates you can choose from, you can create beautiful videos in minutes. In addition, it has royalty-free stock videos and music so that you can choose or change the clip and music as you need for your videos.
FlexClip features:
Easy and intuitive to use. There is no need for professional editing skills.
With this software, you can make videos, movies, slideshows, and screen recordings all at once.
– Templates with various themes and occasions, perfect for marketing, education, YouTube, Facebook, Instagram, etc.
– Add animations, overlays, transitions, intros/outros, and abundant elements to your videos.
– Browse millions of high-quality, royalty-free images, videos, and music.
– Flexible features for adjusting videos, changing aspect ratios, adding effects, voiceovers & watermarks.
FlexClip TEMPLATES

FlexClip has over 40 video template categories, including templates for birthday wishes, technology, holidays, marketing, education, Instagram, TikTok, and everything in-between. Each category has multiple templates that are editable to meet your needs. Even intro and outro templates can provide you with a reusable beginning and ending for any video you create!
FlexClip for Personal or Business Use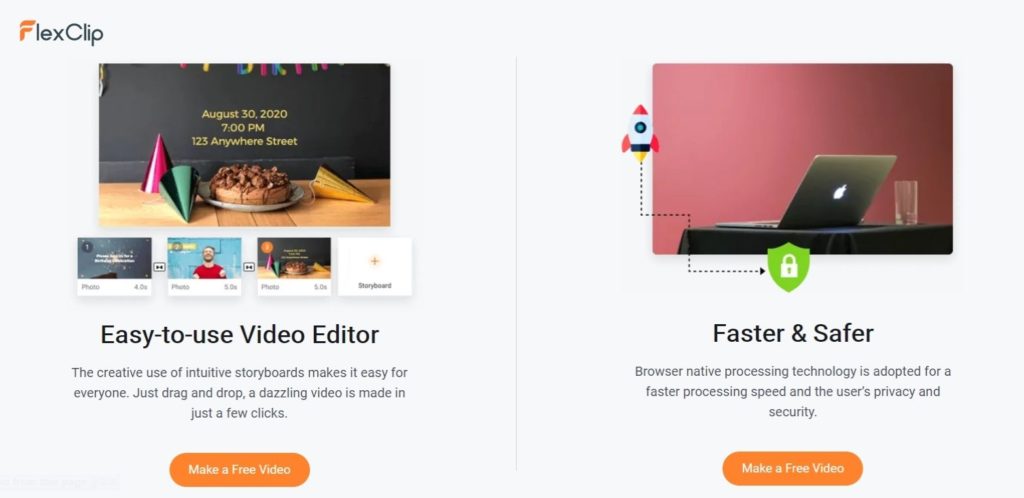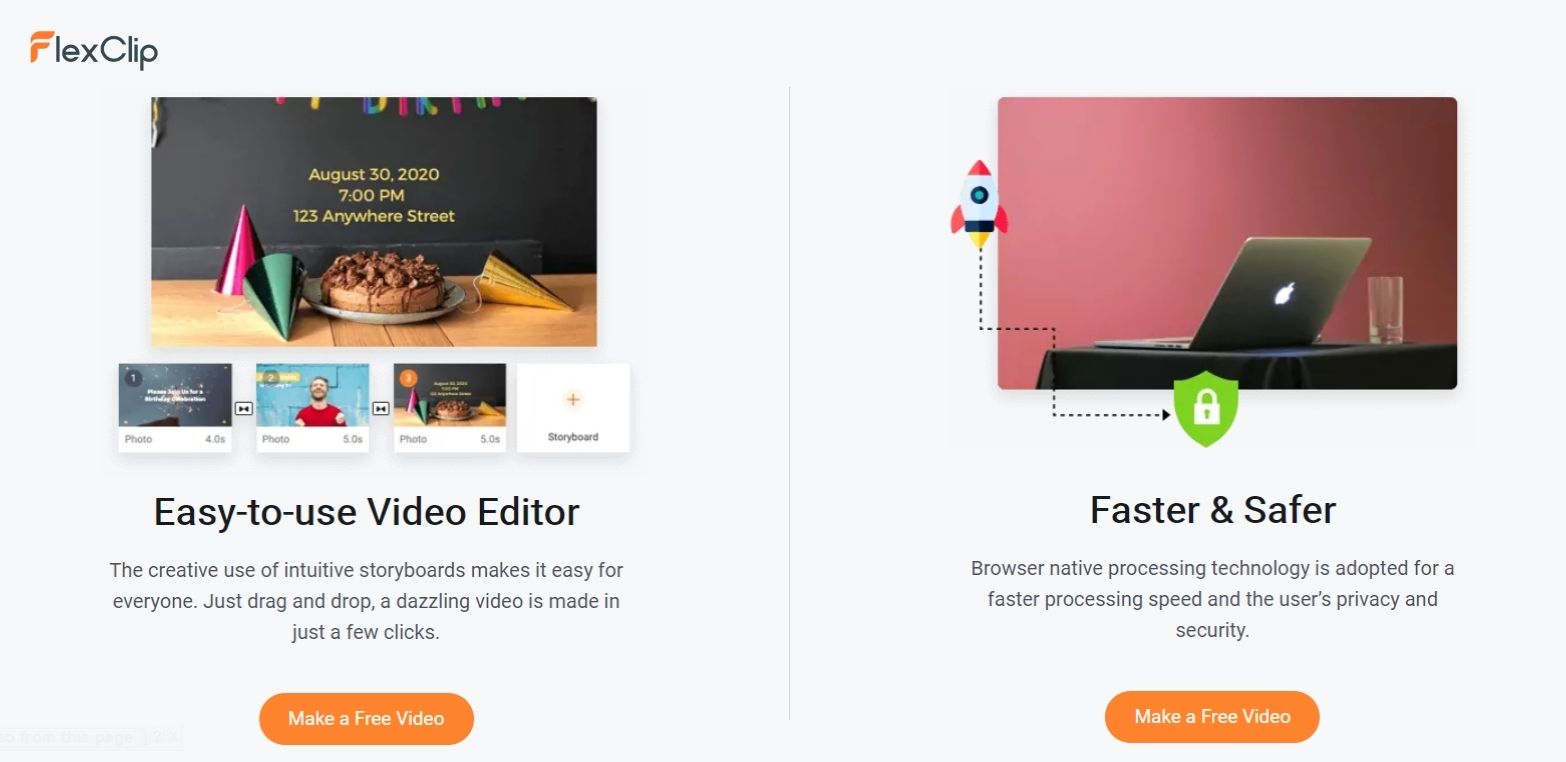 Users can create high-quality slideshows, social media videos, explainers, tutorials, lessons, and more with FlexClip, a one-stop video creation service.
FlexClip offers hundreds of video templates for a variety of occasions. In addition, dynamic video elements, such as overlays, widgets, logos, and texts, can elevate your videos to the next level.
One of FlexClip biggest advantages is that it has a vast library of high-resolution stock photos, royalty-free videos, and music files. In addition, commercial use is allowed for all.
FlexClip Free vs. Paid
FlexClip is completely free of charge. With comprehensive software, there are no monthly fees to worry about. However, Both versions meet the requirements for a functional video editor. Although there are some limitations to the free version, You only have to sign up, and FlexClip hands you all the tools you need to direct and create your video.
Both free and paid versions of FlexClip have:
The same video templates and tools 
The same tools and special effects controls
Cloud-based editing
For offline editing, you can download a Windows app
FlexClip Free version:
FlexClip can only export SD videos in 480p.
Free FlexClip video editor can only keep up to 12 projects.
 The free version limits you to using only one stock video per project.
Free FlexClip editor has a video duration cap of videos for up to one minute.
Both free and paid versions are free of a FlexClip watermark, but you can't remove the FlexClip intro in Free one.
FlexClip Paid Version:
The paid version includes high-definition videos, allowing you to download up to full HD 1080p.
Using the paid versions, you can create a maximum of 1,000 projects per user.
A paid subscription plan gives you unlimited access to all available content.
You can make videos for up to 30 minutes with the paid version. It's the ideal option if you're into short film editing or vlogging.
The paid subscription has a customizable watermark feature where you can place your logo or tagline.
FlexClip Pricing
FlexClip video maker is free of charge, as you probably already know. However, it also offers three paid versions. Here are the plans you can analyze: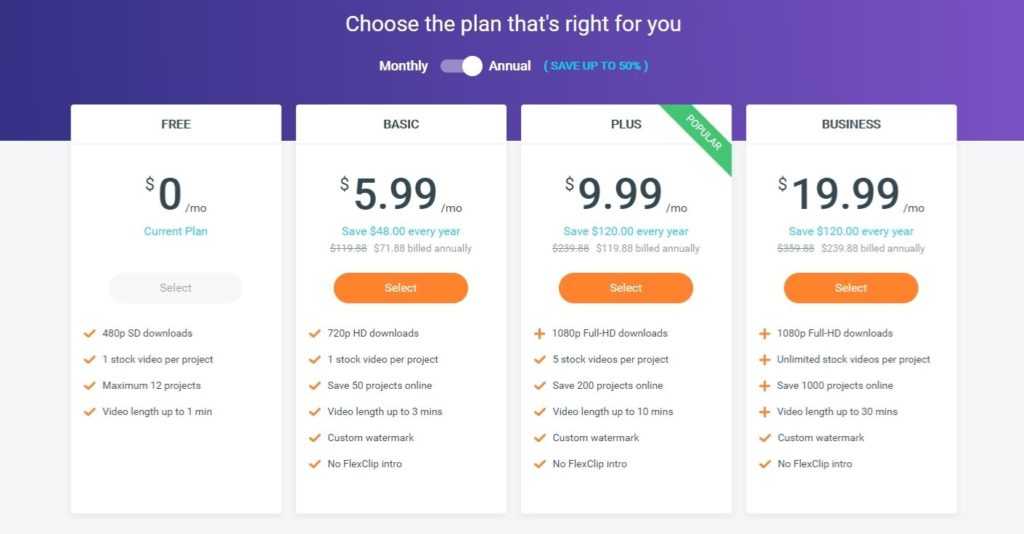 Free – Includes 12 projects, one stock video, a one-minute video length limit, and a standard resolution.
Basic – $8.99/month ($4.99/month for an annual subscription) – Includes higher resolution, 50 projects, one stock video, and a one-minute video length cap, as well as a custom watermark, but no FlexClips Intro.
Plus – $15.99/month ($7.99/month) – Includes everything same as Basic but video quality 1080p downloads.
Business – $29.99/month ($19.99/month)- Includes all the features of Plus, 1,000 projects, unlimited stock videos, and a 30-minute video limit.
FlexClip's pricing is higher than other video editors, but the annual plans are significantly more affordable. They offer half the price of the plans listed above.
FlexClip Discount Coupon
Shop now and get 20% Off On Business Plans. Enter coupon code Dealsinfotech20 at checkout. Be quick, as the offer is going fast.
How to Use Flexclip Discount code?
Redeeming Discount code is very easy on flex clip. If you are a new user, Just go to the signup page, create an account, exciting, redeem the discount code you have to upgrade your account, and then apply all these terms step by step.
Copy the Dealsinfotech20 coupon code.
Choose a plan and click on the "Upgrade Now" button to enter the Checkout page.
Press the "Have a Coupon" option and Redeem the code.
The discount will be applied automatically and just click the "Pay Now" button to claim this sale.
Suppose any of the paid subscriptions prove to be pointless. No worries. FlexClip offers a seven-day money-back guarantee for all subscription plans.
Conclusion
Overall, FlexClip is a powerful video editing software that delivers good results. Having read FlexClip reviews and personally tried it, it's clear that FlexClip creates flexible and smart videos.