In most cases, keyboards don't appear to be a major component of a gaming PC. Instead, they look like cool keyboards. But don't be misled by the small QWERTY keys. Having the right gaming keyboard is an essential tool for a gamer, and one that's purpose-built for gaming goes well beyond the expectation that you'll hunt, peck, and then finish!
Which gaming keyboard is right for you, and what makes it so special? It's great you asked! To help you find the keyboard that's just right for your gaming style, we've assembled an in-depth guide to the world of gaming keyboards.
Why best gaming keyboards matter?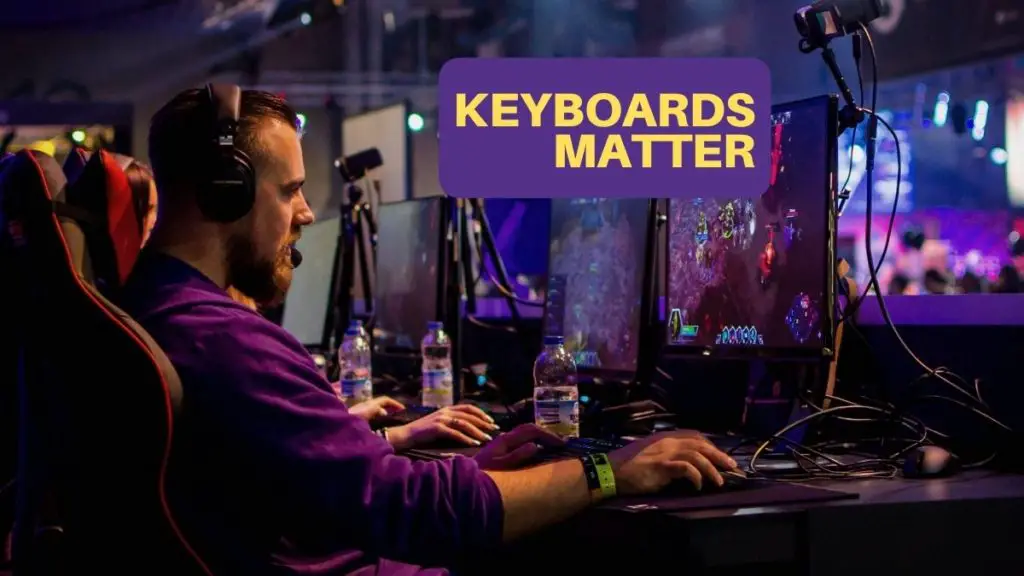 Most gamers prefer mechanical keyboards because they're more tactile, durable, and faster. In addition, a good gaming keyboard used accurately can determine the difference between winning or losing your favorite game. We will explore major reasons why a good gaming keyboard can make the difference between success and failure while playing your favorite PC game, as well as the benefits of using one. 
Most gaming keyboards feature mechanical keys rather than membrane keys. The keys on these keyboards are often easier to press and don't require as much force as other keyboards. Also, compared to other keyboards, it allows you to type much faster.
3 Major Key Components of a Gaming Keyboard
There are three main factors to consider when choosing a gaming keyboard: the size, the "guts," and customization options.
Keyboard Size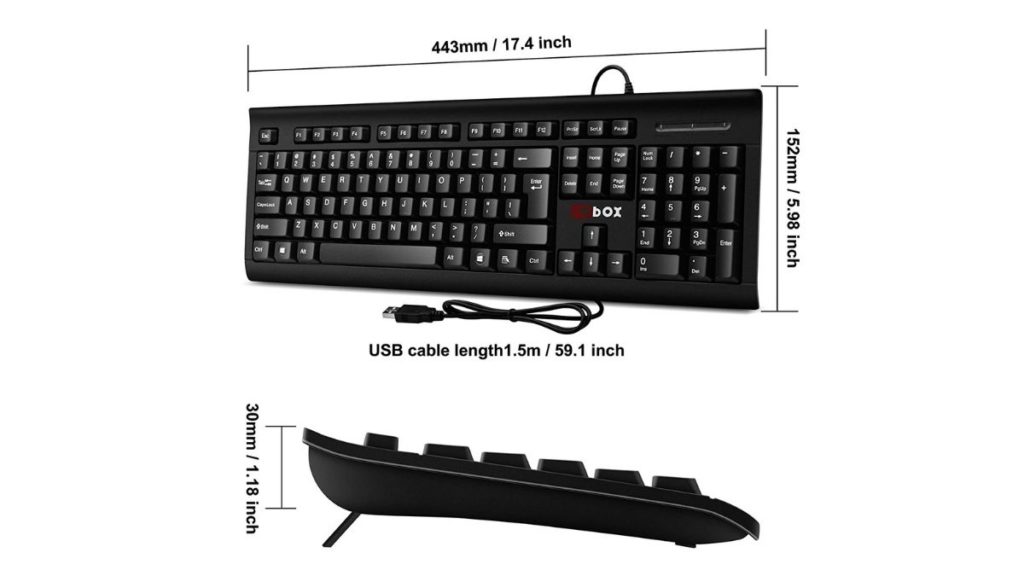 The first is size. You'veYou've probably noticed that some keyboards have a lot more keys than others. This is especially possible on laptops, where the size of the screen normally dictates how many buttons will fit on the keyboard.
The standard full-size keyboard comes with 104 (or 105) keys, including an alphanumeric section with a QWERTY layout, a number pad, dedicated function keys, and directional cursor keys. However, full-size keyboards are the widest style and may be too large, depending on your workspace.
Some gamers find that the number pad leaves too much space between the keys they need to use with their left hand and the mouse. However, if that number pad is important to you, a full-sized keyboard is the best choice.
A "tenkeyless" size is a good choice if you can live without the number pad. It achieves a much smaller footprint on your desktop by dropping the entire number pad section. Everything else remains, including the all-important cursor keys. In most cases, gamers will find that the tenkeyless size offers them everything they need.
Mechanical vs. Membrane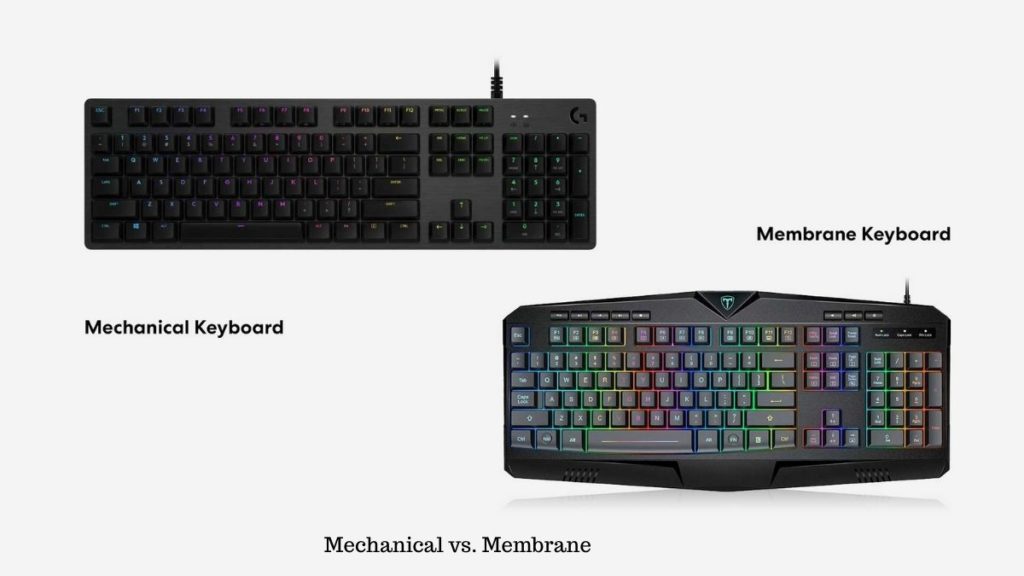 By far, mechanical keyboards and membrane keyboards are the most common keyboard designs. Mechanical keyboards have spring-loaded keys that make a distinct "clicking" sound when pressed. If you ask different people, you'll hear that it is either extremely rewarding or extremely frustrating.
Generally, membrane keyboards are quieter and have a "mushier" feel. Even though they were developed long after mechanical keyboards were first invented, they are still used in most laptops and external keyboards.
The following table summarizes the pros and cons of each keyboard. Read on for a more detailed analysis.
Mechanical Keyboard
Pros
A tactile, noticeable response
Rollover key
Highly customizable
Some users find it more comfortable
Cons
Bulky, heavy — not portable
The sound can be quite loud
Expensive
Membrane Keyboard
Pros
Smooth, quiet keypresses
Compact and portable
A more familiar feel some users may prefer
An affordable option
Cons
There is no key rollover
Limited customizability
Precision and accuracy are less than mechanical keyboards.
Which is better?
Answering this question is entirely subjective. However, in terms of typing speed and ergonomic design, both keyboards have been designed equally well, are equally efficient, and can be used equally quickly.
Membrane keyboards are much lighter, can be made into portable sizes, and are generally more affordable than mechanical keyboards. So if you enjoy gaming on the go or travel frequently, a membrane keyboard is probably the best choice for you.
Macro buttons and customization
The third area is all about how the right gaming keyboard can give you an advantage in terms of speed and preferences. The left side of some gaming keyboards comes with a dedicated set of buttons that can be programmed to perform macros (a predefined combination of actions) in-game.
Macro keys are Programmable keys that are set through software to perform a specific key combination, helpful in games such as MMOs.
For example, in complex games like Star Wars: The Old Republic., you frequently have to type a command or use your mouse to click a special icon to fire off a macro. By allowing macros on keyboard macro buttons, a single keystroke is all you need, a huge advantage, especially if response times need to be short. Surprisingly, some gaming laptops also offer this feature.
Anti-Ghosting and Key Rollover
It's rare when using a keyboard for everyday activities, like typing, gaming, coding, for several keys to be pressed simultaneously (unless it's a modifier like the Shift key). When it happens, it's usually a mistake, so it doesn't matter which keypresses register with the computer and which is don't.
Gaming keyboards allow for a specific number of simultaneous key presses, known as "n-key rollover." The number n determines how many keys are pressed at the same time. Although you won't need a keyboard that can support every Key pressed simultaneously, the higher the "N" number, the more flexible the gaming keyboard will be.
If you use a non-gaming keyboard, you also experience that strange effect known as key ghosting. 
This will happen when you press specific keys simultaneously or even quickly or maybe one after another press. 
It could not make a big deal when typing an email, but potentially disastrous when gaming!
A good gaming keyboard will include anti-ghosting features, such as specialized wiring to avoid mixed signals. 
In addition, some gaming keyboards separate specific and popular key zones (like WASD) against ghosting, while others go even further, separating each and every Key.
Backlit Illumination- RGB Backlit Keyboard
Obviously, this doesn't give you a competitive advantage, but it looks nice! If you've ever seen a gaming keyboard lit up with all of the colors of the rainbow (RGB) and thought, "well, that's extreme," you may be surprised to learn that flexible keyboard backlights offer much more. Keyboard backlights, especially on gaming RGB keyboards, often feature multi-colored backlights that you can customize yourself.
Some of the expensive keyboards may allow you to set the color to change on each individual Key. Beyond this fact, backlights do serve a purpose. Backlights allow you to game in all varieties of lighting.
Dividing a gaming keyboard into the most commonly used zones and lighting these areas with different colors can provide a quick visual reference. You'llYou'll play faster if you don't have to think about where to place your fingers.
Choosing a specific backlight color for specific keys is one extreme example, but the zone approach is still useful. Even a single color backlight, like red, can be advantageous, especially if you prefer to play in the dark. For example, if you set a red backlight, you'll be able to see the keys clearly without having to adjust your eyes to a bright light source. Plus, there's no denying it: Backlit keyboards and mice look cool.
Where to Start: Best gaming keyboard ideas
HP OMEN Sequencer keyboard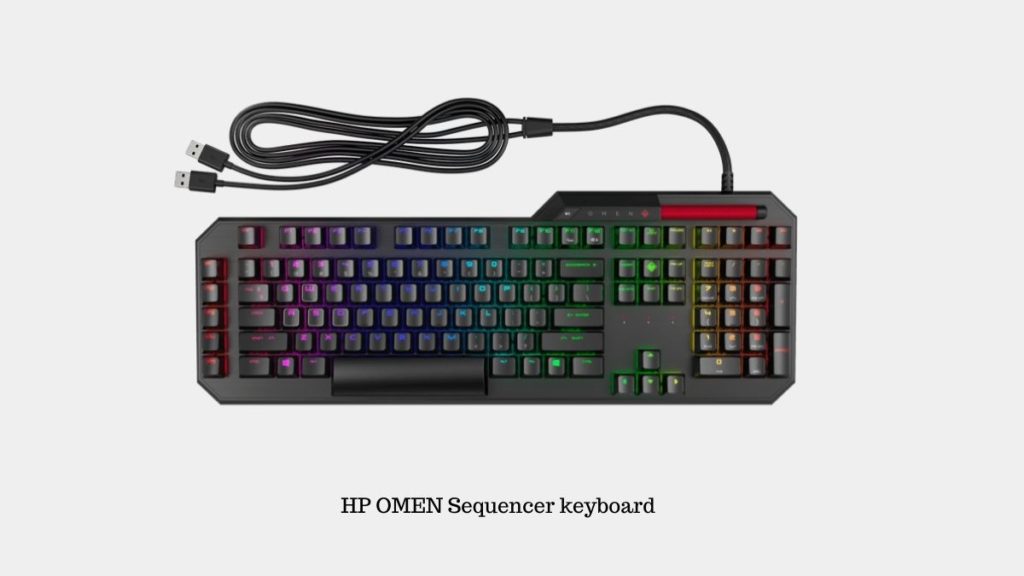 A mechanical keyboard may be right for you if you're ready to invest. HP OMEN Sequencer might be an excellent choice. With this device, you can strike faster than your opponent, giving you a tremendous tactical advantage.
In fact, you can achieve a response time of 0.2 milliseconds, which is ten times faster than traditional mechanical switches. With 70 million clicks, this keyboard will last you a long time.
It's not just about speed and power, but luckily, this keyboard delivers on all fronts. Each Key is separately backlit and appears to users in up to 16.8 million RGB colors so you can express your aesthetic. HP OMEN Sequencer keyboard built by optical-mechanical switch technology could be the crowning jewel of the serious gamer's battle station.
Logitech G813 GL Tactile Switches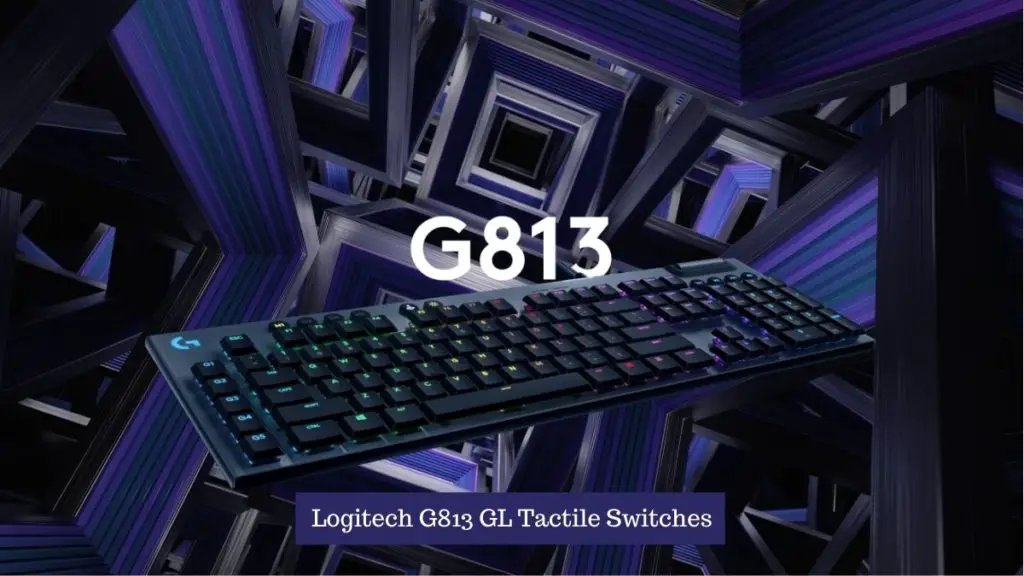 A sleek design with the latest gaming technology. Fully customizable Logitech G 813 Lightsync RGB, equipped with LIGHTSYNC RGB, which is very smooth, and it almost seems like a single key can show multiple colors in the same area at the same time.
The keyboard has dedicated G-keys- designed for high-performance gameplay with low-profile GL mechanical switches in clicky, tactile, and linear variations. Now Experience G813 and play the next dimension. If you have used a good mechanical keyboard before, make sure you will need some time to get used to this, and many users will accidentally hit the CapsLock key instead of the Shift key initially.
LIGHTSYNC – INTELLIGENT RGB
LOW PROFILE – MECHANICAL GAMING SWITCHES
ULTRA-THIN – 22 MM TOTAL HEIGHT
Lenovo Legion K500 RGB Mechanical Switch Wired USB Gaming Keyboard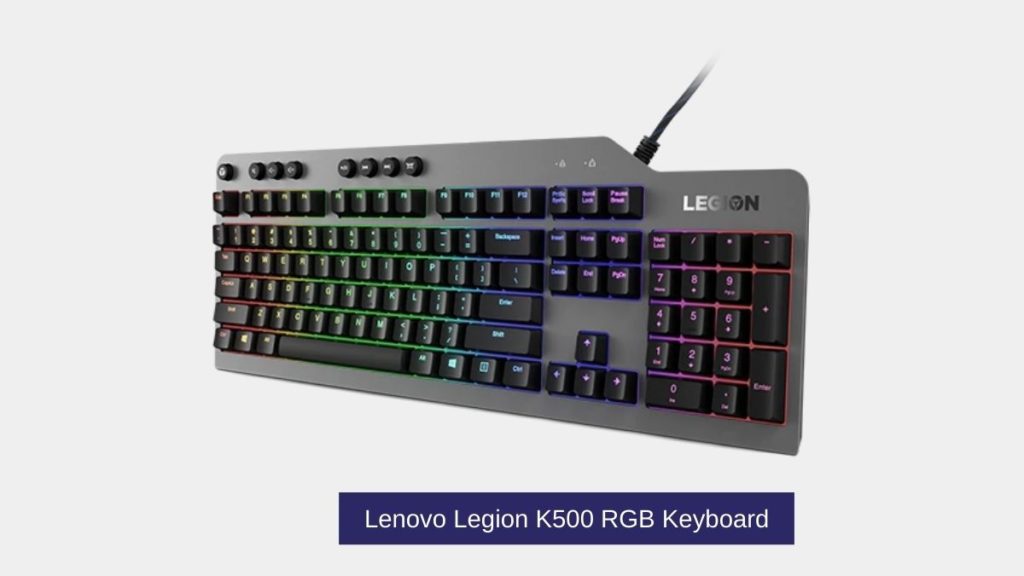 Designed for comfort and simplicity, the Legion K500 RGB Mechanical Gaming Keyboard is a full-sized, wired gaming keyboard. The minimalistic design has eight essential keys, too.
The mechanical switch delivers fantastic and like comfort for daily gaming. The keyboard has a 104-keys rollover, all keys are programmable and are well-built with a detachable palm rest.
Lenovo Legion K500 RGB Mechanical Features:
The Lenovo minimalist gaming Keyboard that maximizes results – in a world of gaming accessories that try too hard welcomes unity back on your desk with the Lenovo Legion K500 gaming Keyboard. A refreshing blend of minimalism and function in the spirit of the
Minimalistic premium design – declutter with a keyboard that gets the essentials right: compact and sturdy, featuring 7 media keys and a dedicated game mode key. Make it yours with 16.8 million RGB LED colors per Key.
Unbeatable typing and gaming experience – perfectly balanced 50 million-click Red mechanical keys, and 100% anti-ghosting with 104-key rollover on USB, translate every keystroke into accurate gameplay.
Made for long-lasting impressions – the Legion K500 is incredibly durable, featuring premium materials, HIGH-quality build, survival for each Key, A comfortable palm rest, and the 1.8M tangle-free, plaited cable.
MSI VIGOR GK30: RGB Dedicated Hotkeys Anti-Ghosting Water Resistant
MSI Vigor G30 is a responsive and comfortable keyboard for when you are in gaming mode. If you are looking to get the drop on someone in games like Fortnite, Apex Legend, or Call of Duty, you don't want a spongy or slow responding keyboard that ruins your game. 
The GK30 is a membrane keyboard completely made up of plastic. It doesn't feel cheap with "mechanical-feel" switches that come with plunger switches. i.e., mechanical membrane switches. These three-part keys provide a mechanical typing feel and are designed for real gamers to withstand up to 12 million keystrokes.
Vigor G30 has come with a simple design that is suitable for everyone. Although the keyboard has RGB lighting, the keys themselves are not individually equipped with LEDs. 
Mechanical-like plunger switches for a crisp typing experience
Stunning RGB lighting effects in 6 areas
Increased stability with gaming base
Water repellent keyboard design