For a limited time, Varo Money is offering a one-time referral bonus of $30 when anyone opens an account using your referral link and spends $20. You can easily manage your finances anywhere with Varo, as Varo Bank Account holders can withdraw cash free from more than 55,000 Allpoint ATMs and deposit cash at more than 90,000 Green Dot locations.
Don't miss: See our guide on Best Bank Promotions here.
Varo Bank Promotions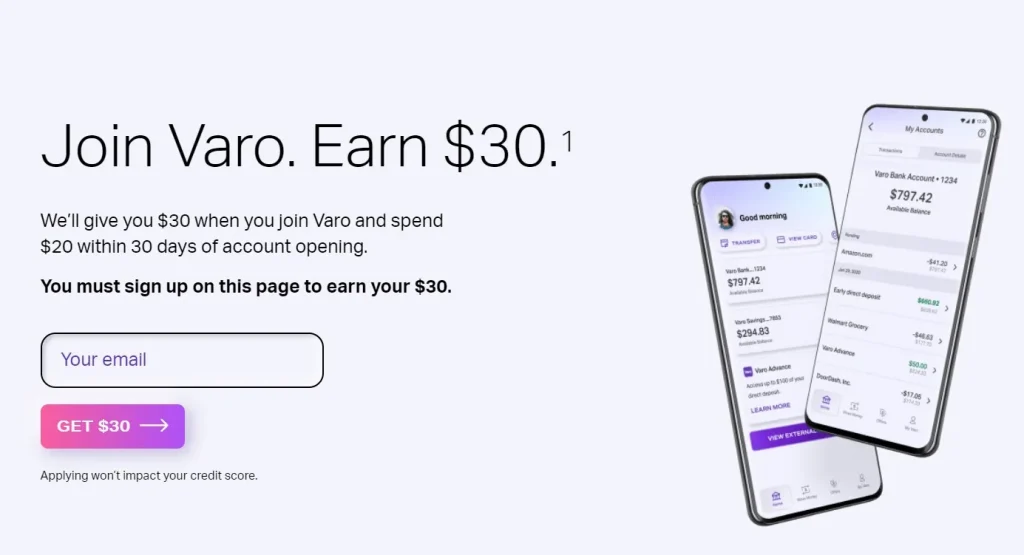 Here are the active Varo Money bonuses that you can benefit from today:
Varo $30 Sign up Bonus using Varo link 
Click the Varomoney official referral link and create account
Varo will give you $30 when you sign up Varo and spend $20 within 30 days of account opening. 
You must sign up on this page to earn your Varo $30 bonus.
Applying for Varo won't impact your credit score.
Third-party transfers (CashApp, Venmo, etc.), ATM cash withdrawals, and over-the-counter cash withdrawals do not qualify for the $20 purchase requirement.
Earn $30 each – You and your friend earn $30.
Varo Swagbucks Bonuses – 12,000 Swagbucks ($120 worth)
Swagbucks is offering 12,000 SB to new Varo Bank customers. You'll need to first enroll in the offer through Swagbucks (Use our referral link), then use that same email address to open a new Varo account and fund it with $25.
The 12,000 SB can be cashed out for $120 in gift cards. See below BONUS REQUIREMENTS
Enter your email address on the page linked below to enroll in the offer.
Open a new Varo account using the same email address and fund it with at least $25.
Bonus will be credited within 32 days in the form of 12,000 Swagbucks, which can be cashed out for $120.
Bank Account – 20,000 MyPoints ($125 Value)
MyPoints is offering 20,000 bonus points to new Varo Bank customers. You'll need to first enroll in the offer through MyPoints, then use that same email address to open a new Varo account and fund it with $25. The 20,000 points can be cashed out for $126.
VARO BANK: Bank Account
Enroll in the offer using your MyPoints account.
Open a new Varo account using the same email address and fund it with at least $25.
Bonus will be credited within 45 days in the form of 20,000 points, which can be cashed out for about $126.
Varo $30 Referral Bonuses promotion: 
You can earn a referral bonus by referring a spouse or partner and having them to join using your link. They'll receive $30, while you'll get another $30. Finding 10 people in 1 year is so easy. If you help 10 people to create an account, That will get you $300 for a few days of work. That's well worth it for most people.
I'll include this in my list of the best bank bonuses.
More About Varo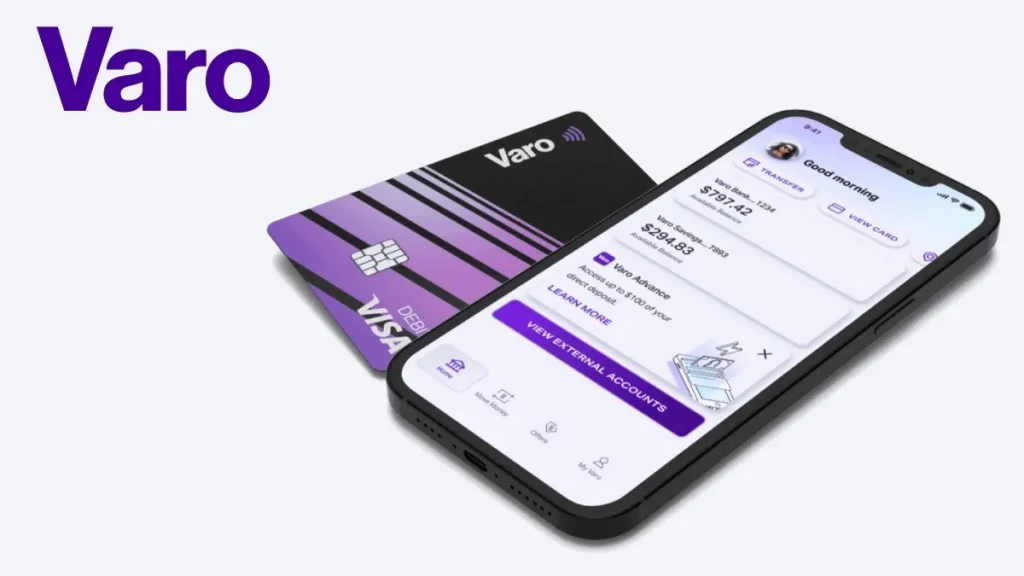 With more than one million customers nationwide, Varo is one of the largest neobanks in the US. They offer a free checking account, a high-yield savings account, and two specialty products: Varo Believe and Varo Advance.
If you love environment, fee-free banking and real-time spending alerts then Varo is a way to go.  Varo is an online bank. Your money can be accessed without visiting a physical branch. 
VARO's new strategy is designed to help customers by supplying the low carbon and reliable energy they need to reach Net Zero.We're excited to offer all the latest Varo promotions to make it utilize maximum sign-up bonuses.
Varo Features:
No Fees: Varo has no monthly fees, no minimum balance requirements, and no overdraft fees.
Transparent Service: Varo is a bank that is fair and transparent in its decisions—and it's clear about what it does and why it does it.
Real-time spending alerts: Varo real-time spending alerts feature lets you set alerts for your spending. You'll get a notification when you spend more than you planned, or if a particular amount is being spent. For example: If you have $30 in your Varo account and set a limit of $20, any purchase within the app that exceeds $20 will trigger an alert.
Save money automatically: You can save money automatically by setting up a savings goal. The more you want to save, the more you should consider setting it up as a recurring transaction.
Cashback rewards on our debit card: Varo is the only company that offers cashback rewards on your debit card. You are eligible for rewards if you use Varo for all your purchases and pay bills with our free app. The rewards are deposited directly into your Varo account so you can use them for everyday purchases or save up for something special.
Earn a high-yield savings rate: Varo savings account has a high-yield rate and is FDIC-insured.In addition to the variable APY, Varo offers an easy way to manage your money without having to make a trip to the bank. 
78 hours of free overdraft protection: Overdraft protection is a form of emergency credit that allows you to spend more than the funds in your checking account. It's important to know that overdraft protection should not be used as a way to avoid paying bills since it can result in costly fees and penalties.
Keep more of your money: Varo is a no-fee, low-risk savings account that you can use anywhere. You can even withdraw the money you earn in varo to any ATM, bank or credit union across the country.
Varo gives consumers an option to save their money while earning interest just like they would with any other savings account. However, unlike traditional banks and credit unions, varo does not charge fees or penalties for insufficient funds and overdrafts.
Varo App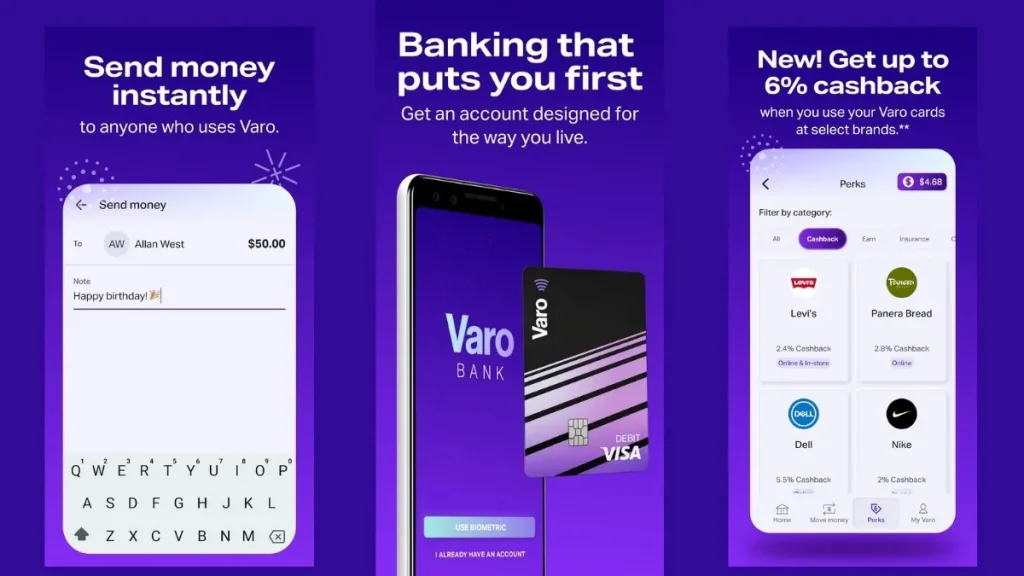 The Varo Bank App is the perfect way to keep track of your spending and saving goals. The app allows you to monitor your account balance, transfer money between accounts, set up automatic payments and alerts, plus more! Download it today and make sure that you're always on top of your finances.
Varo Bank App can help you with:
Payments and transfer: Make your life easier by using the Varo Bank App to make payments, check balances, and transfer funds within the app. If you're looking for more information on how to use the Varo Bank App, our support team is always happy to help!
Tracking spending: Whether it's for groceries or a fancy new pair of shoes, keeping track of your daily spending can seem like an impossible task sometimes—but not anymore! With Varo budget planner feature, tracking every cent spent is easier than ever before.
Budgeting: Managing money doesn't have to be a chore; with our budget planner toolkit at your disposal, creating realistic budgets has never been easier.
Save more with the Varo Bank App
Set up a savings goal
Set up recurring transfers
Use the savings calculator
Use the savings tracker with notifications to keep track of your progress
Get paid instantly with Direct Deposit.
Get paid instantly with Direct Deposit. You can set up your direct deposit straight from the app, website, phone or ATM.
Your earnings are automatically deposited into your bank account on the same day each week (if you request a paycheck) or on payday (if you request an advance). Your paychecks and advances will include deductions for taxes and any other applicable fees.
Our 2 Cents: 
Start living your life to the fullest by opening an account with varo today!
Varo has numerous account options and it's easy to open an account with varo today. You can use the Varo debit card to make purchases, keep track of your spending and get paid instantly with direct deposit. Plus, our unique algorithm will help you save more money!
Varo has something for everyone. Whether you are a student or retired young professional, Varo is here to help you reach your financial goals.
Frequently Asked Questions on Varo Promotions
How to set up automatic savings in Varo
1. Click on 'More' in the top right corner of your bank account and select 'Save'.
2. Click on 'View', then 'Savings Goals'.
3. Choose your desired name for the goal (for example: 'House deposit'). Then choose how much can be saved here (e.g., $10 per week). Next, choose how often this will happen (e.g., every second Friday).
4. Finally, choose how long this should go on for (e.g., until June 1st 2020). You can also add an optional label or description if you wish!
How to get access to your paycheck early using Varo
The first thing you should know about Varo is that it's an app that gives you access to your paycheck as soon as possible. This is a big deal because if you're like most people, and if you don't get paid right away in a traditional job, then there's no way for you to use the money until the next payday rolls around. The same goes for when your payday happens on Saturday or Sunday—which can be really inconvenient and make it hard to manage your finances properly. Varo wants to change all this by giving workers instant access to their earnings so they can spend more wisely and save more efficiently!
Is Varo worth it?
Yes, Varo is a bank that looks out for your financial well-being.
Their products are designed to help you grow, plan and protect your money. Varo's goal is to make banking easy so you can spend less time on it and more time doing what matters most to you.
Conclusion
Having a safe place for your money and access to financial tools can help you manage your life more effectively. We hope we've convinced you to open an account with Varo. Varo already has over a million customers, so we know you're signing up now to get the advantage of the Varo signup bonus and Varo referral bonuses.