For those seeking a hands-free approach to their investment strategies, M1 finance is an excellent platform because it offers free automated investing known as Robo advisor that lets you create a portfolio from the investment of your choice. You also have the option to pick from pre-built ones. All you have to do is fund your account, and M1 Finance will do the rest.
The signup process is quick and easy, and now there's also a bonus of $50 when you open an account and deposit $100 or more within 30 days. 
Though the broker's selection is currently quite limited, M1 Finance offers no commission charges or brokerage fees.
About M1 Finance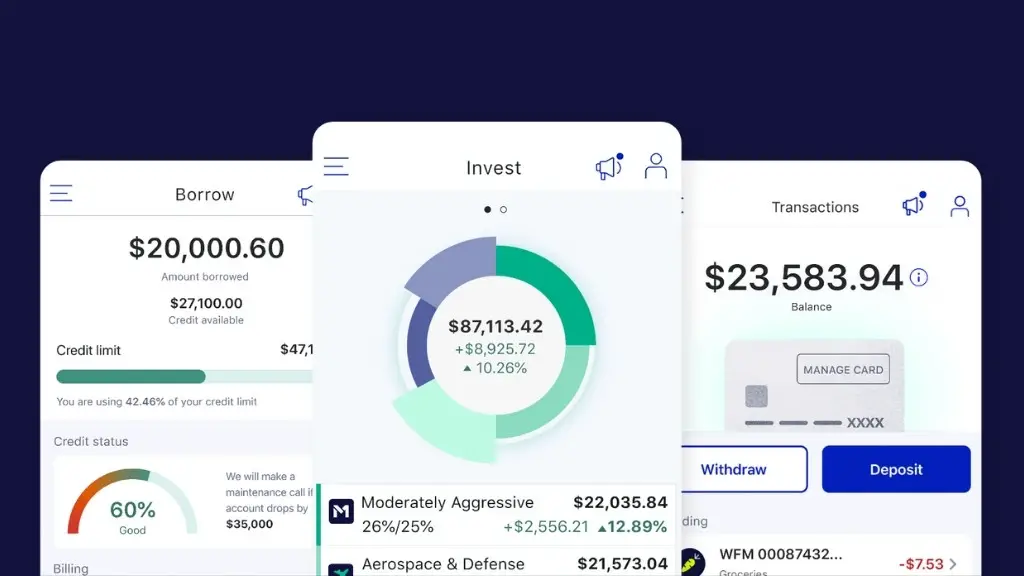 M1 Finance has all you need to take control of your finances with Invest, Borrow, and Spend all in one easy-to-use platform. M1 Finance offers a unique combination of automated investing with a high level of customization. This structure allows clients to create a portfolio tailored to their exact specifications.
Invest: Flexible, customizable, and automated. It's your money, intelligently invested the way you want, for free. 
Borrow: A flexible line of credit at a low, low rate. Borrow against your investments at 2-3.5%* without extra paperwork.   
Spend: The best digital banking, seamlessly integrated with your investments and empowered to make every cent work hard for you. 
Unlike other investing platforms, M1 finance never takes charges, commissions, or markups on any trades. This platform offers a variety of services that give you more flexibility with your money.
M1 Finance $50-$500 Sign-Up Bonus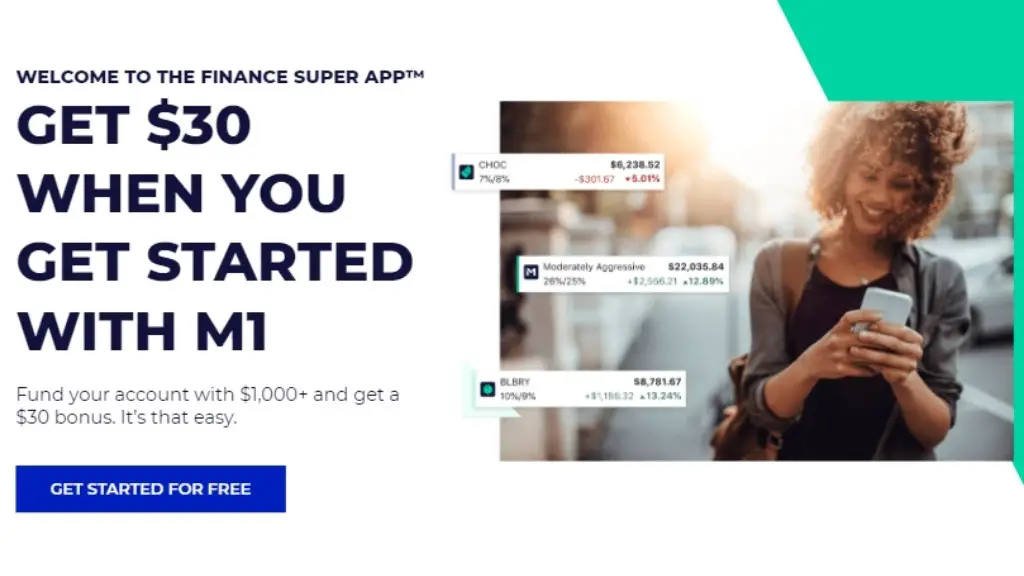 M1 Finance offers one of the best brokerage account promotions in the business. Here's how it works.
Sign up via this link by December 31, 2022. All new users who have never registered for an M1 user account will be eligible to receive a one-time cash reward deposited into their newly opened M1 investing account.
Then, initiate an account transfer of an existing brokerage account, including an IRA rollover, within 60 days of your account opening date to earn a cash bonus (up to $2,500) based on how much you transfer:
| Deposit Amount | Your Bonus |
| --- | --- |
| $100 – $1,000 | $30 |
| $1,000 – $4,999.99 | $50 |
| $5,000 – $9,999.99 | $75 |
| $10,000 – $29,999.99 | $150 |
| $30,000 – $49,999.99 | $300 |
| $50,000+ | $500 |
To qualify, you will need to fund your new M1 Finance account via ACH transfer within 14 days of your sign-up date.
How to get Sign up bonus
Sign up for a free account via this promotional link to get started.
Fund your account $100 minimum for taxable accounts and $500 minimum for IRA accounts within 30 days.
Offer available to U.S. citizens and Permanent Residents only (SSN no. required).
Maintain your initial qualifying funding for 30 days from the date of deposit.
Once you meet all requirements, you will see your $30 bonus credit under the account section.
If you open a retirement account, you must also open a non-retirement account to receive your sign up credit.
How to Invest with M1 Finance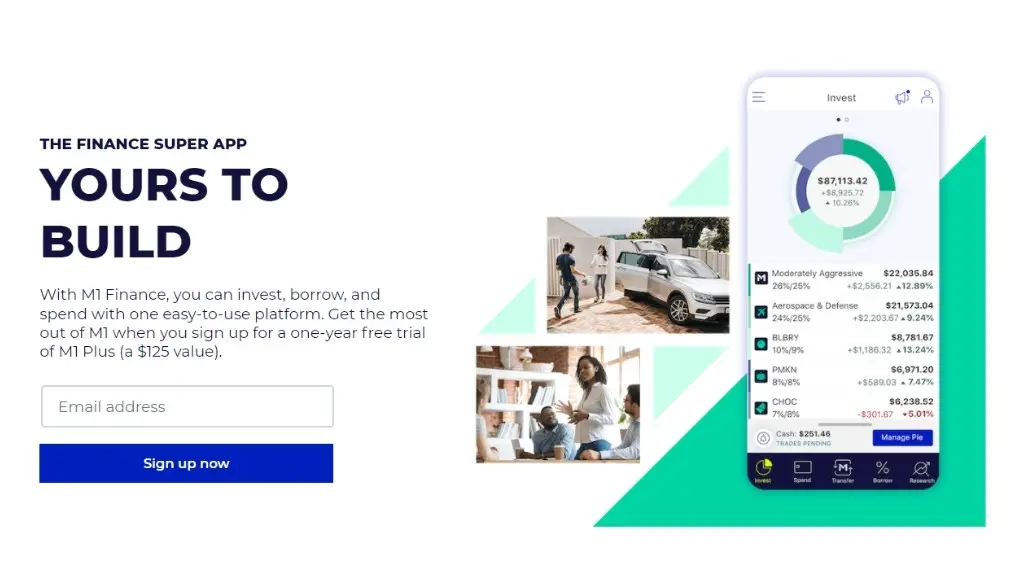 M1 Finance is a fantastic asset for anyone seeking a new way to the bank, borrow, or invest. M1 Finance lets you offer to invest as an individual, join or custodial, plus Traditional, SEP, or Roth IRA or rollover a 401(k), so you don't need to find better than this platform.
M1 Finance offers pre-built Expert pies that help you invest according to your portfolio value, risk tolerance, diversification strategy, retirement plans, or even the strategies of successful investors.
You can select any investment pie that you would like, and you can edit and change your Pie selections at any time to buy stocks, ETFs, bonds, and mutual funds with automated Pie interface tools buying and selling for you.
M1 Finance Referral Program
Once you sign up for your account, you can join M1 finance's refer a friend program and invite your family, friends, and fellows to join M1 finance, and you get a $50 referral bonus, and they get $50 too.
In order to participate in the M1 Finance Refer a friend Program, your M1 account must be funded.
How to Refer New Users to M1 Finance
Open your M1 Finance Dashboard (mobile) or click on your name (website).
Click "Refer & Earn" to start referring new members (this will only be visible if your account is funded).
Sign up for the referral program.
Choose your Payment Account where your referral bonuses will be paid.
Share your unique M1 Finance referral link with your friends, family, and associates.
You will receive a $50 referral bonus in your Payment Account within 14 days after your referee signs up and funds their M1 account.
Once the referral qualifications are met, you will see your $50 promotion under "Settings > Promotions."
M1 Referral Program | How It Works
Customers can earn $50 by inviting their friends and family to join M1. For each person who joins and funds an account through your referral link, you will receive $50. The individual who funds their new account will also receive $50.
Your M1 Invest account must be funded.
You must send your referral code to a friend who is not currently an M1 customer.
Your friend must use your referral code to sign up for a new M1 invest or retirement account.
Your friend must be approved to open an M1 brokerage account.
Your friend must invest at least the minimum required amount1 into a brokerage or a retirement account within 30 days of opening their M1 account.
Your friend must maintain their initial deposit amount in their account for 30 days.
Then you'll both receive $30.
What is M1 Finance Pie
M1 finance Pie is an interactive dashboard for your portfolio. It shows your investments, your returns, among other things.
You can choose from stocks, ETFs, or M1-curated Pies to keep your investments organized and build your custom investment plan. You can even combine your own investment picks with Expert Pies to build your ideal long-term portfolio.
Types of Pies:
Custom Pies 
Custom Pies allow you to choose from individual stocks and funds to build your ideal long-term portfolio. 
Expert Pies 
Expert Pies are professionally designed to meet particular goals, align with your risk tolerance, or allow you to invest in entire industries easily. 
Some of M1 Expert Pies follow proven methodologies used by some of the world's most successful brokerages and advisors. 
for more details, click here