Since many Telugu people live in the USA, Telugu Shows and Telugu Channels are in demand. If you are looking for how to watch Telugu channels in the USA, then Sling tv Telugu is one of the best options as it is affordable and covers full Telugu entertainment, including news and cricket.
Sling TV Telugu channels lineup includes all the channels you want to watch like Gemini TV, Star Maa, Gemini Movies, ETV Andhra Pradesh (Etv AP), ETV Telangana (Etv TG), Zee Cinemalu, and Zee Telugu. Let's deep dive Sling Telugu package, channel list, and pricing.
What is Sling TV Telugu?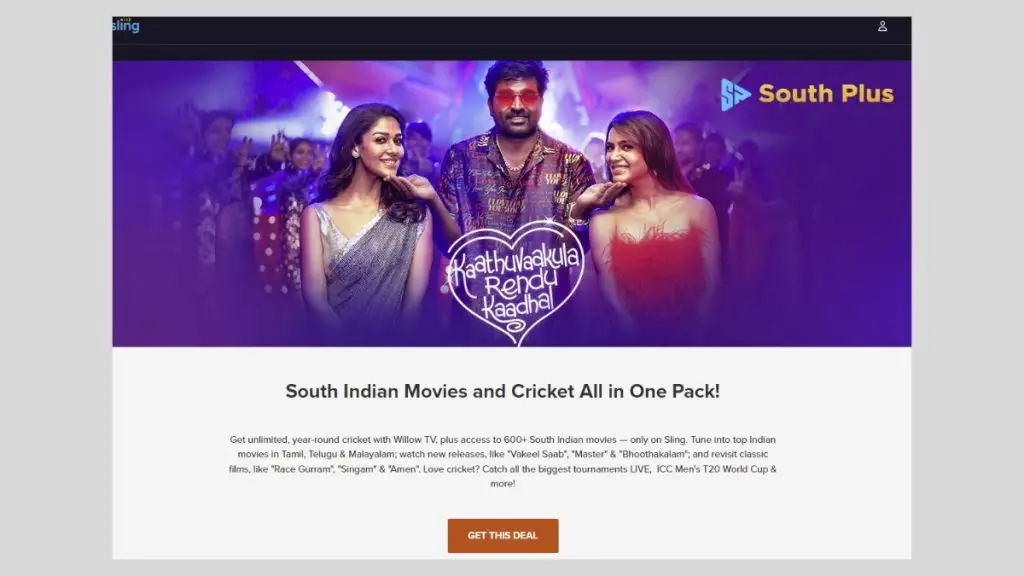 Sling Tv Telugu channel is launched under Sling TV for Telugu audiences across the USA & Canada. It provides its US audience with in-depth entertainment Telugu shows live cricket coverage, and breaking news and events. 
Sling Tv Telugu channel focuses on comedy, drama, reality shows, spiritual & kids programs, and local area community news. Whatever you're in the mood for, find it on top Telugu networks, like Gemini TV, ETV, TV Asia Telugu & more.
Sling TV Telugu Features: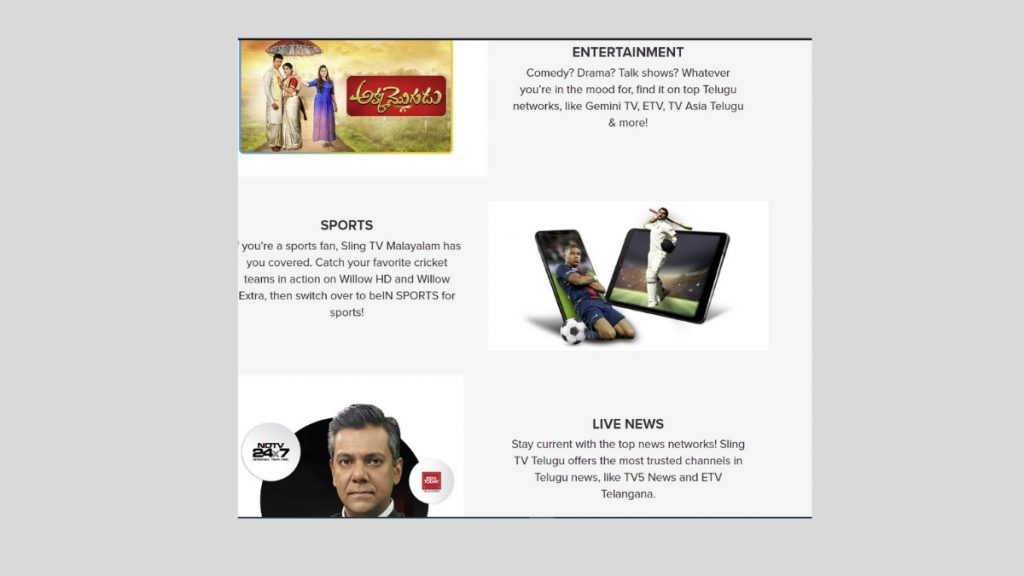 Get 23 channels, including TV Asia Telugu.
No long-term contract, easy cancellation.
Where to Watch Sling TV Telugu?
Sling does cover many streaming devices, as mentioned below, where you can watch Sling Telugu shows:
How much Sling Telugu?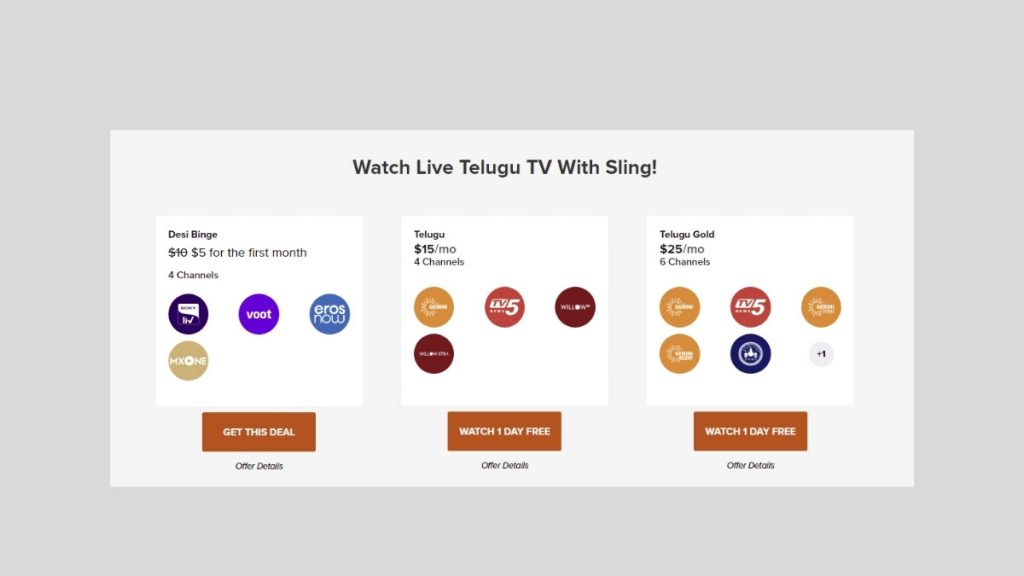 Sling Telugu has 3 packages:
How to get started with Sling Telugu:
It is very easy to subscribe to Sling Telugu. Follow the below 5 steps process to start Sling tv Telugu.
Pick Your Base Service: Select Sling Orange, Sling Blue or the ultimate lineup of Sling Orange + Sling Blue to get access to the best live TV channels.
Choose Your Extras: Customize your lineup with genre-specific channel collections and premium choices that match your interests, such as Sports, News, and Lifestyle.
Start Watching Instantly: Download the Sling app on your favorite device – including iPhone, Android devices, Amazon Fire TV, Roku, Google Chromecast, and more.
Sling SPORTS:  If you're a sports fan, Sling TV Telugu has you covered. Catch your favorite cricket teams in action on Willow HD and Willow Extra, then switch over to beIN SPORTS for sports!
LIVE NEWS: Stay current with the top news networks! Sling TV Telugu offers the most trusted channels in Telugu news, like TV5 News and ETV Telangana.
Sling TV Telugu channels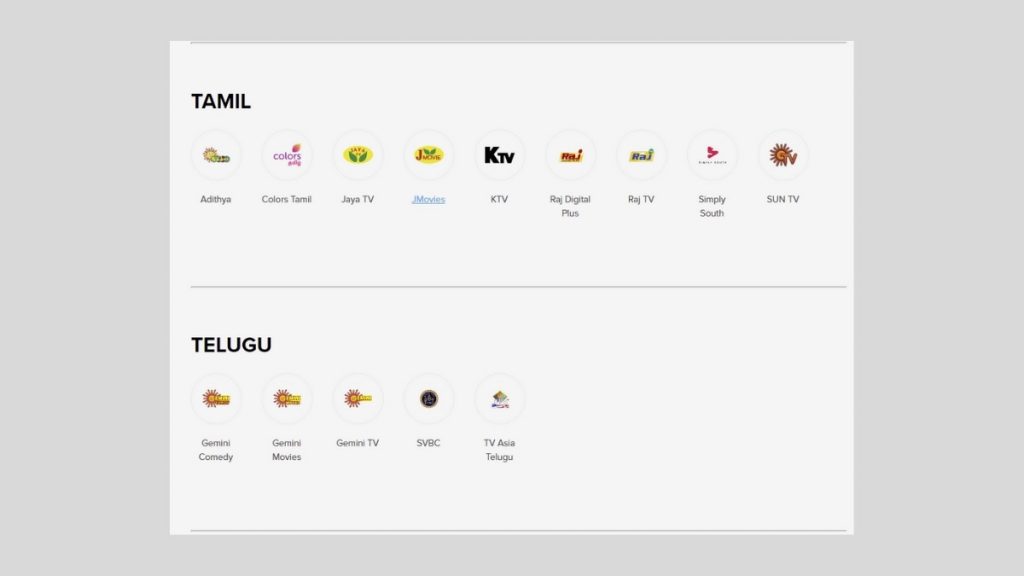 Gemini TV
Telugu language channel Gemini TV is owned by the Sun Group. It airs programs of movies, dramas, and lifestyle shows. Gemini TV is available in the United States on Sling TV. You can also watch it in India on Sun Direct.
Star Maa
Star Maa is a 24-hour, free-to-air, family entertainment channel that airs a mix of Telugu-language films, devotional and spiritual programs, game shows, and reality shows.
The channel was launched as Star Vijay on 15 August 1994 by Sun TV Network. It began with 24 hour transmission from Chennai via DD Free Dish from 1 January 2005 onwards. On 2 March 2015 the channel was rebranded as Star Maa HD. The channel's programming includes dramas such as Mudda Mandaram which aired its final episode on 21 May 2017 after running for nearly two years; Anasuya, Ala Ela crime thrillers including Rudra Kanya. Other genres include comedy, dance shows like Dance Plus Season 3; talk shows such as Binnu Ki Jaana Main Kaun Hoon. The channel broadcasts some hit movies from Tamil Cinema in dubbed versions (Movies). Some popular programs on this channel include Sa Re Ga Ma Pa Lil Champs Season 7 (Singers), Comedy Nights Live hosted by comedian Kapil Sharma(Comedians), and Mad In India Season 5(Reality Shows), Rishtey Cine Awards 2016(Cinema Awards).
Gemini Movies
Gemini Movies is a 24-hour Telugu movie channel. It was launched in April 2004 by the Zee Network as part of their Star Maa Network and is currently one of the most-watched Telugu channels in India.
The channel has featured several hit shows such as Shakthi, Jai Lava Kusa, Naa Peru Surya Naa Illu India, Rama Rama Krishna Krishna and many more.
ETV Andhra Pradesh (Etv AP)
ETv Andhra Pradesh is a Telugu language general entertainment satellite television channel, owned by Eenadu Television Network. It was launched on 3 March 2008, as a part of the Eenadu Television Network. ETV Andhra Pradesh showcases a variety of programs that includes news, serials, reality shows, and much more with an emphasis on local culture and tradition
ETV Telangana (Etv TG)
ETV Telangana is one of the leading Telugu language entertainment channels in India and is a part of ETV Network. Launched on 15th August 2013 with its sister channel GEM TV (ETV GUJARAT), the channel has successfully established itself as one of the most-watched entertainment channels in Andhra Pradesh, Telangana, and other parts of South India. It offers viewers a variety of shows like reality shows like 'America America', and 'Dance Jodi Dance'; celebrity interviews like 'Konchem Touchlo Unte Chepta?'; game shows such as 'Munjaatlo Munjatlo' etc.
The channel is available on Dish TV Channel Number 618-619 & Tata Sky Channel Number 655
Zee Cinemalu
Zee Cinemalu is a 24-hour Telugu movie channel. The channel showcases the best of Telugu movies from 2004 onwards. Also, it features shows like Watch and Win, which is a weekly feature where viewers can win cash prizes by participating in contests based on popular movies.
Zee Telugu
Zee Telugu is a Telugu language Indian cable and satellite television channel based in Hyderabad, India. It is a 24-hour Telugu language entertainment channel. The channel was launched on 1 February 2010 as a free-to-air (FTA) Hindi general entertainment channel under the brand name "Zee Yuva" and was reformatted as Zee Telugu on 15 March 2012.
The network's flagship shows include "Jabardasth", "Pawan Kalyan's Yevade Subramanyam", "Telugabbayi", "Reyka Ammayi Iddarini" and many others.
Bonus Channels
Sling TV Telugu is ready to hook you up with more than 25 FREE channels! Get 90+ Bollywood movies on demand with Movie Masala, plus a ton of new hit shows and original series on Zoom Studios!
Conclusion
Sling TV Telugu channel features popular channels from Tollywood, the biggest film industry in India. You can watch your favorite movies and shows in Telugu with Sling TV by subscribing to our monthly or annual plan.
FAQ'S
How to get Free Sling TV Telugu?
You can watch for 1 day free on Sling tv Telugu but if you want to watch longer then you need to buy Sling Telugu subscription. you can refer our sling tv free trial guide for more details.
How many devices can be stream limitations?
The number of devices on which Sling content can be watched at the same time varies based on the Sling service. If you subscribe one device package then it can be viewed only one device but by paying $5 you can enjoy three streams at a time. As Sling International subscriber (Telugu), you can watch Sling on three devices at a time at no extra cost.
Does Sling TV have Telugu channels?
Yes, Sling TV offers Telugu channels as part of its South Asian package, including Gemini TV, Maa TV, Zee Telugu, and more.
How to watch Maa TV in USA for free?
Streaming Indian channels for free in the USA is not possible. You will have to subscribe to a service that offers access, such as Sling TV or other streaming platforms that offer Indian channels in their packages. It is illegal and not recommended to pirate or stream copyrighted content without permission.