People choose laptops for the simple reason that they are portable. You can take them to school and your office as your laptop goes to places with you, so what you need to do is provide safety to your laptop. For this, you need to buy the best laptop backpack, which ensures your laptop's security and provides enough space to put your valuables and gadgets into it.
Therefore, laptop bags with special security padding and multiple pockets to store various access components are essential. If you don't already have a laptop bag or want to replace yours with a fresh piece, you must check out some of the best laptop backpacks that can cater to your laptop carrying needs.
HP Odyssey L8J88AA Laptop Backpack
Now stores your items easily with an original HP certified backpack that provides you with a separate zipper package. The expandable side pockets available in this bag can allow you to store your drinks too.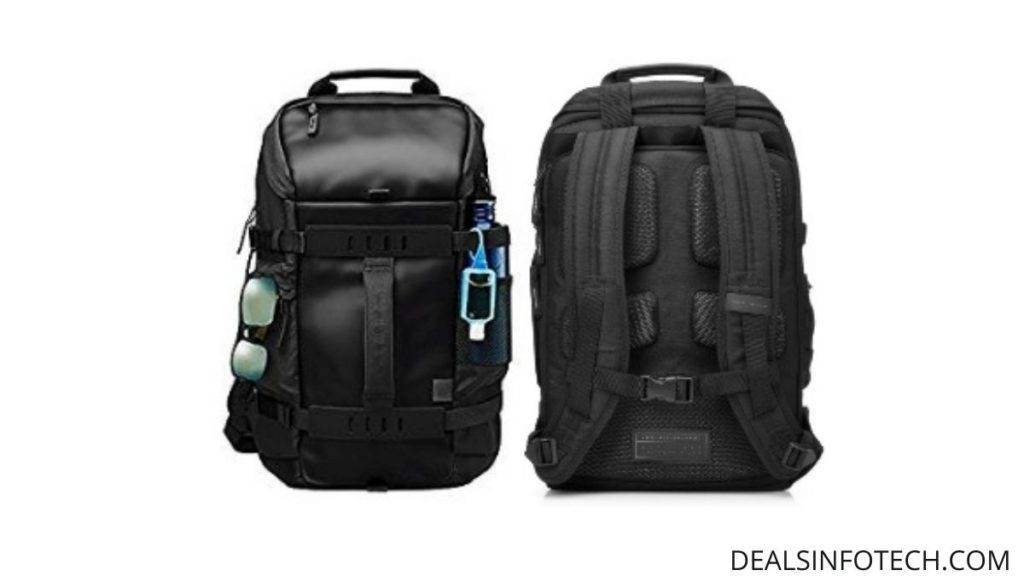 The materials used to create this HP backpack are waterproof and scratch resistance, making this backpack into the best laptop backpacks category.
Key Takeaways
A laptop with a 15.6-inch screen size can fit in this bag.
Proper protection is provided inside and outside the bag with a strong padding feature.
The handles used to hold this bag are very strong.
It offers a charging port For charging devices.
The nylon material makes this bag waterproof.
The weight is 0.98 Kg.
PROS
It has a maximum capacity of 32 liters.
For laptops and accessories, this bag offers various pockets.
You can use this backpack as a luggage bag while traveling.
There is no need to compromise on the quality and appearance of the bag.
It is stretchable.
CONS
There is no belt on the waist side.
Gods Ghost Anti-Theft 22 Litre Laptop Backpack
The design of this new version of Ghost is beautiful, and it is easily seen in the crowd. The rough construction, material quality, and features of this laptop bag make this the best laptop backpack in 2021.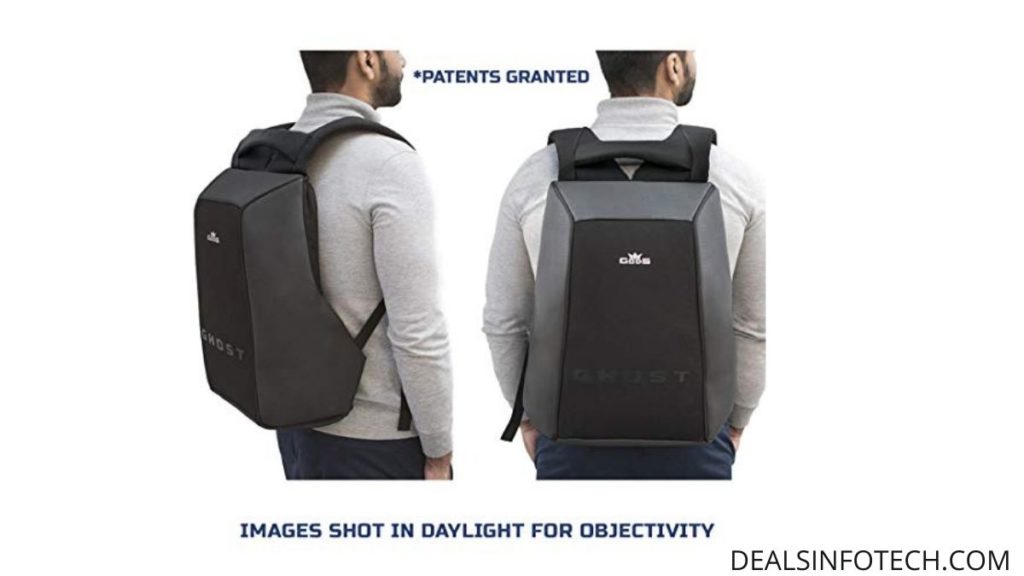 Riders and passengers can choose to use this bag because it has a secure back opening and no front zipper you can find.
Key Takeaways
The outer shell of this backpack is covered with a non-breakable wire that supports the anti-theft element.
Exported and heavy zippers and slides have been used in this backpack.
There is a safe area for sunglasses, and you can also get instant access packs.
The 180 degrees open-back feature can allow you to organize the bag neatly without clutter.
Right, fit for the laptop with a screen of 15.6 inches.
With headphones and a USB cable, you can get non-ribbed hangers.
Water-repellent polyester fabric is used in this laptop backpack.
The weight is 1.4 Kg.
PROS
This laptop of God's Ghost laptop replenishes water and protects it from water droplets.
According to Amazon reviews, the quality of the bag is good, and the design is impressive.
If you own an expensive gadget that needs great care, then this 22-liter laptop bag is simply a good choice.
Softback padding allows you to wear this bag comfortably.
CONS
It's a little heavy.
It will not survive in the heavy rains until and unless you buy a rain cover.
Deals Outlet Anti Theft Laptop Backpack
This 15.6-inch laptop Backpack comes with a USB Charging Port, Waterproof, and a Casual Unisex Bag for School, College, Office.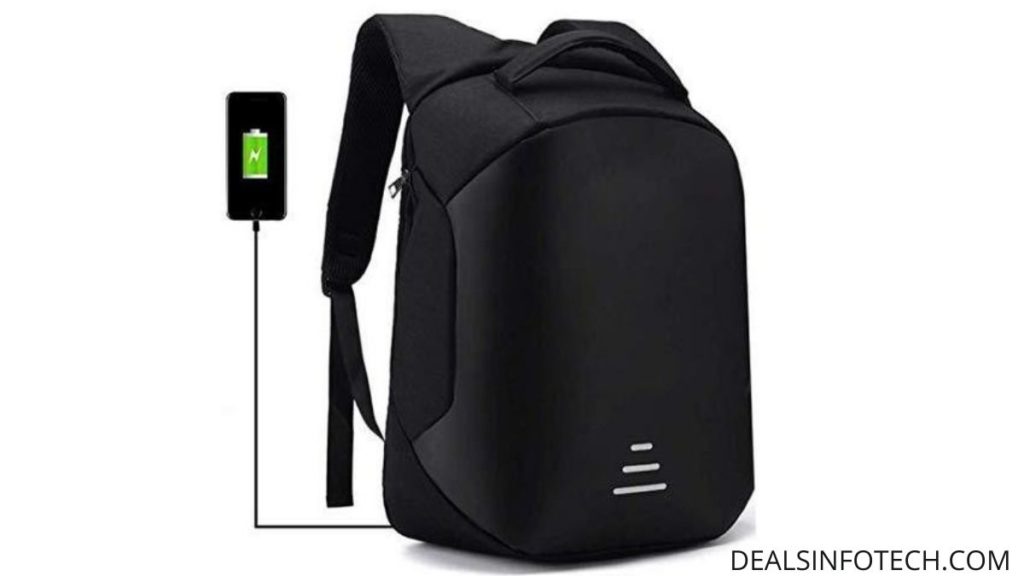 It is suitable for both men and women and comes with many features.
Key Takeaways
This is a whole bag with proof of theft because the big bag's zipper is hidden behind the bag, which prevents burglars, who coming in to find the zipper to open it.
Along with that, there are other secret bags available on the sides, which help you travel. You can keep your important documents such as passports, IDs, credit cards, cell phones, earphones, etc.
The bag has a 15.6-inch laptop compartment and a central compartment for a tablet or iPad.
PROS
If you have a power bank, this is the best laptop backpack because this bag has an external USB port with built-in plug cables. The bag has no battery.
The bag is made of 300D fabric, resistant to water and dust. Besides, the bag has a nylon sponge that protects your valuables during the rainy season.
There are many rooms for your small gadgets such as earphones, MP3 players, etc.
Full padding and wrapping in a bag make it easy and comfortable to carry for many hours.
CONS
Product quality is not up to standard.
Fur Jaden 15.6 Inch Laptop Waterproof Bag
Now no fear of running out of battery if you have this bag. One of the best laptop backpacks with an external USB cable with an external USB port with built-in plug cables.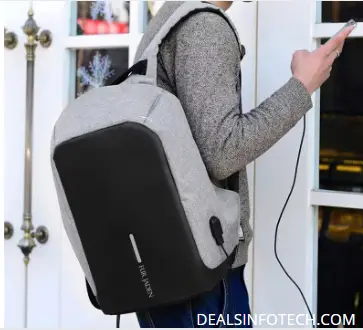 Key Takeaways
It is a heavy product weighing just 400 grams. This makes it easier for you to carry anywhere you want and hang it on your shoulders for a longer time.
The bag is made of Polypropylene material, which is water-resistant as well as dust resistant. You do not have to worry about your belongings being damaged by the weather outside.
This bag comes with a capacity of 25 liters. It can carry a large laptop and other electronic devices such as iPod, Ipad, tablet, MP3 players, etc.
PROS
The bag has an external USB cable with an external USB port with built-in charging cables. You can now quickly charge your mobile phones while traveling.
The shrinkage and folding of this bag make it easy to carry on the shoulders.
The straps can be adjusted.
The ergonomics of this product make it one of the best bags to carry your laptops and other gadgets.
CONS
There is no hidden section for valuables.
American Tourister 29 Ltr Laptop Backpack
American Tourister is a well-known brand among the best laptop backpacks when it comes to style and quality.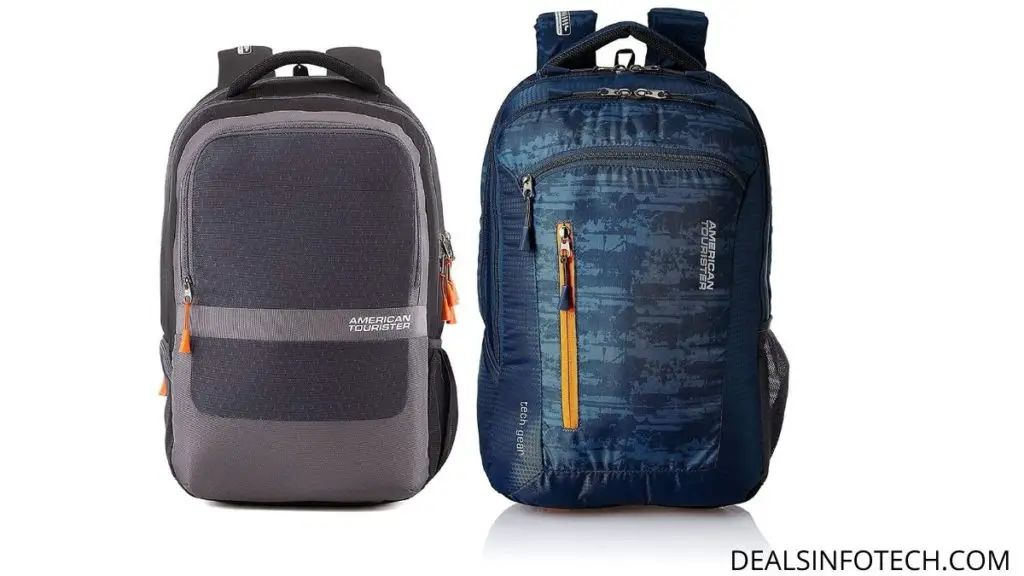 Key Takeaways
You can fit a 15.4-inch laptop in this bag.
The outer material is polyester and water-resistant.
Back and shoulder straps can make it easier for you to carry this bag.
The weight is 499 grams.
PROS
The design of the bag is beautiful.
They also provide a separate portable rain cover that can be used when needed.
Very light by weight.
CONS
Rubbers on the shoulder straps are not good in quality.
Mi Business Casual 21L Laptop Backpack
The Mi Business Casual Laptop Backpack has 21 L storage and comes with an old design. It has two large compartments and can easily fit a 15.2-inch laptop.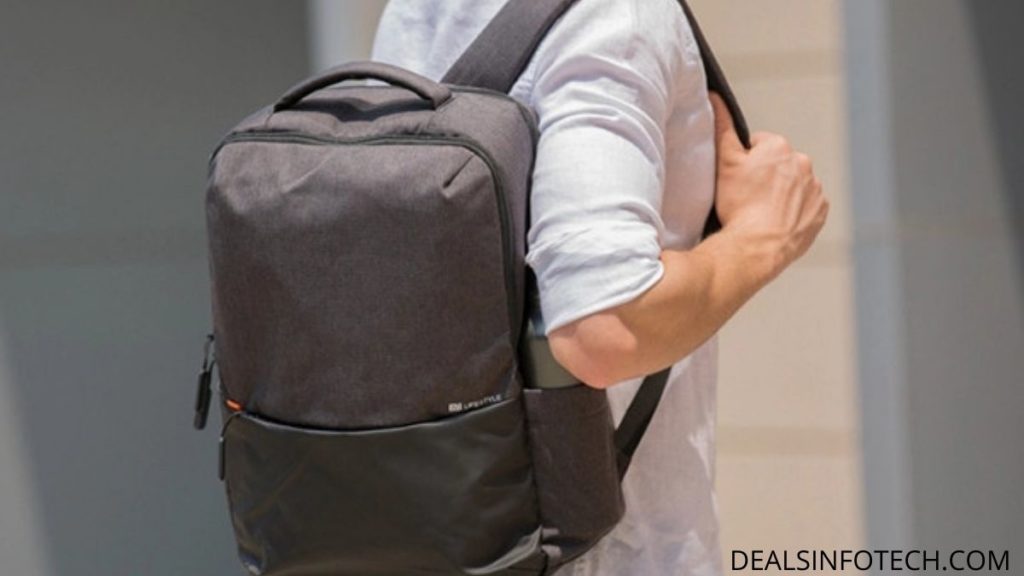 Key Takeaways
Basic accommodation such as a lunch box, charger, tablet, books, energy bank, wallet, and sunglasses can easily fit into this backpack.
Easy access to pockets and elastic bottles.
This bag comes with a hidden pocket for valuables.
Improved IPX4 content coverage ensures water resistance.
PROS
The ergonomic design comes with a tight wrap around the shoulders and a comfortable backlight panel.
It offers the security of valuables as it comes with an anti-theft package.
It can be easily carried all day long as the shoulder straps separate the weight from the body.
Mesh back support promotes complete comfort and breathability.
CONS
Skybags Komet 49 Liters Laptop Backpack
The Komet backpacks offered by Skybags are very comfortable to use. This laptop bag can be safely carried to the office, school, or any two-day outing, one of the best laptop backpacks right now in the market.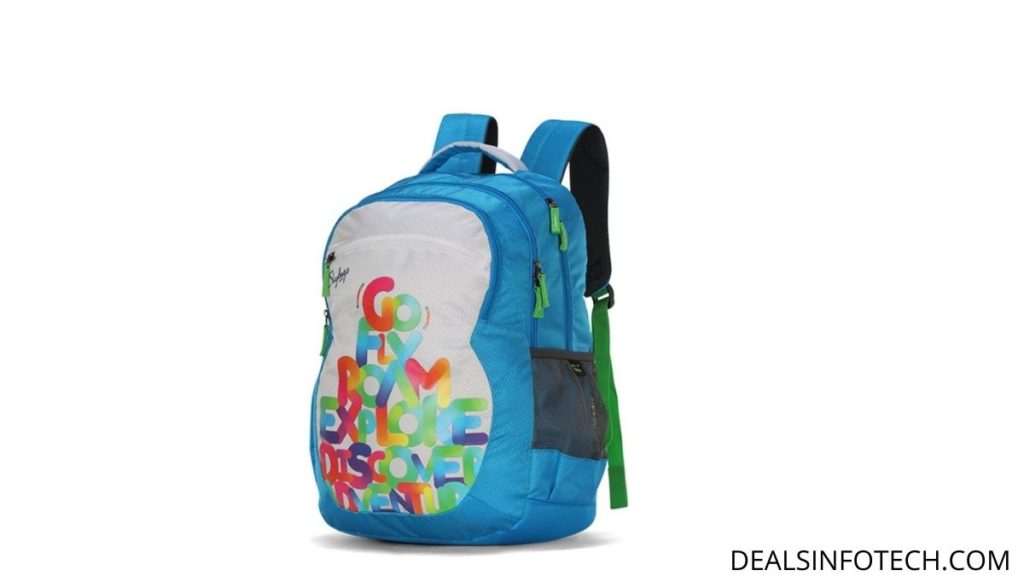 Key Takeaways
Compatible with up to 17-inch laptops.
The outer covering of the bag is Synthetic Nylon.
There are a total of three pockets in this backpack.
The shoulder straps and the handle of the bag are rowed.
Getting back into the air can provide excellent comfort and backing.
The weight is 700 grams.
PROS
A rain cover is also provided with a bag.
The extra pockets in the laptop provide extra room for valuables.
CONS
Can't handle higher weights.
Prajo Black Polyester 21 LITRE School Backpack & Laptop Bag
Prajo black polyester laptop backpack is one of the best laptop backpacks for the office and suitable for school goers.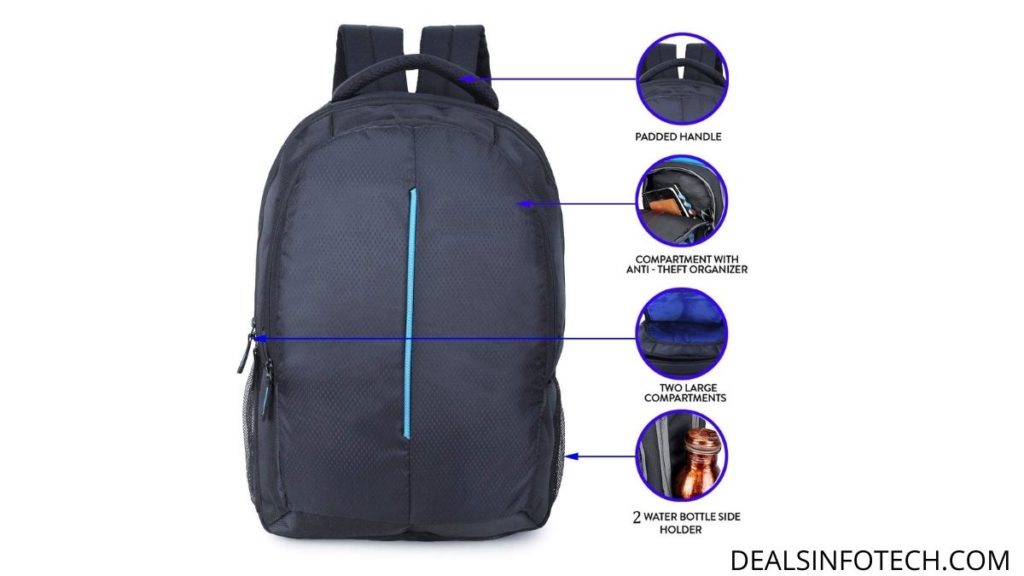 Key Takeaways
The zipper lock makes it an anti-theft wallet against robbers and attackers. You can keep your valuables safe inside the bag.
The exterior and interior are made of Polyester Fabric, waterproof and dust-free.
It is capable of carrying a large 15.6-inch laptop, and besides, you can store other gadgets such as iPad, tablets, MP3 players, etc.
PROS
It can keep many things together due to its 21 liters space.
It has airtight back pockets that do not cause pain in your back by adequately handling the bag. The straps are changed according to your wishes.
The bag can easily be folded as well.
It has two bottle chambers, air mesh padding back for extra comfort.
CONS
ASUS Casual Laptop Backpack
Asus produces highly durable products that are out of the box in quality and innovation. For the best laptop backpacks, you can rely upon ASUS.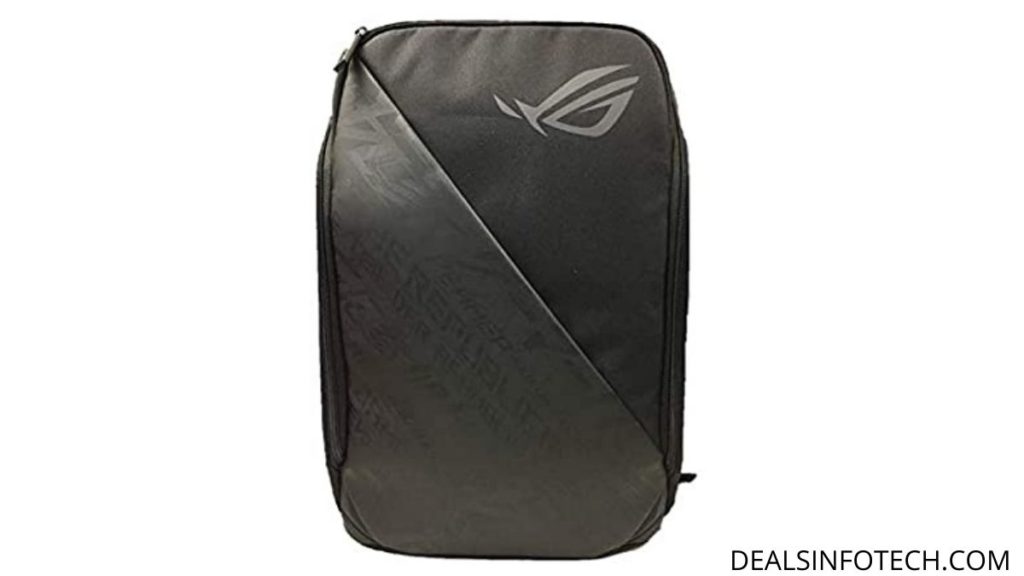 Key Takeaways
This is made of polyester and is water-resistant.
You can easily carry heavy laptops due to their high-quality material.
Its design is compact and easy to maintain.
The bag has one socket and one outer pocket with zippers.
The weight is 460 grams.
You can easily carry a 15.6 inches laptop in this bag.
One-year warranty.
PROS
It is strong and light.
It offers good value for money.
CONS
No side straps.
Outdated Zip styles.
HP Express 27 Ltrs Laptop Backpack
HP is a trusted brand name in the laptop pack market that produces the best laptop backpacks too.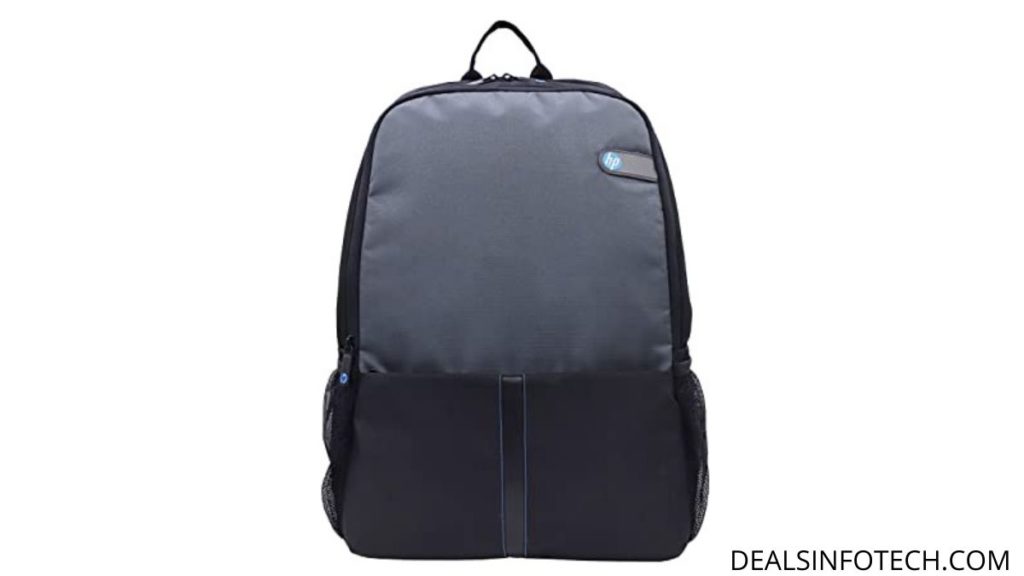 Key Takeaways
Laptop compatibility can be up to 15.6 inches.
There are a total of two large pocket rooms and one small one.
You can handle it comfortably because of the paddle handle.
This laptop bag is sturdy and comfortable due to its lightweight padding.
The weight is 499 grams.
PROS
The build quality of this laptop bag is excellent.
Lightweight.
CONS
It's not attractive in terms of appearance.
No cushion at the bottom.
Final Thoughts
So, we have reviewed the laptop backpacks currently available in the market, we have chosen only those most popular products and used by many people and have a good ground report. Either in terms of price, quality, texture, or holding capacity and style. You can also buy these best laptop backpacks on Amazon or Flipkart
We make your selection easy by including key takeaways, their positives, and their negatives so that you would no longer be in a state of confusion. Now check out the best one which suits your personality.