The Indian Premier League (IPL) is one of the most followed cricket leagues in the world, with millions of fans tuning in to see their favorite team on the ground.
Are you an Indian Premier League (IPL) fan living in the USA and looking for the best way to catch all the live action? Look no further as we have compiled a list of the top free apps that will allow you to watch IPL 2023 live in the USA.
In this article, we have listed the 7 best free apps to watch IPL online in USA for free. With these apps, you can easily stream live IPL without any cable subscription and enjoy the live tournament at your home or office.
7 Best Apps to Watch IPL in USA for Free
Here is we compiled the list of 7 best apps for IPL 2023 live streaming in HD-4K quality on your preferred device. Also, you can watch all other cricket matches live with these apps. These apps can work on most devices like iPhone, iPad, iOS, Android mobile, and TV. These streaming apps have offered free or paid subscriptions.
#1 Disney+ Hotstar
Disney+ Hotstar is one of the most popular premium streaming platforms in India, offering a wide range of content, including live sports, movies, TV shows, and more. It offers a free version with ads, as well as a premium version without ads. With the premium version, you can watch IPL matches live and without any interruption.
Hotstar offers selective movies and content without a subscription, you can enjoy Hotstar for free.
Hotstar is one of the cheapest options to watch IPL in USA it cost almost nothing if you compare it to other Sports streaming apps like ESPN+ or FuboTV.
#2 JioTV
JioTV is an app developed by Reliance Jio, one of the largest telecom providers in India. It offers a wide range of live TV channels, including sports channels, for free.
Jio TV app is available on both android and iOS devices and is free to use.
You can watch IPL 2023 online in USA for free with this app and enjoy high-quality streaming matches.
#3 ESPN+
ESPN+ is one of the biggest sports streaming apps that first focus on sports entertainment. Millions of fans from around the globe tune in to watch their favorite teams and players in action. And for those who are unable to watch the matches live on TV, streaming services like ESPN+ offer an alternative solution. But it requires a subscription to watch the IPL 2023 in USA because ESPN+ is the only solution to stream IPL easily and access the vast sports library of ESPN+.
See ESPN+ latest deals on cricket and other sports.
#4 FuboTV: 7 Day Free Trail
FuboTV is another best streaming service in USA that delivers on-demand service and is one of the best cable TV alternatives.
Get FuboTV seven-day free trial on all plans so you can enjoy IPL for 7 days on a trial period, and after the end of the week, you have to pay $69.99 a month for over 120 channels, 1,000 hours of Cloud DVR storage and three simultaneous streams.
#5 Willow TV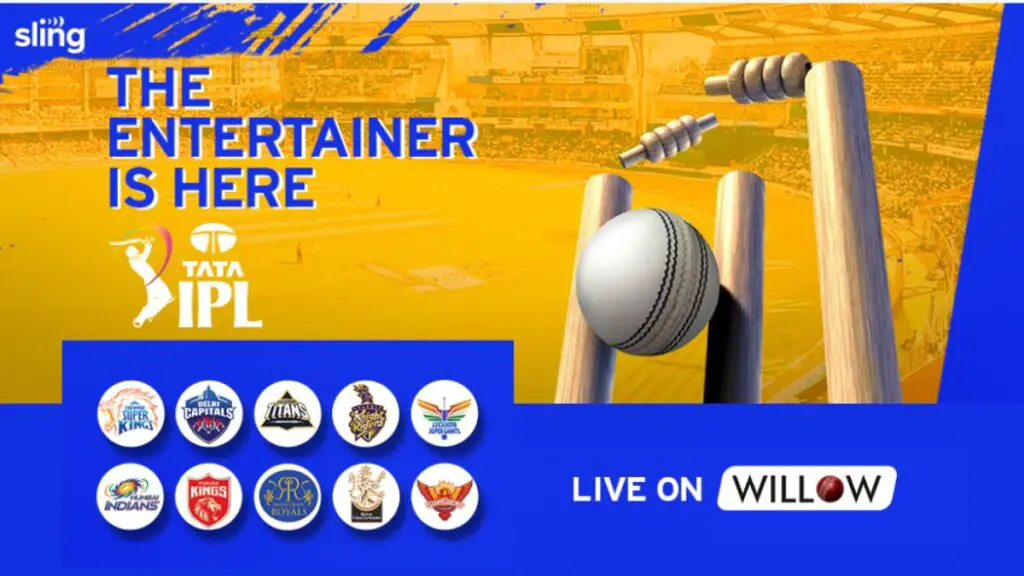 Willow TV is an American sports streaming service provider that mainly focused on live and recorded coverage of international cricket match events, including the Indian Premier League (IPL) and other international cricket tournaments.
Willow is the official broadcast partner of IPL and it will air live IPL tournaments in the USA you can stream IPL 2023 live.
Unfortunately, Willow is a premium sports streaming service, you have to subscribe to Willow TV which cost $9.99 per month.
#6 Airtel TV
Airtel TV is another popular app developed by Airtel, one of the leading telecom providers in India. It offers a wide range of live TV channels, including sports channels, for free. You can watch IPL matches live on Airtel Xtream App, but you will need an Airtel SIM card to access the service. Also, Airtel offers a Free Disney+ Hostar subscription on its prepaid plans so you can watch IPL 2023 live completely free.
You will get a 6 to 12 months Dsiney+ Hostar subscription on selected Airtel Prepaid plans.
#7 YuppTV
YuppTV is a popular OTT platform that offers a wide range of Indian TV channels, including sports channels, for a monthly subscription fee. With YuppTV, you can watch IPL 2023 live, as well as other popular cricket leagues from around the world. YuppTV costs $9.99 per month, $54.99 half-yearly, and $99.99 for an annual plan.
YuppTV is available as an app for multiple devices, including smartphones, smart TVs, and Amazon Firestick, and also has a website for streaming content.
Free Live IPL Websites
There are more ways you can watch IPL live for free but these sites may not be sure that they will be aired live IPL. You can check these sites below if they are offering them. also see best streaming site to watch IPL worldwide.
The following Live TV sites claimed to provide IPL 2023 Live Match Free. 
CricTime
CricHD
CricFree
SmartCric
WebCric
IPL Live Match Free
Conclusion
There are several apps that you can use to watch IPL on your mobile and PC, almost for free. Hotstar, JioTV, Airtel TV, Disney+ Hotstar, and YuppTV are some of the best options available, each offering a different set of features and benefits.
Whether you are a die-hard fan or just looking for a way to watch your favorite matches, these apps are sure to provide an enjoyable and hassle-free experience.