Choosing a Cloud Services vendor is increasingly becoming a tough decision to make. Because nearly all of the Cloud Service providers are offering the same features and capabilities at competitive pricing, if there are several options to choose from, there will surely be many parameters to check to arrive at a concrete decision. Read through this guide wherein I will discuss the differences between AWS vs Azure vs Google Cloud to help you choose the vendor that suits your use-cases.
The favorites in the Cloud Computing business today are Amazon's AWS (Amazon Web Services), Microsoft's Azure, and Google's Google Cloud Platform (GCP). These three hold significant shares of the market in all the three segments of Cloud Computing, and they are IaaS, PaaS, and SaaS. They top the chart for the most number of customers relying on their services to power their businesses. Outside these three vendors, none are capable of taking the fight to the titans of the Cloud Computing market. If you are interested in starting your career in Azure, you better enroll in Azure training first.
So unless you are clear with your requirements and goals as a company, you will not be able to zero in on the best Cloud Service Provider that fits your budget and meets your requirements.
Before going over the guide, keep this checklist in mind while you read through the comparisons.
Always look for reliability – Don't fall for brand loyalty. Check security measures installed and ground reviews from users to get a better idea. 
Economic factors– Compare the prices of using a cloud service against running in-house servers.
Flexibility is the key– You don't want yourself to be stuck with a contract wherein you don't see the expected growth or flexibility. 
Evaluate Stability– Whichever vendor you choose must offer high availability, continuous high performance, distributed platforms, load balancing, etc. 
Choose bundled services– It's better cost-wise if you select bundled services rather than specific services as it will help you cut costs heavily. 
Quick overview of AWS vs Azure vs Google Cloud: service providers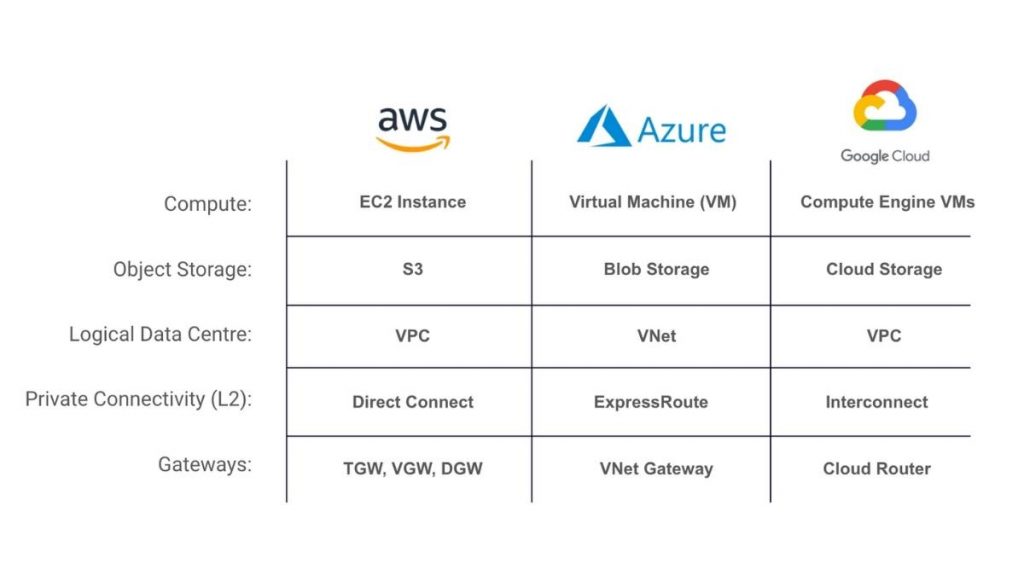 Amazon Web Services (AWS)
AWS is standing today as the innovative engine in the IT space. Amazon is the largest e-commerce platform globally ventured into the Cloud business in 2006. And since then, it has only grown, thanks to its early mover advantage. It has garnered the majority share in the total Cloud market today with class-leading services offered to its huge customer bases that range from startups, big enterprises, SMBs, NGOs, Government services, NASA, and many more organizations around the world.
AWS offers you all kinds of services that you need from a cloud service provider. AWS offers its services to its customers through regions, availability zones (AZ's), and edge locations that are distributed on a global scale. Every year AWS increases its AZ's, regions, and edge locations to offer low latency connections to its customers that connect from around the world.
Azure
Azure entered the market 5-6 years later, but it has been on a strong note since then. Azure now offers similar services, connectivity regions, and competitive pricing, which AWS was good at. With the arrival of Azure, the cloud market has grown at a tremendous rate. Azure is known for its sturdiness and an integrated platform for all companies with Windows standardization. Azure has been stronger in the IaaS market. And is known to be very easy to set up, configure and operate amongst all the other service providers. If you are aspiring for a career in Azure, check out this Microsoft Azure Training. 
Google Cloud Platform (GCP)
Even though GCP arrived at the party far later, it's been making headlines lately. They have upped their game to match the titans of the cloud computing market with their low latency, high innovation strategies. GCP is also known for its ease of use, simplicity, and user-friendliness in setting up and configuration. 
As we have already discussed, all these three service providers offer nearly the same services bundled together in different names. Here is a look at the different types of services all the three offer to their customers. 
AWS offers storage solutions through these services: 
Simple Storage Service (S3), Elastic File System (EFS), Elastic Block Storage (EBS), Storage Gateway, Snowball, etc. It offers Database services through Aurora, RDS, DynamoDB, Neptune, Redshift, etc. AWS offers compute services like AWS Beanstalk, Batch, Fargate, Lamba, Lightsail, etc.
Azure offers storage solutions through these services: 
Blob Storage, File Storage, Data Lake Storage, Queue Storage, Disk Storage, etc. It offers Database services through SQL Database, Data Warehouse, Cosmos DB, Data Factory, Database for MySQL, PostgreSQL, etc. It offers to compute services like Azure Batch, AKS, Service Fabric, etc. 
Similarly, GCP offers Storage services like Cloud Storage, Transfer service, Persistent disk, etc., and Database services like Cloud SQL, Cloud Spanner, Cloud Bigtable, etc. GCP offers compute services like Google App Engine, Instant groups, Docker Container registry, Knative, etc.