Yieldstreet is an alternative investment platform that invests directly in commercial real estate, financial, marine projects, art and even oil markets.
Yieldstreet lets you diversify your portfolio with investments starting as low as $2,500, allowing you to access a unique set of asset classes like art, real estate, and legal finance.
Take advantage of the Yieldstreet promotions and earn $500 for signing up and making your first deposit into your Yieldstreet Wallet. Also, you can introduce Yieldstree to your family or friends and earn $100 referral bonus on each referral.
Continue to read below to learn about all the Yieldstreet promotions we have mentioned.
Yieldstreet Promotions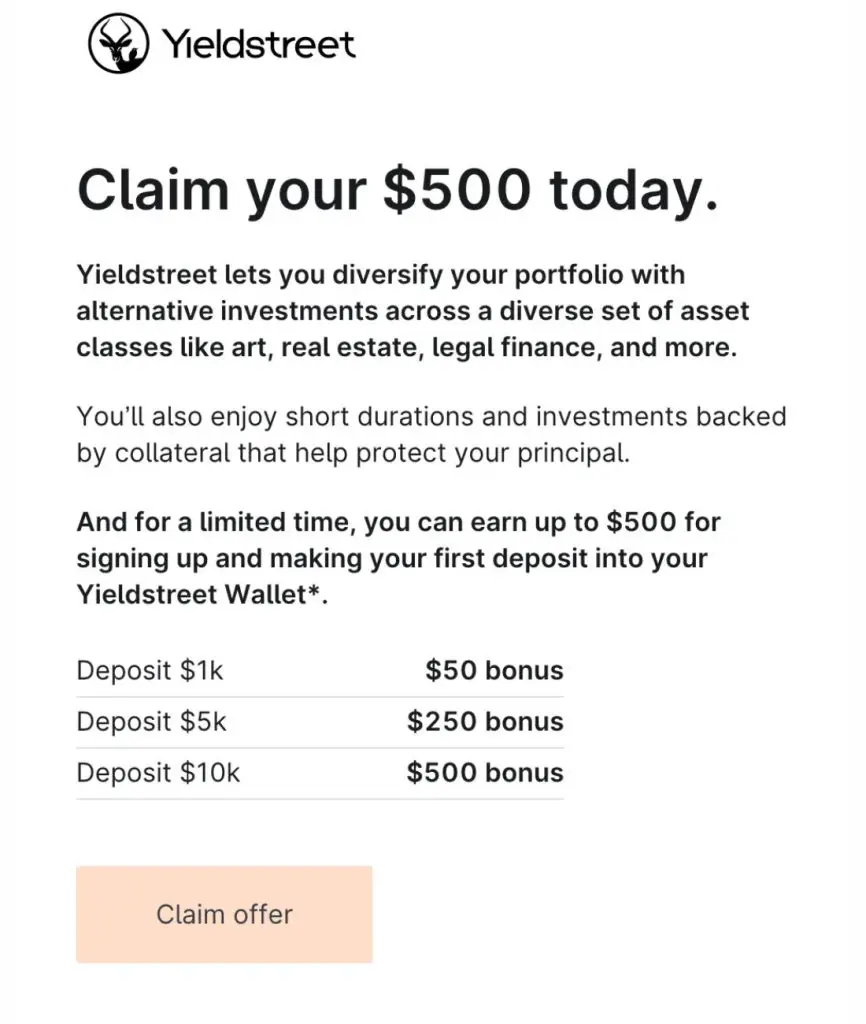 Yieldstreet offers a limited time; you can earn up to $500 for signing up when you make your first deposit into your Yieldstreet wallet. Also, there is a referral program where you can earn $100 bonus when your friend joins Yieldstreet through your referral link and qualify for the first deposit.
Yieldstreet $500 Sign up Bonus
For a limited time, Yieldstreet is running a new account promotion; get up to $500 sign up bonus when you open an account using the Yieldstreet promotional link and make your first deposit of more than $10,000 all the way; you get $250 sign up bonus for deposit $5,000.
How to get Yieldstreet sign up bonus
Sign up for Yieldstreet via this referral link.
Click "Personalize my experience" or "Create my account."
Submit your basic details.
Answer some questions about your investing knowledge.
Link your bank account.
Add your first deposit into your Yieldstreet Wallet within 7 business days.
The bonus deposit will be sent to your Yieldstreet Wallet within 60 business days from the minimum wallet deposit verification date.
Yieldstreet $100 Referral Bonus
Yieldstreet existing users can take advantage of the Yieldstreet referral bonus. You'll receive $100 for each person that you refer.
When someone joins Yieldstreet using your referral link, deposit the required deposit within 7 business days. You will receive a bonus of $100 in your wallet.
How to get a Yieldstreet referral bonus
Get your Yieldstreet referral link from your profile dashboard.
Copy your referral link and send it to your friends via social platforms.
Ask them to complete the verification process.
Make their first qualifying deposits within 7 business days.
You will receive $100 referral bonus in your wallet, and your friend will receive up to $500 qualifying bonus.
Note: Yieldstreet recently added that you must have your Yieldstreet account open for 30 days before you're eligible to refer people, so wait 30 days before you refer anyone. Read Yildstreet invitation program terms and conditions.
Check out the investment apps that offer sign up bonuses:
What is Yieldstreet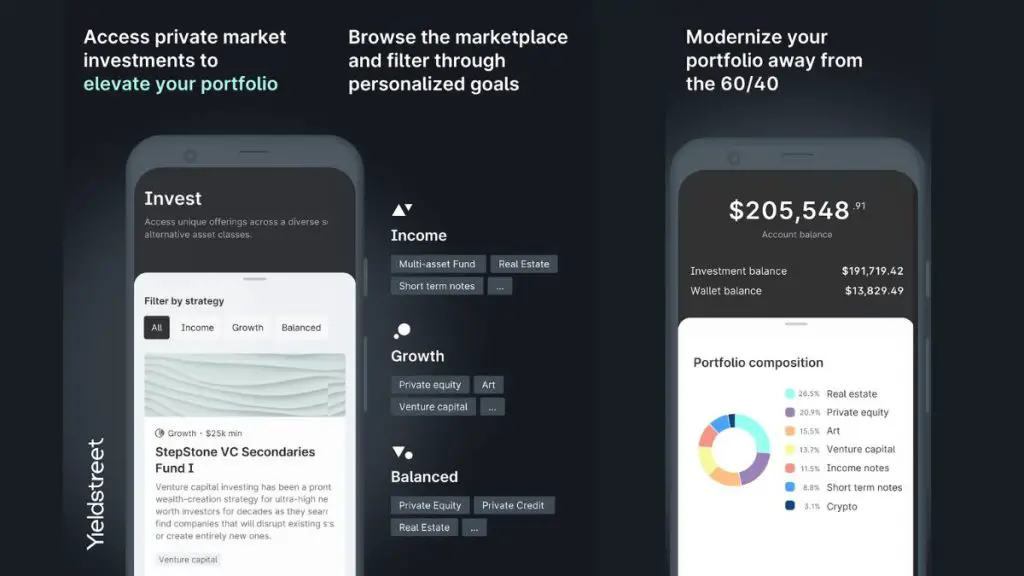 Yieldstreet is a marketplace for prime and alt investment opportunities. Yieldstreet is an innovative investment platform that offers individual investors an opportunity to invest in various sectors, including financing industrial and residential property deals, commercial loans such as merchant cash advances, purchasing oil tankers, and fine art. Since 2015 Yieldstreet has helped investors to generate yield income without investing in stocks, bonds, and mutual funds.
Yieldstreet Features
Investing in multiple assets on Yieldstreet will help you to advance your investing and grow your portfolio. Below is the best Yieldstreet feature you should know:
Minimum Investment: Yieldstreet has no accreditation required, though the minimum investment is usually $500 – $1,000.
Fees: Yieldstreet charges an up-front origination fee to originators and a management fee of 1-3% for each investor offering. Additional fees may apply.
Yieldstreet Wallet: You can Earn 1.45% interest on any balance held on your YieldStreet Wallets
How does Yieldstreet work?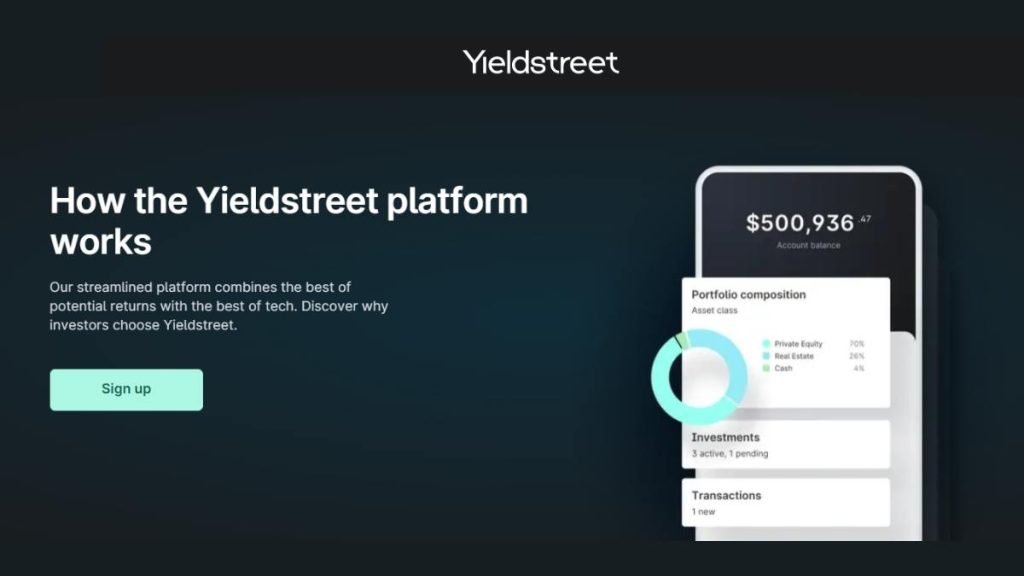 Yieldstreet focuses on bringing its clients the best investment opportunities regardless of their level. Investors can participate in Yieldstreet crowdfunding for a variety of alternative investments, such as real estate, commercial, legal, and art.
Setting up a Yieldstreet account is straightforward. Follow the steps below, and welcome aboard:
Sign up for New Account: Visit the official Yieldstreet site. Click on the Sign-up button and enter your email or password.
Verify your identity: You can confirm your identity by submitting your ID photo.
Link Bank Account: Once you have verified your account, you need to link your bank account to Yieldstreet for withdrawing and distributing funds.
Verify accreditation: If you're interested in Prism, you need to verify your accreditation with any of three methods such as third party, income, or net worth.
Conclusions
Yieldstreet is best for individual investors seeking short- or long-term investment in the biggest sectors, like fine art, commercial real estate, and even lawsuits. Minimum investments start at just $500, helping to break down the barriers to access to the private market.
Take advantage of the Yiledstreet limited time referral program and earn up to $2,000 quarterly if you get 20 friends to sign up for Yieldstreet.
FAQS
How do I open a Yieldstreet account?
Setting up a Yieldstreet account is easy. To invest in Yieldstree, you must complete three steps to set up your account: Verify your identity, link your bank account, and verify your accreditation.
How do I deposit money into my Yieldstreet Wallet?
Once you have linked your bank account, you can easily add funds to your Yiledstreet wallet.
How to get $500 Yieldstreet sign-up bonus?
Yieldstreet, limited-time offer, $500 bonus for new users who join Yieldstreet via referral link and deposit at least $10,000 or more. You'll receive $500 in your wallet within 60 days.
What is the Yieldstreet prism fund?
Yieldstreet Prism Fund allows individuals to build portfolios of fixed-income alternatives – assets that, when performing, pay interest, dividends, or distributions until maturity.
Is Yieldstreet legit?
With thousands of investors and a strong track record of returns, Yieldstreet is a legitimate alternative investing platform.
What is Yieldstreet minimum investment?
The minimum investment for Prism fund and short term is $2,500, and the Minimum investment starts at $10,000.