Check out Fidelity Bloom promotions, where you can earn a $100 bonus using Fidelity Bloom promo code: HELPINGDESI. You can also earn $50 Fidelity referral bonus by referring your link to your friends and family.
Fidelity Bloom is a free financial app and debit card with built-in cash rewards that help youth save more, spend less, and stay free about their finances. The app is currently available on iOS, and the Android app is coming soon.
Take advantage of the Fidelity Bloom 100 bonus special offer for new users. This offer is for both new and existing Fidelity brokerage customers. Open an account via the app and fund it with a minimum $50 and get $100 bonus into your Bloom save account.
You may also be interested in Free Stocks for Signing Up: No Deposit.
There is also $200 Fidelity Bonus, which follows:
$50 bonus for new Bloom app users: Download the Bloom app through this link. Get $50 into your Bloom Save account when you currently open a new Bloom account (iOS only). Valid for both new and existing Fidelity brokerage customers.
$100 when you open any of these 4 accounts: Get $100 when you open any Fidelity Account, Fidelity Cash Management Account, Roth IRA, and Traditional IRA account and deposit $50 or more.
$100 Fidelity Starter Pack: Use promo code FIDELITY100 when opening the Fidelity Starter Pack and Fund your account within 15 days by depositing $50 or more. You'll receive a $100 bonus within 25 days of opening the account.
What is Fidelity Bloom
Fidelity Bloom App is power packed trading tool that helps young adults become more financially and develop better savings habits. 
Fidelity Bloom is a free financial app that helps youngsters to save more, spend less, and feel better about their finances. You can link your external accounts, track balances, and set financial goals with it.
Fidelity Bloom is separate from the main Fidelity app. The immediate difference I see is how visual everything is, making tracking your personal finances fun.
Fidelity Investments Promotions 2023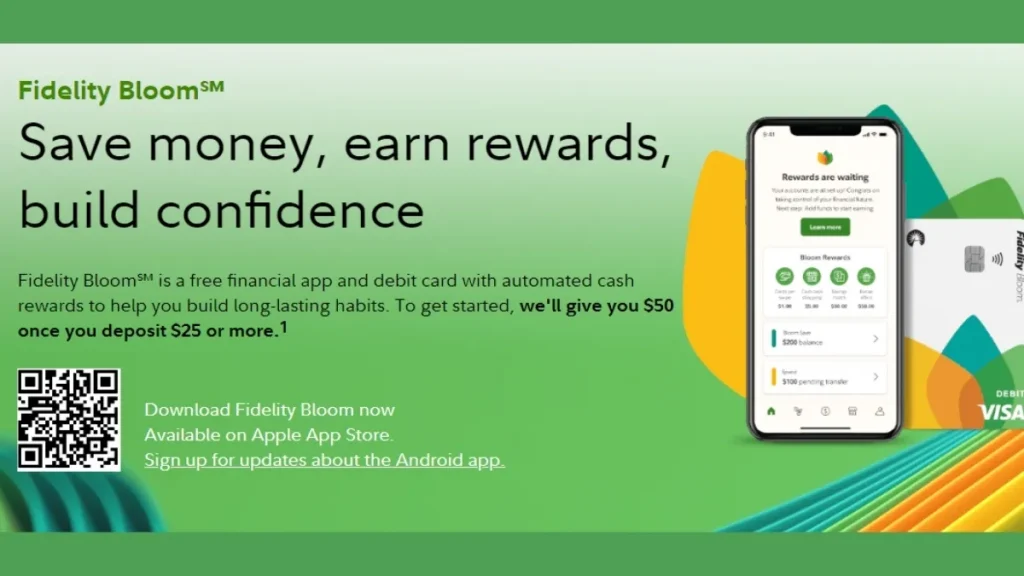 Fidelity Bloom Sign Up Bonus
Fidelity Bloom offers a $100 sign up bonus for new or existing customers; When you open a new Fidelity Bloom account and fund your account a minimum $50 within 15 days of account opening, you'll receive $100 bonus into your account within 25 days.
How to get $100 Bonus:
Visit fidelity.com and download the App (Available for iOS only)
Create your account
Complete the verification process
Fund your account within 15 days by depositing $50 or more.
You'll receive $100 within 25 days of your account being opened.
Offer Summary
Availability: Nationwide
Expiration: N/A
Fidelity Bloom Referral Bonus
With the Fidelity referral program, you can recommend your family or friends to open an account with Fidelity Investments. No cash bonuses, gift cards, or other benefits are available for the referral program. You can refer Fidelity Bloom to someone from this link.
You can refer someone to Webull instead of Fidelity and get rewarded up to 12 free stocks, each valued $7-$3000.
Fidelity Bloom Shopping: Cashback rewards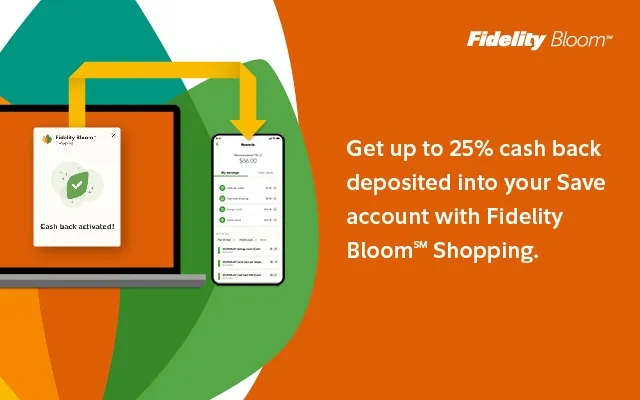 Fidelity offers earn cashback rewards from shopping online from more than 1,100 eligible retailers and earn up to 25% cashback rewards through the Fidelity Bloom app or Fidelity Chrome Extension. This is the best way to earn great rewards on every online shopping with the Fidelity Bloom companion browser extension.
How it works:
Download the Fidelity Bloom app and open your accounts
Download and install the browser extension
Go to your favorite retailer's website. If you see the activation reminder window, they're eligible for cash back! (You can also browse all eligible retailers within the extension)
Click "Activate cashback" in the extension.
All your earned rewards are automatically transferred to your Fidelity loom save account, so you can save while spending. All your rewards are typically transferred to your account within 60 days after your purchase.
Fidelity Youth Account $150 Bonus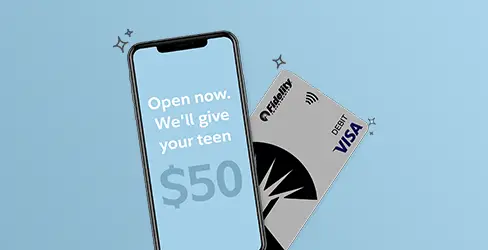 Open a Fidelity Youth Account for your teen, you'll get $100 bonus into your account, and $50 will be deposited to their account. There are no fees or minimum to open a Fidelity Youth account.
Fidelity Youth Account Benefits:
$50 for your teen when you open a Youth Account.
No monthly fees or account minimums.
They can invest in stocks for as little as $1 with fractional shares.
Your teen can learn to save and spend smarter with their debit card without paying ATM fees at domestic ATMs.
Venmo and PayPal are mobile payment apps to link their Youth accounts.
Parents may set up alerts to track their teen's online account activity through statements, trade confirmations, and debit card transactions.
A dedicated Youth Learning Center to help your teen learn the basics of financial management and develop better money habits.
Savers tips: Open a Stash account and get the best investment plan for your retirement saving. Also, there is $50 bonus.
FAQS
What is Fidelity Bloom?
Fidelity Bloom is a free financial app that helps you save money, spend less, and feel better about your finances. By combining behavioral science and built-in features, Bloom helps you grow your savings and change your money habits.
Is Fidelity Bloom available for Android?
There is only an iOS version of Fidelity Bloom available right now.
Is Fidelity Bloom app legit?
Fidelity Bloom is a part of Fidelity Brokerage Services LLC, and It is a US stockbroker founded in 1946. Fidelity is considered safe because it has a long track record and is regulated by top-tier financial authorities. Top-tier authorities like the Securities and Exchange Commission (SEC) and the Financial Industry Regulatory Authority (FINRA) regulate it