Do you want to look at someone's photos and videos without an Instagram account? There are a few ways to check out someone's profile, photos, videos, and even stories if their profile is public.
You can't use Instagram features like actual users without signing up for a profile and providing the login information. It doesn't matter if you're using a smartphone, Chrome, or any particular browser.
Here's how to browse Instagram without having an account yourself.
Viewing Profiles using the Instagram Website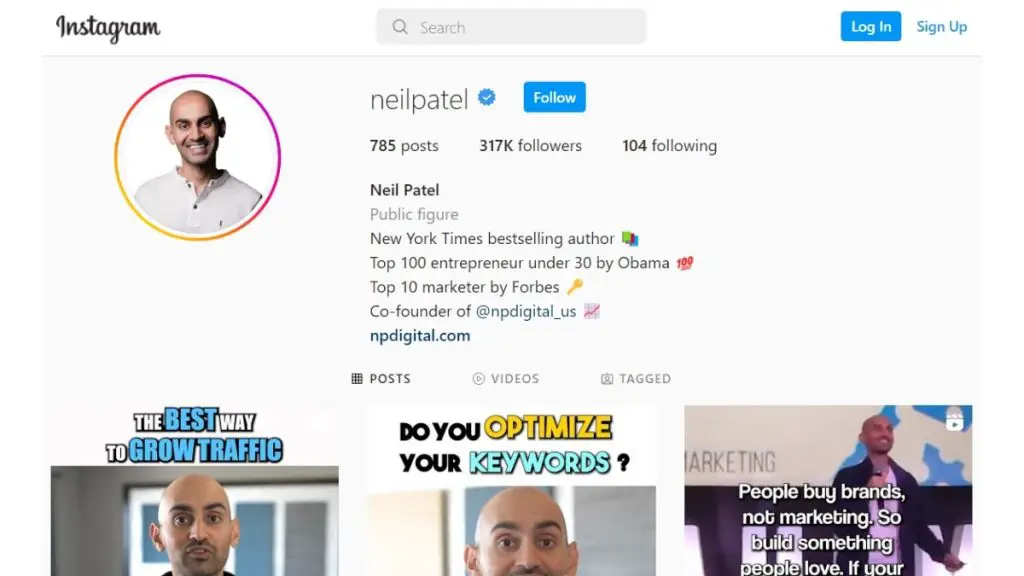 The good news is that you can find specific profiles without having an account if their profile is public. All you have to do is type the exact profile URL or username in the browser.
Here is the example we've tested; type in "https://www.instagram.com/neilpatel" and see the account content feed.
Remember that you will get limited functionality, you can only see photos and reels thumbnails.
Extra tip: Use a preferred web browser on a computer because you can use a mobile app without an account, so you'll need to use a computer or laptop. Also, you can visit QnaAnswered.com for more Instagram tips & guides. 
Read more: Resourceful Ways to Use Instagram Reels for Business
Using a Third-Party Website to View Someone's Instagram Story
Several 3rd party website tools allow you to view Instagram stories.
There are different types of Instagram story websites that you can choose. Some popular like Storiesdown, Stories IG, and InstaStories.online (Best for anonymous story viewer)

Here is the example we have tested Storiesdown: It's completely free and allow you to view Instagram story without an account. Even you can also download the Story if you like too.
Remember that this function is only available if the user has a set public profile. Also, the user's Story won't be visible if nothing is currently on it.
Using Instagram viewers websites to View Someone's Instagram account
There is the plenty of websites to view the Instagram profile without an account by using Instagram viewer sites. With these 3rd party tools, you can browse specific Instagram profiles and even download photos and reel videos.
There are the most user-active Instagram viewers sites that you can choose like Inflact, ImgInn, Dumpor, Anon IG Viewer, and GreatFon.

Here is a short example of ImgInn:
Go to https://imginn.com in your preferred web browser. Open up your preferred web browser on your mobile device or computer and type this into the address bar.
Enter the person's name or @username in the search bar, then click the search icon.
Select the correct profile. You will see a list of profiles similar to the one you typed on the website. Click on the correct one.
Now scroll to the user feed and view all of their posts; with this tool, you can also read comments on posts. 
Even you can download the selected photo and reel videos. Click on the download button, appear inside the post
Remember that this feature is only available if the user has set it to the public account.
Extra tip: If you don't have an Instagram account, you can view Instagram through ImgInn without signing up.
Conclusion
Instagram is a social media platform that allows users to share photos, short videos, and even short-form video content called Stories. With roughly one billion monthly active users, Instagram belongs to the most popular social network worldwide.
Read this useful guide if you want to increase your Instagram follower and make your business power backup with higher followers.