VertoFX is a currency exchange and payment platform that makes sending money abroad easy and affordable. With the VertoFX business account, you can send, receive, and hold payments just like a local. Even you can send money over money abroad in over 140 currencies worldwide.
VertoFX is currently offering a $100 sign up bonus for new users who sign up through this referral link and open a VertoFX business account. Plus, you can earn $100 referral bonus for every business you successfully refer to the platform.
VertoFX does not charge any transaction fee, so any applicable first currency exchange equal to or below the maximum applicable transaction value ($15,000) is, therefore, free when combined with this incentive.
Also, see money transfer promotions for Cash App, Remitly, Instarem, and Wise. See all money transfer service offers here.
About VertoFX Money Transfer
Verto is a b2b currency exchange marketplace focusing on illiquid currencies. VertoFX aim is to help people and businesses worldwide save time and money when making cross-border payments or converting currencies. VertoFX was founded by former bankers Anthony Oduwole and Ola Oyetayo, a team of London-based foreign exchange and financial technology experts in 2017. The UK's Financial Conduct Authority (FCA) authorizes the company as an electronic money institution.
VertoFX $100 Sign Up Bonus Credit
Take advantage of VertoFX's $100 sign-up bonus when you open a business account and make the first $1000 or more transactions. VeroFX will deposit a bonus on your VertoFX e-wallet within 5 working days of the applicable first currency exchange being made.
VertoFX $100 Referral Bonus Credits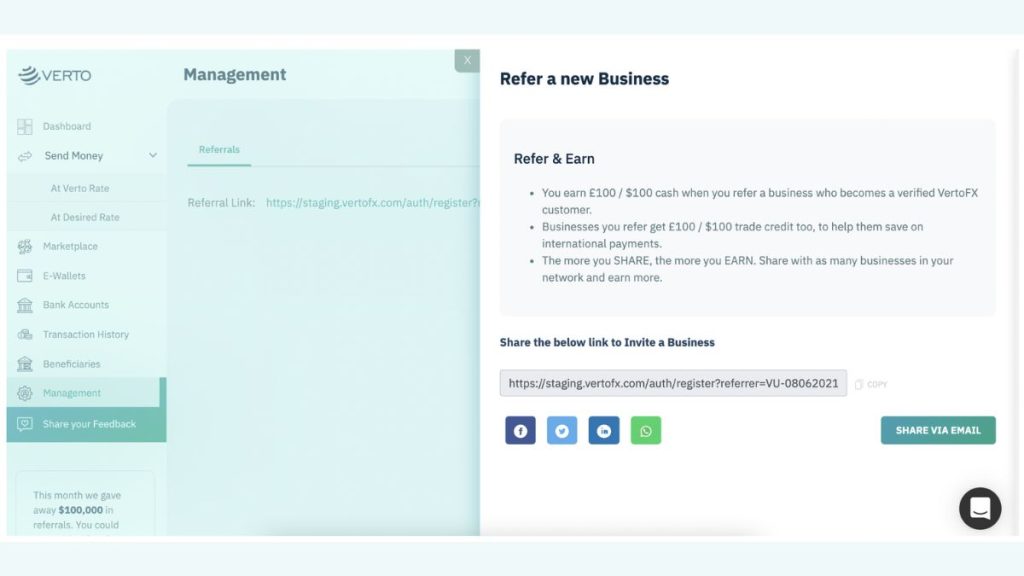 Once you become a Verto member, you can participate in the referral program. Share your referral link you earn $100 cash when you refer a business that becomes a verified VertoFX customer. Also, businesses you refer get $100 bonus credit too. The bonus will be deposited in their VertoFX wallet within 5 days. You can use this bonus on international payments.
There is no limit to referrals. The more you SHARE, the more you EARN. 
Share VertoFX with as many businesses in your network as possible and earn an unlimited cash bonus.
VertoFX Fees
VertoFX does not charge any transaction fees on your international money transfer, and there are no hidden fees. However, other charges, such as debit card payment processing fees and adding funds to your wallet, are led by your bank.
VertoFX is one of the finest money transfer services they stay true to their word with no hidden charges or fees. Overall, the service is cheaper than its competitors, especially if you make large transfers or mass payments.
What currencies does VertoFX support?
VertoFX allows businesses to choose rates from over 40 currencies and send them to more than 200 countries. Some of the popular currencies include:
AUD Australian dollar
CNY Chinese yuan
EUR Euro
KES Kenyan shilling
UGX Ugandan shilling
NZD New Zealand dollar
USD United States dollar
FAQs for VertoFX
What are VertoFX E-Wallets?
The VertoFX E-wallet allows you to hold numerous currencies at any given time. You can use them for trading instantly with other VertoFX customers or transferring funds between your different currency wallets.
Are there any fees for sending money into VertoFX?
Receiving your money via bank transfer is free of charge at VertoFX. An intermediary bank and/or the sending bank will take a fee if any of the accounts you send from/to are held in non-local currencies, for example, a USD account held in the UK.
Is VertoFX support crypto transaction?
VertoFX does not currently allow transfers to cryptocurrency-related accounts.
Conclusion
With VertoFX, users can send money in over 140 currencies worldwide and exchange currencies at better rates than traditional banks. Create your account and get $100 credit bonus and send overseas payment at no extra cost.