First-person shooters (FPS) is one game genre that gives great intense adrenaline rush moments, apart from always checking whether your aiming and firing skills have improved or waned. But with so many titles out, it can leave you at a loss as to what you should try out. Fear not, as we have listed the top ten first-person shooter games that you can play on your PC for free. Here in this gaming tour Top 10 FPS Titles You Can Play for Free Let's take a look!
Top 10 FPS Titles You Can Play for Free
1. Garena Free Fire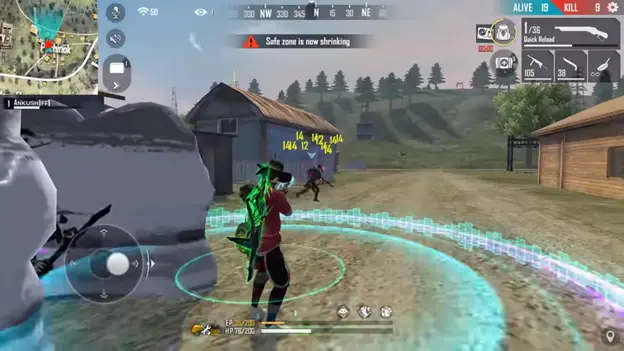 We begin the list by checking out the battle royale genre. Garena Free Fire is one of the recent battle royale titles that have been making waves in the gaming scene. This is due in part to the strong player base the game has, especially in Asia.
The game starts once you and 49 other players jump out of the carrier plane and land on the island. The sooner you step on the island, make sure to scour the surrounding areas for weapons and armor while also looking out for enemies who might be doing the same. Once you have a weapon, do your best to head towards the safe zone and gun down anyone you see. Furthermore, each match lasts roughly around 10 minutes, depending on how good you are and how many people are playing.
2. PUBG Mobile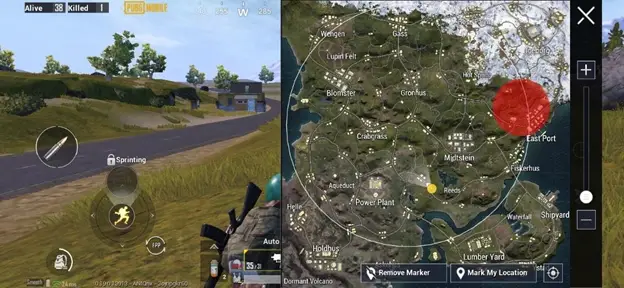 Known as the first game to start the battle royale craze, PUBG Mobile offers intense and nerve-wracking game moments as the remaining players go lesser and the safe zone shrinks. Search the area you land on for some weapons and body armor, and make your way towards the safe zone as fast or as careful as you can!
PUBG Mobile introduced some of the more peculiar weapons in the battle royale genre—the frying pan. It can deflect bullets so long as you can time it perfectly. But in most cases, you shouldn't be looking for bullets to deflect—you have to survive fierce shootouts, pick off the stragglers, and loot after the bullets have stopped flying. This way, you have a better chance of being the sole survivor and getting that sweet chicken dinner.
3. Rules of Survival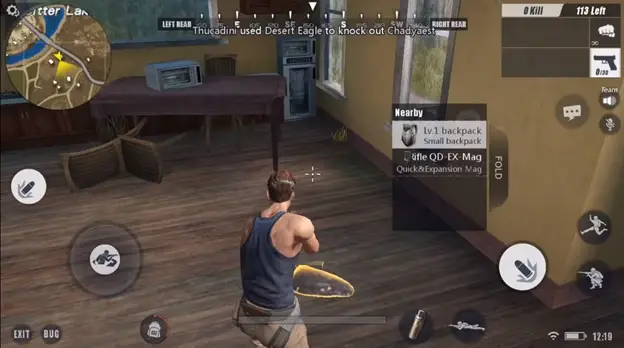 Another popular battle royale FPS, Rules of Survival, ramps up the number of available players to an astonishing 120. This means that each time you play a match, you have tons of targets to eliminate or run away from once all of you have jumped out of the plane and into the map.
Speaking of the map, Rules of Survival boasts an immense map filled with tons of weapons, armor, and vehicles that you can pick up and use to travel around while killing people. However, getting to the safe zone by foot is hard, especially if you have been camping in the outskirts. That is why you need to use the vehicles once the safe zone starts to shrink.
4. Battle Royale: FPS Shooter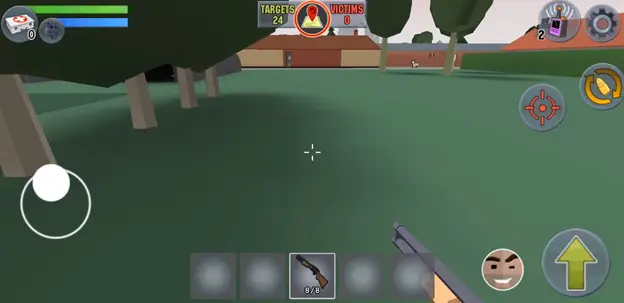 While the game's title might come across as generic, Battle Royale: FPS Shooter packs some charm while delivering the goods as a fun shooter. It sports a more cartoony design and graphics that give the game a unique look.
Moreover, you can customize your character's appearance. You can try to don dark outfits to help you blend better with the background or be decked out in wildly colorful garbs and accessories to signal other players that you are coming to get them. As with other battle royale games, you can also unlock powerful weapons the longer you stay alive in a match. Getting your hands on such firearms will undoubtedly help you become the last person standing, provided that you are good at aiming and firing at enemies.
See Also: Play Top msn games free
5. Call of Duty Mobile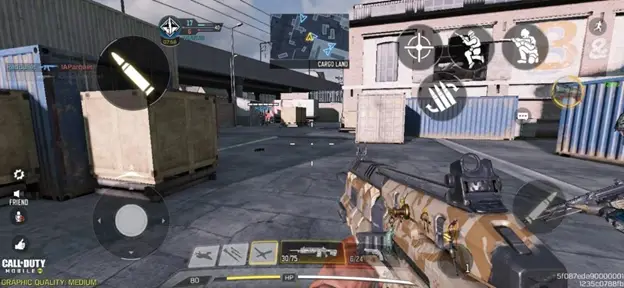 We, then, have Call of Duty Mobile, an excellent shooting game that bridges the battle royale and FPS genres. COD Mobile offers the widely-popular battle royale mode, where you can pick whether you want to go be the sole survivor or team up with some friends or random players to be the last remaining team.
Jumping into team-based gameplay, COD Mobile also lets you play the standard Team Deathmatch mode that sees you squad up with other players to battle the opposing team in fierce shootouts. You will have to test how fast your reflexes are when playing this game since most COD players are excellent at aiming and killing newbies.
6. Modern Strike Online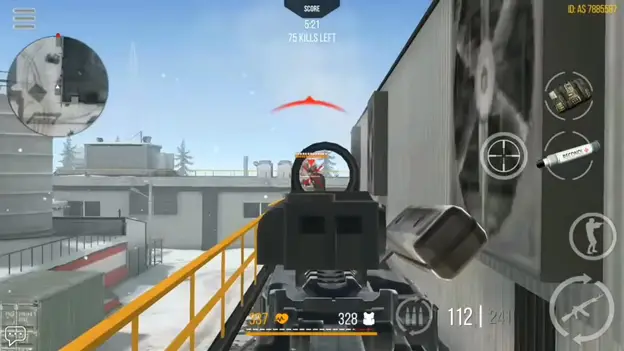 If you are looking for a quick five-on-five first-person shooter with tight controls and awesome guns, you can check out Modern Strike Online. This game calls back to classic FPS titles like Half-Life and Counter Strike, with their maps having the similar objectives that both teams need to accomplish to win the round, aside from gunning down the opposition.
These objectives include one team having to plant a bomb and the other team trying to defend the bomb sites. Or in the event that the bomb has been planted, the defenders have to defuse the bomb while trying to shoot down the remaining players on the enemy team. Furthermore, the game also comes with an excellent assortment of weapons and over fourteen different maps to keep the gameplay fresh and engaging.
7. MaskGun Multiplayer FPS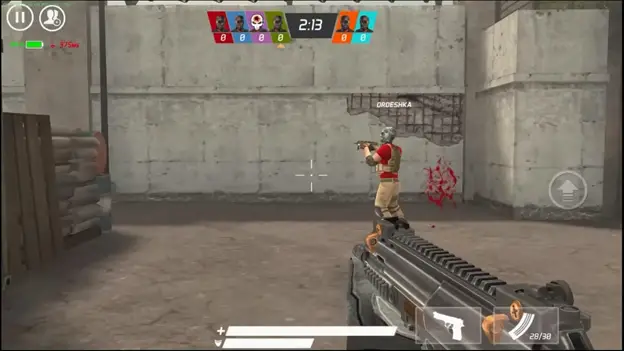 For those who are new to the FPS genre and are still unsure whether they can handle the controls of other popular titles, MaskGun Multiplayer FPS is a good entry game to try out. Created by June Gaming, this title offers the standard 5-on-5 deathmatch option.
The game's mechanics are simple to understand, and the controls are easy to navigate, particularly the aiming. This allows newer players to get accustomed to aiming their weapons at targets and pulling the trigger. Moreover, completing tasks nets you with rewards that you can use to upgrade your gear and unlock cosmetic items to make your character stand out from the rest.
8. Dead Effect & Dead Effect 2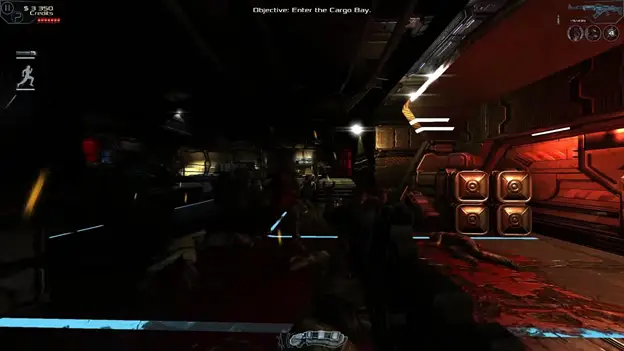 If you are looking for an FPS title that features a meaty story, try playing both Dead Effect and Dead Effect 2. These two titles let you play a special forces officer tasked to investigate what has happened to the ESS Meridian.
Both of the games boast a highly immersive atmosphere, where you will be shooting zombies and various types of undead as you look for a way out and uncover some secrets about your assignment. The graphics and sound design are topnotch, further instilling an air of dread as you traverse the ship for supplies. Dive deeper into the ship and retrieve more powerful weapons to dispatch the hordes of the undead, if you dare!
9. Elite Killer: SWAT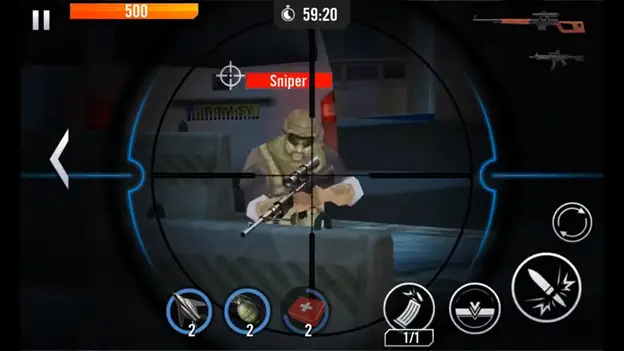 For those who want to play a shooter that plays more realistically, you can check out Elite Killer: SWAT, a single-player shooting title. This game's mechanics lets you utilize cover to move around and avoid being shot at by the enemy. Once you have found a nice place to hide, you can spot enemies and try to take them out with your array of weapons, such as the powerful sniper rifle, a machine gun, and a Gatling gun.
The movement in this game sees you go from the first person to the third person, and when shooting at enemies, it reverts back to the first person. This makes strategy a key component of every mission you play since you will have to take note of where you can duck for cover while also trying to avoid enemy fire and grenades that are constantly being thrown at you.
10. Gun Shot Fire War
Finally, we have the Gun Shot Fire War. This FPS title is another throwback to classic shooters like Counter-Strike. The game sees you control a special forces soldier tasked to take down a ruthless terrorist group that is wreaking havoc across different areas.
Choose which firearm you will use—handguns, submachine guns, automatic rifles—to take out the enemies with deadly precision. If the enemies have pinned you down, you can thin their numbers by chucking grenades at them, then finish them off with a couple of well-aimed shots. Apart from the usual secure point and deathmatch type, Gun Shot Fire War also has a Hostage Situation mode, where you are to rescue hostages from the clutches of the terrorists.
And there you have it, the Top 10 FPS Titles You Can Play for Free on Games.lol for free. Be sure to check out Games.lol for more amazing games that will keep you busy and engaged!