There are many cashback sites like Rakuten, Topcashback, and RebatesMe. which primarily focus on the American community, but none of the cashback sites give cashback from Indian stores. Abound (Ex Times Club) helps Indian families living in the USA by offering free premium memberships and cash back. Also, there is a $50 Abound sign-up Bonus for a limited time, so I suggest You take advantage of this Times Club offer.
Times Club is currently offering up to $50 Signup bonus and up to $50 Referral offer. You need to download the Times Club App (Android & iOS ) with this official Abound link during registration. You will also receive a $5 extra bonus by linking your bank account to track your credit and debit purchases.
The only thing is with the Times Club app is that it needs bank linking, where few users unnecessarily worry, so we have other great cashback called RebatesMe and TopCashback, who have massive cashback. You can signup by clicking on the below button and get a $35 welcome bonus from Rebatesme.
Once you join Topcashback then, you will be eligible for Topcashback Referral Bonus. You will get a referral bonus automatically once you refer Topcashback, But before you need to sign up for TopCashback with the below link.
What is Times Club?
Times Club is a premium cashback app for Indians living in the U.S.A
The Times Club is a group of the Times of India Group, with its home affiliates in India. Joining Times Club is free and does not require membership fees to utilize any of the benefits provided.
Times club has a partner with the top brands like Patel Brothers, Walmart, Remitly, ESPN+, Booking, Gaana, Willow, and much more, frequently used by Indians. They also offer many exclusive rewards and perks for them and their family living in India. 
How to sign-up for Times Club: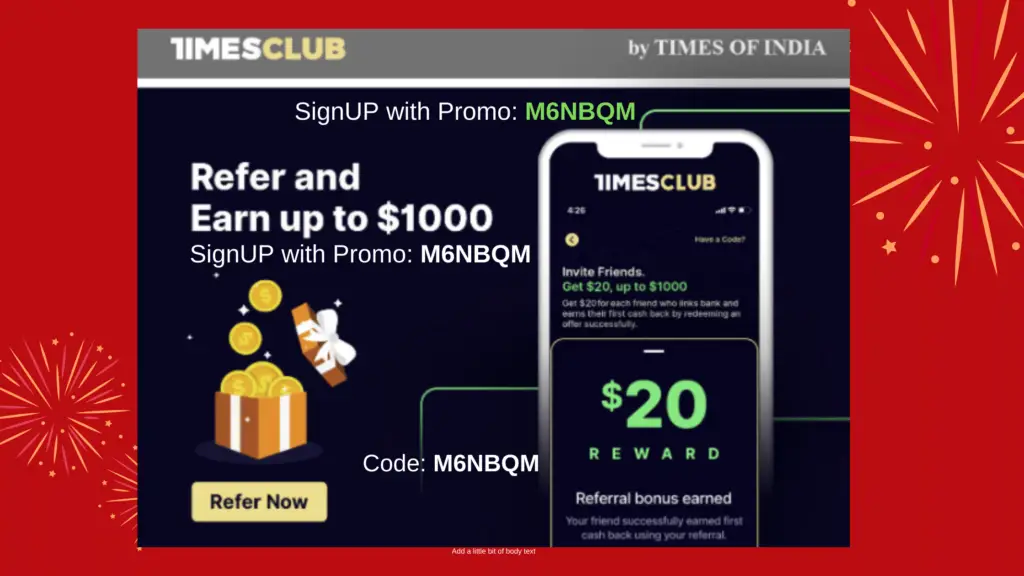 Use code "DWVYNDJI" for a $50 bonus. Please follow the Times club subscription process step by step:
Click the link Times Club Official site.
Use referral code ZECKFE during Sign Up to Get $50.
Once you sign up, add a bank account or card to get an extra $5. You will have $25 in your wallet.
Activate free offers like Willow offer and Gaana plus inside the Timesclub app.
Times Club deposits the cashback directly into the bank accounts of the users. Users do not need to upload any receipts and bills. On sites like Ibotta, users need to add a receipt to get the purchase verified. 
Times club also provides high-quality services in your home country India for top brands and businesses. 
Gifts can be sent anywhere in India by sitting at your home in the U.S. with nominal charges. You can hire a handyman with the help of the Times club offer. Even You can manage or sell your property in India from abroad.
You can give Times Prime to an Indian friend and family.
You can refer to the times club and earn money. Just help 50 more friends and family to save money by TimesClub, and you will be rewarded $ 1,000 ( $50 per referral)
Complete instructions in the Timesclub app to get 6 months free Willow and many other free subscriptions. 
You can Subscribe to Times club by using code "ZECKFE" to get a $50 Signup Bonus and a $5 Bank linking Bonus.
You will receive a $30.29 sign-up bonus automatically once you click the below link and do sign up for Upromise.
Times Club referral offer: 
Times club is giving $50 per referral. You can refer up to 50 people and get up to $2,500 in rewards. Rewards automatically will be added to your Times club account, and you can en-cash any time. 
Below is the email I received from Times Club directly.
After signing up for Times club, you will get your own referral link. You can promote your link to friends, family, and various other social media.
Below is the referral process:
You need to subscribe times club successfully.
You will get below message while sharing information through App:
Your friend must use the link and then add promo code while signup. Please refer image below:
I'm inviting you to join Times Club, the exclusive club for Indians! Use my code ZECKFE to get a $50 bonus and check out hundreds of other premium offers & perks.
https://ddl.timesclub.co/Iiw9/dwvyndji
How does Times Club Work?
Times Club provides exclusive Offers for Indians living in the USA. Times Club is in partnership with top brands like Walmart, Gaana, Willow, Disney Plus, Patel Brothers, E.T. prime, Remitly, and more. Also, get free subscriptions and various cashback points or rewards.
The Club mobile app helps its users to search and locate the specific stores under the Club, such as hotels, clubs, and resorts across India. The club app provides the users easily nav buttons to search for the stuff on a map.
Here is the guide where you get the rewards and cashback from Times club step by step:
The working of Times Club is quite simple and easy. All one has to do is link their credit or debit cards to the account. After which, you can shop at your favorite brands and get a chance to earn various rewards. You can withdraw your rewards and earnings directly into your linked bank accounts.
As soon as you sign up for a Times Club membership, you get instant access to premium subscriptions for Gaana+, Times Prime, Willow, and E.T. Prime for free.
How to get Times Club Offers
Times Club members can log in to their accounts using the credentials of their membership account. The members can instantly look at profiles and easily book their holidays with specific confirmation vouchers.
The Gaana+ subscription allows users to listen to Indian songs without ads and at H.D. quality. The Willow subscription will enable users to watch Live Cricket matches all around the globe.
The Times Prime subscription is for the families of users living in India. It allows access to premium rewards from popular apps such as Uber, Swiggy, OYO, etc. Also, the E.T. Prime membership will enable users to view top news articles with zero ads.
Times Club also provides great cashback offers for the transactions made for the first time in the app. These cashbacks are also available for daily purchases. This is a perfect recommendation for attracting more and more users to the app.
FAQs:
1. How does the Time Club cashback work?
Whenever you purchase something from any of our partner stores or redeem an offer online using our app, you will be eligible to earn cashback. To get cashback on any offer, you must use the credit card associated with the bank that you have linked with Times Club.
2. When will I get Times Club cashback after my purchase?
Within 7 working days of a successful purchase, we'll post the cashback in the 'Pending' state & after 30 days; it's deposited to your Times Club account.
3. When can I withdraw my Times Club cashback?
You will be able to withdraw the cashback to your linked bank account once you have reached a total of $25 in your wallet.
4. How do I activate the Times Prime membership?
Tap the share button and gift the Times Prime Membership to your family in India! You only have 1 free membership to gift.
Is Times Club Available on Play Store?
Now that Times Club is available on Android you can refer your friends and family to join! Not only will they get all the benefits and cashback rewards you enjoy, but you can get those sweet referral bonuses too!
Conclusion:
Times Club is not just a cashback app, but it's an experience for the Indians living in the United States. They offer their members many exclusive rewards, experiences, and a significant number of perks. You can get help on any small or big job, including hiring a handyman. Imagine your old age parents are in India and if you need these services from the USA you had to spend a lot of money, but with Times Club your job is easy and cost-effective. If you have not subscribed to Times Club yet, then do it now and start saving money. 
(Latest Offer updated)