There are so many shopping portals, but Ibotta is one of the best cashback shopping sites. If you're looking for ways to save money on groceries or other purchases, earning cash back through Ibotta is a great place to start.
Ibotta is an app that gives you real cashback on every purchase you make online or In-store through Ibotta. Not only once a month or week, but Ibotta also offers cashback every time you shop for essentials, groceries, and more.
Join Ibotta through our referral link and get $10 bonus when you shop for at least $15 or more. Also, there is $10 referral bonus when you invite someone through your referral link.
You can also make up to $1,000 by inviting your family or friends to Ibotta and earning unlimited money by inviting them to Ibotta. The more your share, the more you earn. Read the complete Ibotta review.
Disclaimer: Ibotta promotions change regularly, so check the Ibotta Bonus page. A Qualifying Offer includes an offer, Any Brand, or Any Receipt offer. Prices, offers, cashback amounts, bonuses, and the referral period may vary and are subject to change without notice. Please check the current offers on the official site.
Ibotta Promotions
Ibotta $10 Sign up bonus
Ibotta rewards new users with a $10 welcome bonus when you download the Ibotta App and redeem your first offer within 14 days of using the app.
How to get Ibotta sign-up bonus:
You must be a brand new Saver to Ibotta.
Download the Ibotta app from this link
Enter your first name or email.
Enter referral code RIWKCGX
Go to your account setting and complete the verification method.
Redeem 1 offer within 14 days to get $10 sign up bonus.
Your bonus will be credited into your earning section.
You'll be able to withdraw your earnings via PayPal or Bank transfer.
Note: You must complete the required offer within the allowed timeframe, or else you'll not qualify for the bonuses.
Ibotta $10 Referral Bonus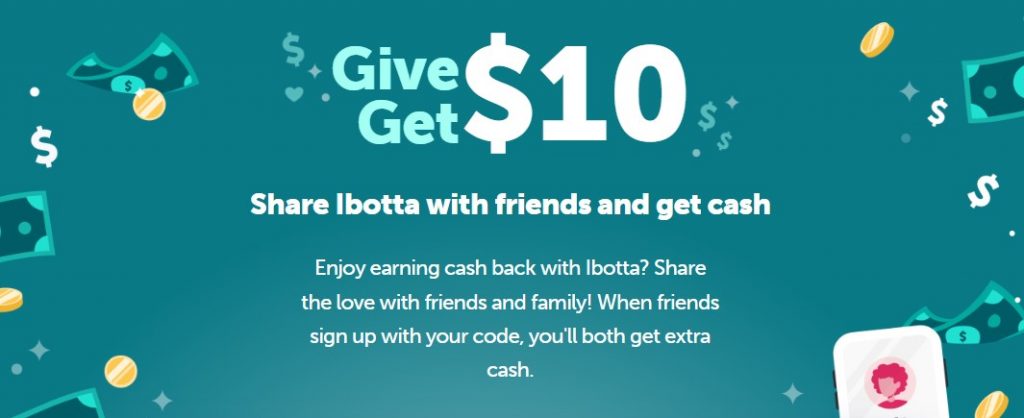 Ibotta Referral bonus is another best way to get extra money for your daily needs. Once you become an Ibotta user, you can share Ibotta with your friends. The more you share, the more you earn. You and your friends both get $10 referral bonus.
How to get an Ibotta referral bonus:
The user must be new to Ibotta.
Users must register with Ibotta on a unique device with your referral link or code.
Users must complete a Qualifying Offer to receive the reward.
You and referred will earn a $10 bonus upon registration and completion of a Qualifying Offer within seven days of registration during the referral period.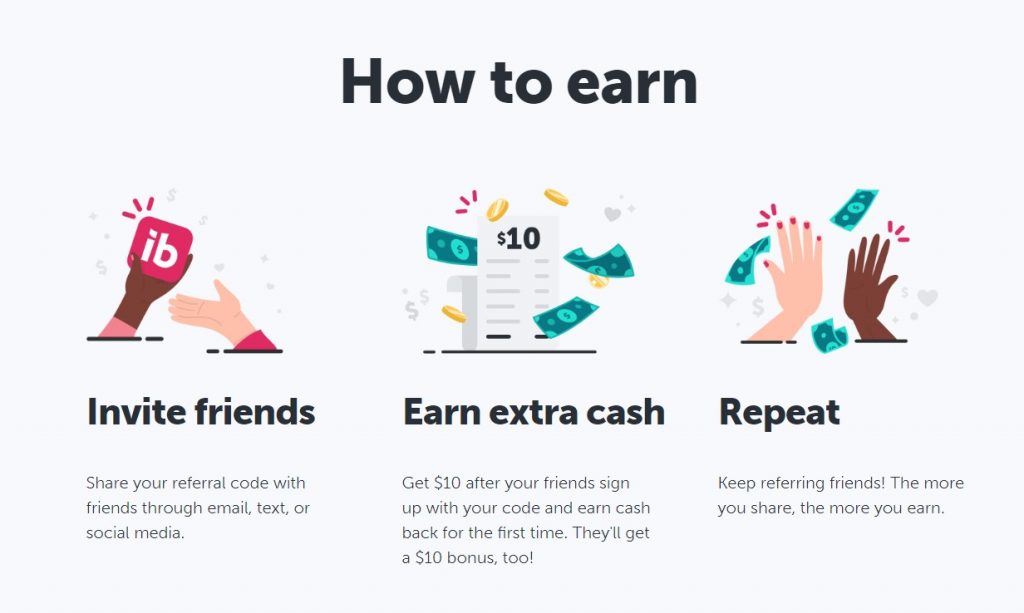 Note: Referred users must complete the requirement within the offer period, otherwise, referred users will not receive the reward.
What is Ibotta?
Ibotta is a free shopping cashback app and browser extension that lets you earn cashback on essentials, groceries, and more. It's free to download and use.
Ibotta has partnered with more than 2,700 retail chains, restaurants, movie theaters, convenience stores, home improvement centers, pet stores, pharmaceuticals and more.
It has paid more than $1.2 billion in cash rewards to more than 40 million users since its founding in 2012.
Join Ibotta today and start earning! Sign up for Ibotta and get your Thanksgiving dinner on the house! Join today for 100% cash back on turkey, stuffing, and more when you shop with Ibotta. Cash back never ends with Ibotta.
How does Ibotta App Work?
Ibotta App works hard to make cashback offers to users like Topscashback, RebatesMe, and TimeClub. With the Ibotta app, you can locate the nearest retailer list, browse offers, and more with compared cashback offers.
Using Ibotta, make your cash save with super easy steps! Follow the below steps before making your first purchase:
Step 1: Download the Ibotta app and complete the registration process.
Step 2: Add offers through Ibotta, then go shopping at the nearest retailer, which you can easily find on Ibotta app.
Step 3: You will see the eligible offers in-store or online, which you can redeem.
Step 4: Make a purchase and get cashback!
How to get cashback with Ibotta?
Install the extension to find cashback offers, compare prices and set price drop alerts, all from one helpful tool.
Steps to Activate Ibotta Extension:
Download the extension: The browser extension will notify you if a retailer has cash back.
Compare Price or Shop: Compare and track prices on thousands of items. Save your hard-earned money and find the best deals from Ibotta!
Activate Cashback extension: Click Activate in the extension window and keep shopping. Check out the offer details for info on any limitations or exclusions.
How Ibotta Extension works:
You can earn cashback on purchases when you visit online retailers through Ibotta, including HomeDepot.com, Ebay.com, Macys.com, Groupon.com, Walmart.com, Booking.com, Kohls.com, and many more.
Is Ibotta legit?
I've been using Ibotta for more than two years, and I save over $3,000 on essentials, groceries and shopping.
Ibotta is a legitimate company and makes money by affiliate commission when a user purchases an item through the Ibotta app. Ibotta has partnered with top-named brands like Safeway, Costco, Walmart, Winco, Target, Albertson, and many more.
Ibotta is 100% safe and legit. According to Ibotta official social page, in 2019, the top user collected more than $13,000! And hence improve that Ibotta is legit. Ibotta doesn't collect your personal information, just your email or phone number is required and start earning money.
Ibotta Frequently Asked Questions
How do I earn cash back with a Ibotta loyalty account?
With the Ibotta loyalty program, you don't need to upload purchase receipts. When you link your loyalty account to Walmart, Target, Winco, Costco, and Safeway, you will get cashback automatically.
How do I submit a receipt for cashback on Ibotta?
To upload a receipt on the Ibotta app, tap on the redeem on the navigation bar and select the retailer option. Take a snap of your receipt and tap submit receipt button to submit the photo of your receipt.
How does the Ibotta app work?
1. Download the app
2. Find offers
3. Click the plus sign next to the offers you plan to redeem
4. Upload your receipt
5. Earn cashback