The Strike is a mobile payment solution like Venmo App or Cash App. The App instantly lets users send money anywhere worldwide over the Bitcoin lightning network. The Strike app offers to buy goods and services online and offline and make micropayments. In addition, it allows the ability to send and receive Bitcoin, not just fiat currencies.
Strike welcomes it's a new customer with a $10 sign up cash bonus when you create an account with this referral link and use the Strike referral code HELPINGDESI. Also, you can make an extra bonus by inviting your close ones and get a $10 unlimited bonus. Continue reading to learn how to get a $10 Strike bonus.
About Strike App
Strike app is a mobile global payment solution run on the Bitcoin Lightning network. Strike Application was launched in 2020 and developed by Zap Solution Inc, a Chicago-based fintech company founded by Jack Mallers.
Strike offers to send and receive money from all over the world and buy, sell and send Bitcoin instantly. Strike is free and does not charge fees for sending and receiving money globally. It is an alternative cryptocurrency wallet.
To start using Strike, you need to download the App, which is easily available in the Android and iOS stores, and if you're a desktop user, you can easily access it via a Strike browser extension.
Strike App stands for unique payment transaction to regular payment chain because it uses the Bitcoin Blockchain network to transact fast and cheap compared to other exchanges like Gemini and ByBit.
Strike App Promotion: $10 Sign Up Bonus
When you sign up for Strike via the referral link and download the App, you will get a free $10 bonus just for signing up!
How to sign up for Strike:
Download the Strike on your device via this referral link.
Enter your Email and password.
Put the Referral code "HELPINGDESI" to get $10 Bonus.
Complete verification method.
Link your payment method.
Deposit the first payment on your account to receive a bonus.
Strike Referral Code: Give $10 and Get $10 Bonus
If you have any friends who would be interested in this App, then refer them through your referral link and they will receive an extra $10 as well as yourself when they make their first transaction with Strike.
How to get Strike Referral code:
Login to your strike app.
Your referral code or link is available in the Account Dashboard.
Copy and send it to your friend.
Strike App Features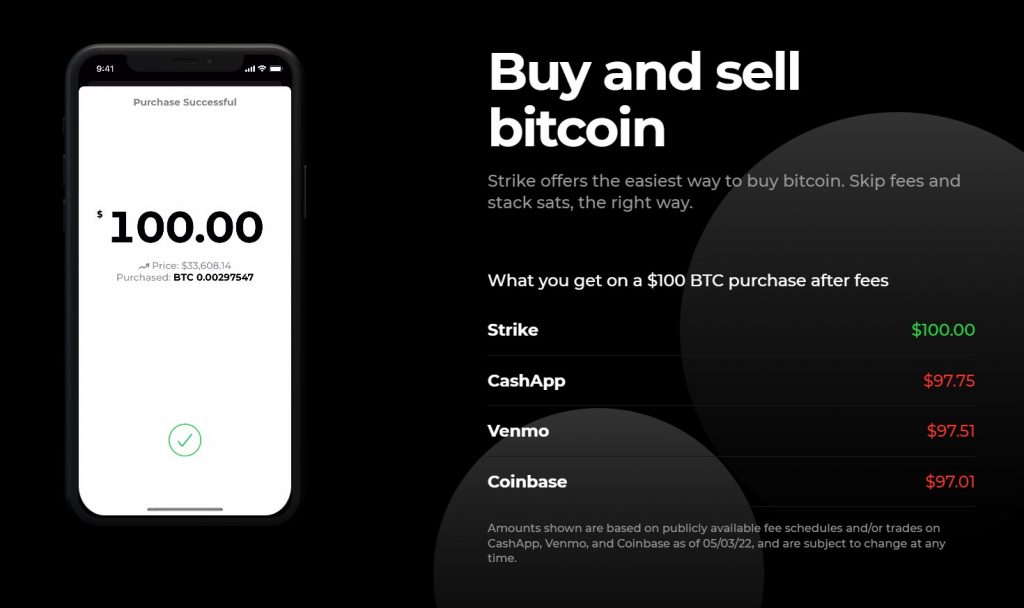 Strike App is a platform that allows quick, fee-free, peer-to-peer money transactions on a global level. Here are the main features that Strike provides for its users:
You can use Strike App for:
Sending money across borders in seconds with no fees.
Make purchases at thousands of merchants accepting Bitcoin worldwide such as Amazon or Starbucks Coffee Company – without having to worry about sending your funds out of your own currency first! 
Receiving payments from family members in another country without needing to set up an international bank account or pay high exchange rates and fees.
Users can create a request in Strike and then send funds from their third-party wallets. After completing the process, they will have more fiat in Strike and less bitcoin in their wallet.
Strike uses industry-leading security measures to protect users and their accounts.
Strike App Fees
Strike App fees are very low. That's because the App uses a peer-to-peer network, not a central bank or intermediaries that take its cut. This makes transactions almost instantly and without any fees.
In addition to this, Strike App also uses the Lightning Network: a decentralized network built on top of Bitcoin itself that can make micropayments possible with extremely low fees.
Strike App also uses Atomic Swaps: an atomic cross-chain trading protocol that allows users to trade different coins directly with each other without having to go through an exchange or an escrow service (which would charge high fees for such services).
Is Strike App is legit?
Since Strike operates through the Bitcoin Lightning Network, its cost to achieve finality is essentially zero. Furthermore, Strike uses a decentralized network (Bitcoin) to achieve physical and provable finality, whereas all other payment companies rely on centralization (banks).
Strike is legit and follows all of the same security standards found at the most trusted crypto exchanges in the world. For example, users hast to complete the KYC verification process, and user can enable two-factor authentication for an extra layer of security to their strike account.
Conclusion
The Strike App is a great app to use for everyday transactions. It has many features that make using it as easy as possible, from quick payments to security features like fingerprint scanning and two-factor authentication. It also allows you to send money internationally without any fees!