Kraken is a popular cryptocurrency exchange like Coinbase in the U.S market. Kraken is one of the oldest exchanges and allows you to buy, sell, and trade on over 100 digital assets with low exchange fees. Kraken is an excellent option for new crypto investors and traders looking for low trading fees.
However, there is good news for new investors, join Kraken and get up to 23% of your asset holding through staking. (Sorry, there is no sign-up bonus), buy you may get a $10 referral bonus if you invite someone to join Kraken via your unique link; you may get a $10 instant referral bonus. Continue to learn about Kraken Promotion and bonuses.
About Kraken
Kraken is a popular cryptocurrency exchange based in the united states and allows users to buy, sell and trade over 100 plus digital assets.
Kraken was founded in 2011 in San Fransisco operating in Canada, the EU, Japan, and the US. Kraken is a major Bitcoin exchange that typically sits in the top 5 biggest exchanges by volume. The platform supports fiat deposits from US dollars to Japanese Yen and other major currencies.
Kraken is specially designed for beginners and professional traders or investors to stake their crypto and earn interest rewards. Kraken is likely to be able to handle your cryptocurrency needs due to its combination of platforms and services.
Learn What is a cryptocurrency for Beginners Guide

Kraken Promotion
Kraken promotion currently offers $10 referral bonus for new users and 23% rewards on your cash and crypto stake holdings for existing users.
Kraken referral bonus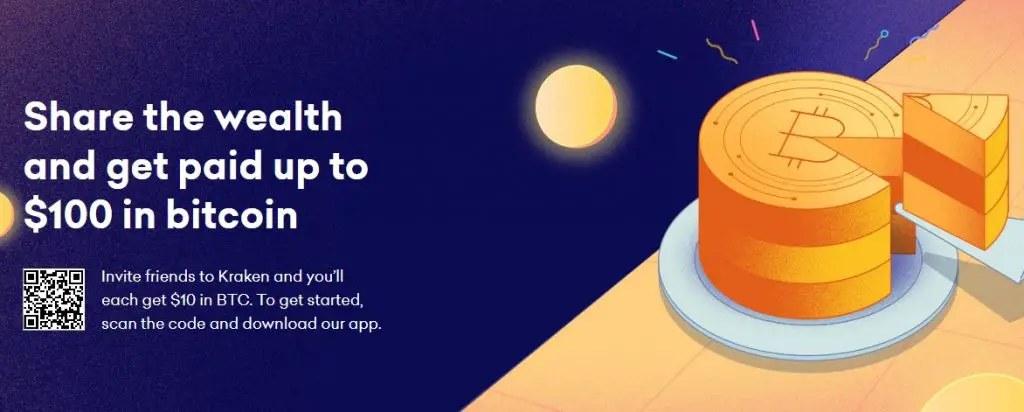 If you are an existing Kraken user, you can earn referral rewards by inviting friends to join Kraken through your referral link. Get your referral link from you home screen and send it to your friend that has not signed up for an account yet. You can earn referral rewards by signing up through a referral link, completing the verification process, and buying or selling $100 (USD equivalent) in crypto within the first 30 days of sign up.
Here is how you can refer Kraken to your friends from Kraken App:
Open Kraken App.
On the home screen of your Kraken app, click the Get started button. 
On the next screen, click Share invite link.
The Share link button will allow you to share your referral link across any social or messaging platform. Alternatively, you can find this in settings within the Invite a friend banner.
How to claim a referral reward?
Once you get the referral link from the source, follow the below steps to get $10 bonus:
Open the referral link via web browser.
Download the Kraken app.
 Select Create Account button and complete the process.
Complete the KYC verification steps.
Add your payment details and buy a minimum $100 of crypto.
You and the friend who referred you will receive your $10 bonus payouts within a week.

Who is eligible for Kraken $10 bonus?
Kraken referral promotion is available in four countries if you live in one of the following locations:
US (except Washington and New York State)
Canada 
The United Kingdom and the EU
Australia
Note: The promotion is only available for new users that sign up for Kraken via a referral link. However, if you forget to sign up through the referral link, you will not be eligible to earn this reward.
Join Kraken Affiliate Program
Not only referral program, but you may also earn more. If you're a business or non-business, you're eligible to become a Kraken affiliate partner.
Kraken offers a 20% payout of the trading fee collected from the clients you refer to join Kraken. With this program, you can earn up to $1,000 USD payout per referral. Learn more on the Kraken Affiliate program.
Kraken Affiliate eligibility and requirements:
If you are a blogger, your site sites, such as news publications with finance or crypto sections, are acceptable.
Influencers must have a minimum of 5,000 followers or subscribers (non-finance or crypto-related social media accounts are allowed).
Websites and apps must be related to finance or crypto (there is no requirement for traffic volume).
Finance or crypto-related Facebook groups or pages must have 5,000 followers acceptable.
Read More on: