As the name suggests, Vacuum cleaners are used to pull/clean dust and debris by creating suction. These days it has become a handy tool in every household. Therefore, purchasing the right vacuum cleaners like Dyson, Shark Rocket, HEPA Vacuum, and more to serve the purpose is very important.
Choosing the right vacuum cleaner becomes an essential task for those who hate house-cleaning. Some of the latest models may be better suited to certain tasks than those of others, and selecting the right one will save you the hassle of having to clean the same section of carpet multiple times.
There are many types of vacuum cleaners available in the market, but not just any vacuum may be suited for your situation. The factor which influences the purchasing decision is most likely to be; the size of your home and the type of flooring you have. If you are allergic or have pets that shed, you definitely will look for the powerful Upright or Barrel vacuum. Decisions about the type of model you choose mostly come down to personal preference.
There are different types of vacuum cleaners prevailing in the market like upright vacuums, canister vacuums, lightweight cordless vacuums, handheld dust-busters and robotic vacuums. Choosing the right vacuum lies upon various factors like usability, budget, motor power, various attachments for different purposes and other key features. It also depends upon number of other factors, the most important being the size, floor plan, floor material and inhabitants of your abode.
Bag or Bagless: The other thing to be considered is whether it's bag-less or uses a dust bag. Now the thing which comes to mind is what the difference between these two is. So, as the name suggests, a bagged vacuum cleaner works in the traditional way of using a replaceable bag as a filter to trap the dirt while allowing airflow through the bag. Bags must be replaced when they are full.
On the other hand, a Bagless vacuum cleaner uses filters to trap dirt and debris in a dirt cup or chamber that can be emptied later after multiple uses. Which one to choose is a matter of personal preference, but if family members have allergies or asthma, or if you're concerned about the quality of your in-house air, a vacuum with a dust bag is generally a better choice.
HEPA Vacuum Filter
HEPA is the short form for "High-Efficiency Particulate Air". It is a set standard for a filter that requires to filter out 99.97% of dust or debris particles which could be 0.3 microns or larger. As it says, a standard vacuum microfilter can remove around 96% of the dust particles. Vacuums with HEPA vacuum filter technology filters usually cost more than normal filter vacuums. The only drawback is the filter will need to be replaced frequently or, at least, properly washed every 12 months. It should also be noted that there would be a need for a
more powerful motor to generate the desired amount of suction if a denser and more comprehensive filter is needed.
The HEPA filter is generally recommended for those persons with asthma or low allergen tolerance, as it can filter out triggering particles like pollen and microbe dust particles.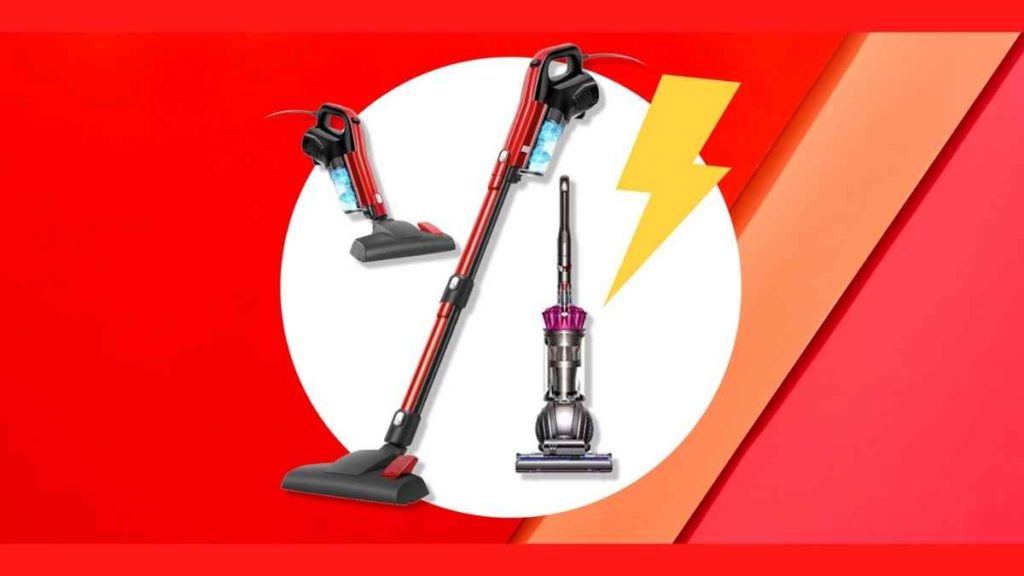 While going for the right vacuum cleaner for your purchase, few things should be kept in mind. Below I will briefly discuss some of the key features of Top 10 Vacuum Cleaners taking into account its motor power or the suction power, maneuverability, attachments or accessories to facilitate cleaning, and the quality of filter (or HEPA filter).
Dyson V11 Torque Drive Cordless Vacuum Cleaner
Dyson V11 vacuum cleaner is not just lightweight but also fast as it takes just 6 hours to charge completely.  There is an advanced motor, a large powerful battery, and a host of other technology to deliver long run times and also an excellent suction. You will experience a light and easy-to-move vacuum that is not tethered by a power cord. There is simply no other machine in the market that will deliver the same level of performance, durability, and user-friendliness as Dyson. The V11 model's motor helps in delivering 40% more suction power than the Dyson V8 cord-free. LCD screen over the machine displays real-time machine run-time countdown and machine performance.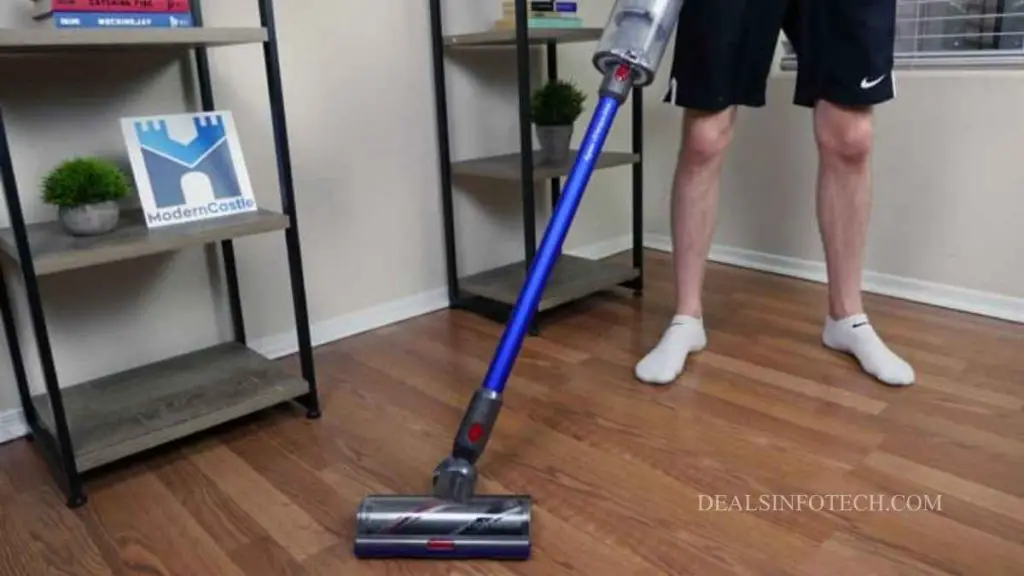 Other Key Features:
The powerful suction is twice as compared to any cordless model of this range.
The machine filtration technique captures 99.97% of microscopic dust particles as small as 0.3 microns.
14 cyclones generate forces of more than 79000g to fling microscopic particles into the bin.
The high Torque cleaner head is meant to intelligently adapt to the different floor types in Auto mode.
Decent size dust canister and a fairly quiet operation.
The mini motorized tool is useful for stairs and the brush roll can be removed for cleaning.
Dyson V11 does a good cleaning job (even on pet hair) and that the suction is reasonably powerful. Emptying the bin is straightforward, maintenance is simple (for example the filter is washable, and the brush roll can be removed for cleaning). Trusting Dyson is nowhere difficult looking at its power and capability. Amazon.com is providing it at reasonable rates with some extra benefits for its Prime users. See the link below for more details:
BLACK+DECKER Dustbuster Cordless Vacuum, 16V (CHV1410L)
This is one of the best-rated handheld vacuum cleaners. Its lightweight design makes this model a user-friendly and easy-to-use machine. It comes with a narrow nozzle and optional brush attachment which makes its users comfortable to reach those inaccessible spaces like crevice between the counter and small hidden areas.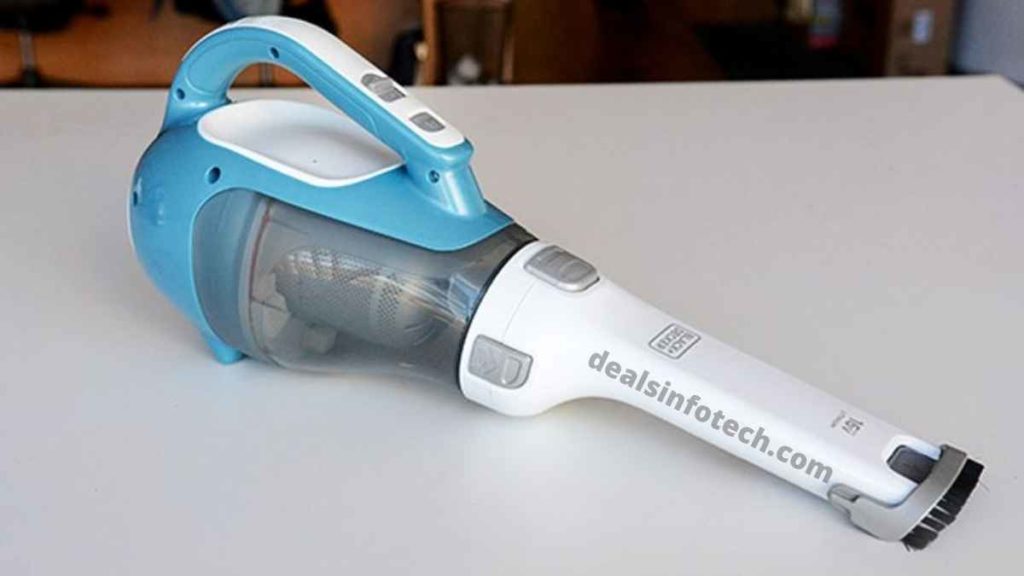 Other key features:
Suction Power 15.2 AW; Dustbowl Capacity: 20.6 ounces makes it a powerful competitor amongst handheld vacuum cleaners.
Long battery life which can hold a charge for an impressive 18 months.
Bag-less translucent canister, making it easy to see and empty when full.
The machine is capable of Smart Charge Technology which uses up to 50 percent less energy. Air Watts is 15.2 Watts, and Voltage uses 16V MAX.
Another included accessory is the rotating slim nozzle for the purpose of a variety of applications.
Buying option is available on Amazon.com with a competitive price and some extra benefits for Amazon Prime Customers. The product can be purchased from here: 
Shark Rocket Ultra-Light Corded Bagless Vacuum Cleaner
Shark Rocket vacuum is one of the best lightweight cleaners. This is an Amazon choice product which weighs around only 8 pounds, which makes it very easy and comfortable to use at all events. Its powerful motor is capable of sucking that stubborn debris and dust from every corner of the room. While some vacuums tend to work well on one type of flooring, this corded model can handle both hardwood floors and carpet equally. This has a micro tool kit and a car detailing kit so you can clean deep into crevices and seats. This model also has an option to convert to a hand vacuum, so it's really two vacuums in one. 
Other key features:
Ultra-lightweight with less than 8 pounds which makes it a user-friendly machine, comfortable, and easy to use at any time.
It can easily convert into a handheld vacuum cleaner for floor-to-ceiling cleaning.
Bag-less technology is used considering into account the hassle-free long hours of home cleaning.
Easy controls to switch from hard floor to carpet.
Swivel Steering outstanding control for maneuvering all around the furniture and hard-to-reach areas.
If you are looking for something which can make the best value for money deal, then this can prove to be the right choice. You can simply find it over Amazon in one click on the link provided below:
BISSELL Clean view Swivel Pet Upright Bagless Vacuum Cleaner
Bissell 9595A Vacuum is amongst the pioneer in the vacuum cleaner industry. There is perhaps no better vacuum cleaner out there than this, a device that meets all the high standards a modern vacuum cleaner should meet. This is because it being a lightweight, easy to use, and powerful motor that is capable enough to remove dust and debris from even the most difficult areas. The technology used is called a cyclonic system which makes this cleaner long-lasting and powerful. It comes with a tool called Turbo Brush which is good for stairs, furniture, and upholstery cleaning.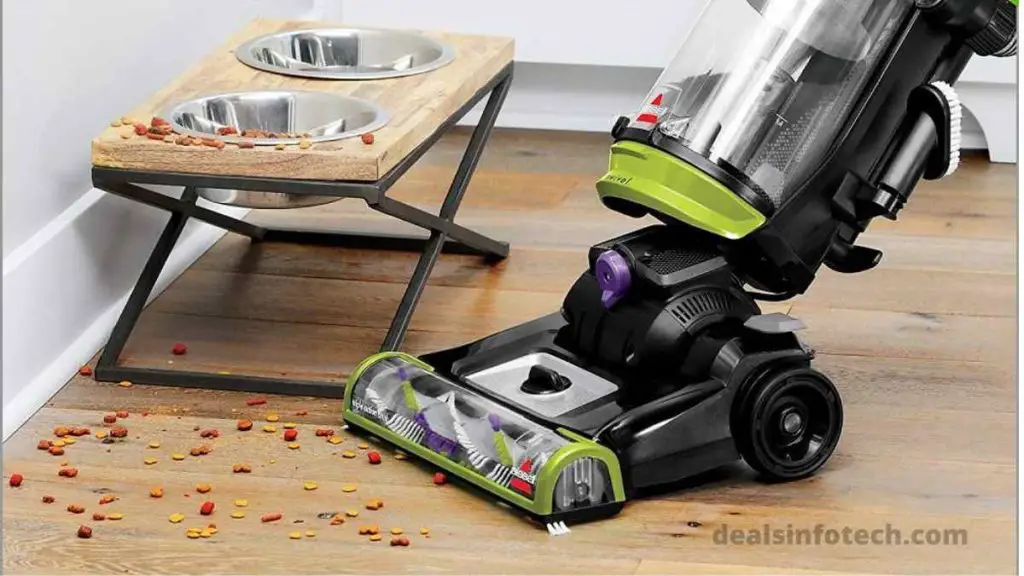 Other Key Features:
Bag-less filter so that it can be used for long hours without the worry of emptying trash bag repeatedly.
Easy and rapid cleaning as it's light weight yet it has powerful suction and innovative brush design that cleans more than initial pass.
Turbo-brush tool for different areas like stairs, furniture, upholstery and more.
Innovative rotating brush design for deep cleaning of the carpet.  
The Bissell Clean-view uses an innovative brush design which can rotate down into the carpet so as to clean much more on a single pass than the other standard vacuum cleaners. You can purchase it from Amazon using the link below:
Shark Navigator Upright Vacuum
Another Shark branded vacuum succeeded to come on top 10 list is; Shark Navigator Upright Vacuum. It has powerful suction and is lightweight which makes it easy to move around anywhere. As the name suggests, it is an upright type vacuum which is liked by most households. Its powerful suction works excellent on both carpet and hard floor. Never the least, it also comes up with HEPA filter and anti-allergy seal which is meant to trap even the smallest of dust particles and leaving fresh dust-free air after use.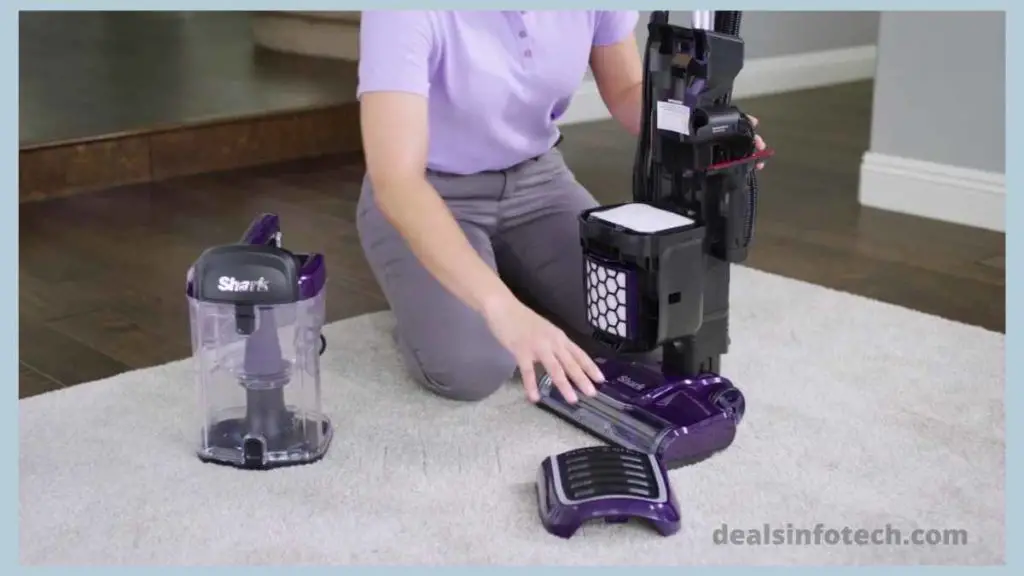 Other key features:
Weighs around 12.5lbs, which still is light weight and easy to use.
Powerful motor, Anti-allergen complete seal technology and HEPA filter are excellent to trap 99% of dust and allergens inside the vacuum.
Also, wide pet upholstery tool is included with the product.
The swivel steering gives excellent control for manoeuvring around furniture and makes it easy to reach all those hard areas.
This cleaner is the most likeable one amongst the users because of its modern technology and easy functioning. You can find it over Amazon using the link below:
Hoover Impulse Cordless Vacuum 
Hoover is another master in its field known for delivering the best to its customers. This Impulse Cordless Vacuum brought up by Hoover is of traditional stick vacuum design popular amongst many. The stick designed vacuums are typically light, easy to use, and very versatile. The Hoover Impulse BH53020 is no exception as it is lightweight, has powerful suction, and can be used in 2 different ways, i.e. as a stick and as a handheld vacuum. It is basically designed for light cleaning and not for heavy-duty work.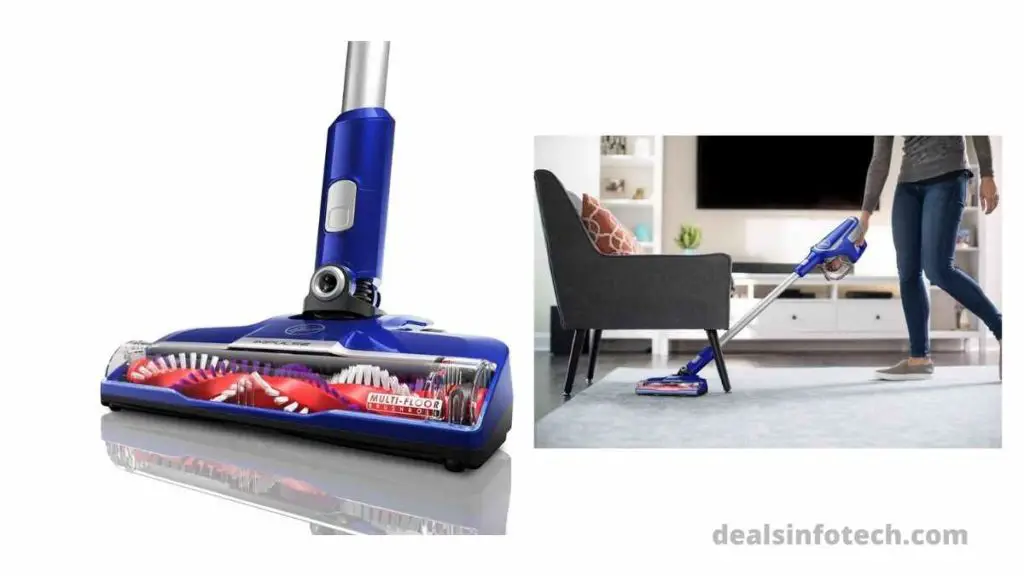 Other Key Features:
It has two power modes, three tools, and easily accessible controls.
It has great suction, long run time, and is lightweight. The cordless design makes it favorite for doing stairs and quick pickups.
Versatile 2 in 1 machines can be used as a stick as well as a handheld vacuum.
Multi-floor cleaning system.
The dirt cup can be emptied easily with just a push of a button.
-Cordless, therefore, gives convenience while tackling messes on multiple spaces.
The Hoover Impulse cordless stick vacuum is lightweight and a 2-in-1 machine. It is a known stick vacuum that has got the cleaner head and wand, and when the cleaner head is removed, it becomes handheld vacuum. You can find it easily over Amazon using the link below:
Miele Electro+ Canister Vacuum
Miele's Electro + Canister Vacuum is an extraordinarily lightweight cleaner with the suction power of 1200–watt, German-made, vortex motor making it a perfect model of power and light maneuverability. In addition, it's an exceptionally silent machine. The main features include; 90-degree swiveling brush attachment for wand-cleaning, 20-year average life span, sealed HEPA filter system for allergy and asthma sufferers, and many more.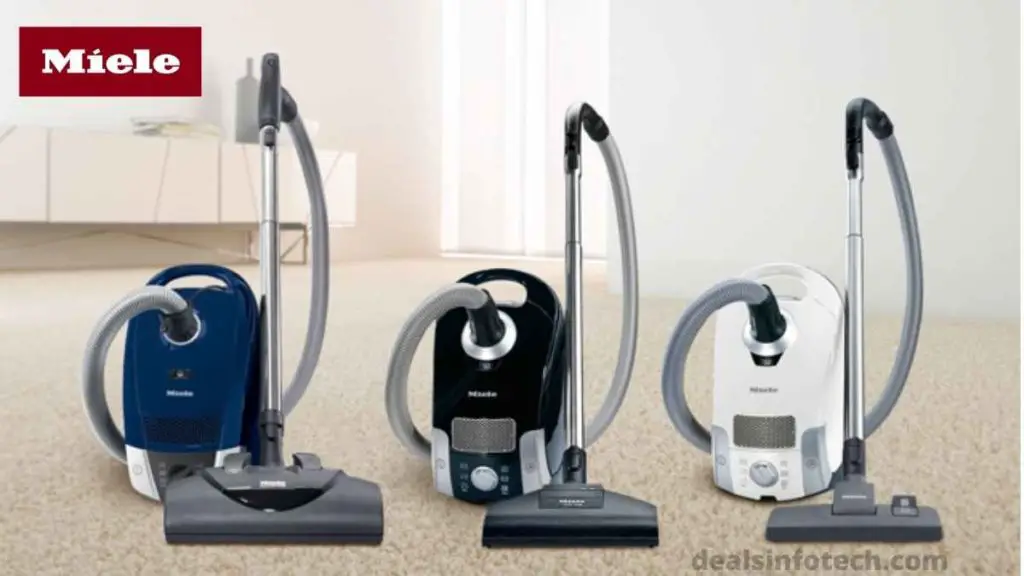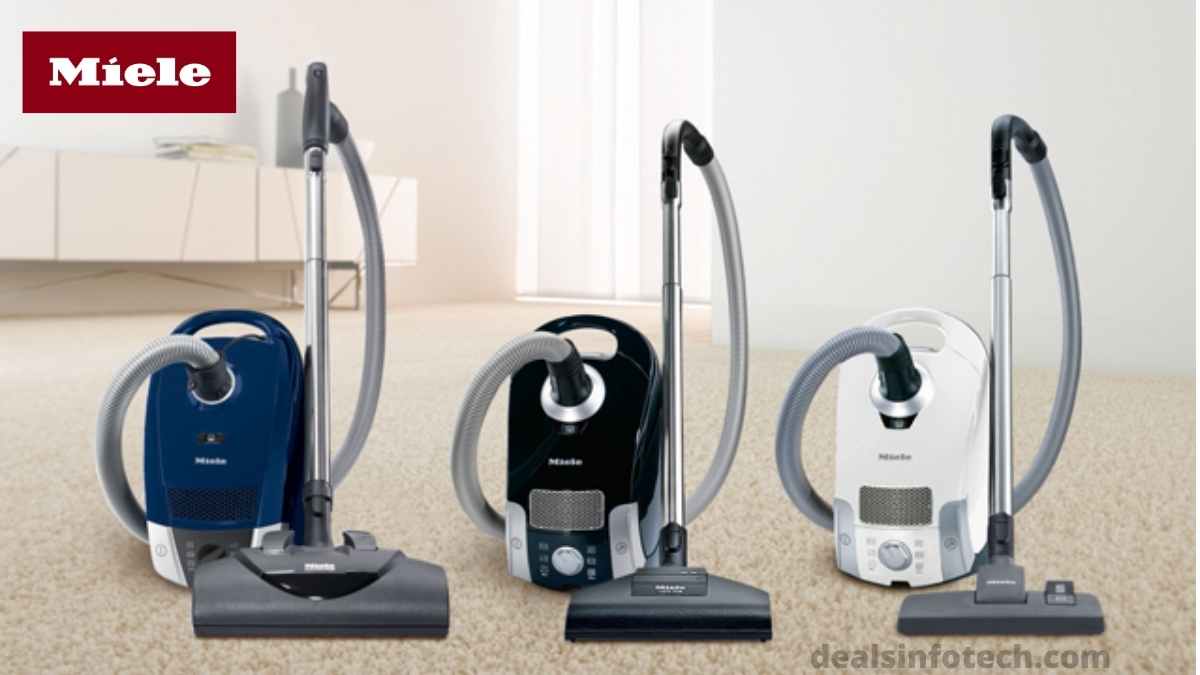 Other key features:
6 stage of variable speed vortex silent motor.
Large filter bag of 3.5-liter volume capacity, HEPA system filter for anti-allergen.
Air clean sealed system to give dust and allergy-free air after cleaning.
Sbb parquet-3 hard floor nozzle, telescopic suction wand, and an electro telescopic tube provided with the product.
Great on the carpet with its electro brush for deep cleaning. It takes care of the hard floor with its soft parquet brush. 
The maximum suction power is 1200-watt, which gives excellent cleaning and picks debris from all those hard-to-reach areas.
Miele's Electro + Canister Vacuum is a great choice for those who have asthma or any kind of allergy issues with its HEPA system, and air cleaned system. Its powerful motor performance is good enough to trap all the dust and debris from carpet and hard floor. Considering its features, buying this product will be a great choice. Check it out on Amazon from here:
Black and Decker Power Series Pro Vacuum
This Black + Decker Power Series Pro Vacuum is a lightweight vacuum with powerful lithium – ION battery and has a portable canister feature. This machine must be considered if you want cordless comfort and you have a smaller home with lots of hard floors. This is basically a 2-in-1 vacuum that can operate in upright mode and handheld mode. The portable canister can easily be detached from the vacuum and that it is also very convenient to use.  Reconnecting the canister to the vacuum is also very simple.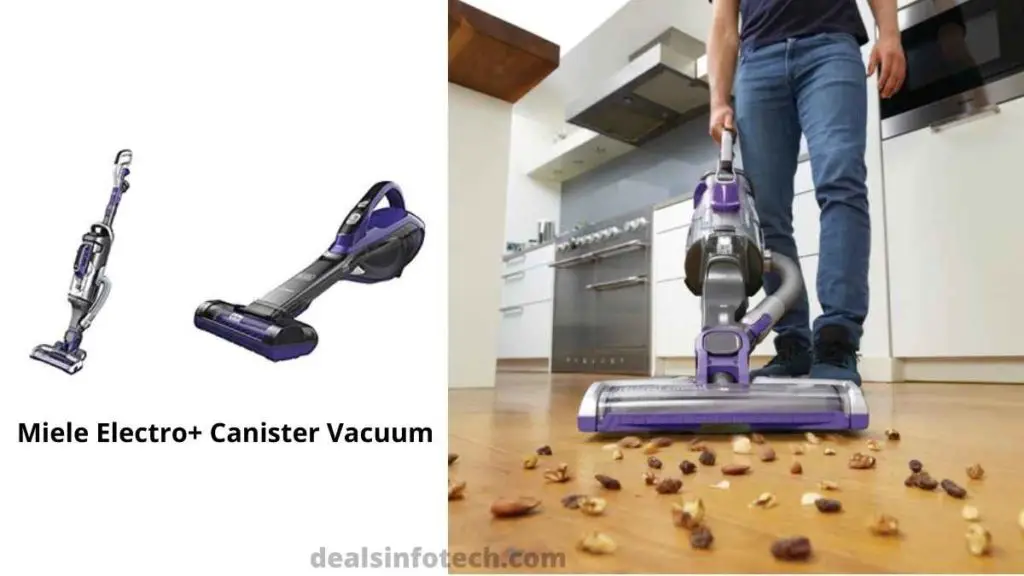 Other Key Features:
Long-lasting Lithium ION battery
Portable 1 liter dust canister making it easier to use
50 Air watts suction at the maximum setting
3 in 1 accessory tool included with the unit
Versatile 2in1 vacuum for floor-to-ceiling cleaning
SMARTECH features make cleaning easier: AUTOSENSE adjusts suction from bare floor to thick carpet; BATTERSENSE shows remaining battery; FILTERSENSE alerts to clean the filter.
The Black and Decker Power Series Pro Vacuum is lightweight, easy to use and assemble, good on hard floor and maneuver well. Its anti-tangle rubber bristle is good enough to lift hair trapped deep into the carpet and on hard floor. Thus if you are looking for a vacuum which can be effective and maneuver well and at the same time, is versatile (2 in 1) , then this is the right choice. You can check it out over Amazon using the link given below:
Eureka NEU182A Power Speed Lightweight Bagless Upright Vacuum Cleaner
The Eureka NEU182A Power Speed Upright Vacuum Cleaner is a lightweight (10lbs) vacuum cleaner with a powerful motor capable enough to suck even the most stubborn debris. Its modern bagless technology eliminates the use of the traditional way of dirtbag replacement.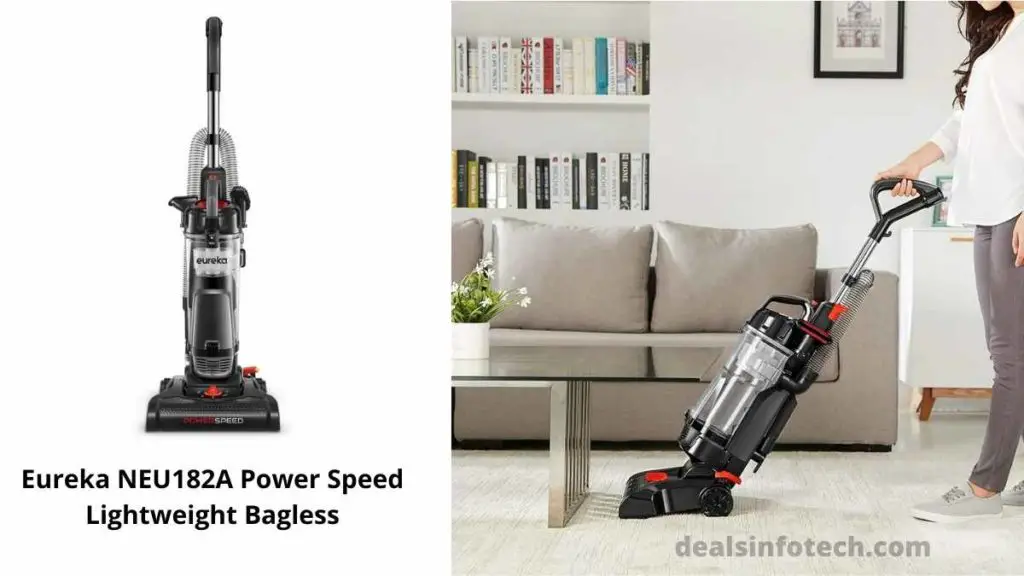 Other features:
5 height adjustment points given, which makes it easy and comfortable to use.
A lightweight vacuum cleaner that is specially designed for complete home cleaning and easy maneuver.
The powerful motor works well on carpets, shag-rug, and hard floors, etc.
The accessories included with the main product are the A7-inch long crevice tool, dusting brush, and upholstery tool that helps clean hard-to-reach areas.
The extra-large capacity (4.1 L) dust cup holds more dirt and requires less frequent emptying. 
Buying option is available on Amazon.com with a competitive price and some extra benefits for Amazon Prime Customers. The product can be purchased from here:
iRobot Roomba 690 Robot Vacuum
If you are looking for an ultra-smart option in buying a vacuum cleaner, then a robot vacuum best serves the purpose. Now when it comes to selecting the right version of robotic vacuum, then nothing can beat Roomba Robot Vacuum. The iRobot Roomba 690 strikes a balance between performance, price, usability, and quality. Not just it's a great value, but it's a top performer too. The iRobot Roomba 690 can also be connected with Alexa, so you can simply sit back and relax and leave the cleaning part on this smart device.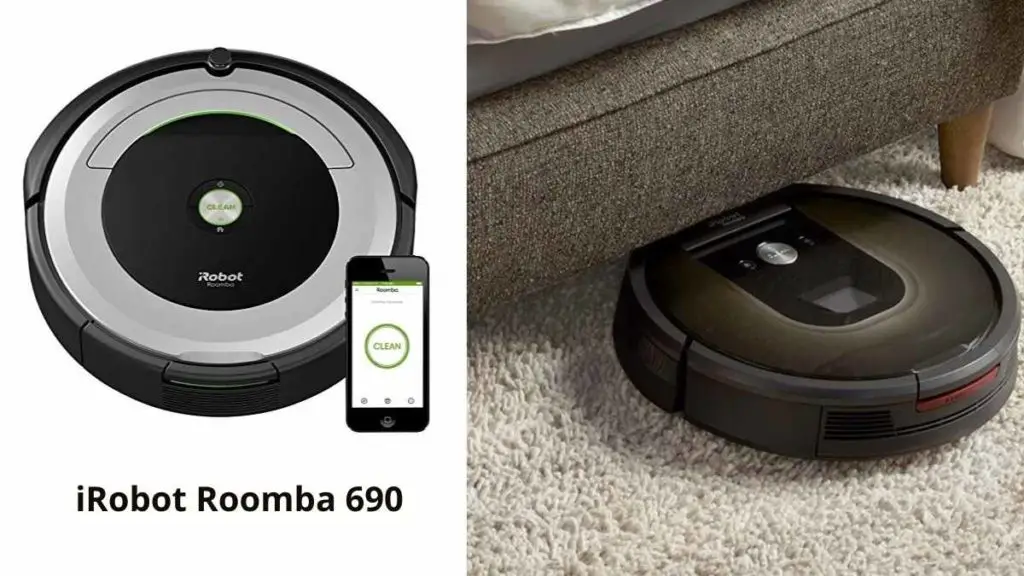 Other Key Features:
The dirt detector sensor can easily sense the high traffic zones in your home and concentrate on it prolong.
With its smart feature, you can simply add voice control by combining it with an Amazon Alexa device.
It works excellent on the carpet and hard floor and can trap pet hairs too with ease.
Its self-charging feature gets it automatically dock itself for recharging. Can run for up to 90 minutes at a go before recharging.
You can go for cleaning and schedule the same from anywhere with the use of the iRobot Home App. It is compatible with Alexa and Google assistant.
The 3 stage cleaning system and dual multi-surface brushes are good enough to pick up everything, from small particles to large debris.
Can be connected to Wi-Fi, effective edge sweeping brush comes with auto-adjust cleaning head making it work best on carpets and hard floors.
This is the most advanced type of vacuum amongst the other mentioned in this article. It doesn't require any human interventions for operation. Being with the most advanced technology, it is quite expensive as compared to others, but you can trust this device as the best cleaning option especially when you do not want to run around the house with a vacuum wand every morning. Still if you think that Roomba 690 is a bit out of budget, then no problem, there is a great budget-minded option too, i.e. Roomba 675. It comes with all the same features as of 690 models but without the virtual barrier. You can check out Roomba 690 from the link below over Amazon:
Selection of the right vacuum is a tough task, but if we take the above-mentioned points into our mind before buying then selecting the right machine will become a lot easier. So consider my article and important points before you go and make a purchase of vacuum cleaner for your house and to make your life easier.
Conclusion
Researching the right vacuum cleaner for your house is essential as you would not want to buy an expensive machine which later you find is not meeting your preferences and needs. So, before selecting, take a moment to read our reviews and genuine opinions about the most prevalent vacuum cleaners in the market these days with their key features and suitability for a particular type of area.
There are a number of factors that contribute to the purchasing decision. Think about would you need one that can handle both carpeted and hardwood floors? Do you regularly need to clean the stairs, upholstery, or draperies? Which model would you prefer most between a bagged or bagless model, or a cordless and robotic model? Lastly, consider is it you or any members of the house suffer from allergies or asthma. If you keep focusing on these points, then definitely you would be able to make the right preference about the type of model you're looking for which can, later on, ease your buying decision.