Paying a monthly cable bill is routine many people are familiar with. However, there may come a time when they realize there are better options available. FuboTV is one of the best choices. It allows you to enjoy the entertainment you're used to without getting gouged in the pocketbook simultaneously.
Learning more about FuboTV explains why it's a great alternative to cable.
What is FuboTV?
With the introduction of the internet, the need for cable TV has been eliminated. Streaming services, such as FuboTV, have taken the place of cable television by allowing viewers to connect a compatible device to the internet and watch their favorite movies, sports events, TV shows, and news reports. Several regional and local channels are available as well as add-ons.
The service offers two main options, an Elite or Starter plan at highly affordable price points. The Starter plan has over 100 channels available for $64.99. The Elite plan is only $10 more at $79.99 monthly with over 200 channels available.
Spanish language speakers can also enjoy streaming content with a $33 monthly package known as Latino Quarterly, which is billed every quarter.
Performance and Quality
Having a high-quality stream is mandatory for most individuals who are opting for an online streaming service. FuboTV doesn't disappoint in this area. Most content is streamed at 60 frames per second at 720p. Some content is also available at 1080p, and 4K/HDR technology is used for streaming special events.
Multiple screens can be used simultaneously by a single subscriber. Three screens are available with the Starter plan. However, a Family Share option can increase this amount to unlimited screens.
Recording Capabilities
A streaming service wouldn't be complete without offering recording capabilities. FuboTV provides a cloud DVR to fulfill this need. With 250 hours available using the Starter plan, it should provide plenty of storage to meet the requirements of most individuals. However, expanding to 1000 hours is available for hard-core viewers.
One interesting capability to know with this cloud DVR recording storage system is its ability to record all of a program, which can come in handy if a person is late to a show that's already started.
Getting to Know the Interface
Navigating the service is the same on most devices. Its interface is intuitive and easy to use and includes the following features:
Home
Sports
Movies and Shows
Guide
Recordings
Clicking on "Home" presents a viewer with several popular live TV channel recommendations. Direct links are also given to popular sporting events, shows, and movies. Using the "Sports" feature quickly brings up a complete list of the sporting events available on the service.
Utilizing the "Movies and Shows" section presents popular content and links to on-demand viewing options. Limiting the list can be completed to make finding the type of content a viewer values more straightforward and more efficient. Options range from rugby and boxing to hockey and soccer. The sections are also subdivided into smaller categories, making it easier to find favorites.
"Recordings" shows all of the recorded content that's currently available in the cloud DVR. The "Guide" is similar to a standard cable interface and offers all the available channels. Filtering it to show specific categories is provided to make each one handy to find.
Devices Supported by FuboTV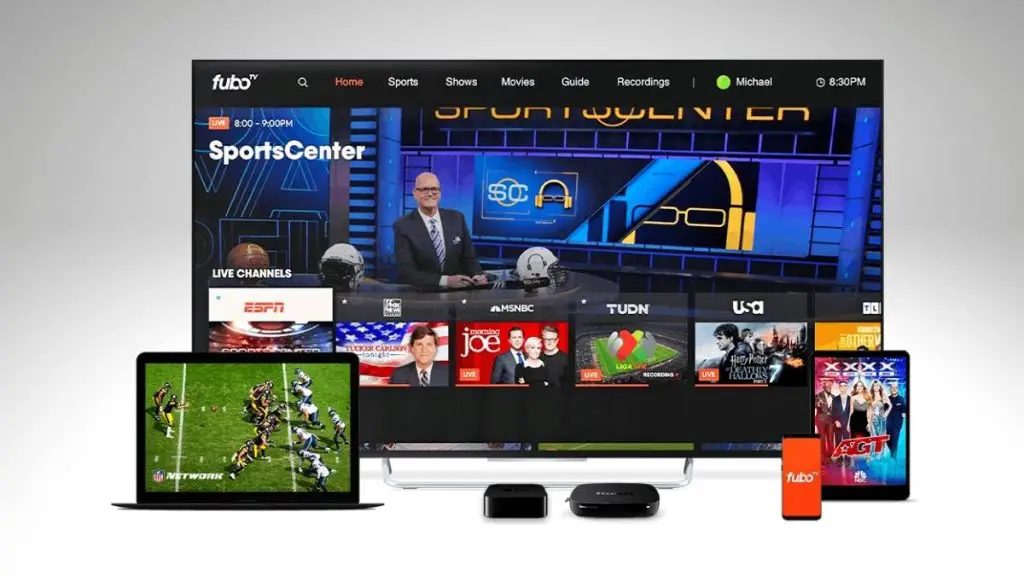 FuboTV supports several types of devices. Most web browsers will allow the streaming service to run, including Linux, Mac, and PC systems. However, the service does recommend using Chrome. Smartphone users should find it quick and easy to bring up the service as it's designed to work on Android and iOS platforms. Here are some of the other devices supporting FuboTV:
Apple TV
Xbox One
Roku
Chromecast
Hisense
As long as the user has one of these systems that has been updated recently, they should find access to FuboTV relatively fast and efficiently.
FuboTV Plan
There are four FuboTV plans available: Starter, Pro, Elite, and Latino.
Starter gives you an incredible 110+ channels, 250 hours of Cloud DVR storage, and three simultaneous streams for $64.99 a month. 
Pro has the exact channel total as Starter but bumps up your Cloud DVR to 1000 hours and provides Unlimited Screens, all for $69.99. (Unlimited Screens equates to 10 simultaneous streams at home and two on the go).
Elite is $79.99, with the Fubo Extra add-on increasing the total of channels to around 160. Like Pro, it has 1000 hours of Cloud DVR and Unlimited Screens. 
Latino Quarterly, meanwhile, offers 32 Spanish-language channels, 250 hours of Cloud DVR, and three simultaneous streams for the quarterly cost of $99 (to be prepaid every three months). The price also includes coverage of CONMEBOL qualifier matches. 
Devices compatible with FuboTV include Roku, Amazon Fire TV, Apple TV, Android TV, Samsung Smart TV, Xbox, iOS, Android, Mac/PC, and Chromecast.
There is also a wide range of premium features and additional channels, listed below, that can be purchased for an extra fee:
Cloud DVR 250 – $9.99
Cloud DVR 1000 – $16.99
Family Share – $5.99
Unlimited Screens – $9.99
Showtime + Starz + Epix – $19.99
Showtime – $10.99
Epix – $5.99
Starz – $8.99
AMC Premiere – $4.99
Sports Plus with NFL Redzone – $10.99
Fubo Extra – $7.99
International Sports Plus – $6.99
Adventure Plus – $4.99
Sports Lite – $9.99
Latino Plus – $19.99
RAI Italia – $8.99
TV5MONDE – $9.99
Portuguese Plus – $14.99
Entretenimiento Plus – $4.99
FuboTV Content Available
Subscribing to the streaming service offers several live TV channels and on-demand content. Local content depends on the location where a person resides. Popular stations, like CBS, ABC, NBC, Fox, and Telemundo, are available at most locations, and some also include The CW, UniMax, and Univision.
Signing up for the Starter plan offers 47 channels, ranging from USA and Comedy Central to Bravo and AMC. 13 news-oriented channels are also available. Upgrading to the Elite plan provides over 45 more channels such as Discovery Life, MTV2, and DIY Network.
Sports enthusiasts should appreciate the comprehensive lineup available on the service. There are 38 channels dedicated to sports when using the Starter plan and 14 more when signed up for the Elite plan.
Spanish-speaking viewers may want to opt for the "Latino Quarterly" plan, which offers 32 Spanish-language channels, of which 19 are dedicated to sports programming.
Premium add-ons include four popular choices:
SHOWTIME: Provides nine channels at $10.99 monthly. Access to the on-demand library is also available.
STARZ: Offers seven channels at $8.99 monthly. Access to the on-demand library is included.
EPIX: Three channels are available at $5.99 monthly.
AMC Premiere: Offers access to ad-free streaming for $4.99 monthly.
Unfortunately, HBO isn't offered at the current time for subscribers.
Choosing FuboTV
After learning more about the FuboTV streaming service, you can probably see why it's often chosen as a substitute for cable TV plans. Over the last few years, the service has continued to broaden its offerings, catering to every type of viewer in a household. Picking it as a service to use for streaming content is typically an excellent choice to make.