Daily in this increasing Dust, pollution, and heat, we understand that you are struggling a lot, and you need some peace amidst of all this chaos. Our home is the ultimate place where we can get peace, but to add more happiness to your peace within an affordable budget, today we introduce you to the top 5 best air conditioners in India in this article.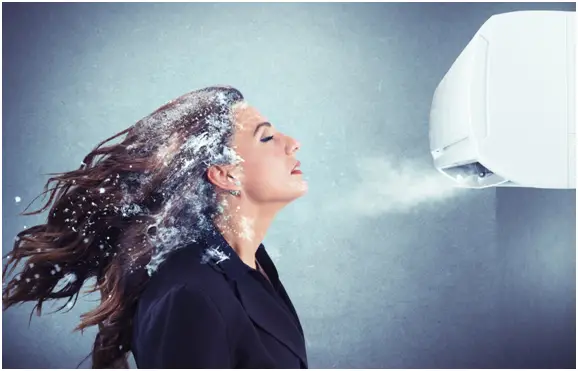 Air Conditioners are our places of solace, especially during Summers. With so many Air conditioners coming on to the platform, we know that you are confused to choose among many. And that's why we are here to make you clear about the best Air Conditioners in India.
TOP 5 BEST AIR CONDITIONERS IN INDIA
We brought you the Best Air conditioners related to various brands such as Panasonic, LG, Hisense, Samsung, and Haier with various capacities of 1 ton and 1.5 ton, which include both three and 5-star BEE rated categories.
1. PANASONIC 1.5 Ton 5 Star Inverter Split Air Conditioner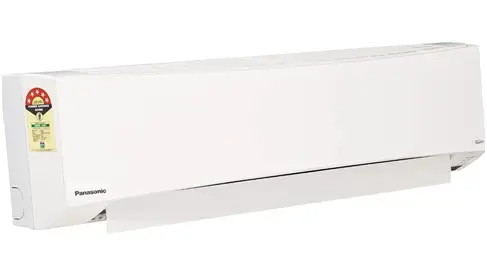 This 1.5 ton 5 stars split inverter AC brought to you by the Panasonic. This air conditioner for home has Twinkle inverters, which leads to long life and smooth working.
It uses R32 refrigerant, which has low ozone depletion and global warming potential. This is the best inverter air conditioner for medium-sized rooms. Its battery type is alkaline, and it has an annual energy consumption of 846.86 units. This is one of the best air conditioners you can get iot and it is budget friendly too.
Features:
It is made up of Copper Condenser, which is long-lasting and corrosion-resistant.
Temperature display which allows you to operate according to that
It is having features such as a Dust filter and a Dehumidifier
Remote control type of access
Auto air swing and Auto restart features make your Air conditioner more comfortable to use.
Pros:
It had Powerful mode, which results in quick cooling
It has a PM 2.5 particle filter, which ensures the quality of the air you get
Stabilizer free operation is available
It comes with a warranty of 1 year on the product and condenser; 10 years of warranty on the compressor.
Cons:
It is not suitable for large-sized rooms

2. LG 1.5 Ton 5 Star Split Dual Inverter Air Conditioner with wifi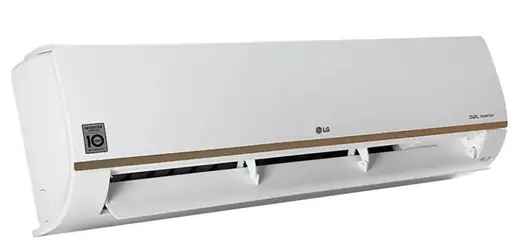 This is one of the best air conditioners for home brought up by the LG company. This 1.5 ton 5 stars rated air conditioner has dual inverters.
This is one of the best air conditioners which you can refer to your home. Its battery type is 2AAA and has R32 refrigerant. It has a cooling capacity of 5100W with a dual rotary compressor.
Also Read: 5 Best DSLR Camera In 2023
Features:
It has a copper condenser coil that is anti-corrosive and long-lasting in its work
It has an Indore temperature indicator
Dust filter and antibacterial filter in the air conditioner make sure that you are getting the utmost pure quality of air which you deserve
This air conditioner comes with wifi connect option
With options such as Dehumidifier, it serves your need for cooling in a better way
Pros:
It has auto air swing
Auto-restart is also available
Timer and self-diagnosis of the air conditioner makes it very easy and comfortable to use
The air conditioner comes with the warranty of one year on the product and ten years on the LG compressor
Remote control type off access
Cons:
It does not have a deodorizing  filter
It is suitable for small and medium-sized rooms in a better way but not large-sized rooms.
3. HAIER 1 Ton 3 Star Window Air Conditioner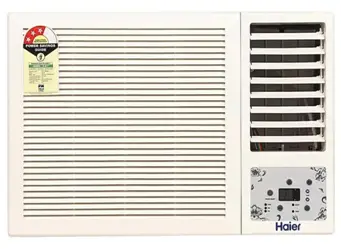 This air conditioner is one of the best window air conditioners that you can afford within a low budget. This best 1-ton air conditioner in India which you will completely love to use. This is 3-star BEE rated Air Conditioner, which ensures energy savings upto 15 %. It has a rotary compressor.
Features:
It has a Copper Condenser which is corrosion resistant
It has the cooling capacity of 3410W
Dust filter and Antibacterial filter are available for good quality of air
Remote control type of access
The dehumidifier option makes you more comfortable with Air Conditioner
Pros:
Auto-restart is available
This Air Conditioner comes with a warranty of 1 year on the product and condenser; 5-year warranty on the compressor from Haier.
It has the power consumption of 1170W
Best Budget Air Conditioner with all its features of easy control and air spread.
Cons:
This type of Air Conditioner is not able to give air to large spaced rooms
It doesn't have a deodorizing filter
4. HISENSE 1.5 Ton 5 Star Split Inverter Air Conditioner with wifi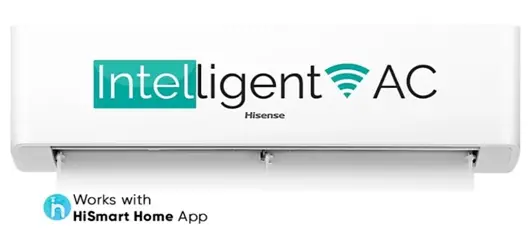 This Smart Best Air Conditioners with wifi Connect is brought to you by Hisense. It has a capacity of 1.5 ton, and it is 5-star BEE rated for ensuring for 25% of energy saving. It works with the 360 degrees DC inverter compressor technology. This is one of the best lowest price Air conditioners with Smart controlling sense.
Also Read: Best Headphones In India Under 1000
Feature:
It contains the Copper condenser
Dehumidifier and hidden light properties are available
Anti rising and dust filter are also available
Auto-restart makes your operating much easy
Timer and child lock are also available
Pros:
Self-clean and self-diagnosis ensures your Air Conditioner work in a smooth and long-lasting way
Hidden light display
The air conditioner comes with the 1 year of warranty on the condenser and 10 years warranty on the compressor
It has an Anti-bacterial filter, Odour filter, Vita C filter.
Numerous operating modes such as Intelligent smart mode, Intelligent sleep mode, Quite a mode, Dry mode, Economy mode make you fall in love with you Air conditioner
With the help of the Hi smart home app, you can connect to your Air conditioner through wifi
Cons:
It has no active Carbon filter
5. SAMSUNG 1 Ton 3 Star Split Triple Inverter Air Conditioner

Samsung, in the form of this triple Inverter Air Conditioner, brings you this affordable best 1 Ton air conditioner in India. This best budget air conditioner works with 1-ton capacity.
It has an 8 pole digital Inverter compressor, which avoids frequent switch on and off and minimizes the energy consumption. It is a 3-star BEE rated, which saves upto 15% of power consumption. It works on triple protector plus technology. It is also one of the best air conditioners you can buy from Flipkart
Features:
This Air conditioner comes with a Voltage fluctuation protector which has a range of
Anti-bacterial and dust filters keep your Air conditioner long-lasting and give you pure air
It has the cooling capacity of 3200W
It has a power consumption of 1060W
It works on triple protector plus technology, which makes your Air conditioner work effectively
Pros:
An auto-restart option is available
Digital display mode
A dehumidifier is also present in Air Conditioner
Good sleep mode ensure your comfortable sleep
It comes with 10 years of warranty on compressor, 5 years warranty on PCB and condenser with 5-year free gas recharge from Samsung
Cons:
Not suitable for large spaced rooms
FAQ's
Which is No 1 AC in world?
Daikin is World's Number AC in world.
Which AC has best cooling capacity?
The Haier 1.5Ton 5 Star Split AC has a high cooling capacity and comes with features like Self Clean technology and Triple Inverter+. While the best-in-class motor enables air to be blown as long as 15 meters, and is capable of providing the best in class cooling even at an extreme temperature of 60 degrees.
What you should check before buying AC?
Here are 6 factors that you must consider before you buy your next air conditioner. Plus Suggested Best Air Conditioners Brands with off-season discounts.
Energy Efficiency
Split or Window AC
Air Quality
Installation, Maintenance and Cleaning
Cooling Speed
Multipurpose
Is portable AC better than split AC?
Mobility. One key advantage of a portable Best air conditioners is that they can be easily moved when needed. This means that, unlike with a split system air conditioner, you won't have to choose a single room in the house to be cooled.
Last Words
In this article, we tried to bring up the best Air conditioners in India, which understand and serve your needs within a low budget where many can afford it. These best air conditioners you can buy it on Amazon and Flipkart.
We included the brands of Panasonic, LG, Hisense, Samsung, and Haier of both wifi accessed and remote accessed modules. We have given a clear picture of every product so that it can make your path clean to buy a suitable best Air Conditioners of your choice.