Surfshark VPN is one of the most highly rated and widely recommended services in the VPN industry. It has 3,200+ servers in 150+ locations in 100 countries.
Whether you use public WiFi or Home WiFi on your PC or mobile device, Surfshark VPN encrypts all your traffic and routes it through a server in another country. Surfshark VPN uses high-grade OpenVPN, IKEv2, and WireGuard encryption protocols to provide you with completely secure online cybersecurity. All this service comes at a price—in this case, Surfshark biggest draw is its price, and without any deals, the monthly plan comes in at an excellent $2.49 a month with unlimited device connections and excellent apps.
In this comprehensive Surfshark review, we'll evaluate the key features that make Surfshark a powerful VPN, pricing, device coverage, and potential drawbacks.
Surfshark Pros and Cons
Pros
Best for Streaming platforms
GPS Spoofing features
Unlimited device connection
Fast WireGuard Performance
7-day free trial
Best customer support
Cons
Monthly plan high
Sometimes Kill switch fails your connection
About Surfshark VPN: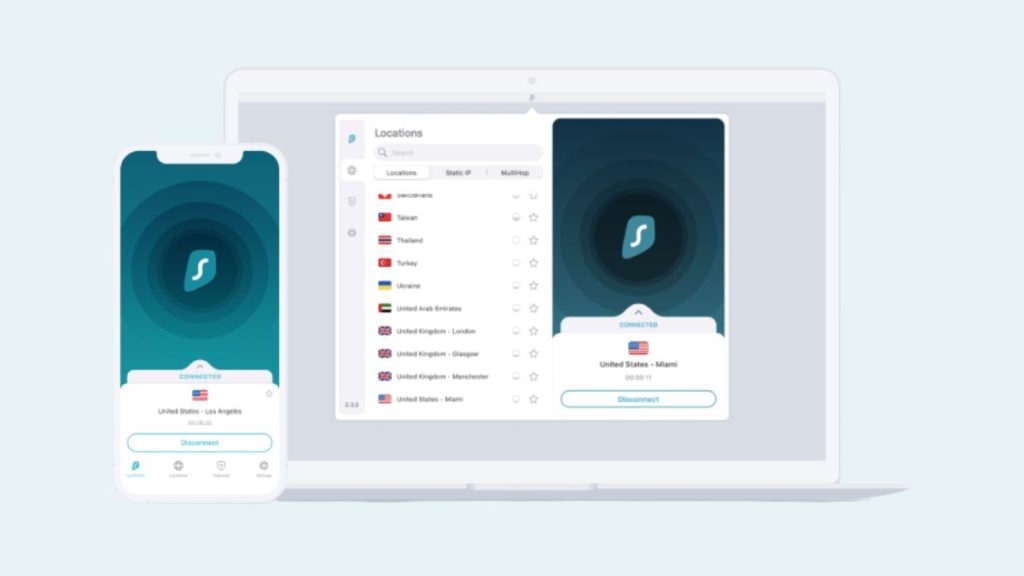 Surfshark is a VPN service company launched in 2018 in the Netherlands. It is a parent company of NordVPN. It offers several products, such as a virtual private network (VPN) service, a data leak detection system, and a private search tool.
Surfshark uses high-standard technology, including AES-256-GCM solid encryption, Wireguard, OpenVPN and IKEv2 support, a no logs policy, and a kill switch to protect you if the VPN connection drop anytime. Moreover, the Surfshark GPS Spoofing feature enables you to hide your physical location, which means no apps can see your physical location. 
Surfshark VPN service features include Kill Switch, MultiHop, and Bypasser. The double VPN Multihop feature routes traffic through two servers instead of one, thereby providing better security. It also offers an ad and malware prevention feature, CleanWeb, that blocks ads on the DNS level.
There is also ad and malicious URL blocking, P2P support on selected servers, split tunneling, and 24/7 customer support via live chat and email.
Surfshark app is available for both Android and iOS devices.
Surfshark features
3200+ servers, 65+ countries
Hides your IP address & encrypts data
Strict no-logs policy
One account for many devices
Strong end-to-end encryption
Easy setup
24/7 live customer support
CleanWeb. You'll be free from ads, trackers, malware, and phishing attempts.
Secure protocols. Fast and advanced IKEv2 & OpenVPN protocols.
Industry-leading AES-256-GCM encryption
How Much Does Surfshark VPN Cost?
Surfshark is one of the best VPN overall compared to other VPNs. Surfshark VPN subscription on a regular monthly plan costs $12.95 per month, and it's a little more expensive than its competitors. You get much better savings if you go for the 1-year plan, which costs you $47.88 (you can get it for just $3.99/month), which will cut your monthly subscription by more than half. Another best option is a two-year money-saver plan that costs $59.76 (you can get it for just $2.49/month). Long-term plans absolutely save you money if you decide you like the service.
Does Surfshark have a free trial?
Surfshark VPN offers a 7 day free trial. The trial is available for Android, iOS, and macOS platforms. The trial is available on the Surfshark mobile app, and once you activate it on one device, you can also try it on other devices too. If you're unhappy with the service, you can get a refund within 30 days of your purchase. Or you can get it for a different platform with a 30-day money-back guarantee.
How Surfshark VPN safe and secure?
Surfshark is one of the safest VPN service providers in the world. They use military-grade encryption, updated protocols, and 100% RAM-only servers. Also, they have a strict no-logs policy.
Surfshark keeps your data safe and never asks for your personal information. 
The following features make Surfshark safe and secure:
Surfshark maintains secure VPN protocols (WireGuard, OpenVPN, and IKEv2).
Surfshark maintains a no-logs policy.
Surfshark VPN is a paid service (a 7-day free trial available).
Surfshark maintains a Kill Switch (block all your internet traffic unless you're connected to a VPN)
Surfshark uses two-factor authentication.
Surfshark uses RAM-only servers, which do not store your online personal data.
How fast is Surfshark VPN?
Speed is an important factor when choosing a VPN. It's good to know that all of Surfshark's servers are optimized for speed and will help you achieve a high level of performance, but sometimes the server can go down due to many users connected to the same server.
Surfshark VPN provides a consistently fast connection. Sometimes, you can experience an average speed drop across different servers between 15-30%. Try to connect your VPN connection to the least server load. Also, try to change your VPN protocol to improve your browsing speed.
Is Surfshark best for streaming?
It's important to go for a fast VPN for streaming to avoid getting stuck in the wheel of still loading. 
Surfshark is well known for being the best VPNs for streaming. Enjoy movies and TV episodes in privacy, block all irritating ads, and enjoy every piece of media with no buffering or speed drops at home and on the go!
Surfshark is compatible with all major streaming platforms so that you can use it on a wide range of apps, including iOS and Android mobile devices, Roku, PlayStation 4, Xbox One consoles, and more. 
Surfshark can unblock all types of geo-restricted content. With Surfshark, you can unblock Netflix, Hulu, Amazon Prime Video, and more. You'll also be able to access BBC iPlayer and other UK-only sites from anywhere in the world.
Surfshark is a great service for accessing censored material as well! If you're in China or Russia and want to avoid government censorship, then Surfshark will help you do that too!
Best of all? You don't need any technical skills at all because SurfShark works with just one click!
Is Surfshark work it?
FAQs for Surfshark
What device does Surfshark support?
Unlike many of the top VPNs, Surfshark allows unlimited simultaneous connections, making it a great option for larger households. Surfshark is compatible with many devices, such as Windows, macOS, Linux, iOS, Android, Chrome, and Firefox. You can even use Xbox and PlayStation gaming consoles, along with Fire TV and Apple TV.
Surfshark VPN vs NordVPN, which one is better?
Generally, both VPNs are about the same price for the annual plan, but Surfshark offers a $30 discount if you pay for a two-year plan. Choose Surfshark if you wish to use a VPN on unlimited devices. Choose NordVPN if you need a dedicated IP address for your company or personal use.