We hope you like the product we recommend! All of them were selected by us. If you buy any of the below items from our site, we will earn some commission.
If you love to travel and visit new places, then one thing you must have noticed during these trips is that you find it very difficult to handle bags, gadgets, and all kinds of travel accessories.
Now, you don't have to worry about this because we are going to share with you a list of some such gadgets, which will remove all your complaints. Let's know about these things easily available on Amazon.
Best 10 Smart Travel Gadgets List:
riemot Luggage Travel Cup Holder Free Hand Drink Caddy
AirFly Pro wireless transmitter
Anker PowerCore 10000 Portable Charger
High Road StashAway Car Seat Back Organizer with Trash Can
JOOMFEEN Worldwide All in One Universal Power Wall Charger
trtl Pillow – Scientifically Proven Super Soft Neck Support Travel Pillow 
Clear TSA Approved 3-1-1 Travel Toiletry Bag
Zoppen Multi-purpose Travel Wallet
MZOO Sleep Eye Mask for Men Women, 3D Contoured Cup Sleeping Mask
Mack's Pillow Soft Silicone Earplugs
riemot Luggage Travel Cup Holder Free Hand Drink Caddy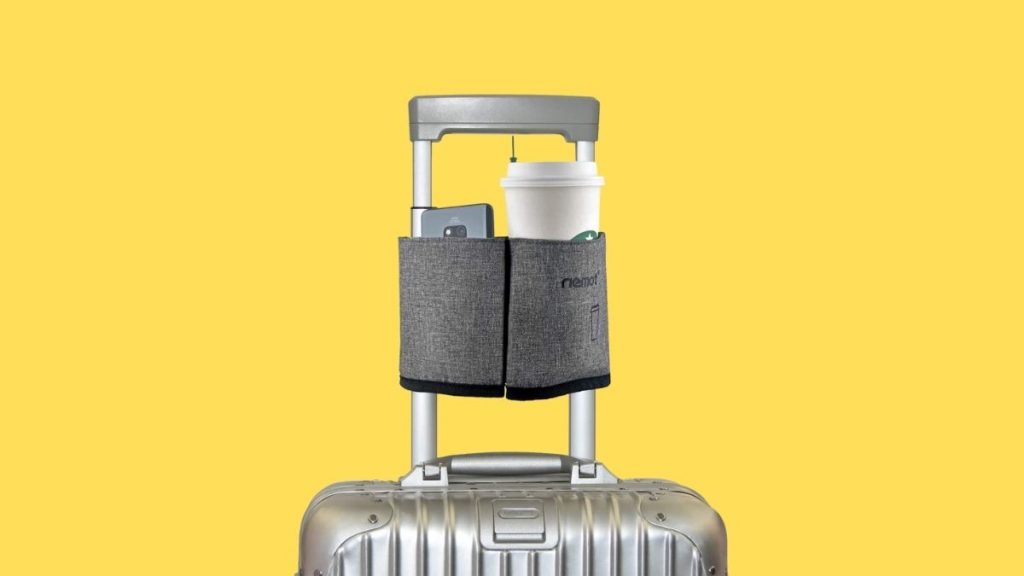 Traveling can be hard when you have too many things to carry in your hand, and you don't usually have a free hand to hold a drink, especially with kids. But with this suitcase cup holder, you can keep two drinks now.
What extra features do you get in this suitcase? You will be able to place your phone, passport, documents, or small items in one back pocket with two drinks in the front two pockets.
AirFly Pro wireless transmitter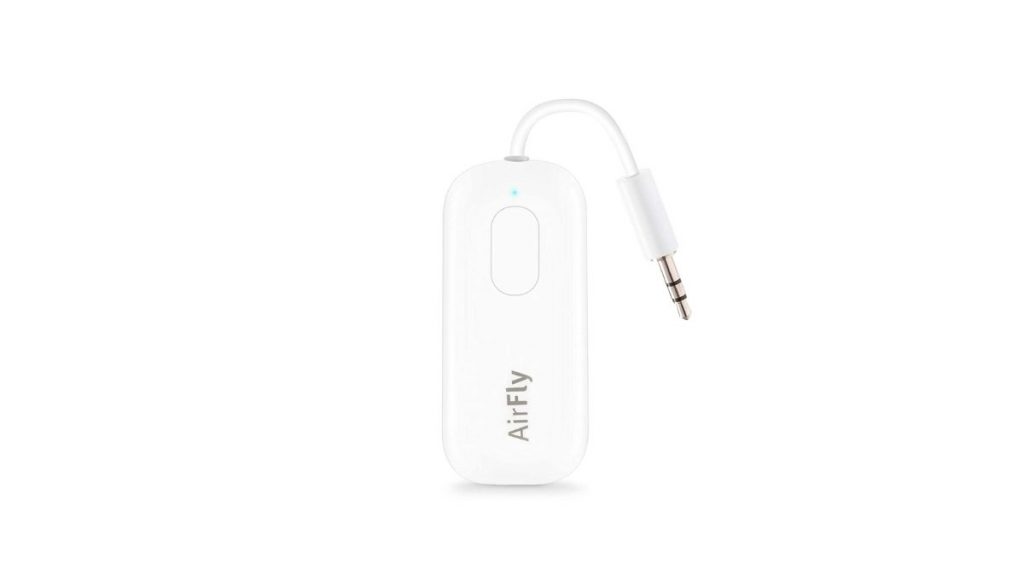 AirFly is a wireless headphone adapter that lets you use your favorite Bluetooth headphones or earbuds in places with only a headphone jack – like airplanes and treadmills. Plug this tiny transmitter into a headphone jack to listen to in-flight movies or the TVs at the gym. Share the joy with your partner or friends with AirFly Pro, which lets two people listen to the same soundtrack, podcast, or music with their favorite noise-canceling headphones or AirPods.
AirFly Wireless comes in four models: AirFly Classic, Duo, USB-C, or Pro.
Connect two pairs of headphones to share music, movies, and more.
The new 16+ hour battery lasts as long as your longest coast-to-coast flight.
Use AirFly Pro as an AUX IN adapter for your car, boat, or non-Bluetooth speaker.
AirFly Compatible with most Bluetooth-based wireless headphones, including like Apple, Bose, Beats, Jaybird, Sony, Bang & Olufsen.
Anker PowerCore 10000 Portable Charger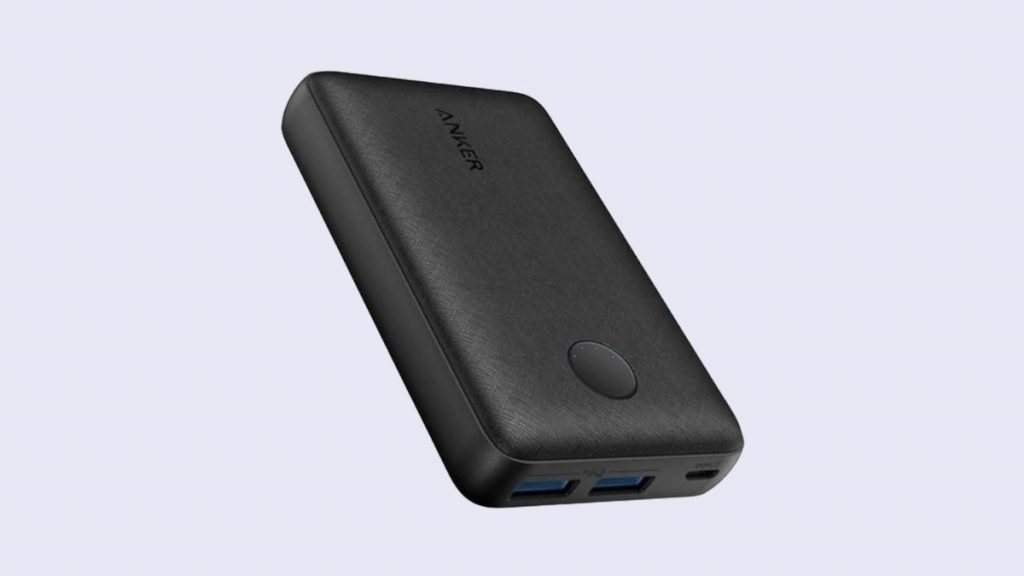 Anker PowerCore Slim 10000 is the very best power backup for anybody who travels a lot. It has fast charging capability compared to other brands. Anker PoweCore design is very thin and lightweight, just 6.9 ounces. You can easily pop this in your handbag, pocket, or backpack.
With 10,000mAh of power, you'll be able to charge your iPhone, Android, USB-C MacBook, or your iPad anywhere you go. Anker PowerCore recharging takes 1 hour and 56 minutes to complete itself.
The PowerCore looks as good as it functions, too, with a soft silicone surface that cushions your smartphone and helps to prevent scuffs and scratches, as well as a slim design that can rest perfectly next to your cell phone.
High Road StashAway Car Seat Back Organizer with Trash Can
To keep your car clean and neat even when you're caravanning with your neighbors on a group road trip across the country. This handy organizer has a striped and leakproof spot for garbage, plenty of mesh storage pockets, and a dispenser for tissues or wet wipes.
StashAway car trash bag will hang on all types of cars, trucks & SUV's neat and clean.
JOOMFEEN Worldwide All in One Universal Power Wall Charger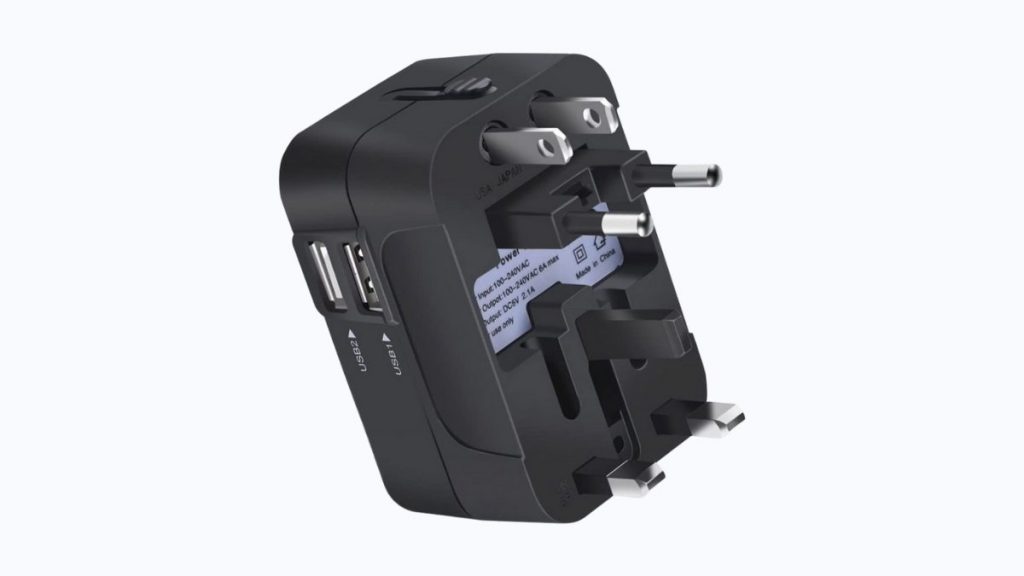 Travel a lot, especially internationally. This one will be the most useful device to have because you have multiple kinds of adapters in one plug, and you don't need to worry about multiple adapters to carry constantly when you are traveling to another country.
Promising Review: I traveled for 40 days this summer around the world. 9 countries. I only dropped this thing about half as many times, and it still works. From Europe to Egypt to Nepal and southeast Asia, this kept all my devices charged. I am still actually using it at home. The multiple USB chargers are very handy. Go for it!
trtl Pillow – Scientifically Proven Super Soft Neck Support Travel Pillow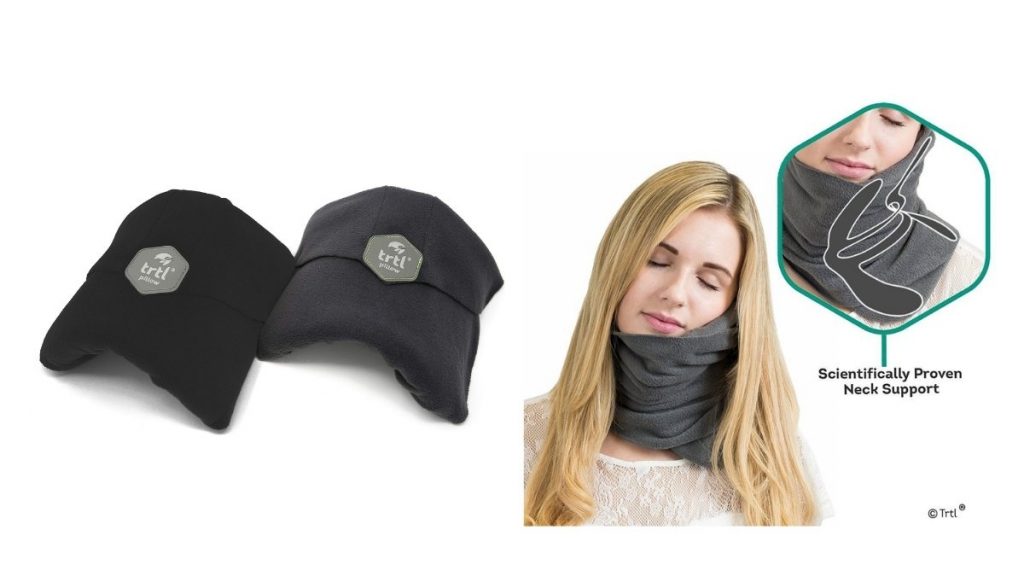 A more traditional travel pillow is this version from trtl. This travel neck pillow is not a U-shape, it has no fill and is very thin. TRTL PILLOW is a SCIENTIFICALLY PROVEN travel pillow to keep your head in a BETTER POSITION when sleeping upright by holding your head. No head bobbing onto your neighbor shoulder.
This traditional pillow comes in 2 sizes and is recommended for 14+ ages (7.5 x 5.5 x 2.5 inches) or younger 8+ ages (5 x 5 x 2.3 inches), and it has a more petite frame.
EzPacking Clear TSA Approved 3-1-1 Travel Toiletry transparent Bag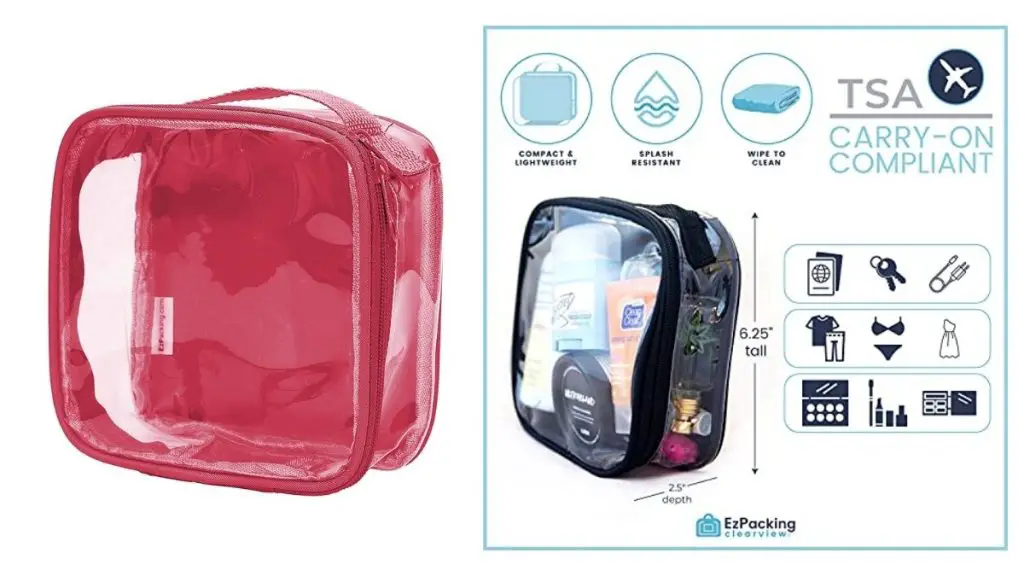 Whether you are taking an overnight business trip or on a 10 days tour abroad, all you need is a way to carry your bathroom gear.
With its zipped compartments and roomy interior design, this hanging travel toiletry bag is great for easy access whenever you need it and for carrying full-size shampoos and conditioners. There's even a clear, removable bag for going through airport security.
Zoppen Multi-purpose Travel Wallet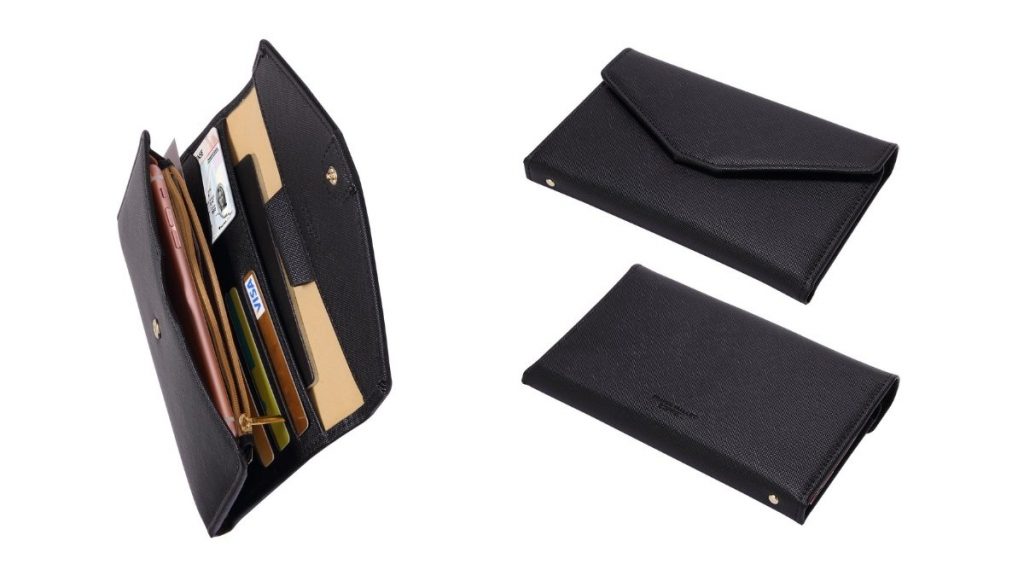 If you are planning to travel abroad, you need a multi-purpose wallet, and especially you have to carry multiple things like a passport, ID card, boarding pass, ATM card, money, etc.
Zoppen Multi-Purpose Travel Passport Wallet is a good travel wallet for frequent travelers. 
Key Features:
1 Passport and vaccine pouch can hold 1-2 standard US passports as well as your important vaccination card
8 card slots, your business card, insurance card, credit card, ID card, etc. will be well organized
1 Ticket compartment, coupon, or receipt can be held as well in this flap
1 Zip pocket, store coins
1 Sim card slot, you can also call it "memory card slot."
1 Pen holder, take a pen to fill out documents is very important
1 Smartphone pocket, fits cell phone max 154 x 77 x 7.7mm, without phone case
1 Keyring for your keys
MZOO Sleep Eye Mask for Men Women, 3D Contoured Cup Sleeping Mask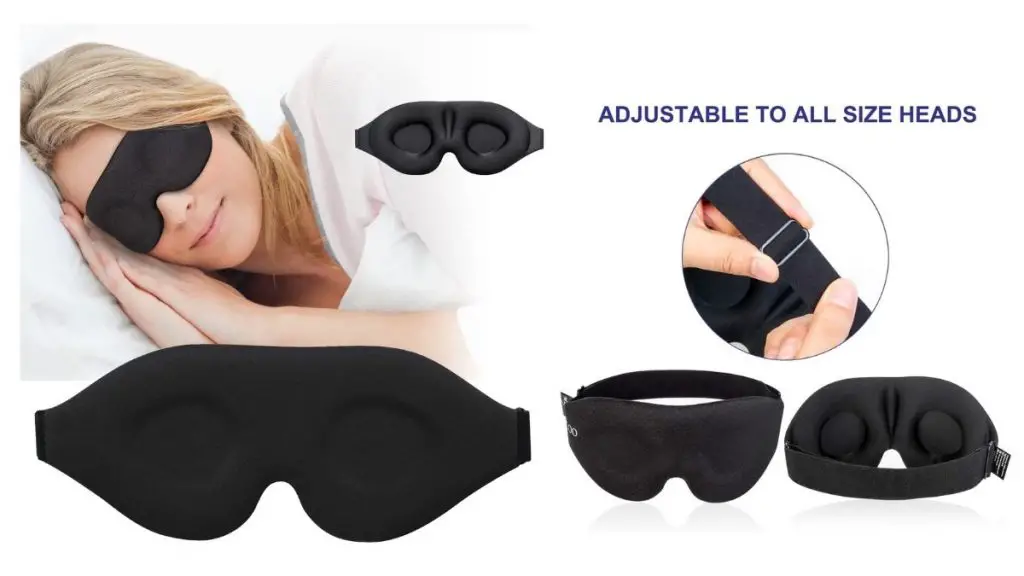 Getting a good night's sleep is important for maintaining good physical and mental health. In a world full of distractions, where good sleep is necessary. MZOO Sleep eye mask is perfect if you like to have total darkness when you sleep. MZOO makes your sleeping so comfortable and blocks ambient light. Not only does it fit very comfortably, but the foam padding around the edge also creates a nice cushion when sleeping on the side or stomach.
Unlike other masks that press into your eyes if you sleep with your face partially on the pillow, the foam cushion provides a very comfortable and contoured fit around your eyes. The mask also provides a very good seal for blocking light. Overall, an outstanding design for a very reasonable price!
Key Notes:
Super Soft
Fully Adjustable Buckle Strap
Washable Design
Important Note: Try out Sleep Mask for 60 Days, and if during that time you don't love it or any reason, you will get a full refund with no questions asked. – If you have any concerns, questions, or issues about the product, you can visit the MZOO store and contact seller support E-mail for a full refund or replacement.
Mack's Pillow Soft Silicone Earplugs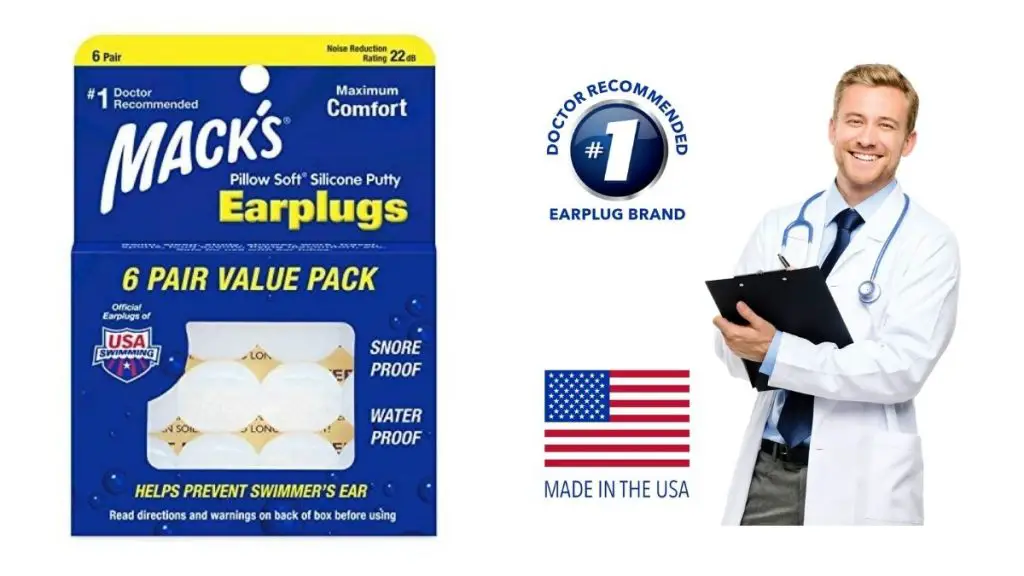 Mack's pillow soft silicone earplugs are the No.1 selling earplugs in America nowadays. They fit a wide variety of ears and are notably effective in reducing overall noise, including snoring, traffic, and the like. 
Mack's soft moldable silicone putty molds very comfortably to the unique contours of any ear. 
Conclusions
When it comes to choosing a smart personalized gadget we recommend you to search it wisely on google. We can only suggest to you whether these can help with your needs. To anything we missed on the list, please drop a comment and let us know for improvement.