Webull is the most popular securities and cryptocurrency platform. WeBull lets users buy and sell crypto instant with zero fees. Learn more about this exciting new feature and how to start trading Crypto with Webull!
Webull is a brokerage firm mainly known for securities you can buy and sell exchange stocks, options, cryptocurrencies, ETFs, and more. What you love the most about webull is commission-free trading features, which means you save some process fess. 
If you are a beginner in the crypto market, webull is the right platform for you. You can start trading portfolios by accessing the platform on mobile devices or web pages. Though you are just entering the platform likely don't know how to buy Crypto on Webull, in that case, keep reading this article.
How to Buy Crypto on Webull
Buying Crypto on Webull is very simple now users can avail to trade their favorite cryptocurrencies like Bitcoin (BTC), Etherium (ETH), Litecoin, Binance Coin (BNB), SHIBA INU, and many more in one place. You can buy and sell all of these cryptos on the Webull app with just a few phone taps.
Follow the below 4 steps to buying Crypto fast:
If you are an existing Webull customer (If you are new, then Sign Webull and Get Free Crypto ), you see the option to Enable Crypto. You may get $5 Crypto rewards. 
Once you enable Crypto, you need to log in using the same existing Webull account.
After login, you can search with your Crypto symbol like (Eth, BAT, BTC, etc..) in the search bar.
Now you can see the price of Crypto, and you can buy either at the Market price or put a limit. My Friend Arun always does lower limit so that it can trigger if the Market drop, and then he put the selling limit with a higher range. As Crypto is too volatile, he sometimes makes a 10-20% profit in just 1 day. 
All data related to tradeable cryptocurrencies in real-time and provided to you free of charge.
Supported Currencies: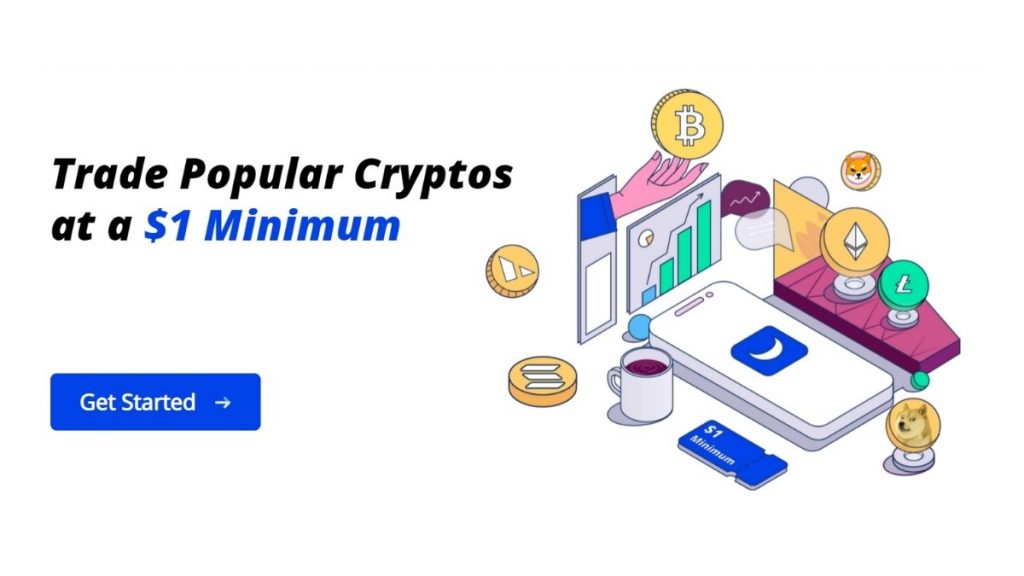 Webull currently offers Bitcoin (BTCUSD), Bitcoin Cash (BCHUSD), Ethereum (ETHUSD), Litecoin (LTCUSD), Dogecoin (DOGEUSD), Zcash (ZECUSD), Stella Lumens (XLMUSD), Ethereum Classic (ETCUSD), Cardano (ADAUSD), Dash (DASHUSD), Shiba Inu (SHIBUSD), Basic Attention Token (BATUSD), Chainlink (LINKUSD), Uniswap Protocol Token (UNIUSD), Algorand (ALGOUSD), Polygon (MATICUSD), Sushi (SUSHIUSD), Avalanche (AVAXUSD), Terra (LUNAUSD), REN (RENUSD), Solana (SOLUSD), Cosmos(ATOMUSD), Decentraland (MANAUSD), Fantom (FTMUSD), and The Graph (GRTUSD), Curve DAO Token (CRVUSD), Loopring (LRCUSD), etc. To view the full list of cryptos currently available to trade on Webull, go to the Market page on the mobile app and swipe to the Cryptos tab. 
Things to know about Crypto trading on Webull:
There is no charge to open and maintain a Webull Crypto account. Even you will get a $5 Free crypto of your choice if you use this Webull official referral link. 
The crypto account will be accessed via your existing Webull account, so no new login information is required. Only individual brokerage accounts (no IRAs) are permitted to trade cryptocurrency with Webull Crypto.
Webull is a Crypto trading platform (Centralize) and doesn't offer a crypto wallet, But since it's the trading platform for Stock and Crypto, you can buy and sell Crypto, But you can't transfer it anywhere.
Webull Key Notes
$0 commission
Can trade from one account
Can trade Crypto 24/7
Requires just a $1 minimum deposit.
Free real-time data
8 charts and 50+ indicators to help analyze the market
Highly customizable layout
Accessible on mobile, desktop, and web platforms
Interact with others in the community tab
Timely customer service
24/7 help center
Safe and secure Two-factor authentication
WeBull Crypto Commissions and Fees
Webull is one of the most prominent trading platforms because of its zero commission-free trading structure. You will not need to pay any trading fees with the standard price. You can enjoy trading the best cryptocurrencies without worrying about commissions.
Is Webull a Good Crypto Exchange?
Webull is a safe and secure platform, and it has built-in 2-factor authentication among the best other features. It has a limited offering of digital tokens, and you must sign up for the privilege of trading cryptocurrencies on webull. You can buy and sell crypto 24/7 at a real market price, with zero trading fees and zero commission charge. Just start with a minimum $1 deposit.
Is Webull right for you?
You can use Webull to trade Stocks, Options, and Crypto, including DOGE, SHIB, etc. Also, it has better Premarket hours compared to any other platform for Stocks trading.