InVideo is a free online video editing software that lets you create some really awesome videos. InVideo has tons of templates on their website and you can choose the one you want and make just the video that you were looking for. Today in this video let's take a detailed look at the free online video editing software, their feature, price, plan, Pros, and Cons.
Invideo Features
InVideo is an online video editor tool that allows businesses of all kinds of industries to create creative videos with custom content and branding that can be shared across social networks and websites. It provides advanced editing options, pre-built templates, and a content library of images and videos from online repositories, such as Storyblocks and Shutterstock.
The library of over 1500 pre-built templates can be tailored to meet any business need, including marketing, events planning, promotions, branding, Instagram stories, and more.
Using InVideo, users can create videos using their own images, stickers, text boxes, transitions, layers, voiceovers, and other elements, preview edits, and publish or export finalized videos.
User Videos can be made in any language and can expand any duration up to a limit of fifteen minutes to more. The automated text-to-speech functionality allows users to input text and transform it into voiceovers, choosing pre-recorded voices in various languages. User also tracks their social reach, impressions, total videos by social media platforms, and more to help businesses better understand video performance. This feature is only available on InVideo.
Key benefits of InVideo
Create videos wide range of purposes, including invitations, marketing, Facebook ads, wedding videos, YouTube videos, and much more.
Users can Customize every video with company branding. This software allows users to add branding to videos, such as company logos, fonts, and color schemes.
Enhance your videos with over 3 million premium stock footage clips from InVideo. Users can browse the extensive library of pre-made content by clicking a button and adding it to their own videos.
Add custom features to videos such as power transitions, multiple layers, automated voiceovers, intelligent frames, and more. InVideo allows users to translate their videos into multiple languages.
InVideos offers 3000+ pre-built video templates that can be customized to meet the requirements of a video brief. You can add animations, stickers, emojis, and more. And preview your video before publishing or exporting it.
InVideo for Personal or Business Use
Users can create high-quality slideshows, social media videos, explainers, tutorials, lessons, and more with InVideo, a one-stop video creation service.
InVideo offers 3000+ video templates for a variety of occasions. In addition, dynamic video elements, such as overlays, widgets, logos, and texts, can elevate your videos to the next level.
One of InVideo most significant advantages is that it has a vast library of high-resolution stock photos, royalty-free videos, and music files. In addition, commercial use is allowed for all.
InVideo Pricing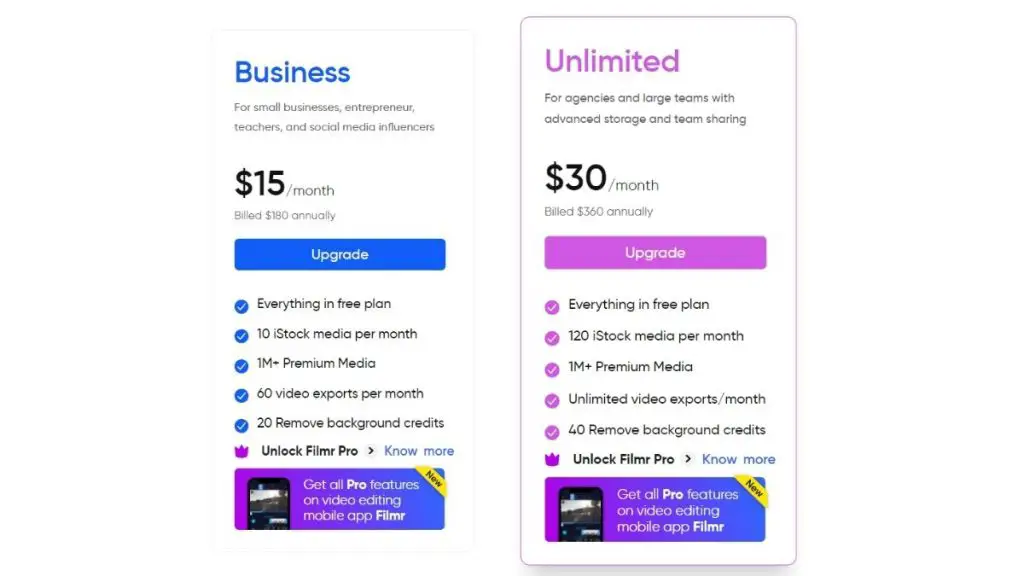 InVideo is billed monthly or yearly and offers two pricing tiers starting at $20/month. A free plan is also available, including the export of up to 60 videos per month, with a watermark. InVideo Business: $20/month (or $120 when billed annually – equivalent to $10/month) for 300 premium photos and videos per month, unlimited premium templates, and 60 HD video exports per month.
InVideo Unlimited: $60/month (or $360 when billed annually – equivalent to $30/month) for unlimited premium photos and videos, unlimited premium templates, and unlimited video exports.
| Label | Price |
| --- | --- |
| Starting price | $30.00 per month |
| Free trial | Available |
| Free Version | Available |
Pros & Cons
Pros
Easy to use – intuitive but with plenty of help videos if you get stuck. It provides great flexibility, fast and reliable customer service.
InVideo offers some of the best beginner-level video templates online.
InVideo keeps updating their video template library constantly and consistently adds improvements to the overall site interface and user experience.
Cons
Would like more stylish templates Text to voice (though that is coming soon) Ability to edit across Getting it took a long time because it lacked a lot of resources."
Only subscription plans with higher prices offer the best stock footage and photos collections.